Chelsea Transfers: 5 Reasons Why Falcao Won't Join the Blues in 2013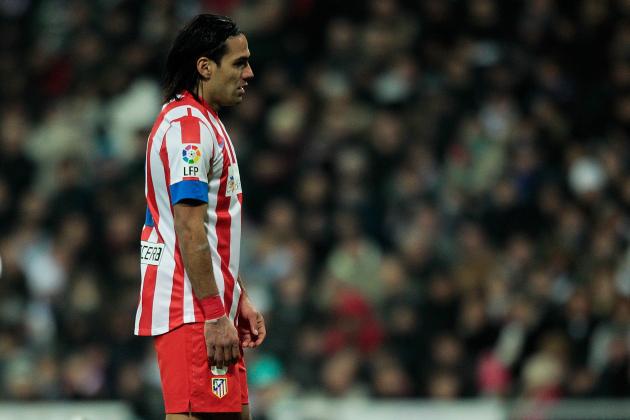 Gonzalo Arroyo Moreno/Getty Images
Will Atletico's Falcao ever line up in the blue of Chelsea?
We're just over two weeks away from the transfer window opening again, and no doubt that there'll be rumours of comings and goings at Stamford Bridge.
To describe Chelsea's domestic form as sketchy would be an understatement, so you'd think that there will be plenty of transfer speculation swirling around.
One player who seems to be almost constantly linked with a move to Chelsea is Atletico Madrid striker Radamel Falcao.
In an article written last week, Sami Mokbel of the Daily Mail speculated that Roman Abramovich is prepared to offer the Colombian a whopping £10 million-a-year contract.
Playing devil's advocate, I'm going to look at five reasons why Falcao won't join Chelsea in 2013.
As always, these slides will represent my opinion.
It doesn't mean my opinion is right or wrong, it's just what I think.
Let's hear what you have to say about whether or not Falcao will join Chelsea next year.
Begin Slideshow

»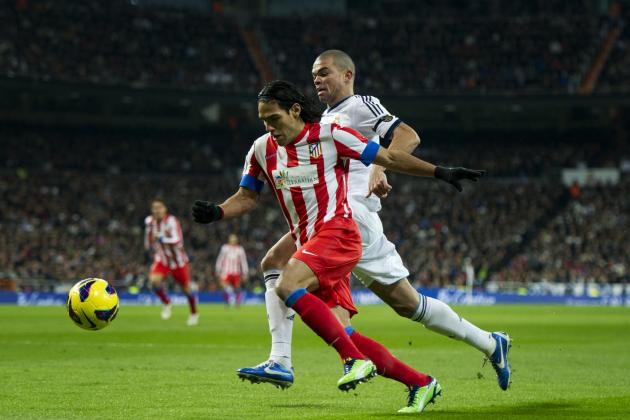 Jasper Juinen/Getty Images
Falcao doing battle with Real Madrid defender Pepe
One thing I love about watching La Liga is the standard of football.
It can be exceptional to watch at times.
I know that the English league is typically more competitive, but if you're a football purist, there are very few teams in England who can play the way that Spanish sides do.
I honestly don't think that the hustle and bustle of English football would suit Falcao's game, and we wouldn't see the best of him.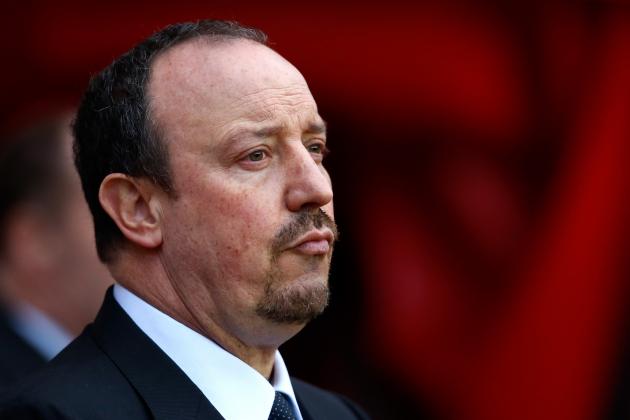 Paul Thomas/Getty Images
Rafa Benitez is the current Chelsea boss, but how long will he last?
One thing I'd look for if I were a professional player would be the knowledge that my club were trying to build toward something.
That everyone at the club was pulling in the same direction.
At times, it's like a tug of war at Stamford Bridge.
The ever-revolving managerial door at Chelsea wouldn't fill me with any confidence whatsoever.
Roman Abramovich is seemingly the most impatient chairman in world football, given how many managers have come and gone at the Bridge over the last decade.
Rafael Benitez is the current incumbent in the manager's chair, but who knows how long he'll last?
The fans don't want him there, and Rafa appears to be on a hiding to nothing.
If winning the Champions League couldn't keep Roberto di Matteo in a job, how can Rafa expect to keep his, even if, by some miracle, Chelsea win the Premier League this year?
How can he expect any player to buy in to the Chelsea culture if he's not prepared to give his managers any time to fulfill their contracts?
Any potential signing target would have to think long and hard about joining Chelsea, especially if Abramovich continues to chop and change his managers on a seemingly annual basis.
How could any player be confident that, if he didn't hit the ground running, he wouldn't be shipped out at the first available opportunity?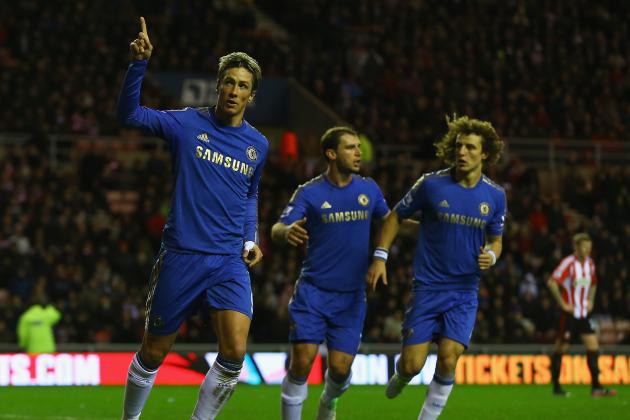 Matthew Lewis/Getty Images
The enigmatic Fernando Torres celebrates scoring a rare Premier League goal at Sunderland
It's nearly two years since Chelsea shelled out a British record transfer fee for Fernando Torres.
Has he repaid anywhere near the amount of money Chelsea paid for him?
No.
Not in my eyes.
He's been a massive disappointment.
When you pay £50 million for a striker, I don't think it's unreasonable to expect him to chip in with 15 to 20 goals a season, but Torres hasn't scored anywhere near that number of goals.
His record stands at a goal almost every five games.
That's not good enough, especially considering his talent and the amount of money Chelsea paid for him.
It's worth pointing out that this is Chelsea's first season without Didier Drogba leading the line, and Torres is now Chelsea's No. 1 striker.
He no longer has to live in Drogba's shadow.
He's responsible for leading the line now.
There are no more excuses.
If Falcao were to sign for the Blues, it would shatter Torres' already fragile confidence and it might prove to be the final nail in his Chelsea coffin.
Would Roman Abramovich be prepared to write off over half, maybe two thirds, of Torres' value to move him on?
I highly doubt it.
Chelsea splashed out the cash on Torres for a reason, and they bought a few attacking midfield players in the summer to complement his style.
I can't see them doing the same thing for Falcao, especially not for the sort of transfer fee that a player of his quality would command.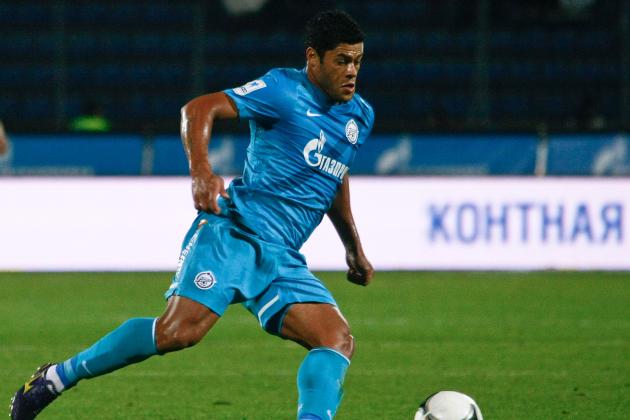 Epsilon/Getty Images
Zenit striker Hulk is reportedly unsettled in Russia
I mentioned in the last slide that Falcao would command a massive transfer fee, which I'm not sure Chelsea would be willing to pay, especially at the risk of upsetting the enigmatic Fernando Torres.
There are other options for the Blues to pursue.
Zenit St Petersburg striker Hulk could be one of those options.
After he was substituted in a Champions League game earlier this month, guardian.co.uk (among other sources) reported that a furious Hulk told local media:
If the situation with the coach does not resolve itself I may leave the club in the January transfer window.
In the same Guardian article, his manager, Luciano Spalletti, was quoted as saying:
Hulk can say anything he wants, but if I decide to change him during the game it means I'm not happy with his play... Hulk is mistaken if he thinks he should play for 90 minutes all the time. He said he wants to leave? Then, it's his choice and I can do nothing about it.
I don't know the ins and outs of transfer policy in terms of whether or not one player can move between countries twice in the same calendar year, but if Zenit are willing to do a cut-price deal and cut their losses, Chelsea would be foolish not to make an enquiry.
There are others in the Premier League who could do a job up front and are proven Premier League goalscorers, none more so than Newcastle's Demba Ba.
I know it doesn't seem like an obvious signing, but Ba's goal-scoring record in the last couple of years has been frightening.
Since joining West Ham in January 2011, Ba has scored 35 league goals in 63 league games for both The Hammers and Newcastle.
If this report from the Sun newspaper a couple of weeks ago can be believed, Ba is reportedly available for a cut-price £7.5 million because of a clause in his contract.
Their case is further helped by claims in the same report that negotiations over a new contract have stalled because of Ba's reported wage demands.
If it's a toss-up between shelling out over the odds for an albeit talented player, or signing a proven Premier League goalscorer, I know which one I'd rather have.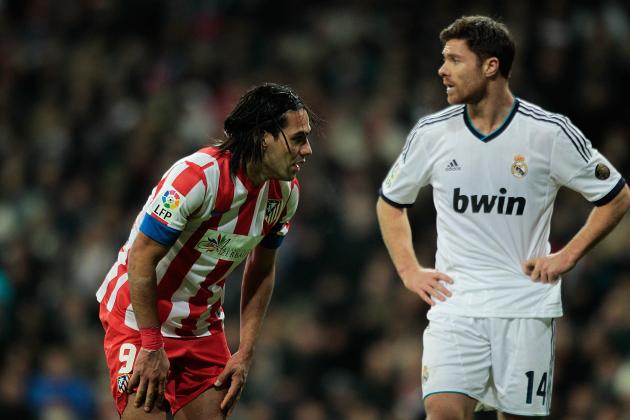 Gonzalo Arroyo Moreno/Getty Images
Could Falcao and Xabi Alonso be team-mates in 2013?
Shortly after scoring a hat trick against Chelsea in the Super Cup, Falcao's father spoke to a Spanish TV programme, "El Gran debate de Todelar" (sourced from skysports.com) and said:
"His dream is to play for Real Madrid... Of course he wants to go to the 2014 World Cup, but most of all, he wants to go to Real Madrid - he will change teams at the end of the year."
If that's the case, then I can't see any possible way that Falcao would sign for Chelsea in 2013.
Chelsea are a massive club, but Real Madrid are giants and legends of European football.
When Madrid come calling, it's very rare that a player will turn them down.
I've just got a funny feeling that Falcao might stay in Spain to make sure that he gets the chance to play for his boyhood idols when he's still at the peak of his career.