Rating Barcelona's Starting 11 Against Atletico Madrid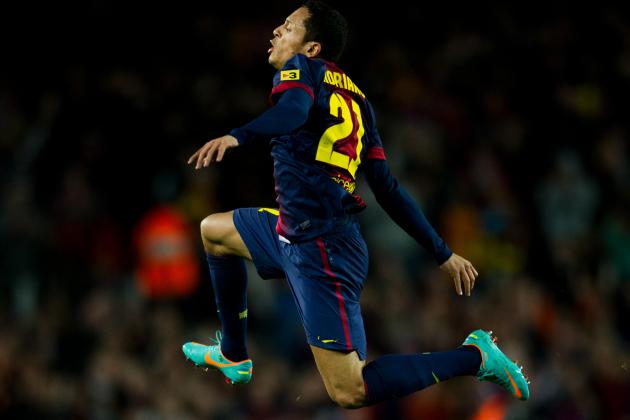 Jasper Juinen/Getty Images

Barcelona's 4-1 win over Atletico Madrid was the final nail in the coffin of this season's Liga title chase.
Following Real Madrid's latest capitulation, this time to a team struggling at the wrong at the end of the table in the shape of Espanyol, the gap between the leader and the reigning champion has opened into a yawning 13-point chasm.
Boredom will be the order of the day at the Bernabeu until the Champions League knockout stages begin in February. Even Jose Mourinho all-but-admitted after his side's 2-2 tie that the capital club is now fighting on just two fronts.
Fortunately for fans of La Liga, if this season's title is already wrapped up before Christmas, at least there is the prospect of watching this Barcelona side for a few more months.
Begin Slideshow

»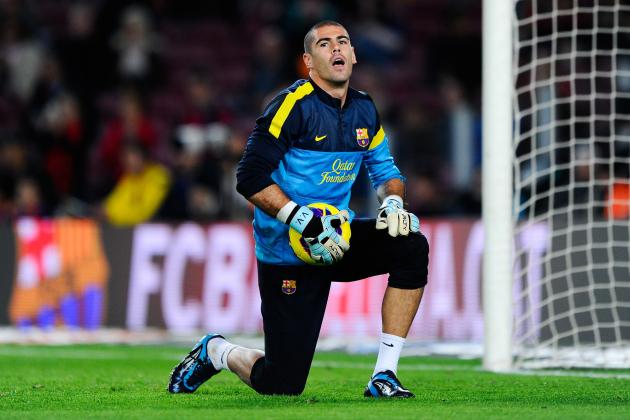 David Ramos/Getty Images

Victor Valdes is one of La Liga's veteran stoppers and, if he were anything other than Spanish, would be first choice for his country as well.
Surely the Barcelona keeper has leapfrogged error-prone Pepe Reina into the second-string slot for La Roja this season, because if he hasn't, he may as well retire from international football.
Against Atletico, he didn't do much for the final hour. His first touch of the second half came in the 62nd minute, and in the first period, he watched Radamel Falcao hit the post, then pull a shot wide, neither of which required his intervention.
There wasn't much he could do when faced with Falcao in a one-on-one. His defense had left him too wide open.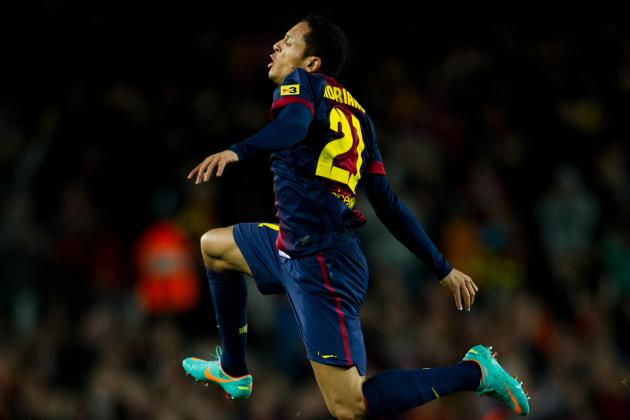 Jasper Juinen/Getty Images

Barcelona's most versatile defender, Adriano Correia, scored a wonderful goal when his side was on the back foot in the first half hour.
The Brazilian was excellent going forward, solid at the back and provided cover when needed as Atletico pushed forward through the middle.
Dani Alves came on as a late substitute for his compatriot, in a scene that may become very familiar this season. Tito Vilanova appears to favor the younger Brazilian, who has the virtue of being able to play in any position on either side of pitch in his favor.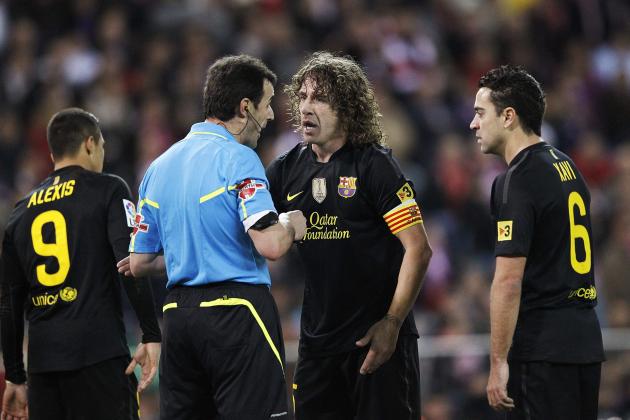 Angel Martinez/Getty Images

Club captain Carles Puyol did what was expected of him and did it very efficiently.
For the first half hour, when Atletico threw the kitchen sink at the home side, Puyol was tasked with keeping Falcao in check. He cut out a ball from Diego Costa to the Colombian in an early counterattack and thwarted Koke down the left a couple of minutes later.
Shortly after, Puyol mopped up when Falcao got the better of him. There was little he could do when the Atletico forward streaked forward only to shoot wide after Costa had dispossessed Messi in midfield, and even less when Falcao raced past the high back line to open the scoring from a similar position.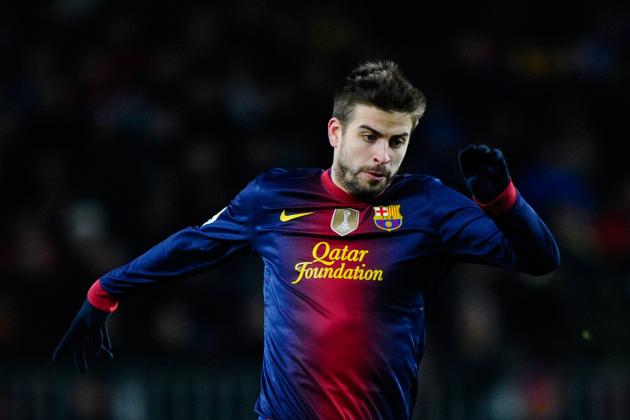 David Ramos/Getty Images

Not Gerard Pique's best night in a Barcelona shirt, but then it didn't really need to be with Puyol alongside him.
The Barcelona No. 3 operates best in tandem with his club and international teammate and backed up Puyol's lead adequately without really taking control of situations himself.
Pique cut out a Falcao-bound ball from the boot of Gabi in the first half and was typically strong in the air but was also out of position for Falcao's goal and skinned by Adrian Lopez in the second period, leaving the excellent Adriano to pick up after him. Much like I like to imagine Shakira does chez Pique.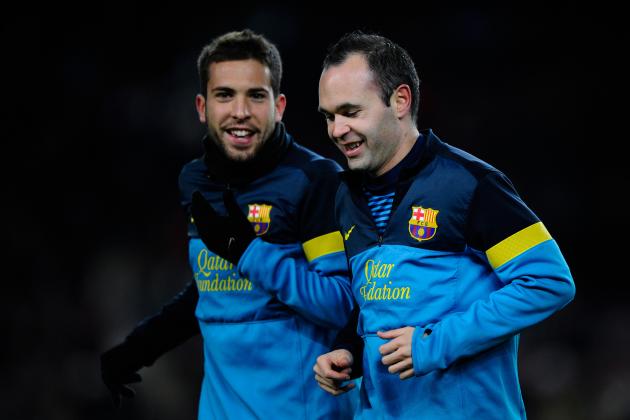 David Ramos/Getty Images

Another assured performance from the La Masia graduate. The fee to bring Jordi Alba back into the fold has been more than justified in a very short space of time.
Tireless running on the left flank kept fellow Spain international Juanfran on the defensive, and Alba could have put Barcelona ahead in the first half but was smothered at Atletico's back post.
A lofted ball aimed at the chest of the onrushing Falcao was cut out with ease by Alba in the 70th minute. What he adds to Barcelona's back line with increasingly mature performances, he adds equally in menace to the opposition. The left-back slot has its tenant for many years to come.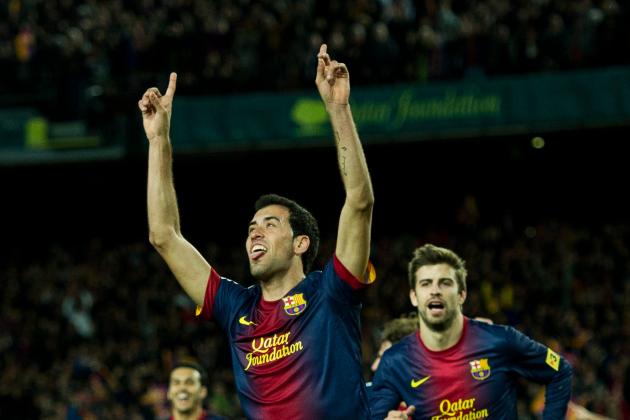 Jasper Juinen/Getty Images

Solid in the midfield holding role, as has come to be expected of Sergio Busquets, who also popped up with a goal when Barcelona needed it.
The importance of the psychological just-before-half-time-strike should never be underestimated, and it was proved as true as claret-and-blue in Catalonia.
Rather than snatch at a loose ball from a corner kick. Busquets rounded Mario Suarez, picked his spot and fired home into the roof of the net.
Other than losing Falcao for Atletico's goal, Busquets didn't put a foot wrong. And he then made things right at the other end.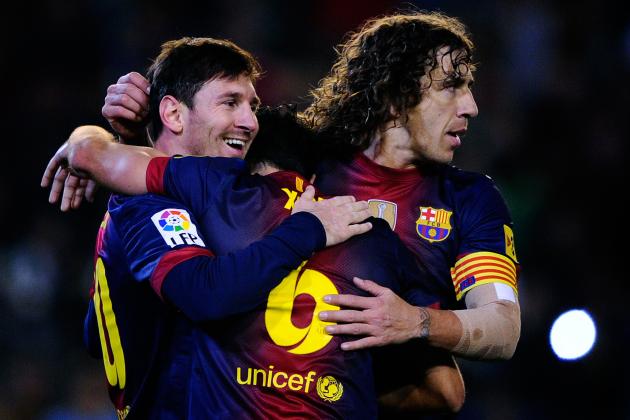 David Ramos/Getty Images

Apart from the odd Hollywood ball across field, you hardly noticed he was there.
And that's precisely the way Xavi Hernandez likes it. Peerless, and irreplaceable. When Barcelona went behind, Xavi simply directed play until a way through was found.
He could have wound up the television series Lost twice as quickly and half as painfully.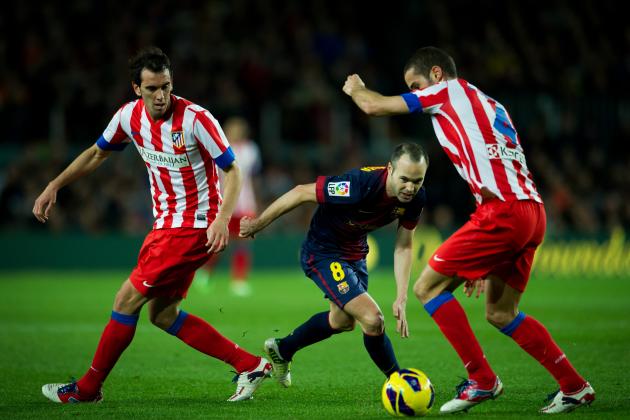 Jasper Juinen/Getty Images

Absolutely impossible to second guess, Andres Iniesta played a fantastic game. In the absence of Cesc Fabregas, the Manchegan knight errant ducked, dived and produced several passes that defied the eye.
Far from tilting at windmills, the man from La Mancha will likely go down as the greatest player of his kind in history.
A one-two with Busquets almost put Iniesta on the score sheet, and his reverse pass past Filipe Luis led to Alba's missed chance.
Always at the heart of Barcelona's forward rhythm, Iniesta constantly dragged Atletico's defense out of position, filled the deep passing void of Fabregas and was a good part of the reason Luis was hauled off for the less-than-compromising Cata Diaz at half-time.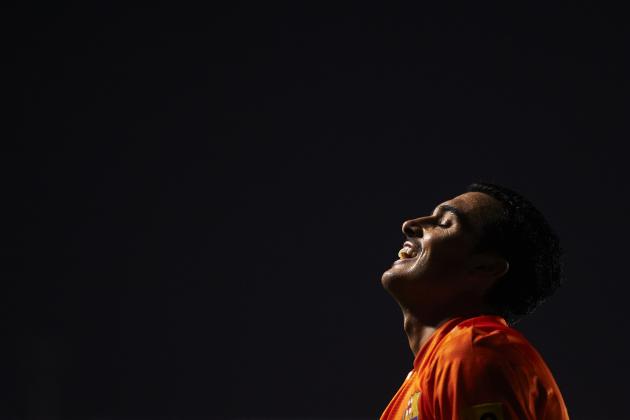 Manuel Queimadelos Alonso/Getty Images

It took quite a while for Pedro and Alexis to attack Atletico's flanks, and it was the Chilean who had more joy.
Pedro ran and ran and tried a few tricks but little of substance came from his wing, except the occasional opportunity for Iniesta to come out and double up on Luis.
When David Villa took to the touchline to warm up, his name rang out through Camp Nou. When he replaced the Canarian winger, Pedro's too was chimed, although with a little less gusto.
It looks like Camp Nou isn't big enough for both. Villa's cameo suggested that Vilanova might be wrong in assuming the Asturian will blink first.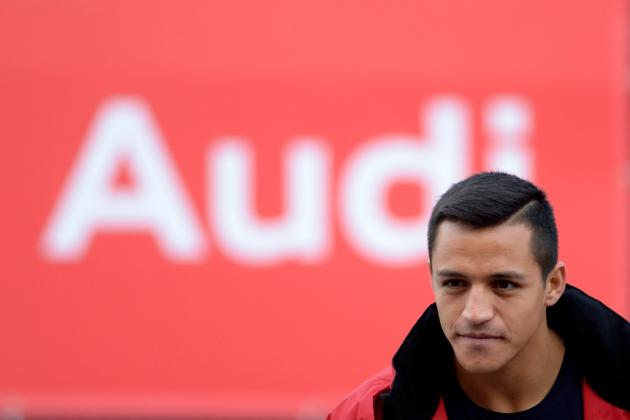 Robert Marquardt/Getty Images

It seems there is a four-way tussle for two wide places at Barcelona, and then only when Fabregas isn't injured.
Alexis Sanchez played some good stuff down the left, and when supported by Iniesta and Alba, that flank was where Barcelona was most threatening. The Chilean winger has found it hard to nail down a place in the starting 11 and has struggled with injuries this year.
However, recent performances have persuaded Vilanova that he warrants a run as a starter, and on the evidence of his display against Atletico, he will not be that easy to pass over.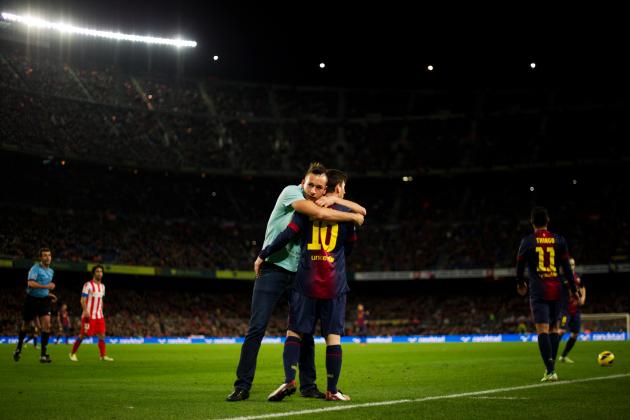 Jasper Juinen/Getty Images

Is there anything left to say about Lionel Messi? Perhaps we can leave it to the Monty Python team in Life of Brian: "He's not the Messiah, he's a very naughty boy."
That wasn't the quote that first sprung to mind Sunday night, but in view of the pitch invader, the most appropriate perhaps. Most people who are prepared to be manhandled by Camp Nou security and then toasted by the Mossos at least go to the effort of taking their clothes off first.
This chap, by all accounts, just wanted to hug Messi. And Messi didn't really seem to mind, to his credit.
He may be the best player in the world, but he's a man of the people too, you see.
Oh, he also scored twice to kill the game off, took his tally for the season to 90 and chalked up his 20th goal against Atletico in the process.
Purely for the record, he has 17 against Real Madrid as well.