NBA 'Stars' Not Living Up to Their NBA2K13 Video Game Ratings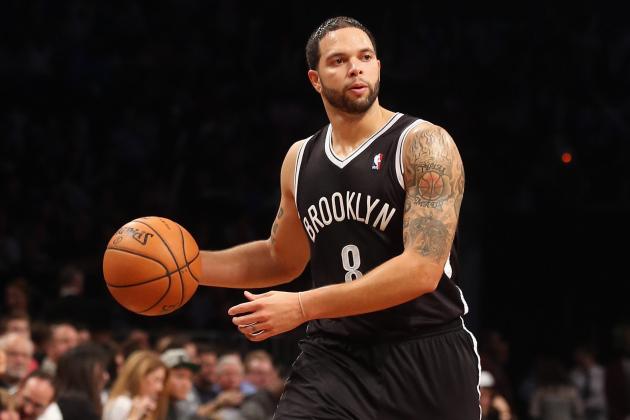 Bruce Bennett/Getty Images

The creators of the NBA 2K13 video game did a good job of producing realistic player talent and accurate ratings, but some of 2012-13's real-life players aren't living up to those ratings.
Several top-tier centers are playing well below the mark 2K13 set for them, but there are some shooters who are also ice-cold.
There's even a trio of championship-caliber All-Stars who are performing markedly worse than their digital expectations.
For some of the players, the early-season struggles are due to uncontrollable outside problems, but for others, it's plain old underachieving.
Which high-profile ballers aren't playing up to their NBA 2K13 ratings?
*Statistics gathered from Basketball Reference and Synergy Sports, accurate as of 12/17/12.
*Players injured for most of season were not included.
Begin Slideshow

»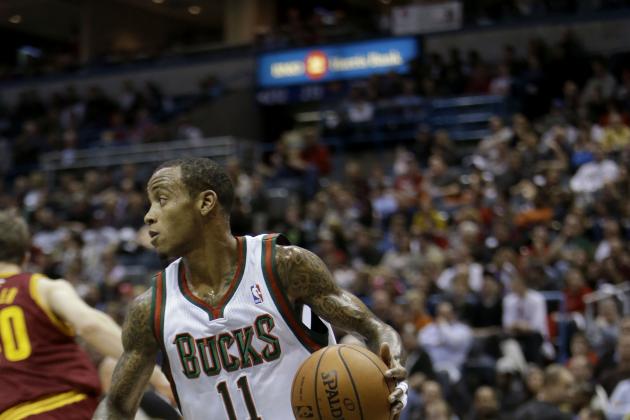 Mike McGinnis/Getty Images

NBA 2K13 Rating: 86
2012-13 Stats: 35.6 MPG, 19.0 PPG, 5.5 APG, 22 percent 3-PT FG
Most of the players who have an 86 rating (such as LaMarcus Aldridge, Tony Parker and Blake Griffin) are making the 2K13 raters look good by playing up to that level.
Monta Ellis, on the other hand, is not.
The Milwaukee Bucks playmaker is connecting on 22 percent of his triples, and his assist-to-turnover ratio is 1.9. His inefficiency is costing the Bucks a chance to separate themselves in east.
Ellis is still one of the most exciting players in the league, and maybe that's part of the reason for his high rating, but his value and early-season play just doesn't match up.
Notable Players With 86 Rating: LaMarcus Aldridge, Tony Parker, Blake Griffin, Andrew Bynum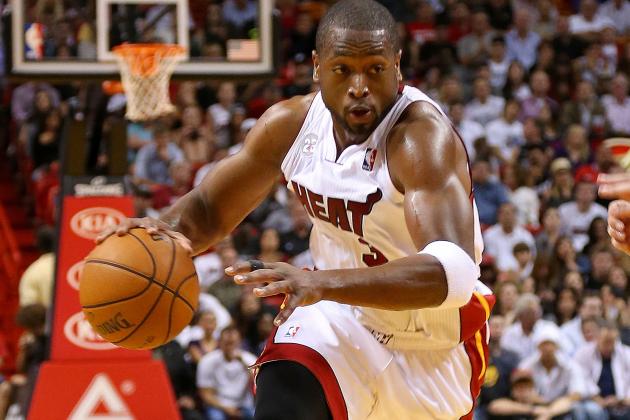 Mike Ehrmann/Getty Images

NBA 2K13 Rating: 93
2012-13 Stats: 32.9 MPG, 19.4 PPG, 31 percent 3-PT FG
It's no secret that Dwyane Wade is having a down year, but he's still dropping nearly 20 points per night and shooting 50 percent from the field.
However, 19.4 points and 31 percent from distance aren't enough to merit his 93 rating.
Wade's per-minute production has slipped a bit in 2012-13, and if Miami wants to return to the NBA Finals, it'll need him to get back to his 2011-12 form.
As good as LeBron is, he's even more dangerous when Wade is dialed in.
Notable Players With 93 Rating: Kobe Bryant, Russell Westbrook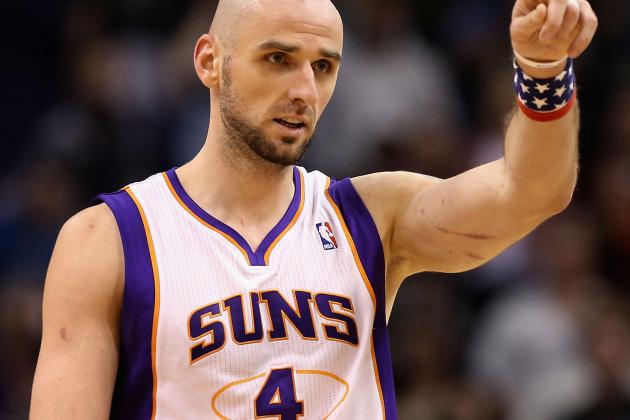 Christian Petersen/Getty Images

NBA 2K13 Rating: 80
2012-13 Stats: 31.0 MPG, 11.0 PPG, 8.1 RPG, 53 percent FG
Marcin Gortat's play the last couple of years earned him a high rating from the 2K13 raters, but he doesn't look like an 80-worthy player after the first month-plus of 2012-13.
The departure of Steve Nash partially contributed to the center's decline, but someone with his size and playing time should haul in more than 8.1 rebounds per night.
To be fair, the Phoenix Suns have failed to put together a consistent stretch of games this season, and almost no one on the club is living up to their 2K13 rating.
Let's see if Gortat can assert himself and become more of a factor in the paint moving forward.
Notable Players With 80 Rating: Serge Ibaka, Brandon Jennings, Brook Lopez, Jason Kidd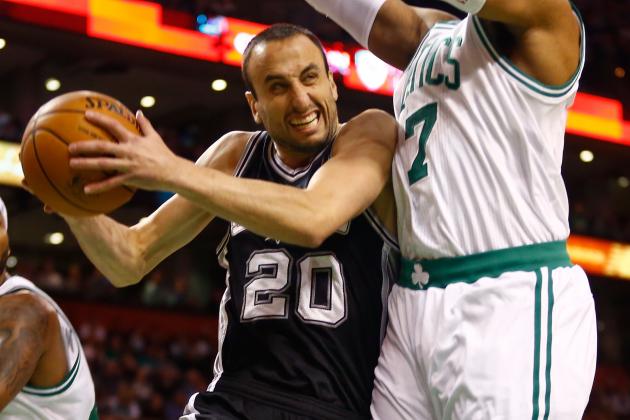 Jared Wickerham/Getty Images

NBA 2K13 Rating: 87
2012-13 Stats: 24.1 MPG, 11.5 PPG, 42 percent FG
San Antonio Spurs playmaker Manu Ginobili is still a great piece in Gregg Popovich's system, but he's not playing up to his 2K13 87 rating.
His PER has dropped a full six points from 2011-12 (from 24.1 to 18.1), his field-goal percentage has dropped 11 percent (from 52 to 42 percent) and his three-point percentage has dropped six percent (from 41 percent to 35 percent).
What's more puzzling to me is that Ginobili and Tim Duncan both had higher 2K13 ratings than Tony Parker. It wasn't by much—Ginobili and Duncan were rated 87, while Parker was rated 86—but it still doesn't seem right.
Notable Players With 87 Rating: Josh Smith, Rudy Gay, Steve Nash, Pau Gasol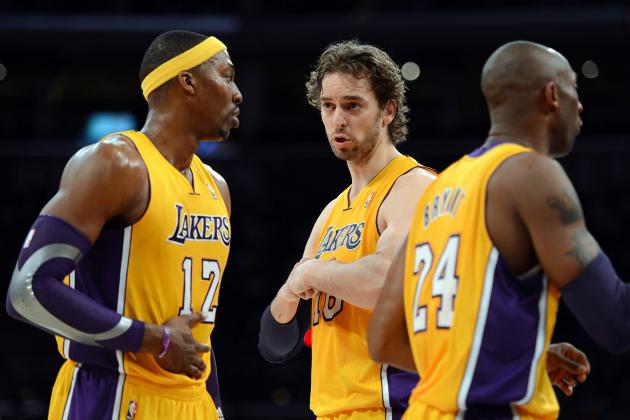 Harry How/Getty Images

NBA 2K13 Rating: 87
2012-13 Stats: 34.8 MPG, 12.8 PPG, 42 percent FG
Los Angeles Lakers power forward Pau Gasol has struggled to find any kind of rhythm this season, but it's not entirely his fault.
The new roster, midseason coaching change, irregular playing time and knee troubles have all contributed to his slow start.
Even when he did get the ball on the block, he shot just 34 percent on post-ups. Needless to say, it's been the most frustrating stretch of his career.
Once the Lakers Big Four is actually on the floor together for a substantial amount of time, Gasol will get a chance to show his value on the floor with interior passing, timely cuts and strong finishes.
Notable Players With 87 Rating: Josh Smith, Rudy Gay, Steve Nash, Andre Iguodala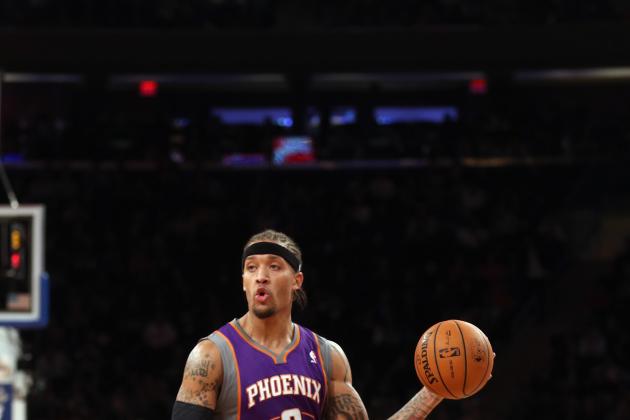 Bruce Bennett/Getty Images

NBA 2K13 Rating: 79
2012-13 Stats: 26.0 MPG, 11.1 PPG, 3.8 RPG, 37 percent FG, 31 percent 3-PT FG
Joining the Phoenix Suns was supposed to be a fresh start for Michael Beasley and a chance to prove that he merited the No. 2 overall selection in the 2008 draft.
So far, it's been a failed experiment for both parties, as Beasley is less efficient and less productive than he's ever been.
He's too streaky and too ineffective as an outside shooter, even when he gets wide-open looks.
Moving forward, video-game architects won't rate him so highly unless they want to make their game drastically unrealistic.
Notable Players With 79 Rating: Ray Allen, Nicolas Batum, Shawn Marion, Arron Afflalo, Anthony Davis, Lou Williams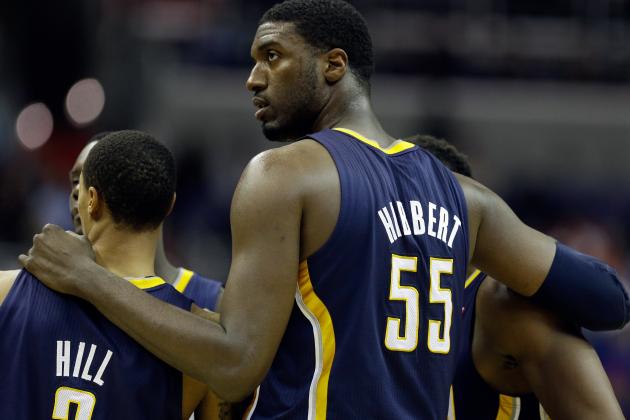 Rob Carr/Getty Images

NBA 2K13 Rating: 79
2012-13 Stats: 28.8 MPG, 9.7 PPG, 8.4 RPG, 39 percent FG
After getting his big payday in the 2012 offseason, Roy Hibbert took a step back and the Indiana Pacers took a step down in the Eastern Conference hierarchy.
Opponents are finding ways to impede Hibbert's work in the post, as the 7'2" center is 46-of-127 (36 percent) on post-ups.
For Pacers fans, this season has been frustrating because Hibbert was taking big steps in the right direction in 2011-12 and in the 2012 playoffs.
If the minds behind 2K13 knew Hibbert would decline like this, they wouldn't have given him a 79 rating.
Notable Players With 79 Rating: Ray Allen, Nicolas Batum, Shawn Marion, Arron Afflalo, Anthony Davis, Lou Williams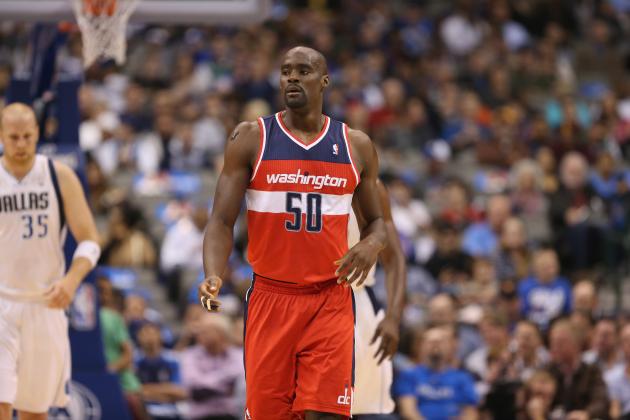 Ronald Martinez/Getty Images

NBA 2K13 Rating: 78
2012-13 Stats: 21.6 MPG, 7.0 PPG, 5.6 RPG, 45 percent FG
In this instance, I question 2K13's rating to begin with.
Offensively, Emeka Okafor doesn't live up to his end of the bargain, and even if he was rated a 74 or 75, he would still be underachieving.
In Washington, his talent-starved surroundings contribute to his career-worst numbers. But Okafor hasn't been the same since he was traded from Charlotte to New Orleans in 2009.
It's looking like his days with the Bobcats were the best of his career, and he's certainly not a good fit with the Wizards.
Notable Players With 78 Rating: Carlos Boozer, Mo Williams, Ricky Rubio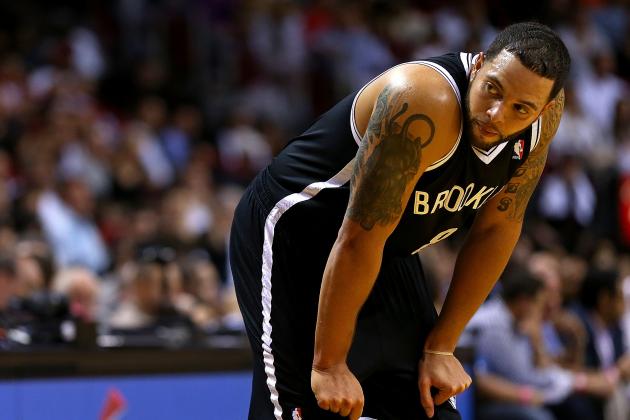 Mike Ehrmann/Getty Images

NBA 2K13 Rating: 90
2012-13 Stats: 37.0 MPG, 17.0 PPG, 8.3 APG, 39 percent FG, 30 percent 3-PT FG
Deron Williams is the face of the Brooklyn Nets franchise, a two-time Olympic gold medalist and a perennial All-Star.
He hasn't looked the part so far in 2012-13.
D-Will hasn't found his shooting stroke yet, especially from long range. Luckily, he has a better supporting cast around him, and Brooklyn is in the Eastern Conference playoff picture.
Once he rediscovers his shooting and scoring prowess, the Nets will be even more dangerous, and maybe even an outside threat to reach the conference finals.
Notable Players With 90 Rating: Rajon Rondo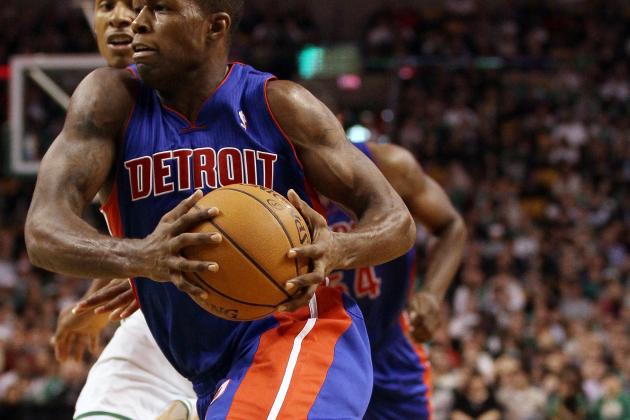 Elsa/Getty Images

NBA 2K13 Rating: 80
2012-13 Stats: 29.3 MPG, 11.7 PPG, 38 percent FG, 24 percent 3-PT FG
Detroit Pistons guard Rodney Stuckey is having his worst season since his rookie campaign, thereby making 2K13 raters look bad by rating him at 80.
Stuckey falls short of his video-game expectations by hitting less than 40 percent of his shots and less than a quarter of his three-point attempts.
He's been terrific when he finds a way to cut to the basket, but he's floundering in isolation and in spot-up situations.
It's been a rough start to the 2012-13 campaign in Motown, and the Pistons need Stuckey to regain his swagger if they want to avoid embarrassment in the Central Division.
Notable Players With 80 Rating: Serge Ibaka, Brandon Jennings, Brook Lopez, Jason Kidd
For more NBA chatter, follow me on Twitter: