Ranking NBA's Memorable Performances at Madison Square Garden in the Last Decade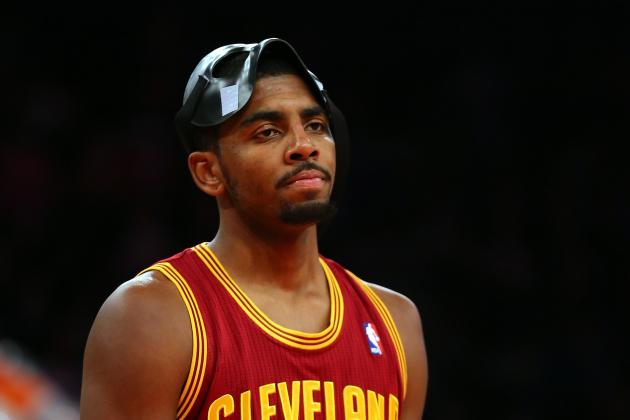 Elsa/Getty Images

Madison Square Garden has historically been a stage on which magnificent basketball can be performed, just as Cleveland Cavaliers point guard Kyrie Irving showed us in his trip to MSG.
For Kyrie, it wasn't so much a breakout performance as it was another terrific game in a long list that defines his short career. However, it was a game that put him in the ranks with so many other great players throughout the course of the history of this game.
From Rick Barry to Bernard King to Michael Jordan and on into the new age of NBA players with LeBron James and Kobe Bryant, guys have made statements at Madison Square Garden, and they've helped cement their legacy with historic performances.
It's not like you can't be an all-time great without a terrific performance at Madison Square Garden, but it's something like ending a baseball career with 499 home runs if you don't.
In honor of the greatest basketball venue on the face of the planet, let's take a look at the players who have done the most in the past decade to throw down their name in the ranks among the best at Madison Square Garden.
Begin Slideshow

»
It's really kind of hard to remember Amar'e Stoudemire as a guy who can completely dominate a game anymore, but it wasn't so long ago that he was in serious consideration for the 2011 MVP award.
A lot of it was predicated on Amar'e's ability to score extremely efficiently as his team did what was necessary to win games.
In this particular game, Stoudemire put down 41 points to go along with seven rebounds, four assists, four blocks and a steal. But it's not the raw numbers that are important here, it's how insanely efficient Amar'e was for the duration of the game.
The big fellow was able to completely dominate this game, but he did so on only 21 shots, making 17 of them along the way. Stoudemire was able to put in 41 points on 81 percent shooting.
At that point, I would ask not how he was able to score so efficiently, but why the heck his team wasn't feeding him the ball more often?
It's all but forgotten now, but Rip Hamilton once put up his career-high mark at Madison Square Garden near the tail end of the glorious Detroit Pistons Era that made us all cringe at times.
Sure, there's a bit of wind taken out of the sails of the game because he did it in an extra 15 minutes of playing time during the triple-overtime extravaganza, but it was an amazing feat nonetheless.
Hamilton's 51 points came in Detroit's 151-145 loss to the New York Knicks, but Hamilton was able to come home with just one of 23 performances in the history of Madison Square Garden.
The masked man did it all on 19 of 37 shooting while playing in a game-high 54 minutes and 58 seconds.
Not only was it an impressive overall performance, but it also helped make a case for Hamilton to make his way to his second straight All-Star Game just a few months later.
For some reason, it makes it all even funnier that he was able to put up the 51 points with the terrible microfiber ball.
In terms of iconic Jeremy Lin moments, this is definitely the top game, although the game-winning three-pointer against the Toronto Raptors is probably the top moment.
This was Lin's highest-scoring game with the Knicks, as he put in 38 points to go along with seven assists, making it the fourth straight game in which Lin had scored at least 20, and that all came after never scoring more than 13 points in a single game throughout his career.
Not only was it a part of the legend that made Lin's story so compelling last season, but it was the beginning of the Knicks' turnaround. Once 8-15, the Knicks pushed their record to 12-15 by the end of the night, and the team wouldn't lose under Lin until it crawled back to .500.
In a way, it was an almost unimportant night in an overarching important run of games, but he put up huge numbers against an excellent team in Madison Square Garden, so it's hard to ignore.
The New York Knicks hadn't won a playoff game since 2001 when Carmelo Anthony decided to put an end to that streak in last season's playoffs.
Sure, the team may have only won the one playoff game, but it came in dramatic fashion, as the Knicks beat the Miami Heat 89-87 on the back of Anthony's 41-point, six-rebound, four-assist night under the bright lights in Madison Square Garden.
Anthony's huge night included a deep three-pointer with the shot clock winding down and the game tied at 84 apiece.
Carmelo knocked down the three-ball, and the Knicks cruised to victory the rest of the way.
Allan Houston has the strange, albeit impressive distinction of being the guy to take and make the fewest shots to break through the 50-point barrier at Madison Square Garden.
On a night against the Milwaukee Bucks, Houston took just 25 shots, making 13 of them, totalling up to 50 points, including six three-pointers and 18 free throws en route to New York's 120-111 win over the Bucks.
Even more amazing, this was the second time Houston broke the 50-point mark on the season. The first time he did it was a month earlier against the Los Angeles Lakers, when he put down 53 points.
This really reminds us all of how crazy it is that Houston would be out of the league just a few years later, as he struggled to stay on the floor even after playing in 769 of a possible 788 games over the course of the first decade of his career.
Kobe Bryant and Allan Houston had an interesting back-and-forth back in 2003 that really gets lost to time.
First, Kobe came in and dropped 46 points in Madison Square Garden, a game in which Kobe knocked down 17 of his 27 shots, totally overshadowing Shaquille O'Neal's 33 points. It was really one of the first inklings of Kobe taking the Lakers into his clutches.
Houston put up just 11 points in that game, so naturally, he had to get his revenge.
Ten days later, the two played each other again, this time in Los Angeles, and Kobe was able to put up 40 points on his own home court.
Houston, however, came in and scored 53 points to help the Knicks take down the Lakers in Los Angeles.
Of course, a month later, Houston would overshadow Kobe's 46 points in Madison Square Garden with a 50-point night against the Bucks.
It may not seem like Kyrie Irving's 41-point game belongs up here with the likes of the 50-point scorers that have dominated Madison Square Garden over the course of the past decade, but his performance was one of the most unique in the venue's history.
Per Elias, Kyrie irving became the youngest player ever to score 40+ points a MSG. Previous record holder was MJ (who was 21 in 1985).

— Tommy Beer (@TommyBeer) December 16, 2012
Now, Rick Barry did put up a ridiculous 57 points when he was just a 21-year-old rookie, but the Madison Square Garden that Tommy Beer is talking about here is the fourth incarnation of Madison Square Garden, whereas Barry knocked down 51 back before Madison Square Garden IV was opened in 1968.
Needless to say, the fact that Irving was able to knock down 41 points in MSG is nothing short of amazing.
One of my favorite stats in the history of the NBA has to do with 50-point performances and is a bit surprising.
Only four players have scored 50 points on three different teams. Three of them make sense: Wilt Chamberlain, Bernard King and Moses Malone.
The fourth is Jamal Crawford.
Perhaps Crawford's most famous 50-point game came on a night between two middling teams in the dead of winter in New York City.
Crawford looked across the floor at Dwyane Wade and decided to have himself a game, putting up 52 points, making 20 of his 30 shots and eight of his 10 three-pointers.
There are nights when Crawford just can't miss, and then there are nights like this when he's going to absolutely dominate.
We can only hope he finds himself in a groove at some point this season and ends up scoring 50 for a fourth team.
Over the course of a few seasons, there was a lot of hubbub surrounding LeBron James and Madison Square Garden, mostly dealing with whether or not he would end up playing there when he became a free agent in 2010.
In five games in the 2008, 2009 and 2010 seasons, LeBron James averaged 38.6 points per game at Madison Square Garden, getting the locals thoroughly riled up with the shows he put on.
The first dominant performance he showed off was in March of 2008, when he went off for a 50-point performance against the Knicks with the Cavaliers.
In true LeBron fashion, he dominated every aspect of the game, scoring the 50 points on 16-of-30 shooting while pulling down eight rebounds and giving out 10 assists.
Of course, this wasn't the last time LeBron would flirt with a high-scoring triple-double at MSG IV; he was a year away from that.
This is perhaps LeBron James' most famous regular season game in his entire career, and up to the point when he won the NBA title last season, it's easy to say it was one of his top-five games ever.
In this particular performance, LeBron was famously stripped of a triple-double after the game after a scoring error listed him with 10 rebounds when he only wrangled nine.
Of course, Wally Szczerbiak pulled down 13 boards in this game. Maybe he could have shared one of those with LeBron.
Anyway, LeBron made 17 of his 33 shots, giving him 52 points on the night, pulled down nine rebounds and gave away 11 assists.
If the 10 rebounds would have stood, LeBron would have had the first triple-double in a 50-point game since Kareem Abdul-Jabbar in 1975.
Of course, LeBron's triple-double-reversal came just two days after Kobe Bryant set the scoring record at the present-day Madison Square Garden.
Poor Knicks.
Kobe Bryant scored 61 points against the New York Knicks as the crowd at Madison Square Garden couldn't help but cheer incredulously as he kept inching higher and higher as the night went along.
Hell, even Spike Lee was left laughing after Kobe completely ripped apart Wilson Chandler to get a seemingly easy two points late in the game.
Kobe blew by Michael Jordan's double-nickel game and ended up reaching past Bernard King's 60-point game from decades ago.
It took Bryant just 31 shots to make his way to 61 points, making 19 of them and sinking all 20 of his free-throw attempts.
No, he didn't have the crazy all-around game that LeBron James had, but there's something special about a record-breaking night, and Kobe had himself one of those that night.
What's craziest about all of this, Pau Gasol ended up scoring 31 points alongside Kobe, his fourth-highest scoring game of the season.
Maybe this should have been a warning to the Lakers that Mike D'Antoni didn't have any time for defense in the past, and doesn't seem to have much time for it today.