Grading the R.A. Dickey Trade Between the Toronto Blue Jays and New York Mets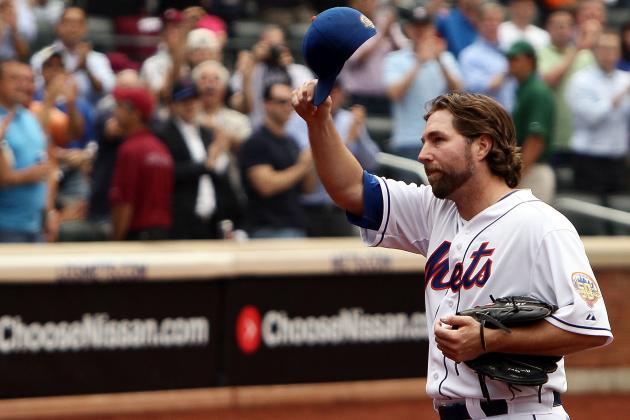 Alex Trautwig/Getty Images

The Toronto Blue Jays have wrestled 2012 National League Cy Young Award winner R.A. Dickey away from the New York Mets.
Fox Sports' Ken Rosenthal tells us that Dickey, catcher Josh Thole and a minor prospect will leave the Mets, while catcher John Buck, highly regarded catching prospect Travis d'Arnaud, starting pitching prospect Noah Syndergaard and one other minor leaguer are headed for Queens.
The deal is dependent on Dickey and the Blue Jays being able to hammer out a contract extension. The sides have until 2 p.m. ET Tuesday to do that.
UPDATE: ESPN's Buster Olney says that is done:
Dickey just landed in FLA to undergo his physical with the Jays. Some of his 2-year, $25m extension with TOR will be a signing bonus for '13

— Buster Olney (@Buster_ESPN) December 17, 2012
This move will make the already tight American League East even tighter, and it gives even more breathing room for the National League East contenders.
How does this all stack up?
*Statistics via Baseball Reference
Begin Slideshow

»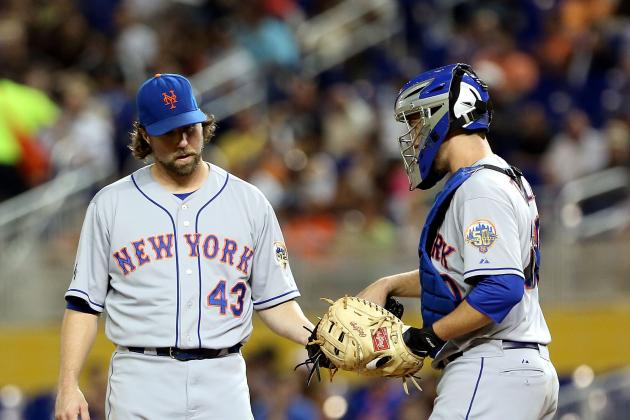 Marc Serota/Getty Images

Any time a reigning Cy Young winner comes on the market, you have to go for it. The Toronto Blue Jays feel their time is right now, and they eagerly swapped d'Arnaud, Syndergaard and another prospect to get him.
In getting Dickey, the Blue Jays are trying their best to assemble the best starting rotation in the American League East.
Dickey will join Josh Johnson and Brandon Morrow in what now is a loaded rotation.
While the Blue Jays lost a prospect who's very close to being everyday-ready in the majors, they felt that was the price required to make a major push to win the AL East outright and avoid the Wild Card Game.
The only real question mark will be how Dickey's knuckleball does in the dome of Toronto and the hitter-friendly parks in the AL East.
Against divisional foes, his record is 8-6.
He also had the benefit of pitching in very friendly Citi Field the last three years.
Toronto is rolling the dice here. Dickey will be 38 next season—although knuckleballers do not age as fast as a conventional pitcher—and would likely take a two-year extension around $25-26 million to stay.
Josh Thole caught 100 games for the Mets last year and will likely be Dickey's personal catcher. He is cheap, has no real offensive skills and has an under-average arm.
Sometimes, you have to take risks. The Blue Jays are giving up a ton here and are going all-in.
Grade: C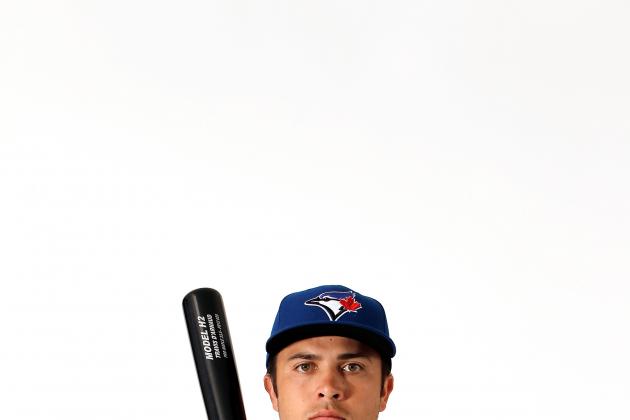 Jonathan Ferrey/Getty Images
Travis d'Arnaud
The Mets will probably be relieved to be rid of Dickey in the long run. They tried to get him to sign an extension, but never really came close enough to feel comfortable in doing it.
They watched the Atlanta Braves and Washington Nationals make big splashes this offseason and figured now was the time to officially rebuild. With franchise-face David Wright locked up long-term, the Mets can now do that.
Travis d'Arnaud can hit for power and average, and he possesses a pretty good arm. Last year in Vegas in half a season, he hit 16 homers and batted .333. His last full year—in Double-A New Hampshire—he hit 21 dingers and .311.
Drafted by the Philadelphia Phillies right out of high school, d'Arnaud has improved at each level. He threw out 30 percent of runners trying to steal in Vegas last year.
Meanwhile, Noah Syndergaard was Toronto's first-round pick in 2010 and is a strikeout pitcher. Last year in full-season A-ball, Syndergaard struck out 10.6 per nine innings and had very good command of the strike zone.
The Mets must be impressed with him only walking 2.7 per nine and allowing seven hits per nine innings.
It is never a great move to trade your ace pitcher, but the Mets grabbed two guys who have talent and have yet to reach their ceiling, as well as a guy who can catch with Buck.
At least the Mets are being realistic about their chances and have done well for the future.
2013, on the other hand, is a different story.
Overall Grade: B+
Short-Term Grade: F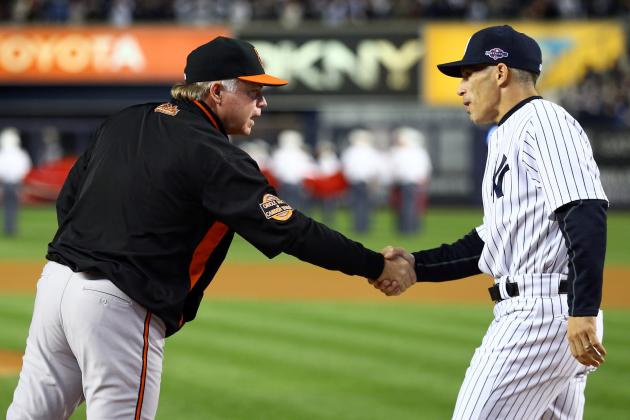 Al Bello/Getty Images
Buck Showalter and Joe Girardi
On paper, there was already little difference between the Blue Jays, New York Yankees, Baltimore Orioles and Tampa Bay Rays.
With the addition of Dickey, the top four are so close that the AL East may not yield any of the wild-card spots.
With the heavy inter-division schedule, one of these teams will need to break through and hope they can beat up on the Boston Red Sox at the bottom.
We may be looking at 90-to-95 wins being enough to win the division, with a handful of games separating first and fourth.
The other teams in this division did not need the Blue Jays to improve any more than they already had.
Grade: D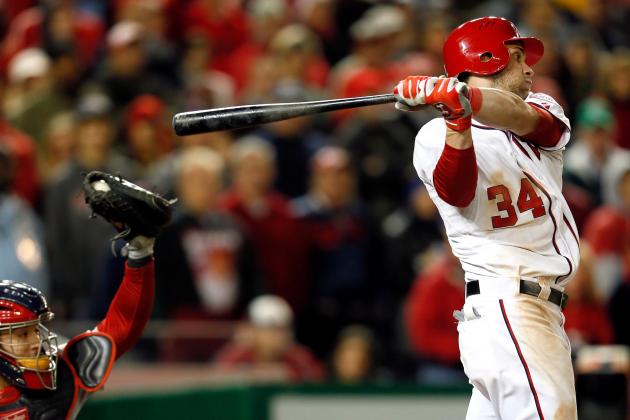 Rob Carr/Getty Images

The Mets have basically written off 2013 with this move, and the champagne corks are popping from Washington to Atlanta.
The Philadelphia Phillies have also undergone a good makeover this offseason so far, and not having the Mets in the picture could help them get a couple more easy wins.
While the Mets were probably not going to contend to win the division, they could have finished above .500 and been a major thorn in the side of the NL East's big-three teams. The Mets will not be Miami-Marlins bad, but the two extra wins the Nationals or Braves could get could also change playoff seeding.
Grade: A