Joe Flacco and 6 NFL Players Imploding Down the Home Stretch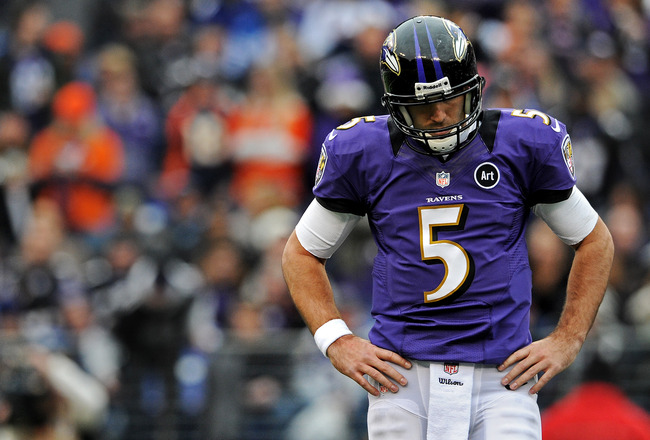 Patrick Smith/Getty Images
Baltimore Ravens Joe Flacco is imploding as the 2012 NFL playoffs rapidly approach, but he certainly isn't the only one having issues playing at a high level with the shot at a Super Bowl on the line.
There are several players who have had solid seasons all year, but in recent weeks have seemingly lost all ability to play at a high level.
This kind of slump happens for a variety of reasons such as fatigue, injury and the team around him not playing well.
Regardless of the reasons, these players are costing their teams either a shot at the postseason, or could seriously hurt them when the playoffs roll around.
Let's examine these seven players who are imploding with the playoffs looming.
1. Jay Cutler, QB, Chicago Bears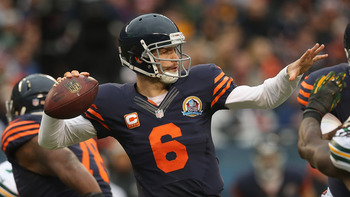 Jonathan Daniel/Getty Images
Chicago Bears quarterback Jay Cutler has been mediocre most of the season, but his team had been hot and on a fast track to the playoffs.
Until recently, that is, when Cutler managed to play even worse.
In a Week 14 loss to the Minnesota Vikings, Cutler was horrendous. Despite throwing the ball 44 times, he only managed to pass for 260 yards and a touchdown while throwing two interceptions. He only completed 50 percent of his passes.
The following week, Cutler was even worse against the Green Bay Packers, hardly throwing for 100 yards as his team lost again.
Cutler is imploding, which isn't all that surprising. He's costing the Bears dearly.
2. Eli Manning, QB, New York Giants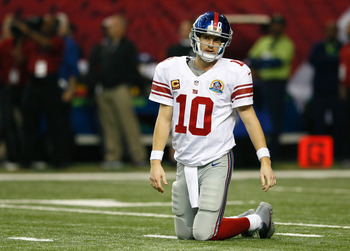 Kevin C. Cox/Getty Images
Eli Manning of the New York Giants has had an up and down season, and the team has ridden the roller coaster along with him.
Week 13 against the Washington Redskins saw Manning throw for 280 yards and a score in a losing effort. He managed to rebound the following week in a 52-27 win over the New Orleans Saints. But on Sunday, Manning reverted to his slumping self once again.
Against the Atlanta Falcons, Manning was horrible. He threw two interceptions and managed only 161 passing yards as the Giants were embarrassed 34-0.
It's difficult to pinpoint exactly why Manning is struggling, but he needs to turn it around quickly. He's placing his team in danger of an early exit from the postseason.
3. Troy Polamalu, S, Pittsburgh Steelers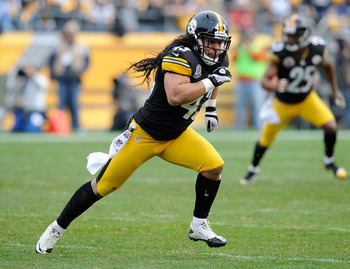 Joe Sargent/Getty Images
The Pittsburgh Steelers are on the cusp of making the postseason this year, but need elite safety Troy Polamalu to play as such.
So far, Polamalu has had major issues.
To be fair, he's been injured most of the season. His long-awaited return was expected to bolster an already elite defense. But so far, he has done the opposite.
Polamalu has been a liability in coverage and simply hasn't been his normal self. His first two games back saw him record just nine tackles, and he appears slower than usual.
It appears Polamalu may be playing hurt, and his implosion will do nothing but hurt the team.
4. Josh Freeman, QB, Tampa Bay Buccaneers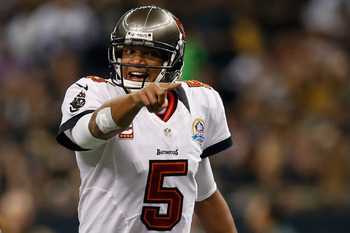 Chris Graythen/Getty Images
There was a time when Tampa Bay Buccaneers quarterback Josh Freeman was a dark horse for the MVP award. He was playing at an exceptionally high level and had his team riding high in the NFC.
Now that it's crunch time, Freeman is folding.
In Week 14, Freeman allowed his team to lose to the Philadelphia Eagles, one of the worst teams in league. He threw for just 182 yards and two scores, which simply wasn't enough against a mediocre defense.
Things got worse on Sunday for Freeman. Against the New Orleans Saints, he threw four interceptions and accounted for fewer than 300 passing yards in a 41-0 defeat.
Freeman has returned to mediocre play, and it will cost Tampa Bay a shot at the postseason.
5. Christian Ponder, QB, Minnesota Vikings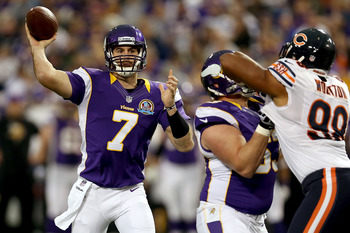 Matthew Stockman/Getty Images
The Minnesota Vikings coaching staff is babying quarterback Christian Ponder. As a result, he's slumping in a big way with the team hoping to sneak into the playoffs.
Ponder has been the definition of mediocre all season, but the last two weeks have been impressively bad. In Week 14 against the Chicago Bears, Ponder threw an interception and accounted for only 91 passing yards on just 17 attempts.
Ponder wasn't any better on Sunday, throwing just 24 times for 131 yards in a 36-22 win over the St. Louis Rams.
Minnesota is winning, but only because of Adrian Peterson. If the Vikings manage to sneak into the postseason, the slumping Ponder will hurt the team in a big way.
6. Mason Crosby, K, Green Bay Packers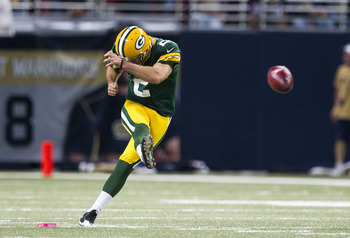 David Welker/Getty Images
Mason Crosby has picked the worst time possible to become the worst kicker in the NFL. At this point, the Green Bay Packers would be wise to make a move.
Crosby has been absolutely atrocious. Dating back to Green Bay's bye week in Week 10, Crosby had attempted 12 field goals and only made seven.
The woes continued for Crosby on Sunday against the Chicago Bears as he missed both of his attempts. Green Bay was able to win anyway and secure the NFC North crown, but Crosby is a serious issue.
He is connecting on less than 60 percent of his kicks.
7. Joe Flacco, QB, Baltimore Ravens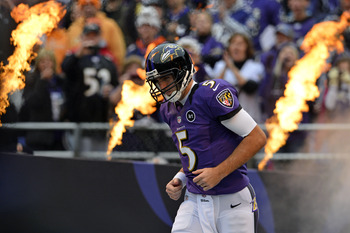 Ron Chenoy-USA TODAY Sports
Joe Flacco of the Baltimore Ravens has had a stellar year overall, but the last three weeks have not been kind to him.
The Ravens are now on a three-game losing streak, and some of the blame has to fall directly on Flacco.
In Week 13, he threw for only 188 yards and completed just 47 percent of his passes as the Ravens were beaten by the Pittsburgh Steelers. The following week was more of the same against the Washington Redskins, as Flacco only threw for 182 yards, but did manage three touchdowns.
The story continued on Sunday against the Denver Broncos as Baltimore was embarrassed, losing 34-17 at home. Flacco completed only 50 percent of his passes for 254 yards, two touchdowns and one interception.
Flacco is supposed to be a franchise quarterback and elevate his team to Super Bowl contention. If recent trends are to be believed, Flacco simply hasn't reached that level yet.
Keep Reading

Baltimore Ravens: Like this team?