15 Coaching Candidates That Could Replace Andy Reid in 2013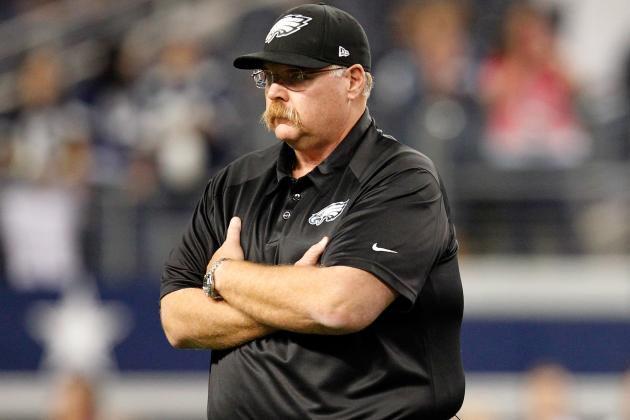 Tom Pennington/Getty Images

It's no secret that Andy Reid won't return as head coach of the Philadelphia Eagles in 2013. He was essentially put on probation by his owner Jeffrey Lurie heading into this season, as Lurie stated another 8-8 season was unacceptable.
Considering the Eagles are 4-10 and in last place in the entire NFC, it's safe to say Reid hasn't fulfilled his end of the bargain. The Eagles suffered through an embarrassing eight-game losing streak midseason, the longest the franchise has seen since 1968.
It's expected that the entire coaching staff is wiped clean for 2013, as there's no young head coach in the waiting to be found on this team. The Eagles will likely go one of two directions—they could bring in a veteran head coach to their team, one that has had experience leading a squad previously. Or they could try to find the next great, young coach by going after a coordinator somewhere around the league.
Begin Slideshow

»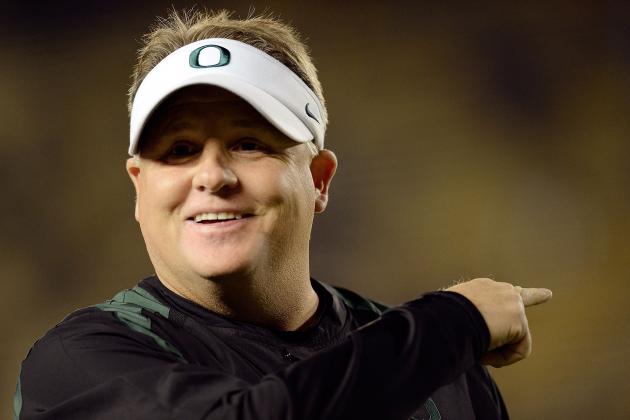 Thearon W. Henderson/Getty Images

Of all the coaches linked to the Philadelphia Eagles head coach position for 2013, Chip Kelly may be the most talked-about.
Oregon's coach has gone 45-7 in four seasons at the helm, earning a slew of coaching awards during his tenure. Kelly runs a pro-style offense that heavily utilizes the run. He relies on speed, which could mean Kelly would want to bring back Michael Vick in some sort of role next year.
Kelly would love working with running backs like LeSean McCoy and Bryce Brown, as well as playmaking wide receivers like DeSean Jackson and Jeremy Maclin. And he's bound to be a highly-touted coach coming out of college.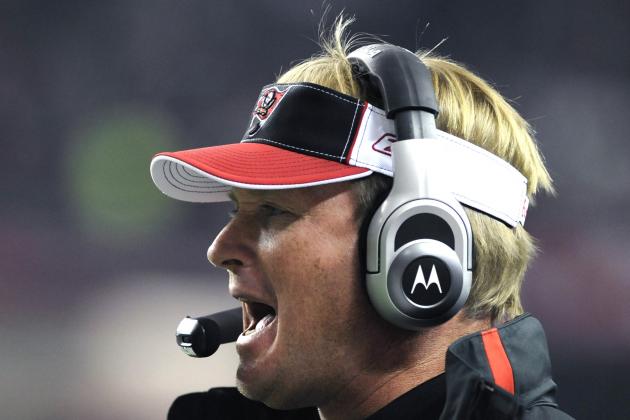 Al Messerschmidt/Getty Images

This is another name that has been strongly tied to the Philadelphia Eagles.
Jon Gruden has a lot going for him. He's a Super Bowl champion head coach. He coached in the Eagles organization as an offensive coordinator for several seasons. And he's been out of the NFL for several seasons, and he probably wants to get involved again sometime.
Gruden really faded off down the stretch of his coaching career, so an argument could be made against him. He went just 45-51 his last six years with the Tampa Bay Buccaneers, winning zero playoff games during that span.
But he would inject instant energy into the team and its fanbase. It's definitely worth considering.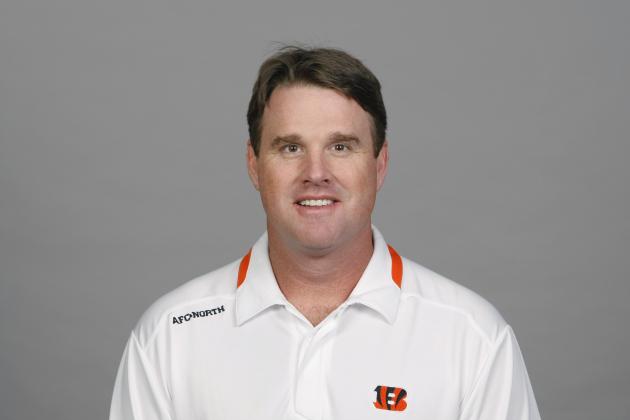 Handout/Getty Images

How about the other Gruden brother? Jay Gruden is having a terrific season as the offensive coordinator of the Cincinnati Bengals this year.
He's done wonders with quarterback Andy Dalton and wide receiver A.J. Green. Gruden got the team to the playoffs in year one of those two players, and the Bengals are in the driver's seat to another playoff berth.
He's never been a head coach before, and he inherits an offense full of talent. Gruden could be the guy to maximize the production out of that talent.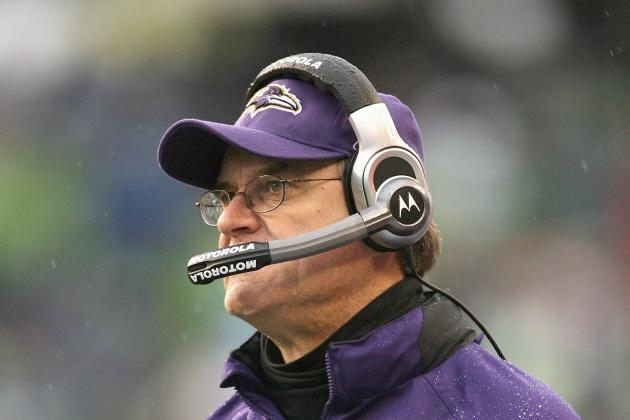 Otto Greule Jr/Getty Images

Brian Billick is another head coach with a Super Bowl ring. He led the Baltimore Ravens to one of the greatest seasons ever in 2000, as his team set a league record for fewest points allowed (165) in a 16-game season.
Billick went just 60-52 in his final seven seasons with the team, winning only one playoff game during that time. But he made the postseason four times in his tenure with the team, and he never really had the luxury of a fine quarterback to work with.
Nick Foles may be the real deal, and he may not be. But Foles has a big, strong arm, and he's on the right track as the signal-caller of this offense. Factor in the explosive running game and the talent on the defensive line, and that should be incentive for Billick.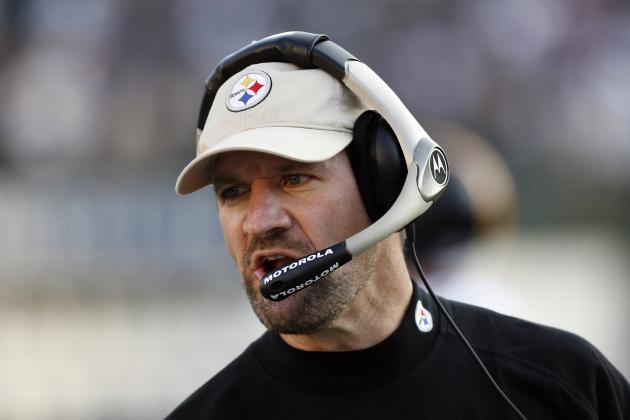 Robert B. Stanton/Getty Images

Bill Cowher would be a completely different personality to the Philadelphia Eagles' players than Andy Reid. Cowher is feisty and energetic, and he's not afraid to get in the face of any player that isn't giving it his all.
Cowher won a Super Bowl during his tenure with the Pittsburgh Steelers, although it did take him over a decade to do so. But he has an impressive resume, having won nearly 150 games in 15 seasons with the team. Cowher led the Steelers to nine double-digit win seasons, taking the team to the postseason 10 times.
Cowher also showed instant success with the Steelers. He took over a team that had won just seven games in 1991 and led them to 11 wins in 1992, and a Super Bowl appearance by year four. The Eagles have the talent to win now, and Cowher could get that done.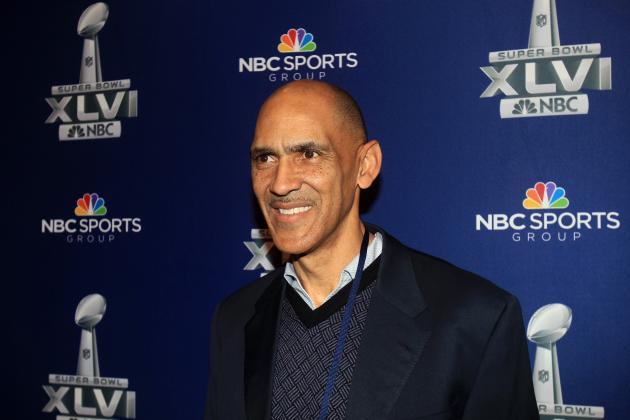 Scott Halleran/Getty Images

It's doubtful that Tony Dungy will want to return to coaching, considering how much he's enjoying his current life.
Dungy is another coach with a Super Bowl ring. He was successful with the Tampa Bay Buccaneers, but then took the Indianapolis Colts to the next level. Dungy made the playoffs 11 times in 13 seasons, including a Super Bowl championship following 2006.
A lot of Dungy's success was likely due to Peyton Manning (after all, Jim Caldwell got to a Super Bowl with this team). And he's a mild-mannered guy when the Philadelphia Eagles may need a guy that will kick them in the pants a la Bill Cowher.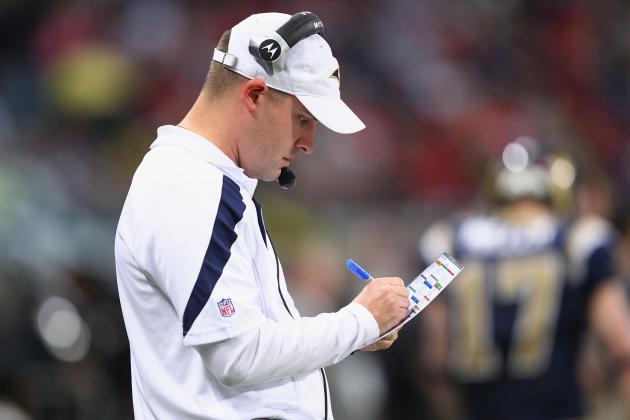 Dilip Vishwanat/Getty Images

This could be a tough sell to the Philadelphia Eagles fanbase. Josh McDaniels has thrived throughout his career as an offensive assistant on the New England Patriots although he saw some rough luck while with the Denver Broncos as a head coach.
McDaniels won his first six games as coach in 2009 but lasted just one full season at the helm of the Broncos. He was fired 12 games into '10, going 5-17 to close out his tenure in Denver. And he's had a lot of success with the Patriots, but he was a no-show with the St. Louis Rams, helping the offense finish dead-last in the NFL in total yards.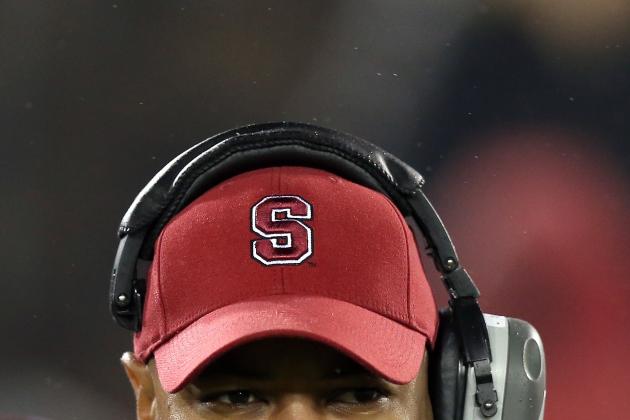 Ezra Shaw/Getty Images

The logic for Philadelphia Eagles fans has been if Chip Kelly is so good, why not get the guy that beat Kelly?
David Shaw is 22-4 as the head coach of Stanford University, and we saw the results he got with Andrew Luck. Shaw was actually the quarterbacks coach of the Eagles back in 1997, and he ran an offense with players like Rodney Peete, Bobby Hoying, and Ty Detmer that managed to rank fifth in the NFL in total yards and sixth in passing yards.
Shaw is just 40 years old, and he may be ready to take over at the NFL level.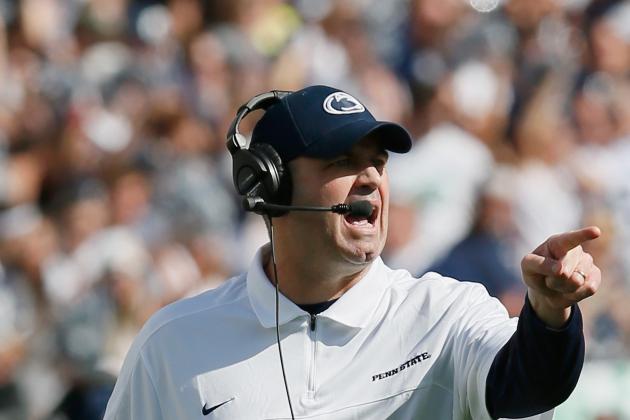 Rob Carr/Getty Images

What Bill O'Brien did in his first year at Penn State was absolutely astounding. He took a program that was decimated by off-the-field scandals and went 8-4. ESPN writer Rick Reilly called O'Brien's work the coaching performance of the year in college sports.
O'Brien also saw a boatload of success as the offensive coordinator of the New England Patriots in 2011. He directed the offense to a Super Bowl berth in his lone season as the team's coordinator, and he would inherit an offense in Philadelphia with a ton of talent.
O'Brien has said he is not returning to the NFL in 2013, but he would not be the first coach in history to change his mind when offered a head-coaching position.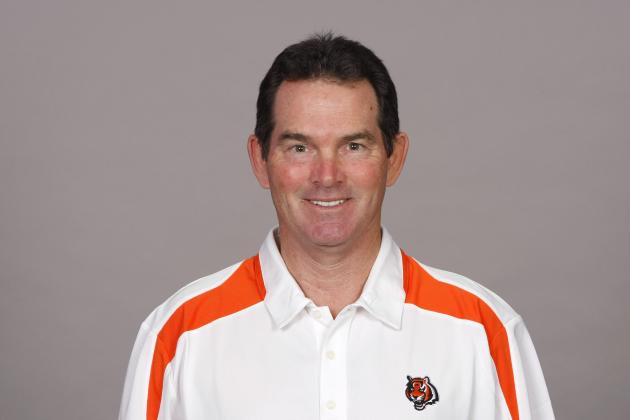 NFL Photos/Getty Images

Mike Zimmer has been one of the more under-the-radar candidates for a future head coach position in the NFL. Zimmer was a defensive coordinator of the Dallas Cowboys for many years, and now he's doing a terrific job for the Cincinnati Bengals.
Despite losing star cornerback Johnathan Joseph in free agency, the Bengals' defense has been the strength of the team for two straight seasons. Zimmer helped the team reach the playoffs in 2011, and he's got a good chance to make it two straight trips to the postseason in 2012.
Zimmer has never been a head coach at the NFL level, but he's done an admirable job with the Bengals' defense, and he might be worth a look for the Philadelphia Eagles.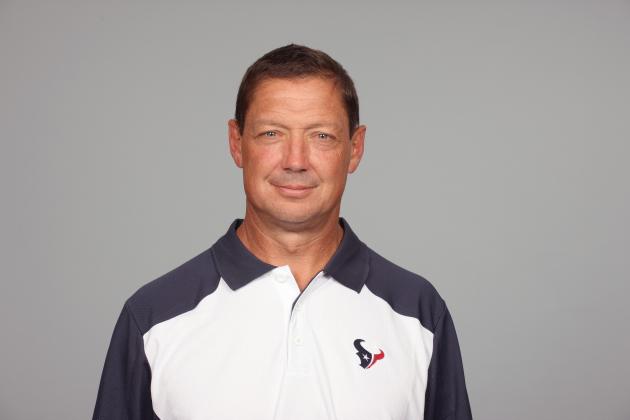 Handout/Getty Images

This would be a pretty ideal candidate for the Philadelphia Eagles. Rick Dennison has done a phenomenal job with the Houston Texans offense, where he's served as offensive coordinator since 2010.
Dennison helped coax a breakout season from Arian Foster in '10, and Foster has been one of the best running backs in the NFL during the last three years. Dennison loves to run the football (the Texans ranked first in the league in rushing attempts in 2011 and they're first again in 2012). He would undoubtedly love an offense with LeSean McCoy and Bryce Brown.
Dennison would be able to limit the pressure on next year's quarterback because of his high run-pass ratio. Nick Foles' job would be significantly easier with McCoy and Brown combining for 450 or more carries next season.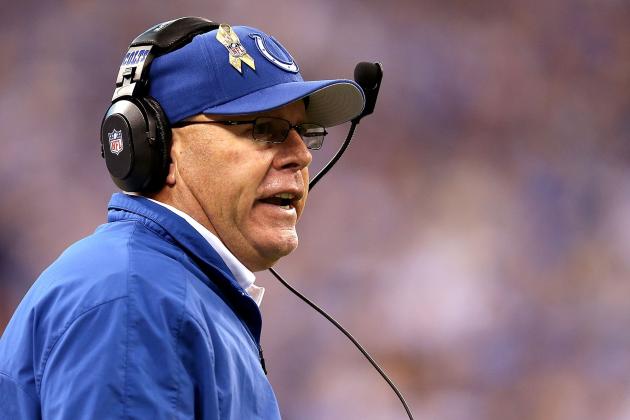 Matthew Stockman/Getty Images

Bruce Arians has done a truly remarkable job as interim head coach of the Indianapolis Colts this season. The team was 1-2 when he took over for Chuck Pagano, and Arians has guided the team to an 8-2 record since.
The Colts are one of the more shocking playoff teams in recent years, considering they're starting a rookie quarterback a year after going just 2-14.
Arians has an impressive NFL resume, as he began by tutoring Peyton Manning into a Pro Bowl player just one year after being drafted. He was an assistant coach on the 2005 Super Bowl champion Pittsburgh Steelers, then the offensive coordinator of the 2008 team that won a title.
The only knock against Arians is his age (60). GM Howie Roseman and owner Jeffrey Lurie would probably like to bring in a younger face to lead this franchise.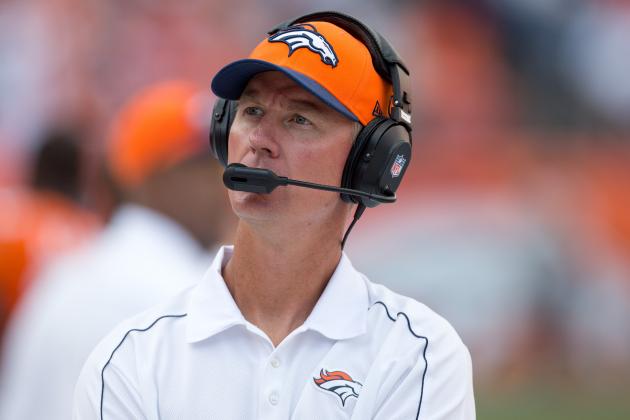 Justin Edmonds/Getty Images

Mike McCoy has done an admirable job as an assistant head coach over the last few seasons. He coaxed the best season of Kyle Orton's career out of him in 2010, then revamped the offense to a run-first attack in 2011 behind Tim Tebow.
And now McCoy's Broncos (with Peyton Manning) are second in scoring offense, fourth in total offense, and number one in net passing yards per attempt. That should translate into a head coaching job somewhere for McCoy, who is still just 40 years old.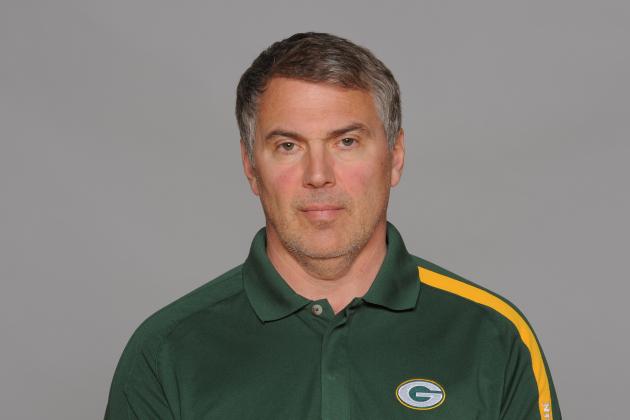 Handout/Getty Images

Tom Clements' resume speaks for itself. He was the quarterbacks coach for three highly-prolific passers in Green Bay—Brett Favre, Aaron Rodgers and Matt Flynn.
Clements helped Favre turn in a career year at the age of 38 in 2007, leading the Packers to the NFC Championship Game. He has developed Rodgers into arguably the finest quarterback in the league, a reigning NFL MVP and a Super Bowl champion. And he mentored Flynn well enough that Flynn's 480-yard, six-touchdown day in Week 17 of last year earned him a $25 million deal in Seattle.
Clements will be 60 years old by the start of next season, which certainly isn't ideal. But the success he's seen in Green Bay is extremely impressive, and Clements should be good for Nick Foles.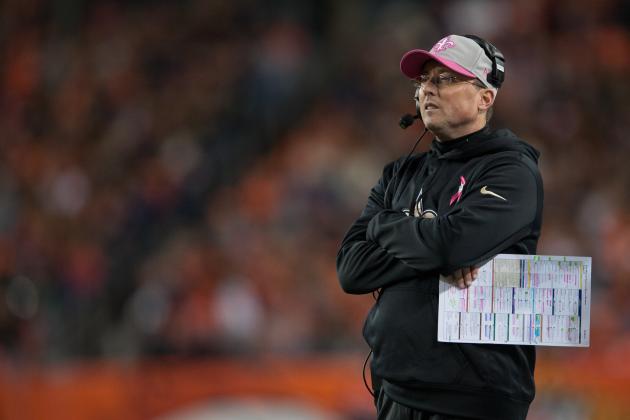 Dustin Bradford/Getty Images

Pete Carmichael has been linked to several head coaching positions already, as he interviewed with both the Oakland Raiders and Indianapolis Colts this past offseason.
Carmichael is the offensive coordinator of the high-powered New Orleans Saints' offense, where he's seen ridiculous results. Carmichael helped the Saints to a Super Bowl championship following the 2010 season, and he's helped the team rank first or second in the league in touchdown passes thrown in each of the past four years.
Carmichael won't have the same quarterback as Drew Brees if he takes the Philly job, but Nick Foles has a strong arm, he's extremely intelligent, and he has talent all around him on the offensive side of the ball.