Norwich City: 5 Things Learned from Wigan Athletic Win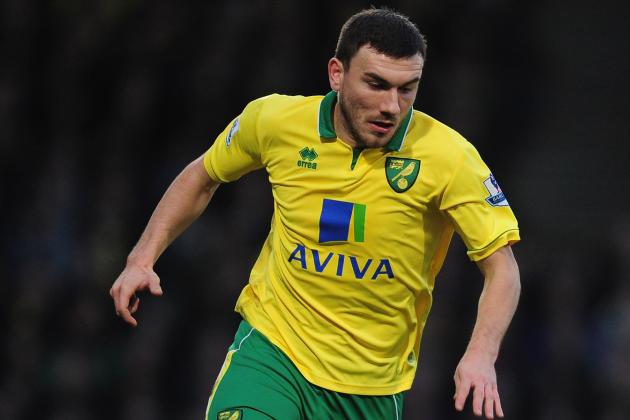 Jamie McDonald/Getty Images

So, it was another home game at Carrow Road and another game that Norwich City won, the three points against some other sides this season may be considered more glamorous, but the three points against Wigan was just as important if not more so.
I think it's clear that the Canaries were full value for their 2-1 success and will be very pleased to be on an unbeaten run that only Barcelona can beat within Europe's top divisions.
Of course, the real important thing was to get the win that has put the team 10 points clear of the relegation zone.
In fact, at the time of writing, Norwich is only four points away from a Champions League qualification spot in the English Premier League.
They are also throwing in a late entry to be the surprise package of the season; Newcastle United managed it last season. So far, West Brom and Swansea looked to be the ones, but the Canaries are now firmly in the mix.
Anyway, let's focus on the game against Wigan for now, so sit back and enjoy my latest slideshow…
Begin Slideshow

»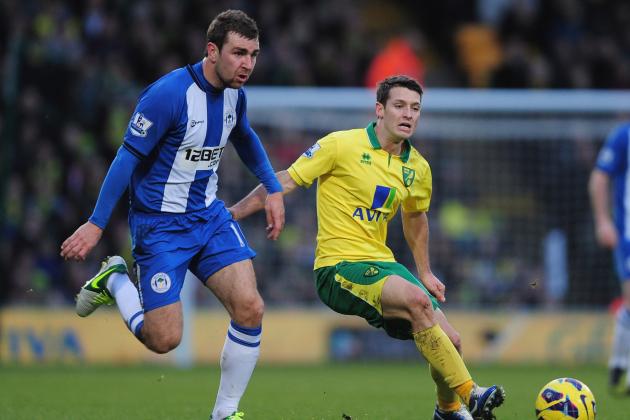 Jamie McDonald/Getty Images

The news that Wes Hoolahan had signed a new contract to keep him at Carrow Road until 2015 that was announced before the game was very welcome.
The Irishman was badly missed in the cup match against Aston Villa, and his performance against Wigan shows how important he is to the way that Norwich City play.
I have said on previous occasions that it doesn't truly matter if he contributes goals or not because he is always influencing the match is one way or another.
Nevertheless, when he is playing in this advanced role there is some responsibility on him to contribute some goals.
Therefore, the performance that he put in against Wigan was near perfection by setting up the opening goal and scoring the winner.
I think if he contributes the odd goal on a regular basis, then there won't really be any questions left for him to answer.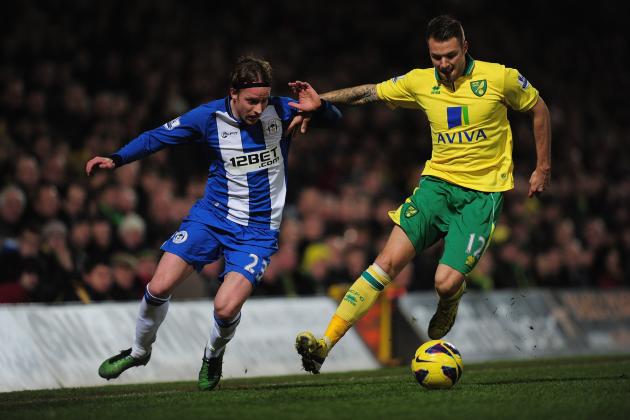 Jamie McDonald/Getty Images

It seems like the Norwich City winger is playing on top of his game at this moment in time.
I think we haven't always seen an end product from him this season, but against Wigan he has scored one and created another, and I certainly felt that he outperformed Robert Snodgrass on the other side.
I can't really talk about his performance without mentioning the incident that led to him receiving a yellow card. At the time, I thought it was a blatant foul and an outrage that he received a yellow card for an alleged dive.
A look at the replay is rather inconclusive, it's clear that there was contact, but a matter of debate on if that content was sufficient to knock him to the ground.
After consulting that replay, had the referee allowed play to carry on then I don't think I would have many complaints.
Overall, I don't think Pilkington has gone out to deliberately mislead the referee, I see it as a coming together of two players which is neither a foul or dive and that can happen, it doesn't always have to be one or the other. In any case, it was a fine performance from Pilkington and let's hope for more of the same.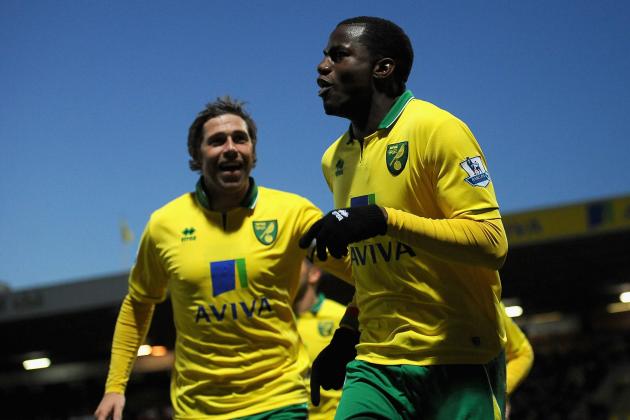 Christopher Lee/Getty Images

It's wonderful to be talked about in similar terms as Barcelona in this unbeaten run, but I do think unbeaten runs can be one of the most misleading statistics in modern football.
This is because it's quite possible to have a long unbeaten run when a team only wins occasionally.
However, a close inspection of Norwich City's run shows that it has been very impressive, and wins are arriving at a rather good rate.
Nevertheless, I think it's the form over recent home games that is seriously impressive because I don't see Chris Hughton's side winning many away games.
A home run that reads five wins from the last six games in the Premier League form table is what it's really all about, a record that can be beaten by Manchester United.
The Canaries have now taken 14 points from their last six games, which puts them second in the form table.
What's interesting about this statistic is that the team has only won one of their last six away games, showing how important the home record is in all of this.
Hopefully, Norwich City can go out and extend their unbeaten run at West Brom, but what is really important is to keep winning games regularly at home.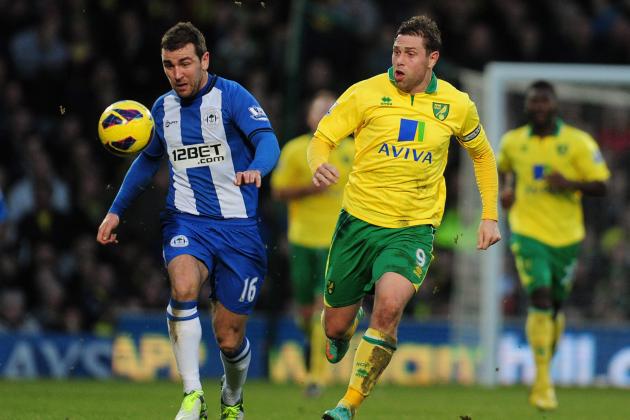 Jamie McDonald/Getty Images

It appears that Grant Holt may have done something to his hamstring during the win over Wigan; obviously, we all hope that he is able to recover for the game against West Brom.
But the Christmas and New Year period is very busy so Holt will need to be protected as much as possible.
Therefore, it's more than likely that Steve Morison will get his chance in next week's game. Although, the Welsh striker hasn't been given a real opportunity this season; he is certainly capable of doing a job.
I think he proved against Aston Villa that he carries a goal threat, and although he is a different type of player to Holt, he can influence a game in his own way.
I know sometimes he doesn't show the appetite and work-rate of some other players, but it's worth remembering that he did a solid job for us as a lone striker for significant periods last season.
In my opinion, we sometimes don't get to see the best of him, because he doesn't react well to playing with another striker. I think he works best when in the central attacking option and focal point of the attacks.
It remains to be seen how well he will link-up with Wes Hoolahan, but he is deserving of an opportunity to show what he can do.
If Holt is out for a few games, then I think we need to just stick with the system and give Morison a go.
I also think it is worth remembering that we seem to be sharing goals around the team at the moment, so there wouldn't be huge pressure on Morison to provide goals if Holt was sidelined.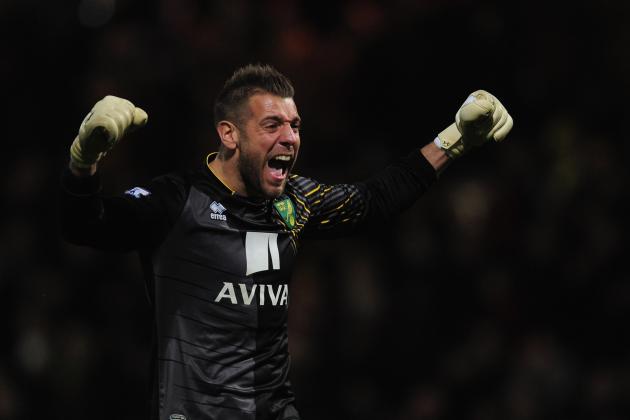 Jamie McDonald/Getty Images

I have been quite critical about Mark Bunn's performances over the last few games; I stand-by my view that he has work to do to reach John Ruddy's level. But I saw a solid performance from him against Wigan, which may suggest that we can cope with Ruddy's absence.
Hopefully, he can continue to improve to become the solid and reliable goalkeeper that we all need.
I think bringing Sebastien Bassong to Carrow Road was a superb piece of business during the summer, and he continues to show what a top quality defender he is.
I wouldn't say he had the hardest day at the office against Wigan, but when we needed him, he was there to deny Kone at the death.
There was also an amusing part of the game when Bassong was being excessively held by a Wigan player trying to get in on goal. Of course, the referee completely ignored all of this and allowed play to continue, and the Cameroon defender continued to do his job professionally.
But once the danger was sorted out, Bassong turned around and shoved his man to the floor. This does shows what a no nonsense character the defender is, and you would be well advised not to mess with him.