15 Things We Learned from NFL Week 15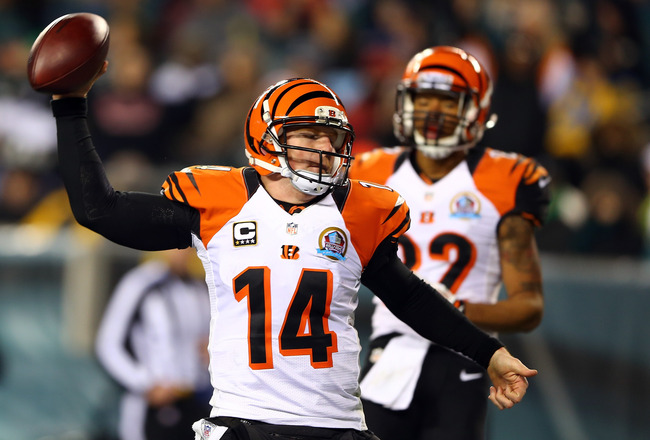 Elsa/Getty Images
Do you feel that? That's not winter's bluster or butterflies in your stomach. The playoffs draw near.
Is your team in?
Perhaps you grow weary of a long season as a Cardinals fan, but football season seems to come and go like the blink of an eye.
Week 15 offered us some playoff tension, but mainly it served to separate the pretenders from the contenders. Here are 15 things we learned from last week's matchups.
Tony Gonzalez Could Be a Vampire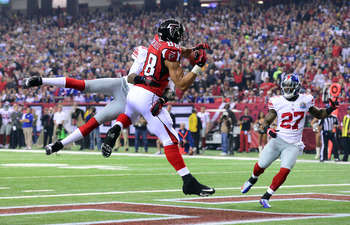 Scott Cunningham/Getty Images
How else can we explain Tony Gonzalez's youthful prowess?
Gonzalez took a perfectly placed pass from Matt Ryan—perfect in the sense that only Tony Gonzalez, Calvin Johnson and, perhaps, Jimmy Graham could have gotten to it—and jumped over the outstretched arms of his defender for a touchdown in the end zone.
He looks as good as ever at 35. Is the twilight of his career really in sight?
Casey Hayward Is the Defensive Rookie of the Year
USA TODAY Sports
Apologies to Bobby Wagner, who is having a fantastic rookie season on the defensive side for Seattle, but Hayward continues his march to the Defensive Rookie of the Year Award.
The rookie cornerback had yet another interception against the Bears in a marquee matchup. He was leading the league, allowing a measly 30.1 NFL quarterback rating on passes thrown his direction heading into the game, and it seems he will retain that lead once the advanced statistics come out.
He has been one of the biggest steals of the 2012 draft, and he should be the DROY at the end of the year.
There's a Reason Why They Are Punters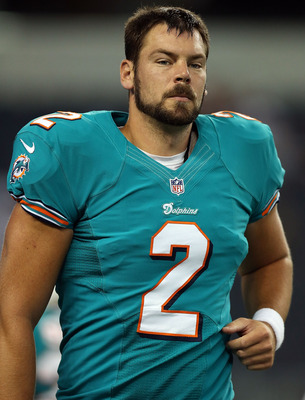 Ronald Martinez/Getty Images
The Dolphins were leading 10-3 with an opportunity to go up by two scores in Jacksonville territory. Dan Carpenter lined up for a relatively easy field goal try, but punter/holder Brandon Fields had something else in mind.
Anthony Fasano had lined up outside, triggering what looked like a punter option to throw.
It might have been a good play if Fields hadn't sailed the pass 10 yards out of bounds. Fortunately for Miami, the botched fake was not detrimental.
Needless to say, Fields won't be doing that again anytime soon.
The Buccaneers Were Pretenders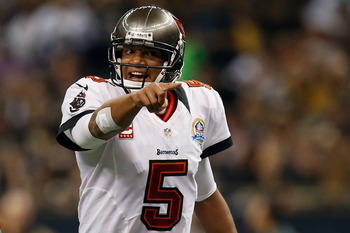 Chris Graythen/Getty Images
For a while it looked as if Josh Freeman and the Buccaneers were legitimate playoff contenders. They were lighting up the scoreboard en route to a 6-4 record with a wild-card spot in sights.
After a 41-0 dismantling at the hands of the Saints, the playoffs seem far out of the picture.
Tampa Bay's defense has not been good all season, and the offense has been exposed in recent weeks. How they could go without a point against one of the worst defenses in the league is baffling; maybe Doug Martin is hitting a rookie wall after all.
RGIII Is out of the Rookie of the Year Race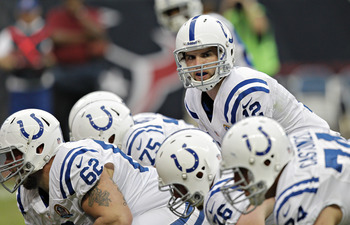 Bob Levey/Getty Images
Before this week, Robert Griffin III and Andrew Luck were neck and neck in the race for Offensive Rookie of the Year. The duo both had legitimate claims to the award along with Russell Wilson, who has been charging from behind since midseason.
RGIII's absence in a road victory against the Browns was a huge blow to his chances, however.
The dynamic rookie was not needed while fellow rookie Kirk Cousins came from behind to beat Cleveland. It was not a terribly tough matchup, but the Browns defense was no slouch.
The simple truth is that the Redskins showed they could win without Griffin, easy matchup or not. That should be enough to take him out of the race, not to mention Wilson had an incredible game.
Chicago Is in Trouble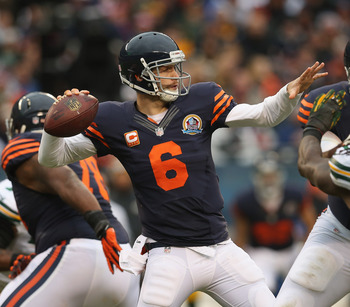 Jonathan Daniel/Getty Images
The Bears were gifted two turnovers in good field position and came away with six total points. It was that kind of day for Chicago.
Worse is the fact Green Bay clinched the NFC North while Chicago continues to spiral down in a late-season tailspin.
The Bears are 8-6, losing a tiebreaker with the Vikings for second place in their division and fighting for their playoff lives. They get to play the faltering Lions and usually terrible Cardinals to finish out the season, but they are going to be hard-pressed to make the playoffs at this rate.
Adrian Peterson Is the NFL MVP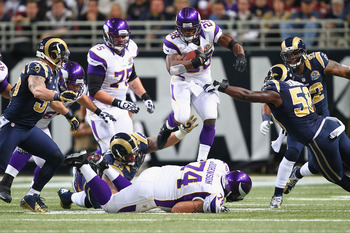 Dilip Vishwanat/Getty Images
We learned this last week, but the lesson was taught once more this past Sunday. Adrian Peterson is simply amazing.
Wolverine shredded the St. Louis defense for 212 yards in pursuit of Eric Dickerson's all-time yardage record. It was just his latest huge performance despite opposing defenses doing everything to stop him.
Where would Minnesota be without him? While that does not necessarily play a big role in the MVP vote, it should certainly help his case.
Consider that Peterson is having a historic season on a surgically repaired right knee less than a year after injuring it, and how can anyone keep him out of the top two on their ballots?
Russell Wilson Isn't Kosher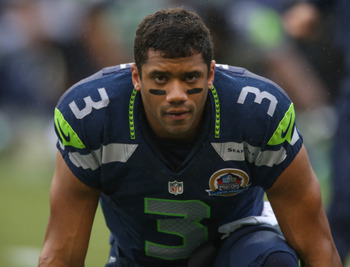 Otto Greule Jr/Getty Images
Russell Wilson isn't kosher because he went ham on the Buffalo Bills.
The rookie is sneaking up on Andrew Luck and Robert Griffin III, and his huge game in Toronto should have pulled him even.
Wilson had three rushing touchdowns and a conventional passing touchdown all in the first half before coasting to another huge victory. He also rewarded any fantasy owners who might have started him in a big way.
Rookie Quarterbacks Rule the Roost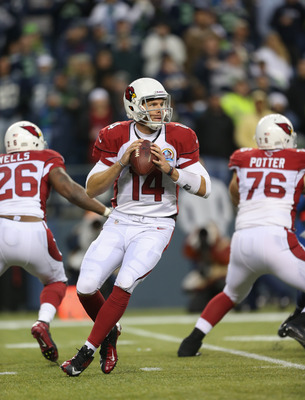 Otto Greule Jr/Getty Images
We are witnessing a special season in the NFL.
This rookie class of quarterbacks has rivaled the best in league history and could be judged as such when Andrew Luck, Robert Griffin III, Russell Wilson and Co. hang up their cleats.
It's not just about those three Rookie of the Year contenders, though. With an unlikely victory against the Lions—albeit in spite of his performance—Ryan Lindley became the eighth rookie quarterback to post a victory this season.
That includes Kirk Cousins, who also won on the road against a pretty good Cleveland defense.
Sadly for them, none of these quarterbacks play for Jacksonville or Kansas City, who not-so-coincidentally own the top two picks in the NFL draft at the moment.
Ben Roethlisberger Should Audition for a Dance Show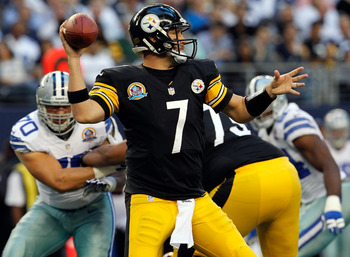 Tom Pennington/Getty Images
The second quarter was winding down, and the Steelers were down 10-3. Ben Roethlisberger was driving them down the field into scoring position with less than a minute to go in the first half.
Big Ben took the snap around 0:43 and dropped back. He then proceeded to step up, pump fake a few times, spin and do the cha-cha-cha until he found Heath Miller open on the sideline for a touchdown. It was a magnificent dance that was ultimately in vain.
Perhaps he can follow his former teammate, Hines Ward, to Dancing with the Stars.
Seattle Just Scored Again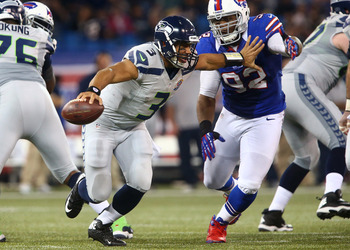 Tom Szczerbowski/Getty Images
In a continuation of last week's fireworks, Seattle lit up another hapless opponent, this time in Buffalo by way of Toronto.
This week's 50-17 drubbing makes 108 points the Seahawks have scored over the past two weeks. The defense got into the act again against Buffalo, but it was mostly the Russell Wilson Show this time around.
Oops, they just scored again.
49ers-Patriots Was a Great Super Bowl Preview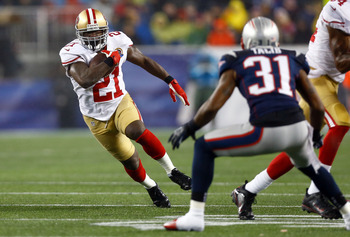 Jared Wickerham/Getty Images
Who would have thunk the 49ers would build a 31-3 lead against the Patriots on the road? At that point, did you think Tom Brady would come back to tie it?
Sunday Night Football seemed like it would be headed to another boring blowout, but if any team could overcome that deficit, the Patriots could.
And they did.
They ultimately fell to Colin Kaepernick and the 49ers 41-34, but this was a riveting preview of a potential Super Bowl matchup. Another slugfest would be fun to watch.
Denver Is the No. 2 Seed in the AFC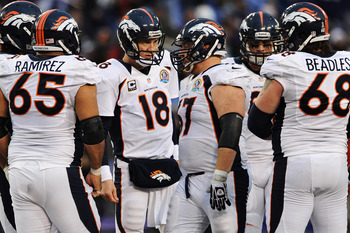 Patrick Smith/Getty Images
Sure, there is plenty of football to be had, but you can practically take this one to the bank.
Denver is the NFL's hottest, most complete team. They have won nine in a row, and their next opponents are Cleveland and Kansas City at home.
The Broncos vaulted the Patriots for that second seed after New England's narrow loss to the San Francisco, and they should have no problem keeping it.
Detroit Is Moonwalking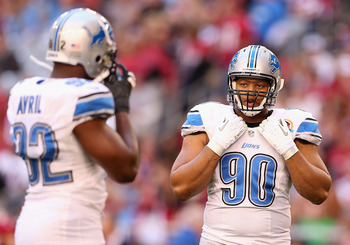 Christian Petersen/Getty Images
What could be worse than a four-win season? How about losing 38-10 to a terrible Cardinals team that was shellacked 58-0 a week ago?
The Lions took a promising playoff run last season and turned it into a debacle this year, and they are getting worse by the week. The discipline is shoddy, and development has stalled around the roster. Off-field issues continue to mar the team.
Jim Schwartz must have a good offseason or he will go the way of the Matt Millen (dodo) bird.
Dallas Has Turned a Corner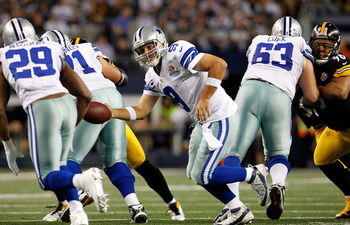 Tom Pennington/Getty Images
In a stunning reversal of perception, the Cowboys have gutted out two last-minute victories against tough opponents.
Tony Romo has led his team to back-to-back wins against AFC North playoff-hopeful Cincinnati and Pittsburgh. Unfortunately for Dallas, Washington is keeping pace.
The Cowboys are in a three-way tie for the NFC East lead, however, and they control their destiny when it comes to making the playoffs. If they keep this up, we might have to find a new definition for "Romo'd."
Keep Reading