Dustin Poirier vs Jonathan Brookins and 5 Memorable One-Round UFC Fights in 2012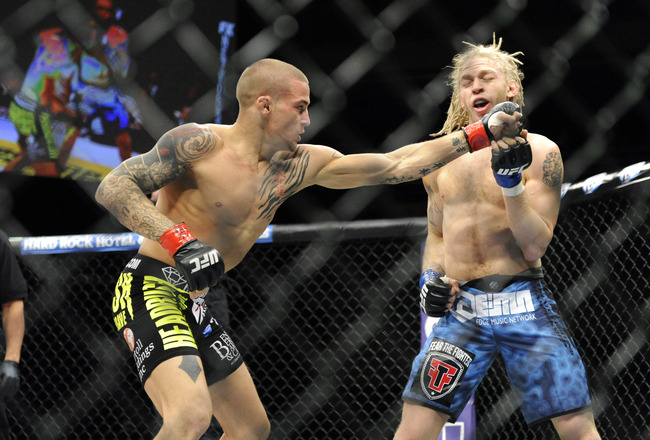 Josh Holmberg-USA TODAY Sports
After his emotional loss to Chan Sung Jung in May at UFC on Fuel TV, Dustin Poirier found winning ways again with a technically brilliant first-round submission over talented mixed martial artist Jonathan Brookins.
His win at the TUF 16 finale was just one of many memorable first-round finishes in the UFC in 2012. It underscores all the hopes we have in Poirier as one of the most talented young men in MMA looking to surge for the title against division champion Jose Aldo.
Here's a list of memorable one-round fights in the UFC in 2012, including Poririer's win over Brookins.
Dustin Poirier vs. Jonathan Brookins: The Ultimate Fighter 16 Finale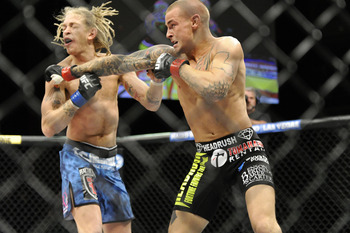 Josh Holmberg-USA TODAY Sports
Both Poirier and Brookins were coming into this fight off of a loss, so tensions were high going into the match.
Poirier in particular has looked phenomenal in his short career until the setback against "The Korean Zombie" Chan Sung Jung in May.
Saturday night's contest was even for the most part, with neither Brookins nor Poirier having the edge until the final minute of the first round when Poirier was able to sink in a D'arce choke that had his opponent tapping into submission.
Johny Hendricks vs Martin Kampmann: UFC 154
Eric Bolte-USA TODAY Sports
It was a fight which would decide the next contender for the welterweight title. With champion and interim champion Georges St-Pierre and Carlos Condit going at it in the main event, all eyes were on the co-main to see who would emerge between Johny Hendricks and Martin Kampmann as the next in line.
In the end, it was Hendricks who proved himself once again one of the heaviest-hitting welterweights in MMA, finishing Kampmann with a perfectly timed right hook within 46 seconds of the first round. Almost as quick as his 12-second knockout of Jon Fitch, but not quite.
Cung Le vs Rich Franklin: UFC on Fuel TV – Franklin vs Le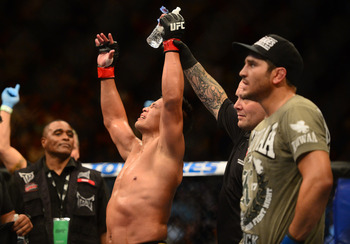 Mark J. Rebilas-USA TODAY Sports
Two veterans of the sport collided in the UFC's first visit to China in the promotion's history, and Cung Le emerged triumphant over his opponent Rich Franklin.
A striker with an impressive kickboxing record, Le was not the sort of man you should be standing and trading blows with.
After a flurry of exchanges between the two, Le unleashed a combo which ended with his fist to Franklin's jaw and the former middleweight champion flat on the canvas.
Anderson Silva vs Stephan Bonnar: UFC 153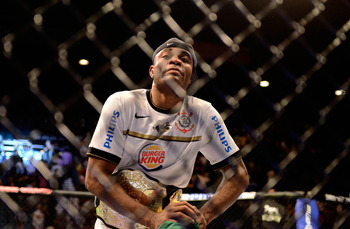 Mark J. Rebilas-USA TODAY Sports
With all the superlatives thrown Anderson Silva's way, it's only when the pressure is off and he's allowed to play that we see the best at his best.
That was the case when he stepped up to light heavyweight to finish Forrest Griffin's night with a stiff jab in the first round, and it happened again when he finished Stephan Bonnar with a devastating knee to the solar plexus.
So much has been written of this fight that it's hard to come up with something new to say about what went down on October 13 in Rio de Janeiro, Brazil.
There was that spinning back kick which Silva dodged in almost bullet time, before mockingly returning back to the same position with his back against the cage. Then there was the champion, in mid-fight, telling his corner to shut-up and let him handle the fight his way.
The one-round fight was a treat to watch and demonstrated why Silva is considered the greatest mixed martial artist of all time.
Cain Velasquez vs Antonio Silva: UFC 146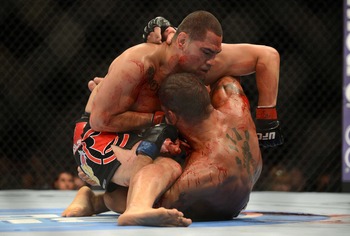 Ron Chenoy-USA TODAY Sports
To say Cain Velasquez decimated Antonio "Bigfoot" Silva at UFC 146 in May would be putting it lightly.
The horror show we witnessed as Velasquez brutalised the Brazilian with elbows and vicious ground-and-pound in their short-lived contest was a checkpoint on the former champion's comeback from his defeat to Junior Dos Santos and served to set up his rematch in two weeks' time.
By all accounts, the match should have been stopped much sooner than the three-and-a-half minutes it was allowed to go on for. If it had been, we would have been spared the gory blood bath which needed to be cleaned up before the main event which took place moments later.
However, if that had happened, then Frank Mir and Dos Santos would not have had to tip-toe through the blood and ponder with brooding trepidation the fate that could await them at the hands of Velasquez for the winner of their contest.
Paulo Thiago vs Siyar Bahadurzada: UFC on Fuel TV: Gustafsson vs Silva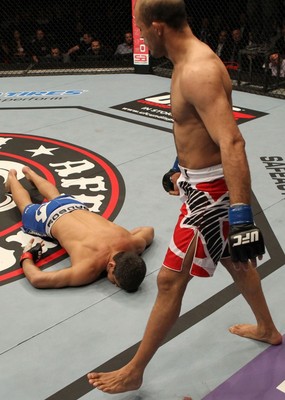 Source: http://www.mmagospel.com
Siyar Bahadurzada's debut couldn't have gone any better. The Afghan, who now fights out of the Netherlands, took only 42 seconds to knock out veteran welterweight Paulo Thiago in one of the most devastating first-round finishes we saw this year.
Fighting out of Golden Glory, home of some of the best strikers in combat sports, Bahadurzada's timing and accuracy was pitch-perfect and introduced a new force to be reckoned with at 170 pounds.
Keep Reading