Vikings vs Rams: Minnesota's Biggest Winners and Losers from Week 15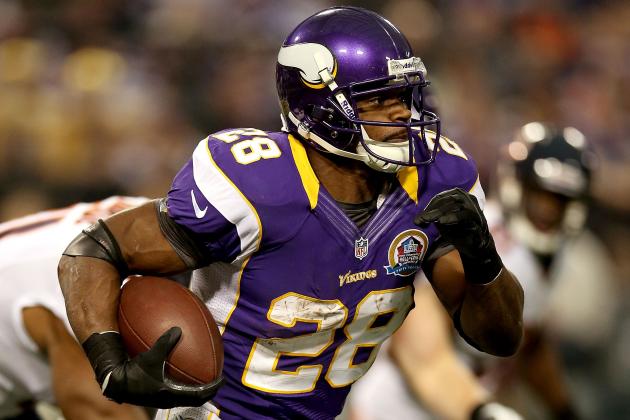 Matthew Stockman/Getty Images

Keeping their playoff hopes alive, the Minnesota Vikings found themselves jumping to an early lead and maintaining it to beat the St. Louis Rams 36-22. It wasn't a perfect performance by any means, and there were certainly some losers to go along with all of the impressive performances that marked Minnesota's game.
The game was much more one-sided than the score would indicate. Two of the Rams' three touchdowns came in the fourth quarter as the Vikings (perhaps incorrectly) played much softer coverage.
In a game that saw Adrian Peterson rushing for 8.8 yards a pop and Blair Walsh setting a Vikings record, Minnesota still had much to improve on.
Winners and losers from this week's game are plentiful. Follow along and see if you agree.
Begin Slideshow

»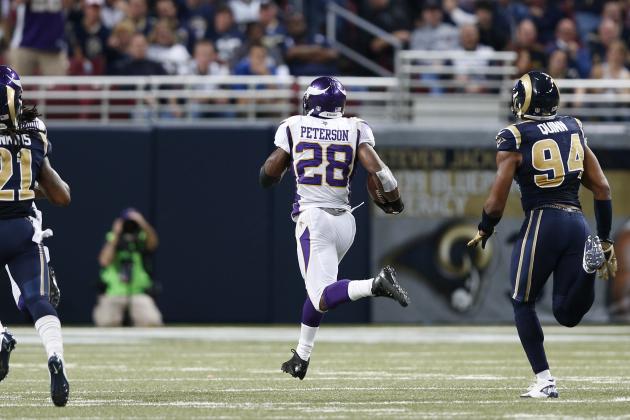 Joe Robbins/Getty Images

With two long gains of over 50 yards, Adrian Peterson overcame a poor early start of eight yards on just as many carries to finish with 212 yards on only 16 more rushes. He finished the game with an eye-popping 8.8 yards per carry and improved his already absurd season total to 6.3 yards per carry, leading the league among backs with over 15 carries a game.
More impressive, the Rams had not allowed a rusher to run for over 65 yards for the past four games.
This marks his eighth consecutive game of over 100 yards and lowers the bar for what he needs to do to capture Eric Dickerson's allegedly unassailable single-season rushing record of 2,105 yards. Peterson needs over 146.5 yards in the next two games in order to accomplish this goal, a tall order even for him.
In order to reach the 2,000-yard mark, Peterson only needs a much more manageable 94 yards in the next two games, something he's accomplished nine times this season. In six of those games, he exceeded the 146.5-yard mark that he would need to catch Dickerson.
Considering he started out the season with games of 84 yards, 60 yards and 86 yards, Peterson's proximity to the record is all the more surprising and impressive.
With two games of above 200 yards in the month of December, he's the first player to have multiple 200-yard rushing games in the same month since Tiki Barber in 2005. It's somewhat shocking that Peterson isn't dominating the discussion for MVP right now, but with more performances like today, he should be able to grab that title before it goes to another quarterback.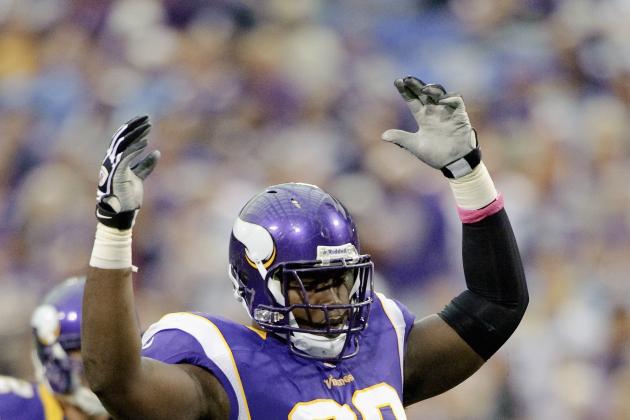 Hannah Foslien/Getty Images

The Vikings defense didn't avail itself well in the win despite keeping the Rams to seven points until the fourth quarter.
Literally front and center, Letroy Guion was part of a Vikings run defense effort that saw Steven Jackson gash the Vikings defense for 5.6 yards a carry. Pushed around at the line of scrimmage, Guion couldn't force the Rams to respect the center of the line, even with a still-formidable Kevin Williams lined up just next to him.
Jackson and Richardson attacked the nose tackle several times in the game, but he only finished with one tackle.
In relief, Fred Evans outplayed him despite not recording a tackle, doing more to control the line of scrimmage and force runs to bounce outside.
Generally, the Vikings were good at pressuring Sam Bradford, but not much of that was due to Guion. Getting pushed around is not a recipe for success in the National Football League.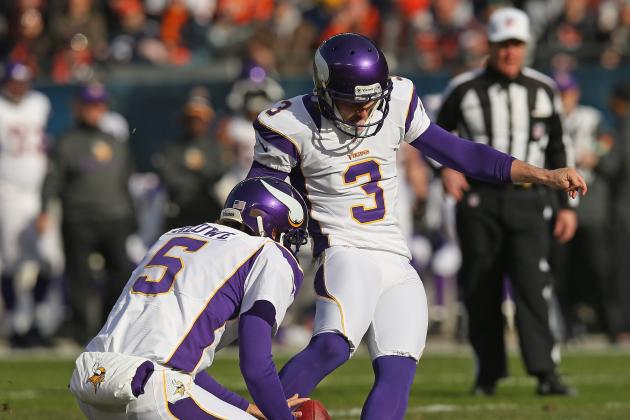 Jonathan Daniel/Getty Images

Blair Walsh certainly made a number of fantasy football owners happy today, and his on-field performance was nearly as important to the Vikings as it was to several playoff contenders in the virtual world.
With three field goals of greater than 50 yards, Walsh tied an NFL record of eight field goals of over 50 yards in a single season and broke the Vikings' team record of seven such field goals. He also tied the single-game NFL record of three 50-plus-yard field goals in a game.
With three extra points, a field goal for 42 yards and one more for 38, the rookie kicker had a performance one might not expect to see from most kickers over the course of entire careers.
Beyond that, Walsh was deadly on kickoffs, booting it to the end zone on all but one attempt—an attempt whose extensive hang time allowed Matt Asiata and the rest of the coverage unit to down the ball 10 yards from the goal line.
While he won't be receiving a game ball by any means, Walsh's performance was only disappointing in that it will inevitably get overshadowed by Adrian Peterson's season-best rushing game.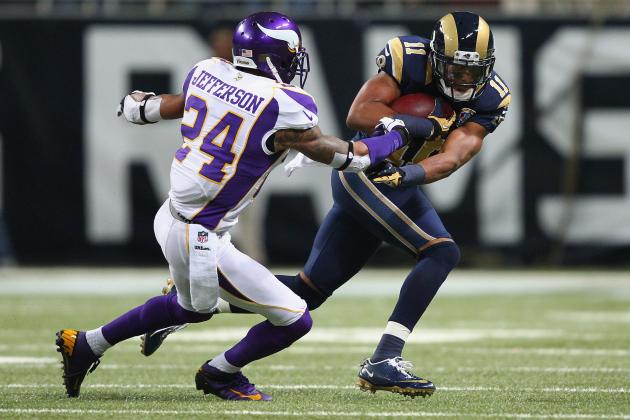 Dilip Vishwanat/Getty Images

Vikings fans might be surprised to learn that Jefferson finished the game with five tackles, given that he couldn't seem to wrap up and finish any meaningful tackles on the field of play.
Other than being a liability with the ball-carrier on the ground, he was not great in pass coverage either.
Constantly, Jefferson played his zones either too deep or too far inside, allowing receivers to run after the catch for a first down and not playing them well in coverage.
A pass interference penalty late in the third quarter kept the game alive for a bit longer than the Vikings may have wanted. Having been targeted three times on six passes for St. Louis' first touchdown—including the touchdown pass itself—the Vikings may have gotten exactly what they paid for with the conditional late-round pick they traded to the Cardinals.
Failing at nearly every phase of cornerback play, perhaps the most disappointing fact is that he wasn't the worst defensive back the Vikings put on the field against the Rams.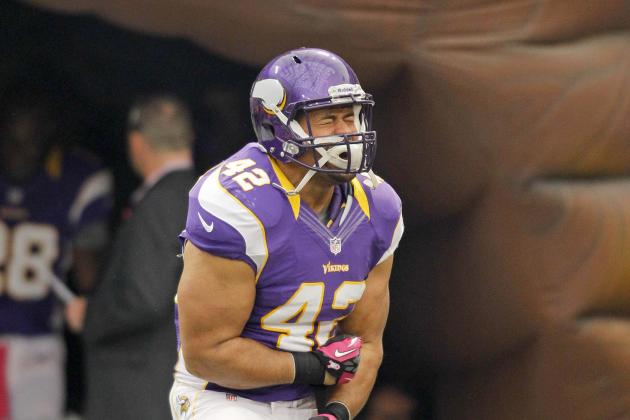 Bruce Kluckhohn-USA TODAY Sports

Before the year started, Adrian Peterson had expressed a preference for running without a fullback or lead blocker. He has since changed his mind, and Felton's outstanding play is one reason why.
While averaging nearly four yards a carry more with a fullback on the field (as of the end of November), Peterson's powerful running game is being paved, almost quite literally, by one of the best lead blockers in the game today.
With Rhett Ellison also on the squad, the Vikings may have the best lead blockers in the NFL.
Nearly all of his big runs came with Felton on the field, and today was no different. Powerful blocks by Felton sprang both of Adrian Peterson's highlight gains, and Peterson's improvement in patience, timing and discipline has really paid off.
Felton didn't slack in protection either, and picked up a blitzer at least once in the game.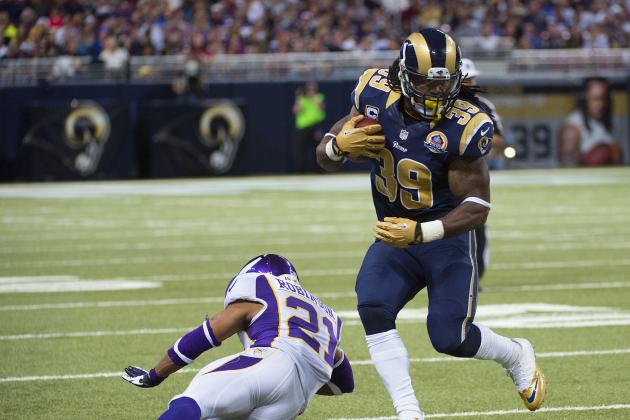 USA TODAY Sports

Rookie cornerback Josh Robinson might have elite speed, but there's still work to be done in his coverage game.
Getting beat on simple double moves, biting on play-action passes and losing leverage, Robinson was nearly a clinic in what not to do as a cornerback.
But not everything that Robinson gave up was within his ability to correct—on occasion, he was simply picked on because of his height. It was an effective strategy for the Rams.
When tape evaluators eventually record his coverage statistics, they would do well not to ignore some big plays he might have given up had it not been for drops and poor throws. On several snaps, Robinson was cleanly beaten by his man, but was saved on a lucky play.
If giving up two touchdowns and quite a few yards to passes in the air wasn't enough, the pass interference penalty he gave up set the Rams up in scoring position. While it may have been a bad call given the fact that pass interference is generally only called on "catchable balls," it's still fairly clear that Robinson himself made a stupid play (especially not knowing where the ball was.)
Players will have bad days, rookies especially so, but this is a game that Robinson will want to study again and again in order never to repeat it.
USA TODAY Sports

Chad Greenway started off the game very poorly, missing tackles and allowing Jackson some early runs. After that, he shored up his game and once again proved why he might be the best Sam linebacker in the league.
While still not the most reliable linebacker in coverage, Greenway exhibited a nose for the ball, often getting to the ball-carrier first and bringing him down.
He finished with 13 solo tackles and one assisted tackle, with one of his tackles for a loss. With that, Greenway added a sack to his total and made good on his reputation as one of the fiercest stoppers in the league.
Once again, he shed blockers with relative ease and found himself in the way of runners often enough to stymie a strong running attack. While Jackson ended up with a good game, only part of his game can be attributed to Greenway, who often lines up on the opposite side of the field as Guion. (The Vikings often play an "over" front, putting their nose tackle on the weak side.)
Hopefully, Greenway added to a resume that surely deserves more Pro Bowl appearances.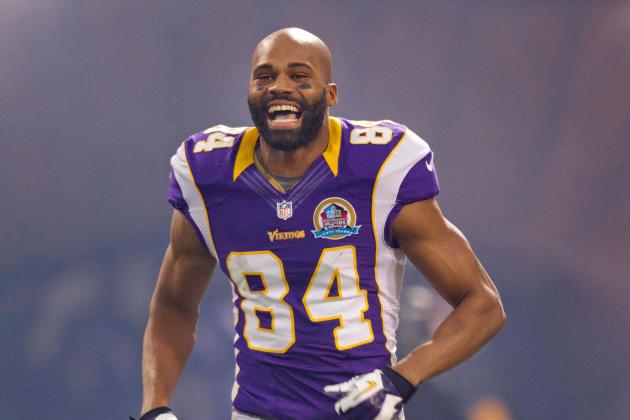 Bruce Kluckhohn-USA TODAY Sports

Michael Jenkins didn't threaten to do much against the Rams, much like he hasn't threatened to do much nearly all year.
Finishing with one reception for 11 yards, Jenkins precision and good hands haven't served him well without explosion at the break, speed off the line and an ability to create separation from receivers.
He was constantly covered up by the young secondary St. Louis fielded and could do nearly nothing about it. While it could generally be chalked up to a passing game led by a quarterback with several games below 150 yards (including this one), it's clear that Jenkins' struggles are his own.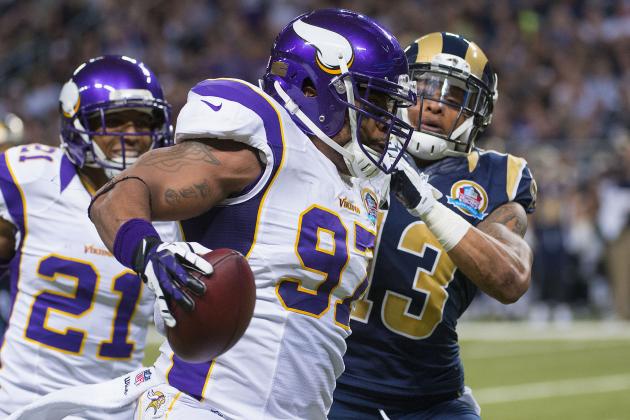 USA TODAY Sports

Everson Griffen found himself on the field more often than expected, having to fill in for an injured Brian Robison. While generally an impact player on pass-rushing subpackages, Griffen found a way to make a difference on the field as an every-down lineman.
While he didn't record more than one tackle—he still has a lot of work to do as a run defender—he consistently put pressure on Sam Bradford and affected the passing game much more than simple sack stats would imply. With one quarterback hit in addition to his hurries, Griffen constantly was a thorn in the Rams' side.
More than that, Griffen helped seal the game for the Vikings an astonishing interception and subsequent return for touchdown. Executing a zone blitz (after the Vikings faked a traditional B gap blitz from Chad Greenway), Griffen rotated into coverage and happened upon the ball as if he were the intended receiver.
An impressive runback to avoid tacklers and find running lanes helped cement a solid performance and gave Griffen the spotlight he hasn't seen in a long time.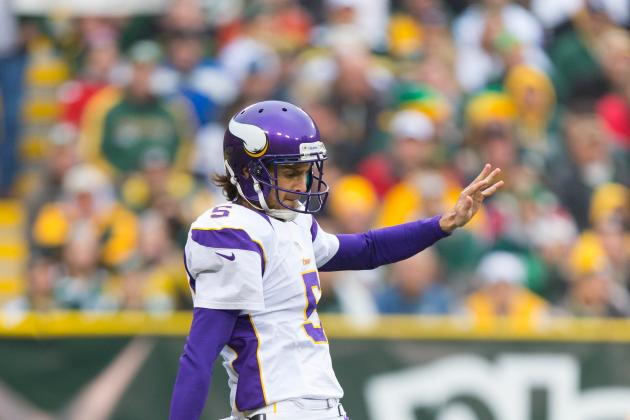 Jeff Hanisch-USA TODAY Sports

A provocative punter from California, Kluwe stirred up doubts about his continued tenure with the Vikings after an inconsistent middle season and some recent comments by special teams coach Mike Priefer about Kluwe's activism.
A poor game from him today would have fueled the minor fire that surrounds his association with the team, and he rose up to the challenge.
In five punts, Kluwe pinned the Rams twice inside their own 20-yard line without any touchbacks. With good directional punting skills—something he's had to develop, as he initially came into the league as a power punter.
While there was one good runback from Seattle on a punt return, Kluwe's punt was fine—the error came from the coverage unit, and it was called back on an illegal block regardless.
The hangtime of his kicks has been much longer this season than it was earlier in his career, and this game is a perfect example, with punt gunners getting the time they need to contain returners before they could do damage.
Field position is vital to winning games, and consistently good punting will help a defense out by giving them more time and a longer field to work with. Kluwe wasn't the most valuable player of the game by any reasonable stretch of the imagination, but he certainly did well to help the Vikings out.