Fantasy Football Live Blog for NFL Week 15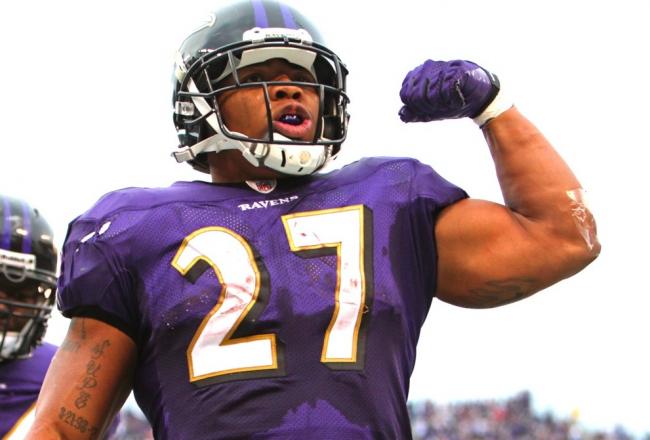 It's Week 15 of the 2012 fantasy football campaign, which means the playoffs are in full swing and championship week is just around the corner.
That makes keeping up to date on all Week 15 developments critical. Whether it's injury updates or the big games, we have you covered with the fantasy football live blog for Week 15.
Apparently at halftime of the game between the San Francisco 49ers and New England Patriots the defenses just left.
San Francisco quarterback Colin Kaepernick has four touchdown passes, counterpart Tom Brady is nearing 400 passing yards, and it looks like the Niners are going to squeak out the win.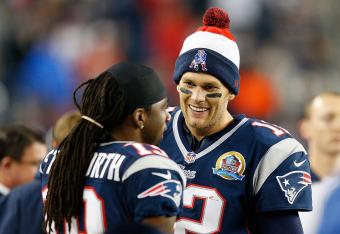 17-3 San Francisco in Sunday night's big matchup between the 49ers and New England Patriots.
Colin Kaepernick has two more touchdown passes than Tom Brady, who has 76 passing yards and an interception.
Yikes.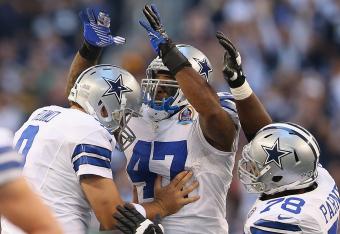 Extra action in Dallas, where the Cowboys are headed to overtime with the Pittsburgh Steelers.
That close game is the exception in Week 15, as a whopping seven games so far this week have been decided by three touchdowns or more.
Made for a lot of flops in fantasy and a lot of torpedoed teams.
Merry Christmas.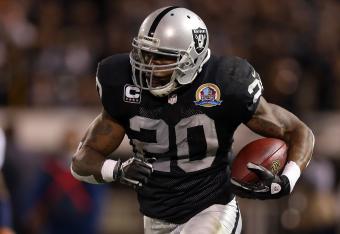 Oakland Raiders running back Darren McFadden has eclipsed 100 rushing yards on the day in a slogfest against the Kansas City Chiefs that the Raiders lead 12-0.
Kansas City Chiefs running back Jamaal Charles is still trying to eclipse the 20 total yards mark.
I hate fantasy football.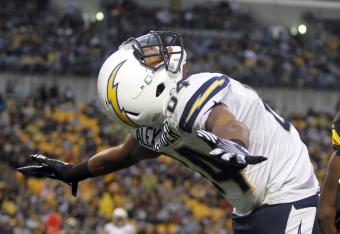 Joining this week's brigade of fantasy players that are leaving many fantasy owners tearing their hair out.
Danario Alexander of the San Diego Chargers has been one of the hottest wide receivers in fantasy football over the past month, but in Week 15?
Nothing. Zero catches.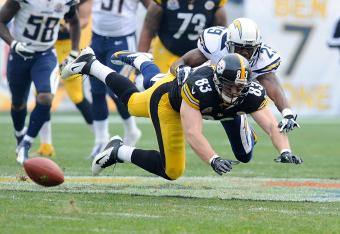 It's been all about the tight ends in Dallas, where the Cowboys and Pittsburgh Steelers are knotted at 10 at the break.
Pittsburgh tight end Heath Miller has six catches for 85 yards and a touchdown, while Jason Witten's one catch for the Cowboys was a 17-yard score.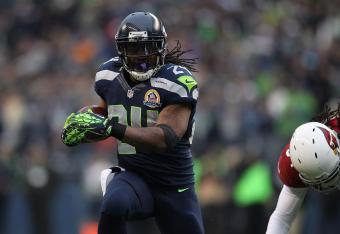 100 rushing yards on nine carries for Seattle Seahawks running back Marshawn Lynch in the first half against the Buffalo Bills.
Now if his quarterback would just stop poaching the touchdowns.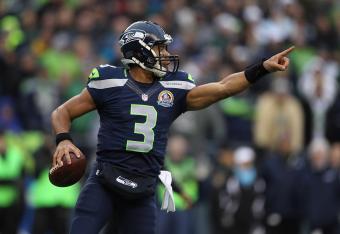 The stat line: 6 carries, 72 yards, 3 touchdowns
The running back? Seattle Seahawks quarterback Russell Wilson.
Meanwhile, Kansas City Chiefs running back Jamaal Charles has three carries for -2 yards against the Oakland Raiders, a top five fantasy matchup for running backs.
You can't make this stuff up.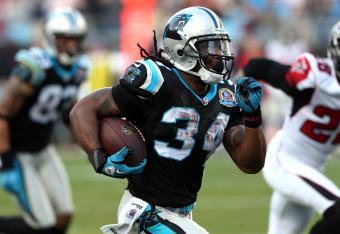 Sunday's sign of the Mayan Apocalypse.
Carolina Panthers running back DeAngelo Williams has 73 yards and a touchdown in one quarter against the San Diego Chargers.
Panthers blowing out the Bolts on a day filled with blowouts, 21-0.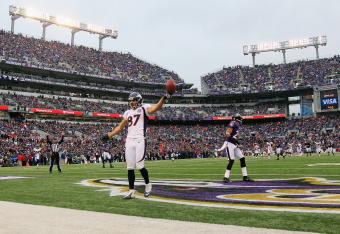 As solid as wide receivers Demaryius Thomas and Eric Decker have been for the Denver Broncos this year figuring out which one to start on a weekly basis can be maddening.
For the second straight week Decker shined in Sunday's win over the Baltimore Ravens, with 8 catches for 133 yards and a touchdown.
Meanwhile Thomas was invisible, with 4 catches for 13 yards.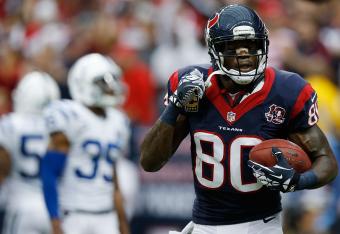 This is an excellent summary of how Week 15 is shaping up in fantasy football.
If you had Houston Texans wide receiver Andre Johnson in your lineup you have to be feeling good about his 11 catches for 151 yards and a touchdown in Houston's AFC South-clinching win over the Indianapolis Colts.
Unless, of course, you also started Colts wideout Reggie Wayne, who pitched in all of three catches for 14 yards.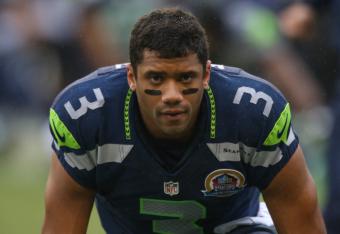 Russell Wilson scrambles in with his second rushing score of the game as the Seattle Seahawks jump up 14-0 on the Buffalo Bills.
Fixing to be one of those days, folks.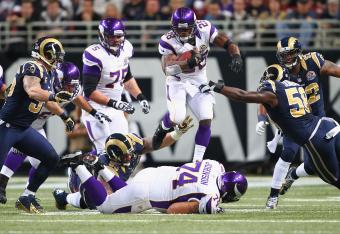 24 carries, 212 yards and a touchdown for Minnesota Vikings running back Adrian Peterson on Sunday.
Wow.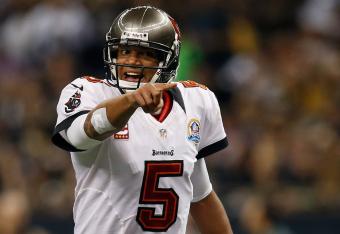 Speaking of epic collapses from a fantasy perspective.
Going up against the worst defense in the NFL many fantasy owners saw big things for members of the Tampa Bay Buccaneers against the New Orleans Saints this week.
Instead quarterback Josh Freeman threw four interceptions, running back Doug Martin gained 35 total yards, and the Bucs got waxed 41-0.
307 passing yards and four touchdowns for Saints quarterback Drew Brees in the win.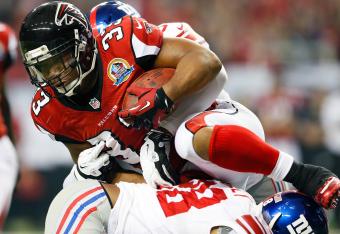 We have our first final of the day, and it sunk many fantasy squads this week.
Eli Manning goes for 162 yards and no touchdowns with two interceptions, no New York Giants skill player except Domenik Hixon tops 80 yards, and the G-Men get destroyed 34-0 by the Atlanta Falcons.
David Wilson, this week's running back du jour? 66 total yards. Old warhorse Michael Turner had 61 and a touchdown for the Falcons.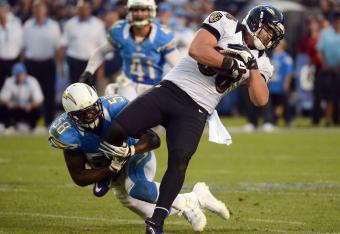 There will be more than a few fantasy games in Week 15 decided by Dennis Pitta.
The Baltimore Ravens tight end has hauled in two scoring strikes from Joe Flacco and now has seven grabs for 125 yards.
Wide receivers Torrey Smith and Anquan Boldin, meanwhile, have combined for one catch for 14 yards.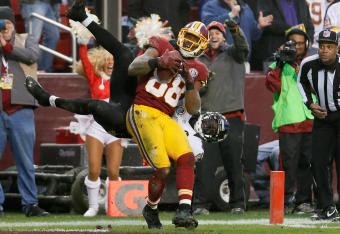 Fantasy owners who sat wide receiver Pierre Garcon of the Washington Redskins may live to regret it.
Granted, six catches for 65 yards isn't a great stat line, but there's still almost a quarter to play.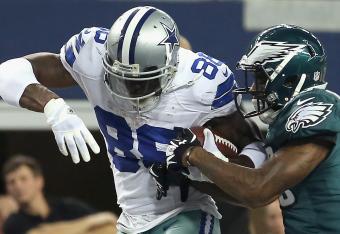 As expected Dallas Cowboys wide receiver Dez Bryant is active Sunday and will play despite a broken finger.
How effective the third-year pro will be remains to be seen, but if you held out in the hopes Bryant would play roll him out there.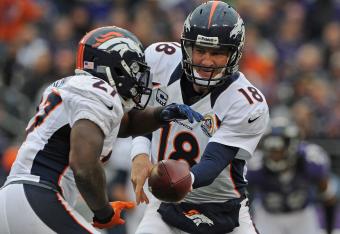 With 102 yards on 18 carries running back Knowshon Moreno has eclipsed the century mark, and Moreno's six-yard touchdown run has officially opened the floodgates.
The Denver Broncos lead the reeling Baltimore Ravens 31-3.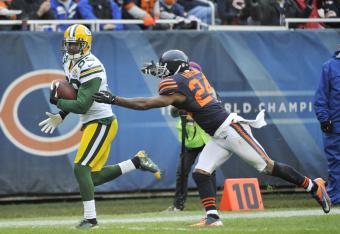 Huge game being turned in by some wide receivers in Week 15.
Eric Decker, Denver Broncos: 7 catches, 120 yards, touchdown
Andre Johnson, Houston Texans: 7 catches, 107 yards, touchdown
James Jones, Green Bay Packers: 4 catches, 49 yards, 3 touchdowns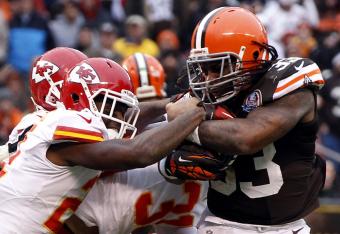 Cleveland Browns running back Trent Richardson may not be churning up the yardage, but his fantasy owners aren't complaining.
Two of the rookies eight carries have gone for touchdowns as the Browns lead the Robert Griffin-less Washington Redskins 14-10 just before halftime.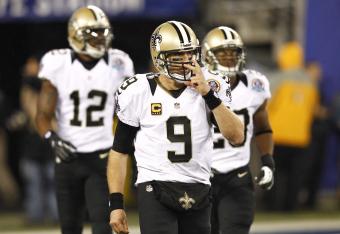 The New Orleans Saints may be playing for pride, but they're not going down without a fight.
Quarterback Drew Brees has thrown for 216 yards and three first-half touchdowns, and the Saints are absolutely pounding the Tampa Bay Buccaneers 24-0.
Rough first half for Tampa running back Doug Martin. Eight carries, 16 yards.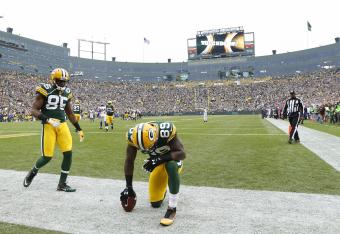 If you started Green Bay Packers wide receiver James Jones in Week 15 you're all smiles at this point.
The sixth-year pro has reeled in a pair of Aaron Rodgers touchdown passes, as the Packers lead the Chicago Bears 14-7 at halftime of a crucial NFC North battle.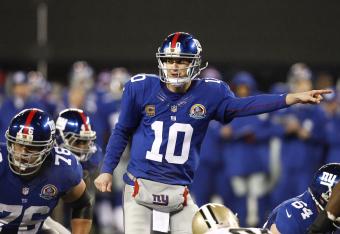 New York Giants quarterback Eli Manning picked a lovely time for a faceplant.
Manning is 8 of 17 for 112 yards and two interceptions as the Giants trail the Atlanta Falcons 17-0 at halftime.
The same can be said of Josh Freeman of the Tampa Bay Buccaneers, whose team stares at a similar hole against the New Orleans Saints thanks to his 7 of 16 for 86 yards with two picks first-half performance.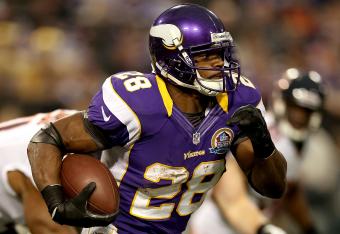 I don't know what to even say about Minnesota Vikings running back Adrian Peterson any more.
The St. Louis Rams had Peterson bottled up, holding the sixth-year pro to eight yards on his first eight carries.
Then they didn't, as Peterson took his ninth carry 82 yards to the house.
14-7 Vikings.
This article is
What is the duplicate article?
Why is this article offensive?
Where is this article plagiarized from?
Why is this article poorly edited?