UFC on FX 6 Results: 5 Fights for Hector Lombard to Take Next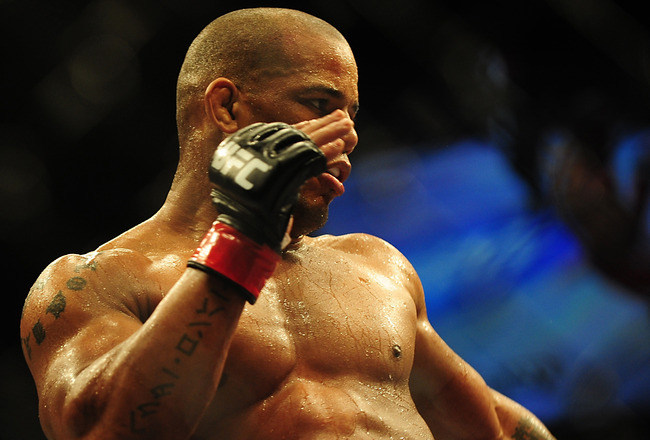 Anne-Marie Sorvin-USA TODAY Sports
Hector Lombard has finally got a win in the UFC after his lacklustre debut in July at UFC 149 against Tim Boetsch.
At the time he was riding a 20-fight winning streak and was being talked of as a possible opponent for Anderson Silva for the middleweight belt.
After beating Rousimar Palhares at UFC on FX 6 this weekend in Queensland, Australia, he can once again take his place among possible title contenders. But first, he must beat another highly ranked middleweight.
And there's no obvious opponent right now.
Lombard called out Michael Bisping immediately after his win against Palhares. The pair have been having a war of words since the Cuban joined the UFC, and that fight would be great for fans.
However, Bisping is expected to face Vitor Belfort in January, and with everything that can happen with injuries and post-fight suspensions, Lombard could be sitting out a long time before he is given his first-choice opponent.
There are similar problems with other top middleweights—Alan Belcher is fighting at the end of the month, Chris Weidman is out with an injury, and Mark Munoz, the man he's wanted to fight from the beginning, is coming off a loss.
Much will depend on how the UFC wants to shake up the division and when champion Silva will actually consider returning to the Octagon. With those caveats in mind, here are five possible opponents for Lombard to take next.
Michael Bisping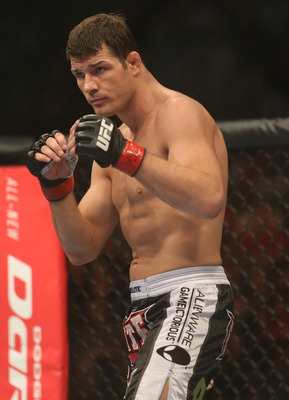 Tom Szczerbowski-USA TODAY Sports
Michael Bisping feels, after over six years' service to the UFC, the title shot is by rights his.
The Brit was incensed, however, when Lombard was being spoken of as a possible contender ahead of him when he joined the UFC earlier in the summer.
Since then the animosity between the two has only grown. Bisping is the man Lombard wants, except Bisping already has a fight in hand—against Vitor Belfort in January. And after that fight, Bisping will likely feel he's done enough to be given champion Anderson Silva and would not want to jeopardise that opportunity with a fight against Lombard.
But for Lombard, even if he had to wait until the spring, Bisping would make perfect sense. There would be a great deal of fan interest in the fight, both men are worthy of a title shot, both are heavy hitters, and a win would drastically increase the Cuban's chances of being considered an opponent for Anderson Silva.
Alan Belcher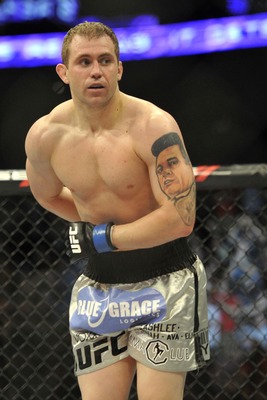 Joe Camporeale-USA TODAY Sports
Alan Belcher is another middleweight currently tied up with an upcoming fight—this time against Yushin Okami on December 29 at UFC 155.
Belcher is riding a four-fight winning streak, and after Okami, he too would be looking to be given Anderson Silva. But there's only one Silva and only one man likely to be given a fight against him next year.
Most of the top middleweights looking to compete in the coming months will have to take another fight before coming close to the contender spot, and depending on the way things shake up, Belcher could be given Lombard.
Cung Le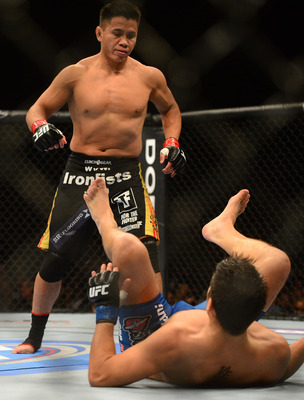 Mark J. Rebilas-USA TODAY Sports
Cung Le, like Lombard, had a less-than-illustrious start to his UFC career, suffering a loss at the hands of Wanderlei Silva last November. However, the former Strikeforce middleweight champ has since come good with a KO victory over Rich Franklin at UFC: Macao last month.
At 40, he wants a fast track to the belt, probably his last surge in the sport, and with Lombard's win, that fight would make perfect sense for him.
Le is a popular fighter with a superlative kickboxing record. He can throw down with the best of them and, despite his relatively short career in the UFC, would help Lombard consolidate his position in the promotion's middleweight roster.
Chris Weidman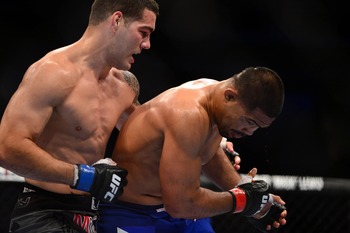 Kyle Terada-USA TODAY Sports
Chris Weidman was due to face Tim Boetsch on December 29 at UFC 155. However, the middleweight suffered an injury and is now out of contention for the near term.
Weidman is the man most hard-core MMA fans want to see challenge Anderson Silva—possessing, as he does, the kind of power-wrestling which has given the champion problems in the past.
However, Silva is in no hurry to take on Weidman, and the New York native will have to take another fight before he's considered a contender.
Depending on how quickly he can come back from his injury, Lombard would make a great opponent. For Lombard, he'd have the chance to test his skills against the man many consider the No. 2 middleweight currently fighting in MMA.
Mark Munoz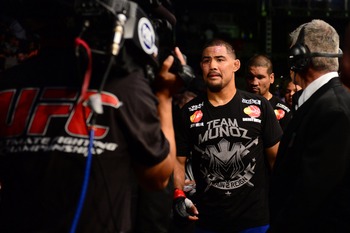 Kyle Terada-USA TODAY Sports
Hector Lombard has a strange obsession with Mark Munoz. He wanted to fight the "Filipino Wrecking Machine" all the way back in July when Munoz joined Bisping in questioning Lombard's suitability for a title shot.
Since then Lombard's campaigned for a match against Munoz, even though he lost to Chris Weidman in their last contest.
The UFC has not been eager to put that fight on, however, arguing that it makes little sense for a man coming off a win to face someone who just lost.
But considering the top middleweights are currently tied up with forthcoming fights, and a recent injury to Weidman, Munoz might finally make sense.
Keep Reading