Hector Lombard and the 5 Best New Additions to the UFC Roster in 2012
Matt Roberts/Getty Images
As the year draws to an end, the UFC continues to grow its roster of athletes. Some signees embarrassed themselves, others fell to the wayside and yet more stamped their name inside the Octagon.
On Friday night, one of the UFC's newest signees, Hector Lombard, finally made good on his promise to shake up the 185-pound division. He battered Rousimar Palhares with a first-round TKO.
Here's a list of five fighters who have joined the promotion with a bang.
Hector Lombard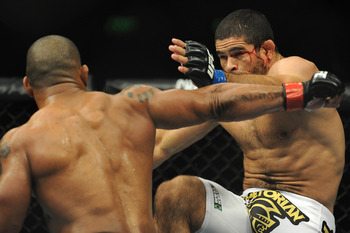 Matt Roberts/Getty Images
How fickle the MMA media can be.
Moments after Hector Lombard's UFC debut in July, commentators were already writing the Cuban off as an overhyped prospect undeserving of being spoken of in the same breath as the best of the promotion's middleweights.
Lombard had won 20 straight fights and gone undefeated in 25 before he joined the UFC and was the reigning Bellator champ at the time. But the UFC seemed like a step too high in competition as he struggled against Tim Boetsch at UFC 149, losing a split decision.
He's put all that behind him now. After finishing Palhares in Round 1, he has reaffirmed his status as a serious threat at 185 pounds.
Vinny Magalhães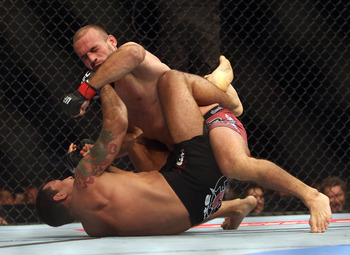 Tom Szczerbowski-USA TODAY Sports
An exceptional Brazilian jiu-jitsu specialist, Vinny Magalhães had at first an inauspicious MMA career.
A TUF contestant in 2008, he was defeated by Ryan Bader. He spent the next four years in virtual obscurity on the MMA circuit, fighting for unknown promotions before finding a home at M-1 Global.
However, 2011 was definitely his year, as he became M-1's light heavyweight champion, drawing the attention of the UFC.
In his debut at UFC 152 in September, he made short work of Igor Pokrajac, finishing him with an armbar in Round 1.
He is now one of the most exciting prospects at light heavyweight.
Jimi Manuwa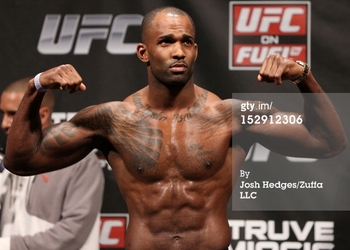 Jimi Manuwa destroyed Kyle Kingsbury in his UFC debut in Nottingham, adding another powerhouse to the stacked light heavyweight division.
The Nigeria-born Brit has now gone undefeated in his 12-fight career.
He has incredible power in his fists and has finished every single one of his opponents so far—who rarely survive the first round.
Expectations were high as he made his debut in September, and Kingsbury was no pushover either. He stayed in the cage with Manuwa with a broken orbital bone until the doctors finally pulled him out.
Manuwa is a terrifying prospect and well-deserving of his UFC contract.
Gunnar Nelson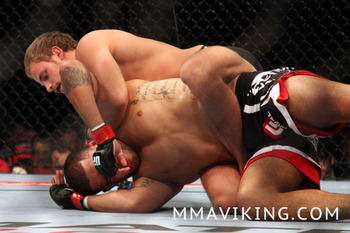 Another fighter who made his debut at the UFC on Fuel TV event in Nottingham, Icelandic submission specialist Gunnar Nelson was hypnotic against DaMarques Johnson, ending his opponent's night, as well as his UFC career, before it had even started.
Nelson is young, full of promise and already a highly accomplished submission artist. He still needs to prove himself against a big-name opponent, but the maturity and composure of his debut almost guarantee an exciting career for the 24-year-old welterweight.
Glover Teixeira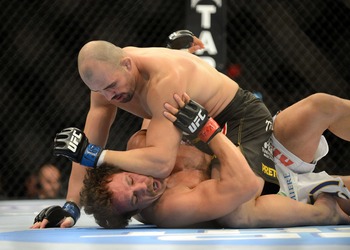 Ron Chenoy-USA TODAY Sports
The mystery and expectation surrounding Glover Teixeira even before he made his UFC debut this year made him one of the most foreboding fighters to have ever entered the Octagon.
Much of that dread was created by UFC president Dana White, who didn't hide the fact that Teixeira was the man no one wanted to face.

Mauricio Rua supposedly ducked him when he was offered the fight. The promotion struggled to find Teixeira a game opponent.
But up until he decimated Fabio Maldonado at UFC 153 in October, the only insight we had of his ability was his debut against Kyle Kingsbury in May.
He had a submission victory against the light heavyweight, but it wasn't enough to give us a glimpse of what he had in store for Maldonado.
And now we know: Teixeira is one of the baddest men in MMA.
We eagerly anticipate his next fight against Quinton "Rampage" Jackson in January.
Keep Reading