UFC on FX 6 Post-Fight Stock Report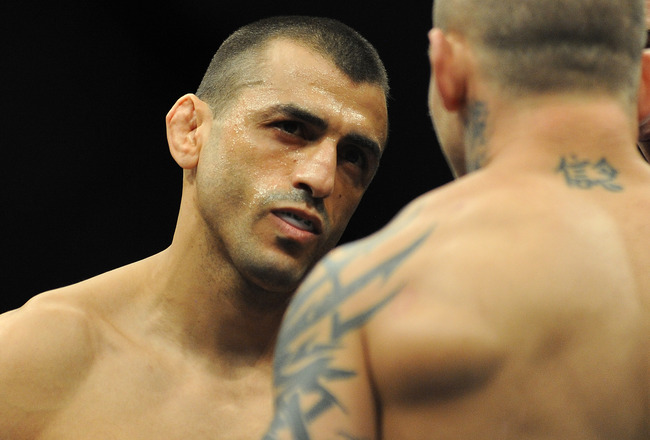 Matt Roberts/Getty Images
UFC on FX 6—also known as the TUF: Smashes finale—was a story of the stand-up warriors, as there were no submission finishes in the event in Queensland, Australia.
But there were plenty of knockouts.
The main card kicked off with a crucial middleweight encounter between the much-hyped Hector Lombard and the dangerous Rousimar Palhares. It was a must-win and must-finish match for Lombard, who finally delivered a performance worthy of a potential title contender.
However, with another TUF finale taking place in the U.S. over the same weekend, the card looked decidedly thin until the main event between Ross Pearson and George Sotiropoulos.
That was another thriller, with Pearson finally stamping his authority on the 155-pound division and Sotiropoulos looking like a spent force.
Ross Pearson: Rising Fast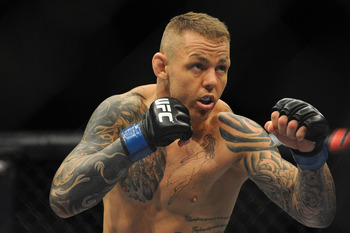 Matt Roberts/Getty Images
Ross Pearson put on the performance of his life, outclassing Sotiropoulos for two rounds before finishing him in Round 3.
This was his first fight back at lightweight after testing the water at 145 pounds, and he proved that this is where he belongs.
He was a class above Sotiropoulos, who is a veteran in the UFC by comparison. Pearson's striking looked crisp, and he proved impervious to takedowns.
For so long Michael Bisping and Dan Hardy were the standard-bearers for British MMA, but Pearson has now proved himself to be another Brit to reckon with in the UFC's toughest division.
George Sotiropoulos: Plummeting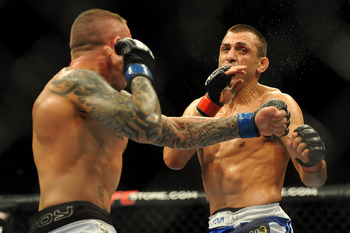 Matt Roberts/Getty Images
It's hard to imagine the man we saw being outmatched in the main event was the same man who once had seven straight wins inside the UFC.
Sotiropoulos never posed a serious threat to Pearson during the contest. The loss is his third in a row.
His shortcomings were obvious from the bell. Sotiropoulos is a one-dimensional fighter who all too often looks to turn the fight into a Brazilian jiu-jitsu contest without bringing anything significant to the striking game.
One of the few recognisable Australians in the UFC is now in limbo in the division and might end up getting the dreaded pink slip.
Robert Whittaker: Rising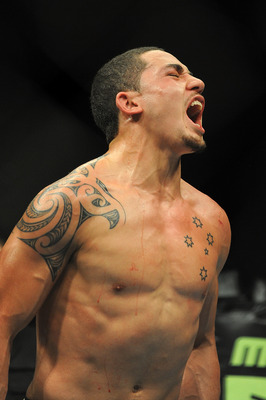 Matt Roberts/Getty Images
Surprisingly, the one Australian TUF competitor in the finale had perhaps the most impressive performance of the night.
Brad Scott threw everything at Whittaker, who proved more than equal to the challenge. And, while the Brit faded late into the contest, Whittaker only grew stronger and definitively took the final round.
It was a noteworthy performance that rightfully earned him a big UFC contract.
Brad Scott: Falling
Matt Roberts/Getty Images
Brad Scott was another loser on the night who still put in a solid performance.
Scott's battle with Whittaker stole the show. Scott pushed the pace throughout the match. However, the Brit could not contend with the Australian's accurate strikes and was gradually worn down by Round 3.
Still, Scott had his moments, putting together impressive combinations and completing his share of takedowns.
Norman Parke: Rising Slowly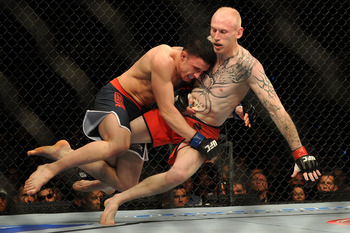 Matt Roberts/Getty Images
TUF: Smashes finalist Norman Parke put in a dogged performance to defeat his teammate Colin Fletcher, who had a significant height and reach advantage.
With a stifling top game and defensive jiu-jitsu, Parke showed versatility in his grappling and an ability to stick to a solid game plan.
But he never looked close to finishing Fletcher, which means he still has a lot to prove inside the Octagon.
Colin Fletcher: Falling Slowly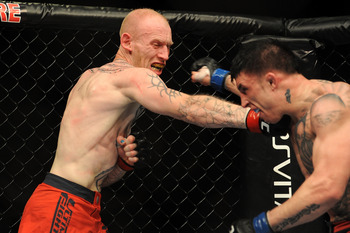 Matt Roberts/Getty Images
It wasn't all bad news for British TUF finalist Colin "Freak Show" Fletcher.
While he may have lost on Friday night, he went the distance with fellow teammate Nick Parke in a grueling contest in which he acquitted himself well.
He forced Parke to look for the takedown with his vicious strikes but was ultimately schooled in the grappling department.
He had looked solid throughout TUF: Smashes and came up short during the fight but still has plenty of potential left in him.
Hector Lombard: Soaring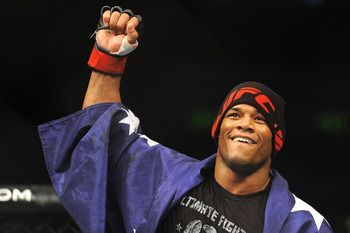 Matt Roberts/Getty Images
Hector Lombard made good in his second fight for the UFC and proved the detractors wrong with a commanding finish of Rousimar Palhares in Round 1.
He had question marks hanging over his head coming into the contest. People wondered whether the hype he had generated as Bellator's middleweight champion was warranted.
It turns out it was.
The UFC is now rushing to arrange his next fight, which will likely be against a top five middleweight. A contest against Michael Bisping, whom he's been calling for, is unlikely at this stage.
Rousimar Palhares: Plummeting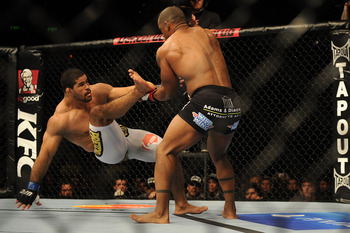 Matt Roberts/Getty Images
It was a sad, short night for Brazilian Rousimar Palhares, who never got started against Hector Lombard in the first main-card fight of the night.
He was always in retreat during the brief first-round contest. Without any hope of taking his opponent to the ground, it wasn't long before Palhares was stretched out on the canvas.
After his second straight first-round loss, you wonder how he could have ever been considered a title contender.
Keep Reading