NASCAR: The 5 Best Pit Crews in Sprint Cup Today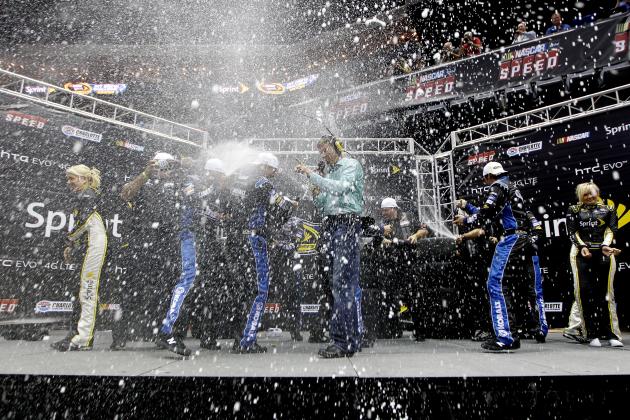 Streeter Lecka/Getty Images
Even though they made a costly mistake in the season finale, Jimmie Johnson's team won this year's Sprint Pit Crew Challenge.
To make a championship-caliber team, you start with an outstanding driver, pair him with an experienced and tactically strong crew chief, then add perhaps the most important part of all: a great pit crew.

A driver can have all the talent in the world, but if the guy atop the pit box does a bad job in terms of strategy, or assembles a pit crew that is slow or error-prone, that driver's chances for success are greatly diminished.

Some pit crew members are virtual stars themselves, often hired away for significantly higher salaries by teams that want the best of the best at their respective positions, be it a tire changer, tire carrier, jack man or gas man.

Looking at the five teams we've picked as the best in the business, several common threads stand out: precision, speed, training, physical ability, dexterity and lack of errors.

By the way, there is no ranking in our five picks. One crew is just as good as the next in our eyes. If you disagree with some of our picks, let's hear your choices, and explain your reasoning.

Let's get started.




Begin Slideshow

»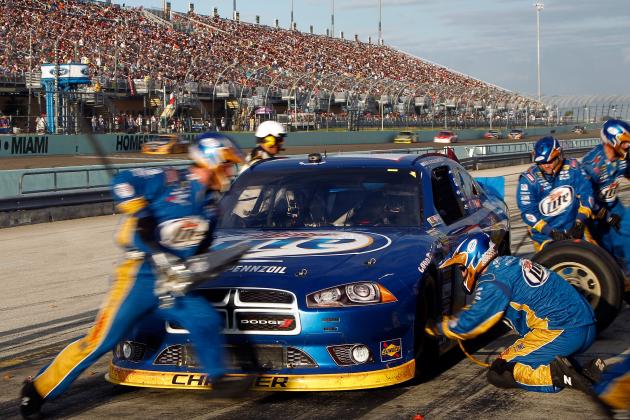 Tom Pennington/Getty Images

Led by crew chief Paul Wolfe, this may be one of the most underrated yet extremely effective pit crews in the business.

It made few mistakes in a season in which Brad Keselowski not only won five races, he also captured the first Sprint Cup championship for himself and legendary team owner Roger Penske.

For the record, Ryan Newman's pit crew won the 2007 Sprint Pit Crew Challenge.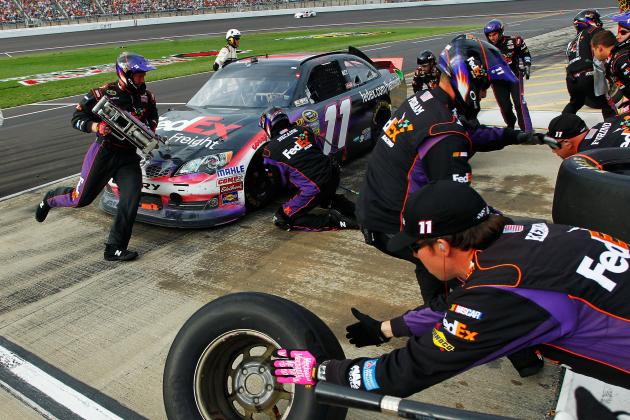 Wesley Hitt/Getty Images

This is also one of the most underrated pit crews in the business. But their peers on other teams know how good they are and afford them the respect they're due.

Denny Hamlin's pit crew hasn't won the Sprint Pit Crew Challenge, held during the week of the All-Star Race, a record two times for nothing (2010 and 2011).

What's more, with a new crew chief coming in to start this past season in Darian Grubb, the holdover crew members picked up where they left off under former crew chief Mike Ford and proved to be one of the most proficient groups in the business once again.

The interesting thing about Hamlin's crew is that even when it went through struggles four years ago, leading to the replacement of several members, the remaining crew not only stuck together, it also significantly improved with the addition of the new members.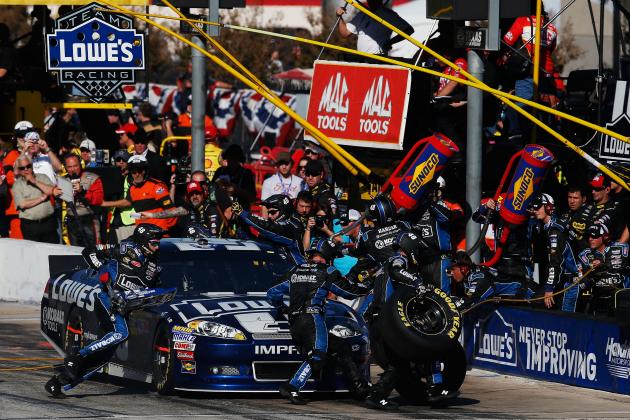 Jonathan Ferrey/Getty Images

As an organization, Hendrick Motorsports expects perfection in everything, particularly pit stops.

As the leader of the No. 48 team, crew chief Chad Knaus has been nothing short of an expert in building winning and championship-caliber pit crews, including the current edition that won this past season's Sprint Pit Crew Challenge.

Knaus has turned assembling a pit crew into a fine art. And, Knaus is not afraid to make radical changes if things aren't working.

For example, remember how Knaus became so frustrated with his own pit crew that toward the end of the 2010 Chase, he replaced several members of his own crew with members from teammate Jeff Gordon's crew.

They proved up to the task and Jimmie Johnson went on to win the championship.

In fact, if it wasn't for having one of the best pit crews in the business, Johnson would likely never have won five consecutive Sprint Cup championships from 2006 through 2010.

And, had it not been for a rare mistake of a dropped lug nut and the subsequent drive-train failure in the season finale at Homestead, Johnson could have made it interesting for Brad Keselowski in the final laps.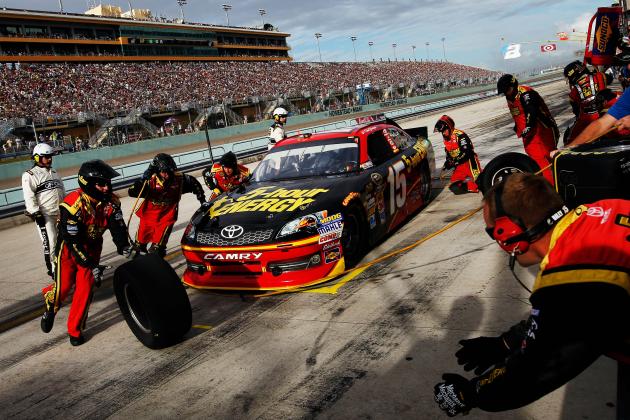 Tom Pennington/Getty Images

Virtually everyone was new on the No. 15 team in 2012, including driver Clint Bowyer, crew chief Brian Pattie and much of the pit crew, with several key members hired away from other outstanding teams.

What was particularly surprising was how early and how well everyone on the No. 15 team seemed to jell, and continued it on through the remainder of the season.

The interesting thing is that both Bowyer and Pattie were castoffs from other teams: Bowyer was let go from Richard Childress Racing due to lack of sponsorship, while Pattie was released from Earnhardt Ganassi Racing, where he had previously served as crew chief for Juan Pablo Montoya.

Given that Bowyer finished second this season thanks to an outstanding over-the-wall crew, we can only imagine how that same crew will be next season with one year already under its belt, coming off a season in which it almost won a championship.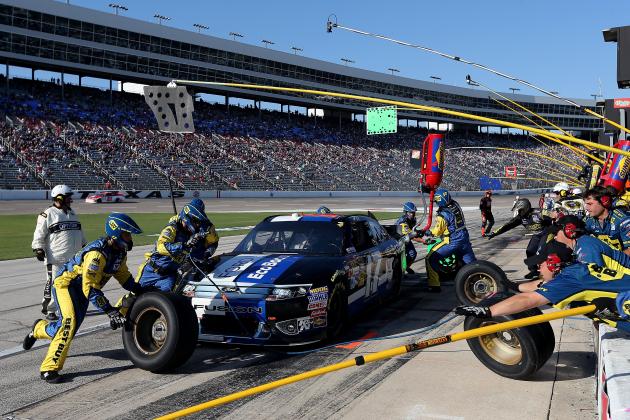 Tom Pennington/Getty Images

Yes, this may seem like a surprise choice, given that Ricky Stenhouse will be entering his first full season in Sprint Cup racing in 2013, but there's a method to the perceived madness of our pick.

You see, Stenhouse inherits much of Matt Kenseth's former pit crew for the upcoming season. And while there will be inevitable changes in personnel—for example, crew chief Jimmy Fennig has moved over to the same role with Carl Edwards for this coming season—the fact remains that Kenseth's crew was among the best in NASCAR over the last several seasons.

Not only did it lead him to two Daytona 500 wins and a Cup championship in 2003, it was among the most fiercely loyal pit crews there is.

And it went about its job and performing its duties in much the same way Kenseth drives a race car: with workmanlike diligence, short on flashiness but long on results.

It's always tough when a young driver makes the full-time jump to Sprint Cup racing. But having many returnees from Kenseth's former crew at Roush Fenway Racing will only help make Stenhouse's learning curve significantly easier.
Follow me on Twitter @JerryBonkowski