Packers vs. Bears: Final Report Card, Player Grades for Green Bay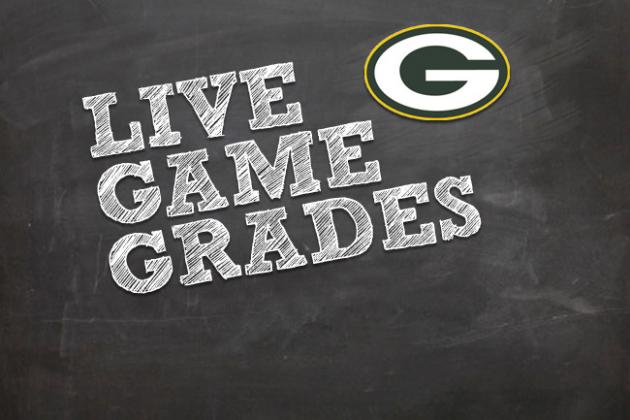 The Green Bay Packers beat the Chicago Bears 21-13 to clinch the NFC North division title. The win improves the Packers record to 10-4 and guarantees a playoff game at Lambeau Field in January.
Aaron Rodgers and James Jones teamed up for three touchdowns after the Bears took a 7-0 lead. The Packers used strong defensive play to close out the game.
Let's take a look at the Packers final postgame grades and evaluations.
Final Score
Packers–21
Bears–13
Begin Slideshow

»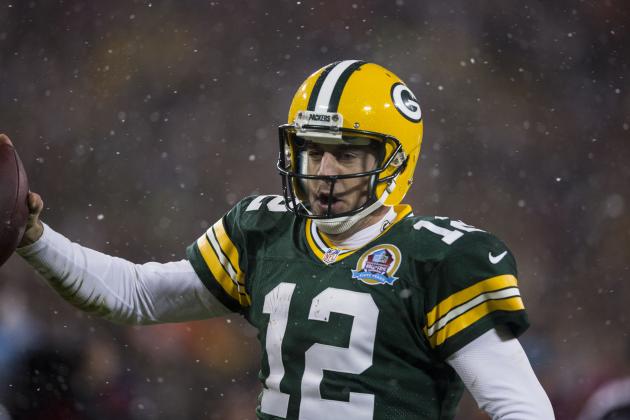 Tom Lynn/Getty Images

Aaron Rodgers–B+
Aaron Rodgers missed some throws he will certainly want back, but he made enough throws to lead the Packers to a division title. In addition to his three touchdowns that will show up on the box score, Rodgers made a number of athletic plays with his feet to avoid sacks and keep plays alive.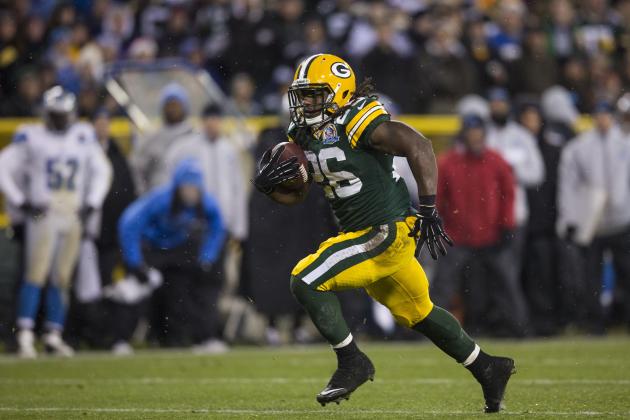 Tom Lynn/Getty Images

Alex Green–B
Green had another strong performance despite his numbers look fairly average. He gave the Packers an offensive spark that allowed them to open the passing lanes and take advantage of the Bears through the air.
Ryan Grant–D
Grant showed some good burst with his fresh legs, but the fumble was alarming. It didn't end up killing the Packers, but it certainly made things more interesting down the stretch. Despite the fumble, Ryan Grant was still entrusted down the stretch to end the game.
DuJuan Harris–C+
Harris continues to provide a spark for the Packers offense. He didn't get a carry until the second half, but burst for 21 yards. He looks like he can provide a nice change of pace down the stretch with the Packers using mostly Green and Grant.
John Kuhn–C
Kuhn was okay on the afternoon, but made some mistakes in blocking and didn't get much going on his two carries for only five yards. While he made those mistakes, he always had some strong blocks that helped Aaron Rodgers get some space.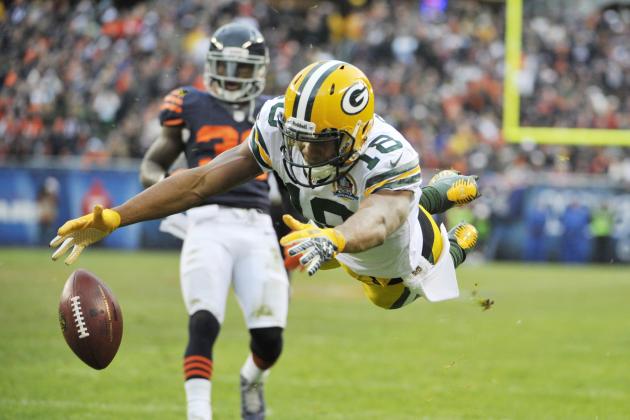 David Banks/Getty Images

James Jones–A+
Jones delivered a beautiful performance with three touchdowns. He's been the most consistent wide receiver on the team and it showed today. Jones could have had a fourth if not for Rodgers missing a throw late in the game.
Greg Jennings–C+
Jennings has been quiet since his return from injury, but has definitely proved his value to the offense. He finished with four catches for 50 yards. It's likely Jennings is still getting back into rhythm and should improve with each game.
Randall Cobb–B+
As a receiver, Cobb was very good on the afternoon, only overshadowed by Jones. While he lead the team in catches (6) and yardage (115), Cobb did have a drop that hurt the Packers early in the game. That said, he continues to impress with some very pretty catches.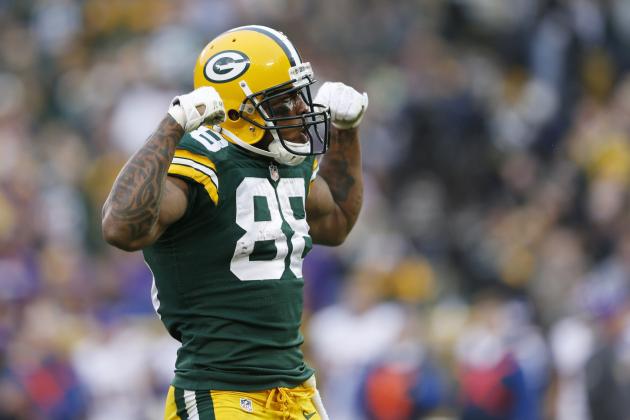 Joe Robbins/Getty Images

Jermichael Finley–B
Finley was very good on the afternoon with five catches for 61 yards. He came up big when the Packers needed him by constantly providing a safety-valve for Aaron Rodgers. He had what might have been a drop, but it was a combination of a poor throw from Rodgers.
Tom Crabtree–C
Crabtree didn't see much action on the afternoon, but did a nice job blocking before leaving the game with a hamstring injury. He will be evaluated and updates on his injury will follow in the coming days.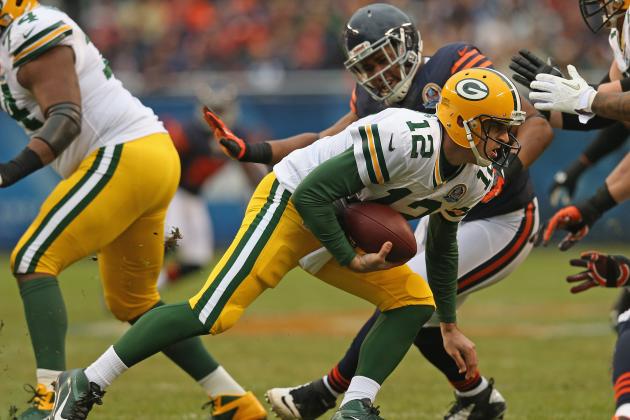 Jonathan Daniel/Getty Images

Marshall Newhouse–D
Newhouse struggled with Julius Peppers and gave up a number of pressures. Near the end of the game, he completely missed blocking Peppers who destroyed Aaron Rodgers. While he wasn't very good, Newhouse got bailed out by Rodgers and Peppers' roughing penalty.
T.J. Lang–C+
Lang played a decent game in his return from injury. He was mostly quiet, which is a good thing for an offensive lineman. While he provided fairly good protection in the passing game, he wasn't as physical in the run game.
Jeff Saturday–C
Saturday had a quiet game and has put together a couple good performances despite his age. He hasn't worked out exactly as the Packers would have hoped, but he's been fine the last couple weeks.
Josh Sitton–B
The Packers got a big boost by having Sitton active after he suffered an injury during the practice week. He was good in both pass protection and run blocking. He was a big piece of the offensive line avoiding penalties and delivering a good performance.
Don Barclay–C+
Barclay played well as he continues to get starts at the position. He seems to have replaced Evan Dietrich-Smith on the offensive line with T.J. Lang also healthy. Barclay is especially physical in the running game.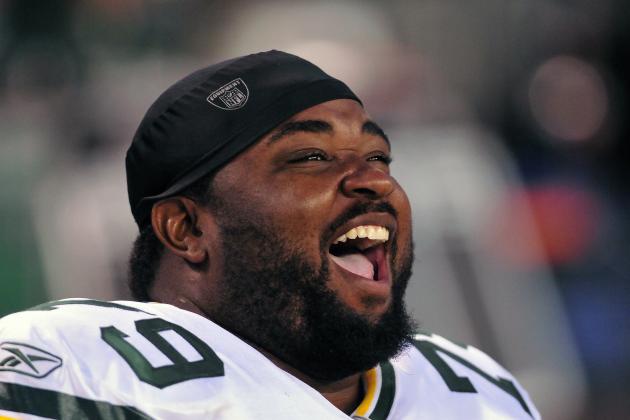 Jason Miller/Getty Images

B.J Raji–A
Raji played one of his best games with a dominating performance. He was come on very strong down the stretch of this season, which is helping the Packers get pressure on quarterbacks. He was big both in getting pressure on Jay Cutler and in the run game.
Mike Neal–B
Neal got credited with a sack, but created pressure that led to Clay Matthews first sack of the afternoon. After some lackluster performances, Neal delivered in a big way. The biggest task for Neal will be replicating this performance down the stretch and into the playoffs.
Mike Daniels–C
There wasn't a second touchdown for Daniels, but he played a decent game in the snaps that he got. While he didn't come up with any big plays, he got a consistent push that helped the rest of the defense get in Cutler's face.
Ryan Pickett–B
The Packers did a terrible job against the run to start the game, but Pickett and others did a solid job of making adjustments and stopping Matt Forte. Stopping Forte allowed the Packers to pin their ears back and attack Cutler on various plays.
Jerel Worthy–C
Worthy didn't have a stand out game, but did get credited for a half-sack, split with Mike Neal. He played well when he was on the field and got some good push for the Packers up-front.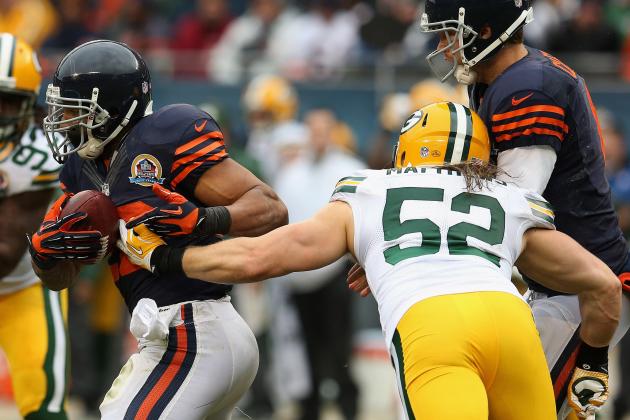 Jonathan Daniel/Getty Images

Clay Matthews–A-
Matthews made his presence felt in his return from a hamstring injury. He finished with two sacks on the afternoon and completely helped the Packers in the run game. While his pass rushing deserves the recognition it gets, his run support is extremely underrated.
A.J. Hawk–C-
Hawk was extremely active, but missed a couple tackles, including one on a long Matt Forte run. He needs to do a better job of making plays and making sure to tackle when he gets the chance. The Packers can't afford to let gains of three yards turn into 10-yard gains.
Brad Jones–D+
Jones struggled in tackling just like Hawk did and it will show up in the highlights. Jones put a poor effort into a tackle attempt on Brandon Marshall's touchdown catch. Jones has been fine in his role, but he could be making more plays.
Erik Walden–C
Walden got some pressure on Jay Cutler, but was whistled for a face-mask penalty that gave the Bears some nice field position. He seemed to benefit from having Matthews back, but still could have made a bigger impact on the game.
Dezman Moses–C+
Moses also did a nice job of getting pressure, despite a significant drop in the number of his snaps with Matthews back in the lineup. He did well to make the most of his opportunities and stay on the field.
Frank Zombo–D+
Zombo impressed the least of the Packers outside linebackers. He replaced Matthews who was on a snap-count, but failed to replicate the success that Matthews was having. It would have been nice to rest Matthews more, but they needed him.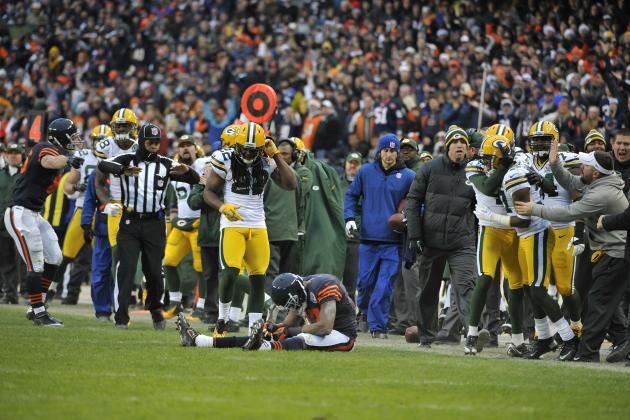 David Banks/Getty Images

Tramon Williams–B
Williams deserves a lot of credit for shutting down Brandon Marshall for most of the game. He was limited to six catches and 56 yards with a touchdown. He got some catches, but Williams and the rest of the Packers defense didn't let Marshall beat them.
Sam Shields–B+
Shields had a very active game with a number of pass interference calls going towards the offense against him. He played very physical and did a nice job of shutting down Alshon Jeffery, who was held without a catch on the afternoon.
Casey Hayward–B
Hayward continues to be an interception machine for the Packers. He got the only interception of the afternoon on a terrible pass by Cutler. He did a nice job throughout the game, helping to hold every Bears receiver not named Brandon Marshall without a catch.
Davon House–C
House has been replaced mostly by Shields and Hayward's strong play has limited his opportunities. House still has a role on this team, especially against teams that have even more receivers.
Morgan Burnett–B
Burnett was pretty good on the afternoon, finishing the game with six tackles. He did a nice job to force a fumble on Marshall, but the ball bounced right to the Bears. He needs to be a little more physical and come up with some big plays, but overall he did a fine job.
M.D. Jennings–D+
Jennings struggled to provide support in the run game and showed a lack of physicality that hurt the Packers early in the game. The Bears opened the game looking much more physical and showed as they took a 7-0 lead.
Jerron McMillian–C
McMillian didn't see a ton of action, but did play some nice defense on one of the Bears final plays. He also showed some class by offering to help up a Bears player on the ground.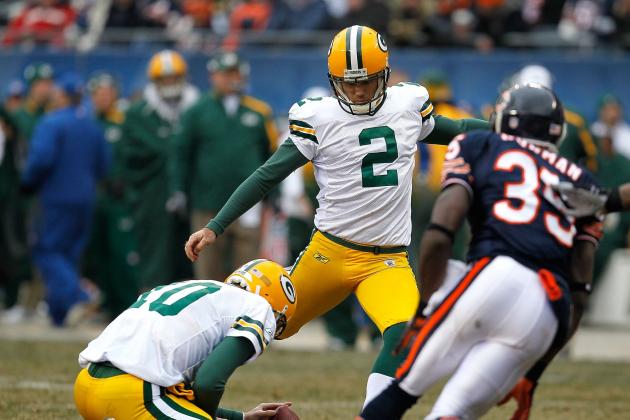 Jonathan Daniel/Getty Images

Mason Crosby–F
Enough is enough. Mason Crosby missed two more field goals and made the game a lot more interesting. His slump has gotten even worse and the Packers can't afford to let it linger and go into the playoffs with a struggling kicker.
Randall Cobb–D
Randall Cobb's throw on the punt return reverse wobbled and forced the ball to hit the turf. It was a weird play and it's hard to fault a single party for what happened. Cobb deserves blame for a rough throw and the decision to follow through on the play.
Tim Masthay–A-
Masthay delivered a beautiful punt in the final minute to pin the Bears deep without a timeout. He was the only bright spot for the Packers special teams unit. Masthay's average was low, but partly due to his final punt that didn't need much distance.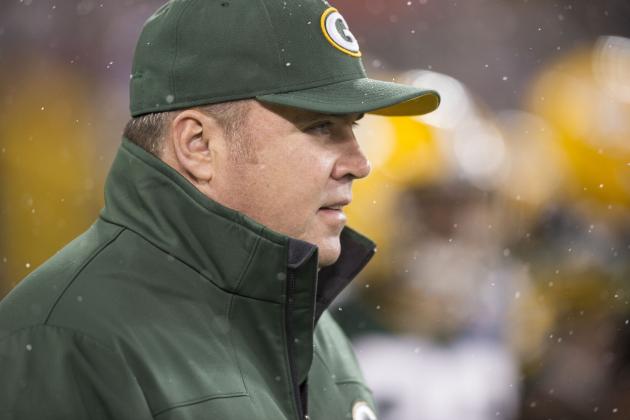 Tom Lynn/Getty Images

Mike McCarthy–D
Overall, the Packers didn't come out strongly and once again put themselves in a hole. They can't afford to continue his pattern and count on adjustments being enough to get them back in the game. McCarthy needs to have his team ready to go from the opening kickoff. In addition, McCarthy's decision to run the trick play late in the game was one of the worst I've seen him make. Luckily it didn't burn the Packers.
Dom Capers–B
Capers put together a strong performance after the Bears came out of the gates playing well. He was able to figure out how to get some pressure on Cutler and limit the running game for the Bears. He deserves a lot of credit for the Packers defense which has played very well as of late.