Seattle Seahawks' New Look Winning on and off the Field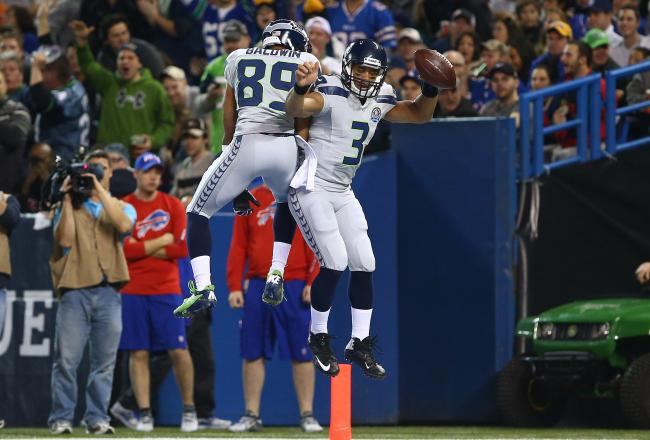 Tom Szczerbowski/Getty Images
On Sunday when the Seattle Seahawks took the field against the Buffalo Bills they looked a little bit different, yet still ended up scoring another 50 points in their win in what has become a rather unexpected yet pleasant late season trend.
Speaking of trends, within minutes of the game's start, my wife checked in initially wanting to know the score and then while squinting at the TV asked, "What's going on with the 'Hawks uniforms?"
After trying to explain that the Wolf Grey uniforms are alternate jerseys, she initially shrugged but then wanted to know whey they were only wearing them for the first time now at the close of the season.
Eventually we both agreed that the team is probably looking to sell these as part of a marketing gimmick set up during the holiday season featured on the team's website.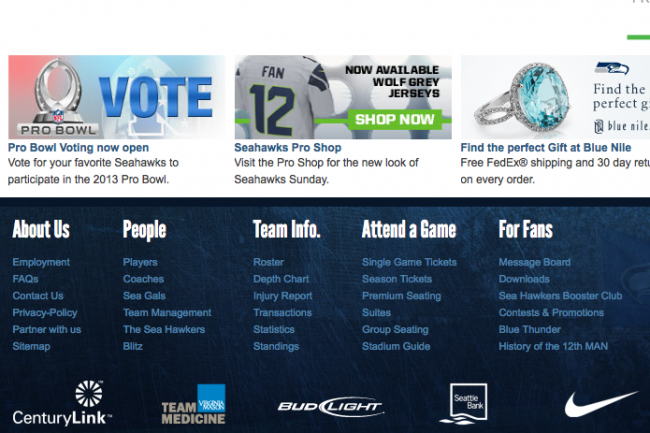 Upon seeing it indeed was, albeit at the very bottom of the page, I couldn't help but laugh.
Perhaps it's the Seahawks who should be laughing, though, as jersey sales have ballooned according to Nick Eaton at the seattlepi.com who reported last week:
Jersey sales have ballooned by 274 percent at the two team retail stores and online. And two weeks ago, Fanatics.com said it had seen a 242 percent increase in Seahawks merchandise sales over last season — the second largest jump among all NFL teams, behind only the Houston Texans.

"We have received extremely positive feedback from players and fans about the new uniforms," Chuck Arnold, the team's vice president of sales and marketing, said in a Seahawks new release.
Having the second-largest boost in sales league-wide sounds good when you first read it, but I'm not entirely sure how to interpret such news.
Are the Seahawks becoming more popular or is the percentage up from last year simply because they were the only team in the entire league that drastically changed their design?
Given the loyalty of the team's fanbase, you have to figure everyone with a rooting interest wanted or perhaps even needed a new jersey, lest they look out of fashion.
In all honesty, if the team put Hello Kitty on their helmets, sewed bows on their shoulders, and changed the team name to the Kittyhawks, there would still be fans in the stands at CLink wearing bubblegum pink "Kitty Fan No. 12" jerseys.
In retrospect what the 'Hawks eventually settled upon in working with Nike was a bold statement that has seemingly paid off, but back in April this writer largely panned the new uniforms.
While I won't go as far as saying I now love them, months later I will confess that the new uniforms have grown on me with my favorite combination being the blue jerseys with the grey pants that gives off a sort of "back to the future" look for the 'Hawks.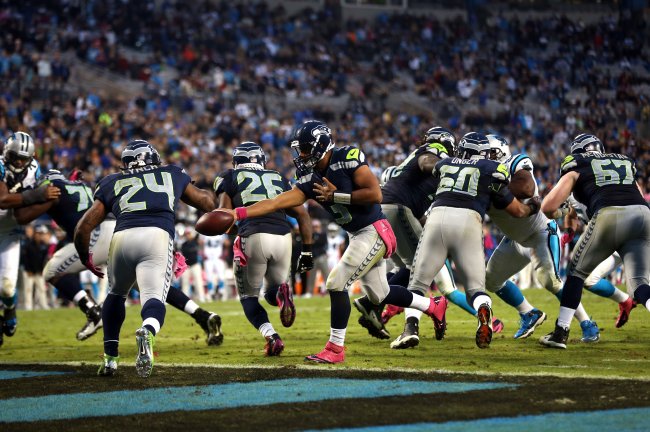 Streeter Lecka/Getty Images
Beyond that I'm still not sure I can commit 100 dollars to one of my own, but if Santa were to put one under the Christmas tree by chance, I certainly wouldn't object to wearing it on game days.
I'd imagine quite a few of you reading this will find one of your own waiting for you in roughly a week's time if you don't have one already. If so, wear it with pride and be thankful that it only has feathers instead of bows on it.
Joking aside though, the new look seems to be working as the team has found success both on and off the field this season with the new design.
Makes you wonder that if the old saying "clothes make the man" is true. If so, perhaps it's time for the Mariners to consider a makeover?
This article is
What is the duplicate article?
Why is this article offensive?
Where is this article plagiarized from?
Why is this article poorly edited?

Seattle Seahawks: Like this team?