TUF 16 Finale Results: What's Next for the Winners and Losers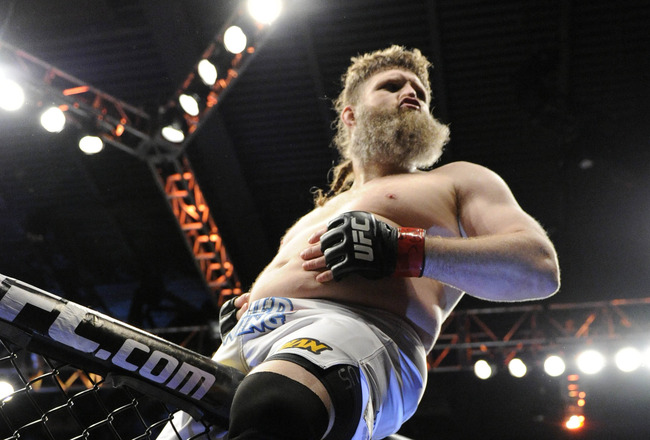 Josh Holmberg-USA TODAY Sports
Season 16 of The Ultimate Fighter culminated Saturday night in Las Vegas. It was a pretty exciting card; only two of the 11 fights went to decision.
It's like the roster collectively decided to honor Jamie Varner and Melvin Guillard (whose fight was cancelled at the last minute after Varner fell ill) by doing exactly what those two probably would have done.
Four knockouts (one by slam), two technical knockouts, three submissions and a three-round bloodbath later and we had one of the best TUF finale cards in recent memory. Except for the actual TUF finale fight, of course, which we'll get to.
Here's a quick recap of each fight and some potential next steps for all of Saturday night's winners and losers.
Winner: Tim Elliott
Josh Holmberg-USA TODAY Sports
Want to know how I knew there was bad blood between these two? Because I could see it all over the mat after their fight. It looked pretty bad to me.
A three-round slugfest ensued between two flyweights who really, really dislike each other. Normally, post-fight interviews are a time for magnanimity, but Tim Elliott took the opportunity to inform the assembled that "all the guys at 125 pounds are good guys...except for the one I just fought. Hopefully he'll get his walking papers today" (via MMAjunkie.com). Wow.
He also took the opportunity to request a rematch with John Dodson, who in May handed Elliott his only loss since the third bout of his career. I'm not sure I see that happening, but a scrap with Louis Gaudinot, assuming Gaudinot is healthy, would certainly be entertaining and could establish a new contender.
Loser: Jared Papazian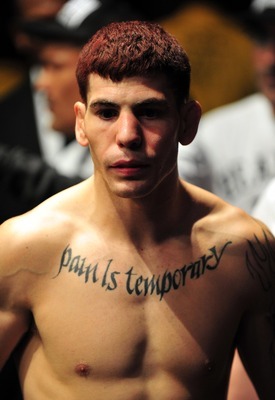 Don McPeak-USA TODAY Sports
The loss to Elliott was Papazian's third in a row. I think I may have to concur with Tim Elliott's assessment: time for Papazian to seek work in another promotion.
Winner: Mike Rio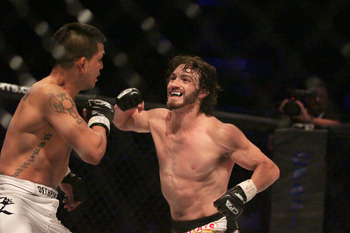 Photo credit: Sherdog
Lightweight Mike Rio waited until literally the last minute to finally lock on an armbar and tap former TUF housemate John Cofer.
Up next? How about Abel Trujillo, the bruising Blackzilian who pulverized Marcus LeVesseur at UFC on Fox 5?
Loser: John Cofer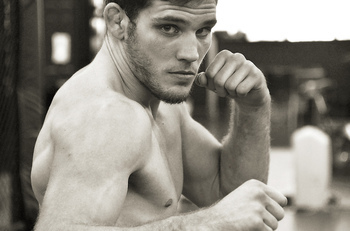 Photo credit: Eric Langley
John Cofer is now 0-2 in the UFC. He fought respectably against Rio, but it looks like his Octagon future is precarious at best. Could be Donesville for Cofer.
Winner: Hugo Viana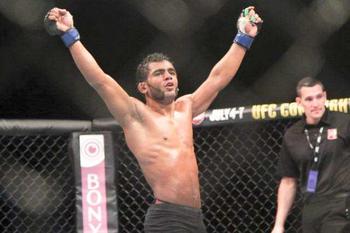 Photo credit: Sherdog
Hugo Viana didn't lose any power when he dropped to bantamweight, as evidenced by his first-round obliteration of Reuben Duran.
Viana could provide some useful bench depth for a relatively shallow division. Canadian submission ace Mitch Gagnon would be a good foil for his next engagement.
Loser: Reuben Duran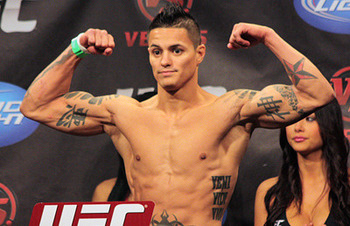 Photo: MMAjunkie.com
Not a positive showing from Reuben Duran Saturday night. Tough loss. No two ways about it. That was a tough one.
So that's 1-2 now in the UFC for Duran. It's not dark yet, but it's getting there. Give him Dustin Pague next. Loser leaves town.
Winner: T.J. Waldburger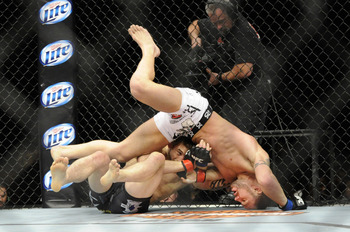 Josh Holmberg-USA TODAY Sports
T.J. Waldburger re-entered the win column after dropping Nick Catone early in the second round and eventually securing a triangle choke that put Catone to sleep.
Another outstanding submission from the welterweight. Mike Pierce would be a deserved step up and a tough ground test.
Loser: Nick Catone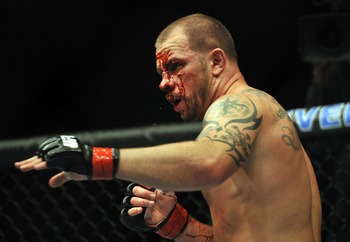 Joe Camporeale-USA TODAY Sports
Nick Catone probably took the first round against Waldburger. So in a way, he came close, but hey...horseshoes and hand grenades.
Catone would be an interesting opponent for the young Brock Jardine.
Winner: Rustam Khabilov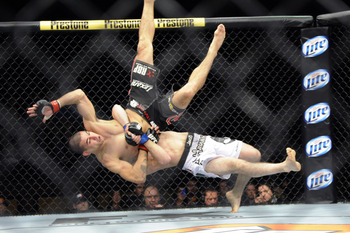 Josh Holmberg-USA TODAY Sports
My. Goodness.
I think most people thought Rustam Khabilov would be good. But not that good. The dude landed multiple suplexes for Pete's sake. The last one knocked out Vinc Pichel.
This lightweight doesn't grapple to win. He grapples to hurt. Brilliant stuff from the Russian combat sambo champ.
Next up: I'm of two minds on this one. You could do a striker-grappler matchup with Daron Cruickshank, or commit some grappler-on-grappler violence with Ramsey Nijem.
Loser: Vinc Pichel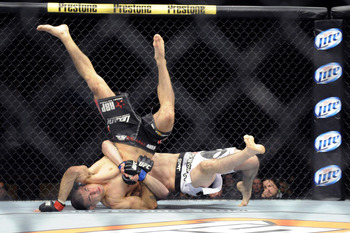 Josh Holmberg-USA TODAY Sports
The last picture to this one gives you like a flip book effect.
Not only was it his first official loss, but he got his butt handed to him. What do you say to a guy who just got his own butt physically handed to him? It's not the best time to talk to somebody.
Vinc Pichel certainly still has potential, though. I'd be interested in watching him fight another young guy who is interesting: a Mr. Anthony Njokuani.
Winner: Johnny Bedford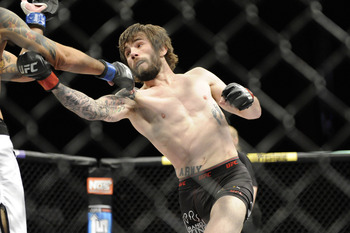 Josh Holmberg-USA TODAY Sports
Bantamweight Johnny Bedford pounded out Marcos Vinicius in the second round. Bedford has looked really good so far in his career.
I'd give him the winner in February's bout between Francisco Rivera and Edwin Figueroa. If Figueroa wins, that matchup would give Bedford (19-9-1) a chance to avenge the only pro loss of his career over the past three years.
Loser: Marcos Vinicius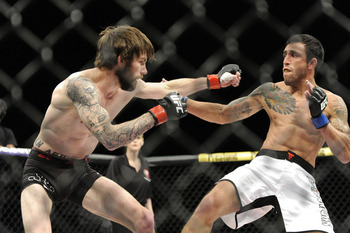 Josh Holmberg-USA TODAY Sports
Marcos Vinicius is 1-1 now in the UFC, and he just ran into a better fighter on Saturday. Up next, I'd let him wait for the loser between Motonobu Tezuka and Vaughn Lee, who are scheduled to fight on Feb. 16.
Winner: Mike Pyle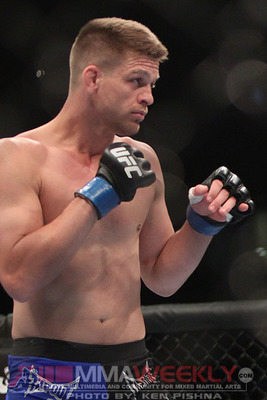 Photo credit: Ken Pishna/MMA Weekly
There were six KOs or TKOs on this 11-fight card. That's a high number. And Mike Pyle did his part, tearing through James Head in less than two minutes.
That's six wins in seven fights for the 37-year-old Pyle. His rep is getting bigger. Time for another big test. How about Brian Ebersole? I can't believe those two haven't fought yet.
Loser: James Head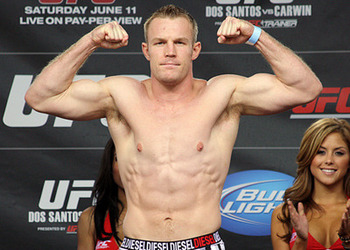 Photo credit: MMA Junkie
James Head got caught in a dervish on Saturday, but he's still a viable UFC fighter. He could face Paulo Thiago next; I'd watch that.
Winner: Dustin Poirier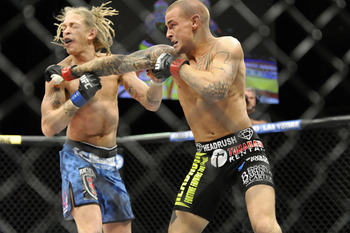 Josh Holmberg-USA TODAY Sports
Dustin Poirier submitted Jonathan Brookins by D'arce choke in the first main card bout of the night. Brookins had him rocked, but Poirier regrouped, fired back and eventually got the submission.
I mean, Poirier is awfully good. I don't mean to gush, but he's really awfully good. Up next: how about Chad Mendes?
Loser: Jonathan Brookins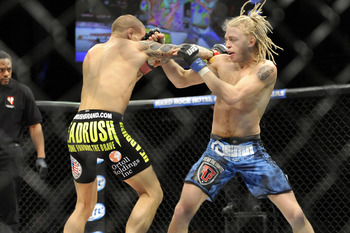 Josh Holmberg-USA TODAY Sports
Interestingly, Jonathan Brookins gave at least as good as he got (if not better) in the standup, but after getting rocked he succumbed to the choke. Opposite of what most people expected from the grappling standout.
But Brookins showed again that he's a game fighter, and that his game is evolving. Jonathan Brookins belongs in the UFC. Next up: Jason Young.
Winner: Pat Barry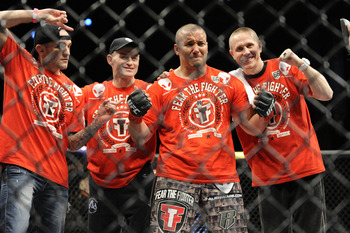 Josh Holmberg-USA TODAY Sports
Just a great win for Pat Barry. You can't not be happy for him. I'm sure the UFC was happy to see such a likable guy get a big win and cement his place in the promotion.
I'd love to see him face the winner between Gabriel Gonzaga and Ben Rothwell, who will scrap in January.
Loser: Shane Del Rosario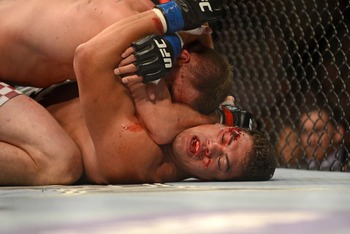 Ron Chenoy-USA TODAY Sports
It's a tough position for Shane Del Rosario. I think he still has a spot in the UFC for now, but he needs a win, and badly.
I think the UFC will allow the popular heavyweight to take a step back with a matchup against a guy like Christian Morecraft.
Winner: Colton Smith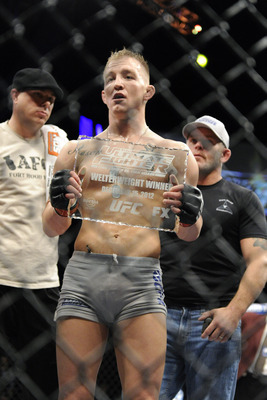 Josh Holmberg-USA TODAY Sports
Welp. That wasn't very impressive. But you do what you need to do to win, and Colton Smith did it. So there you go.
Looks like a drop to lightweight may be the first order of business for the newest TUF champ.
Loser: Mike Ricci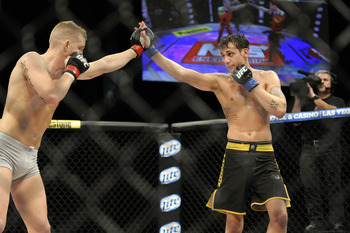 Josh Holmberg-USA TODAY Sports
If Colton Smith's win was unimpressive, what was Mike Ricci's loss? I'll tell you what: also unimpressive.
Disappointing, too. Maybe I just bought into the hype like everybody else, but I thought Ricci had this in the bag. He didn't.
As with Smith, it looks like Ricci's moving down a weight class.
Winner: Roy Nelson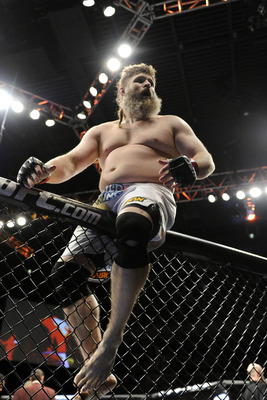 Josh Holmberg-USA TODAY Sports
Roy Nelson just keeps riding.
That was a vicious knockout he laid on Matt Mitrione. Now, Cheick Kongo awaits. For years now, these two heavyweights have been circling each other. Now we will determine for good and all who the greatest gatekeeper in UFC history really is. Congo's available. Nelson's available. Make it happen, Dana.
Loser: Matt Mitrione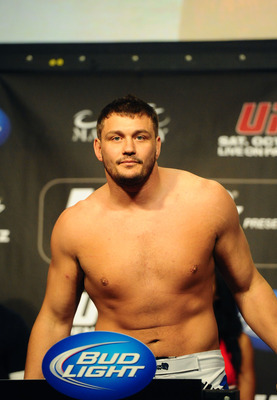 Mark J. Rebilas-USA TODAY Sports
Back when cars were operated by hand crank and were commonly known as "autos," Matt Mitrione was considered a potential heavyweight contender.
That was then. Now, in this modern times of ours, Mitrione just needs to get back on track if he wants to remain under the UFC's employ. But he looked good in this fight and his improvement in the sport clearly continues. That you-got-me grin on his face after Nelson's knockout was priceless.
Stipe Miocic would make for a good opponent and an interesting fight.

Speaking of interesting, follow @ScottHarrisMMA on Twitter.
Keep Reading