Amir Khan Outclasses Carlos Molina Winning by 10th Round TKO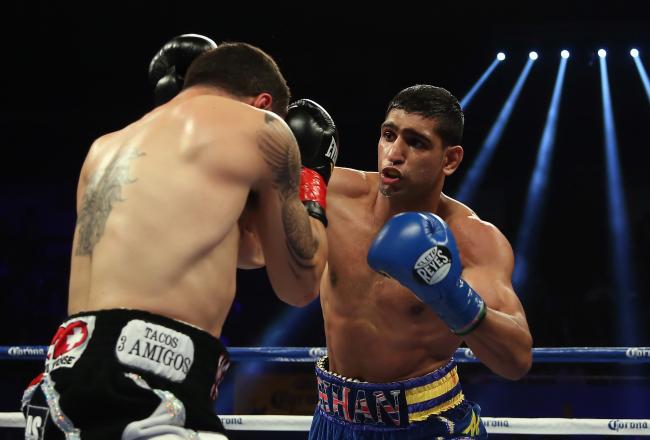 Khan outclassed Molina with ease.
Jeff Gross/Getty Images
Amir Khan (27-2, 19 KO) returned to his winning ways tonight in Los Angeles, totally outclassing and outboxing a game but overmatched Carlos Molina en route to a 10th round TKO victory.
From the opening seconds of the bout it was clear that Khan's blazing hand speed would be the difference in the fight.
He utilized the ring better than in his previous fights, perhaps a contribution from new trainer Virgil Hunter, but left his chin exposed more than he'd have liked.
Molina did tag him with several good shots but Khan took them well and fought on.
It's difficult to gauge how much improvement Khan made with his new trainer as Molina had little power and seemed completely out of his depth.
But a win is a win and it was a crucial one for Khan who could not have afforded a third straight defeat.
That'll do it for our live coverage of Khan vs. Molina.
Amir was impressive but against less than equal opposition. It'll be interesting to see where he goes next and if he's ready for Danny Garcia who he seems dead set on facing next.
Thanks for tuning in and don't forget to stay-tuned to Bleacher Report for my analysis of Amir Khan's victory and it's implications!
Danny Garcia's father said nothing in cutaway to him and his son.... yet he still annoyed me!

— Martin Mulcahey (@MartinMulcahey) December 16, 2012
It's virtually impossible to tell much about Khan from this fight. Molina was simply out of his depth and had nothing to trouble him.
Khan still left his chin too exposed despite the small things he did better. Hard to tell if this would work against a guy who can punch and cut-off the ring.
Khan tells Jim Gray he never doubted himself. Said if he fought Garcia on this night, he'd have beaten him.

— Michael Woods (@Woodsy1069) December 16, 2012
He was much more blunt than that. He said he'd knock him out.
Khan calling out Garcia, who is in the crowd, calling him "lucky" and saying he would have "knocked him out" if they fought tonight.
Bravado? Maybe.
But Khan was winning that fight before getting epically knocked out.
Molina's corner stops the fight after 10. Quite right too. Brave but outgunned and outclassed. #khanmolina

— Kieran Mulvaney (@kieranmulvaney) December 16, 2012
Great quote from Khan after the fight: sometimes "I get too ballsy for my own good."
Spot-on!
And Carlos Molina's corner FINALLY wakes up and stops the fight.
Amir Khan wins via TKO at the end of the 10th round!!
Khan, perhaps sensing he's in no danger, or maybe feeling bad for the guy has noticeably taken his foot off the game here in the 10th round. He wins it nontheless.
100-90 Amir Khan
Molina's corner is a disgrace. The referee is basically begging them to end the fight. Ridiculous

— Colin Byrne (@Colinsboxing) December 16, 2012
Completely right. Referee should step in and save the fighter. The corner obviously isn't going to do it.
I understand feeling that it's your one and only shot. But this fight should not continue. Molina is too gutsy to do it but that's why you have a corner. To save you from yourself.
Carlos Molina is a light-puncher and that's why he's here. Remember that fact when talking about how impressive Khan looks. Hard to tell if this is Khan improving or Molina not having anything.
9-0 shutout. 90-83.
If I'm Molina corner I stop this fight. No need to see more.
Molina corner must be close to stopping this. The kid is just getting beaten up at this point. Doing what he was brought here to do.
ROUND 8: Khan stepping on the gas a bit more this round. It's rapid-fire with that jab before quick combos inside. Good footwork from Khan.

— ESPN Boxing (@ESPNBoxing) December 16, 2012
Khan coasting now. Molina not throwing enough and can't keep up with the speed of the incoming. A shutout thus far 80-73 Khan.
It's only been eight weeks for Khan/Hunter.
The good: More movement, better pace, using the ring well
The bad: Still leaves his chinny chin chin exposed far too often
If I'm Molina I rush in on him and make it a brawl. You have to make Khan let his hands go to make a mistake. Allowing him to control this pace and that will never happen.
Boy Molina needs to get a fire under his you know what if he wants to win this fight. Khan is boxing all around him with his speed. Molina just not going for broke enough and that's what he needs to do to have a chance. 7-0 Khan.
70-63
Miles better, dropped the pace abit. Doesn't need to be 100 mph cus Molina's doing nothing. Looking good.

— Ricky Hatton MBE (@HitmanHatton) December 16, 2012
Yes but he's still taking a lot of big shots to the chin. Good thing he isn't facing a puncher.
Molina needs an eraser, problem is, he doesn't really possess one. That's why he was chosen to face Khan #khanmolina #boxing

— Steve Kim (@stevemaxboxing) December 16, 2012
Bingo. You win the prize. Molina was chosen for lack of punching power. If he had any some of those shots might've given Khan difficulty.
Khan takes the sixth and leads 60-54.
He's taking Molina's punches well. But I wouldn't continue to take that chance if I were him seeing as he can easily outbox this kid.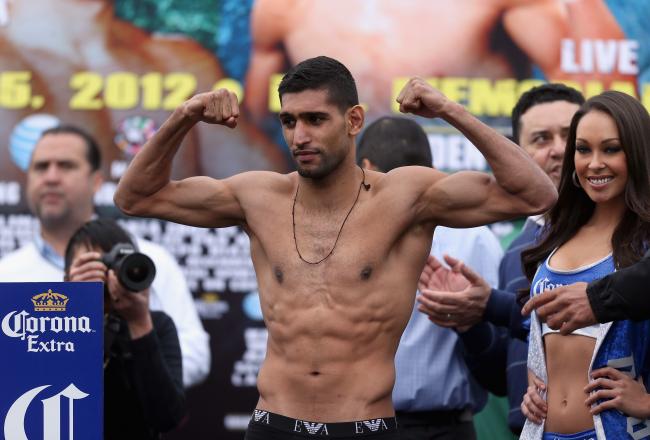 Molina gets through and tags Khan with a big straight right...Khan took it but you get goosebumps everytime this kid lands.
Molina just landed a big left hook. Khan either took it very well or Molina has no power to trouble him.
Still a dangerous game for a guy with chin issues...
The big thing you'll notice so far about the Khan/Hunter partnership...Amir uses the ring much better. Throws combos, steps back. Walks around the ring and forces Molina to follow him.
Helps him control the distance and the pace of the fight.
Amir is working harder than he needs to here,if Molina's cuts hold out and Amir doesn't get him he needs to leave abit in the tank for the

— Ricky Hatton MBE (@HitmanHatton) December 16, 2012
Either way another big round in the fifth for Khan who is dominant thus far. Molina doesn't have the strength to get inside and Khan is just too fast. 5-0 Khan. 50-45 after the fifth.
This article is
What is the duplicate article?
Why is this article offensive?
Where is this article plagiarized from?
Why is this article poorly edited?