Jacksonville Jaguars vs. Miami Dolphins: Live Score, Highlights and Analysis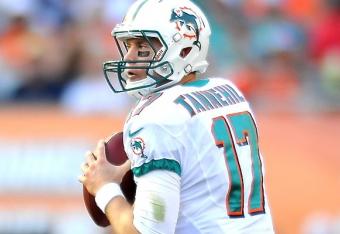 Jaguars 3 - Dolphins 24
FINAL
After jumping out to a three-point lead in the opening minutes of this game, the Jacksonville Jaguars failed to find pay-dirt again.
Instead, the Miami Dolphins gradually posted 24 unanswered points against a Jaguars team that looked lifeless, overwhelmed and largely disinterested.
With this loss, the Jaguars fall to 2-12.
The Chad Henne experiment is already proving futile, and as he falters, Mike Mularkey's job security dwindles. Although Jacksonville has been ravished by injuries, it has become clear that neither Chad Henne nor Blaine Gabbert are the answer at quarterback, leaving this team years away from contention.
Meanwhile, the Dolphins improve to 6-8.
Although Ryan Tannehill had arguably his best statistical game of the season despite missing Jake Long, Davone Bess and Charles Clay, there's only so much Miami can take out of this. Yes, a win is a win, but a Week 15 victory against one of the NFL's worst teams isn't something to celebrate.
Both of these teams have plenty of questions to answer entering this offseason starting at the top.
Will either GM be around in 2013?
Here's your final box score: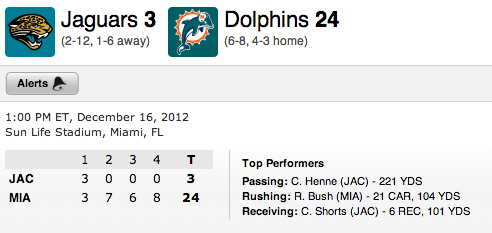 Thanks for reading.
Victory formation for the Phins and this one is over: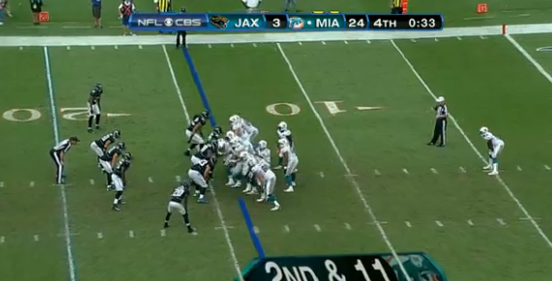 6 yard run for Reggie Bush puts him at 103 yards for the day, second 100-yard day on the season

— Ben Volin (@BenVolinPBP) December 16, 2012
As expected, the ruling on the field is overturned.
No touchdown.
Cecil Shorts makes a spectacular touchdown grab, but his right elbow hits the ground out of bounds before he's able to get his left foot down.
Ruled a touchdown on the field but it should be overturned: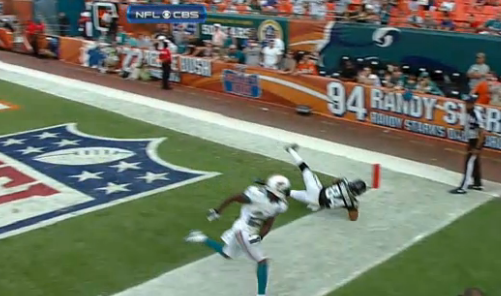 Key for Tannehill in the future is posting these numbers against topflight teams such as the Patriots. Giving some weapons to work with would certainly help:
Statistically, Tannehill's best day as a pro: Best completion % (78.6) and passer rating (123.2). Overall: 22 of 28 for 220 yards, 2 TD

— Ben Volin (@BenVolinPBP) December 16, 2012
Geno Smith? Tyler Wilson? Matt Barkley?
Jags will have options, but like the Dolphins last year, won't get their hands on an elite prospect:
the jags now seem back to square one in their QB search.. Henne's homecomilng not what they wanted.

— Vito Stellino(@vitostellino) December 16, 2012
Dolphins scoring drive summary: 14 plays, 85 yards in 9:01


4Q - 3:12
TOUCHDOWN DOLPHINS
Ryan Tannehill and Anthony Fasano connect for a touchdown for the fifth time this season, and this one all but seals a victory.
Dolphins dominating the time of possession battle:
Jaguars TOP - 22:21
Dolphins TOP - 34:22
Dolphins down to Marlon Moore, Rishard Matthews, Armon Binns and Marcus Thigpen at wide receiver:
Hartline looked like he rolled that ankle on that last incompletion. Comes off the field

— Ben Volin (@BenVolinPBP) December 16, 2012
#Jaguars fans might as well get their KC Chiefs pom-poms out and root for them to beat Raiders to take lead for #1 draft pick

— Eugene Frenette (@GeneFrenette) December 16, 2012
4Q - 12:13
Chad Henne leads a swift and impressive drive into the Dolphins redzone, but Montell Owens fails to convert a fourth-and-short.
Dolphins linebacker Jason Trusnik, starting in place of the injured Koa Misi, makes a great play on the ball and drags Owen down shy of the marker: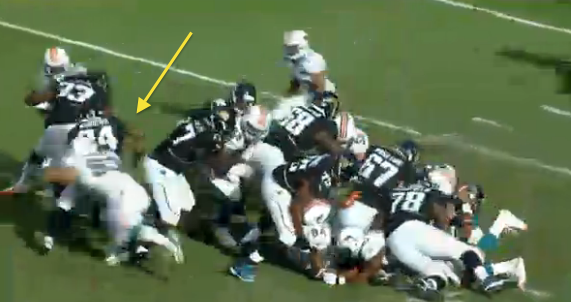 Brian Hartline becomes number eight:
Only eight players have reached 1,000 yards receiving in Dolphins history.

— Armando Salguero (@ArmandoSalguero) December 16, 2012
Dolphins scoring drive summary:
3Q - 1:01
FIELD GOAL DOLPHINS
The fans at Sun Life Stadium don't like it, but Joe Philbin elects to kick a field goal on 4th-and-short rather than go for it.
Dan Carpenter hits his third field goal of the afternoon, this one from 31-yards out.
Miami extends its lead to 13 as the third quarter winds to a close.
Tannehill is extremely athletic, but he rarely opts to run. He now has five rushes for 45 yards today:
Another #Jaguars defense breakdown, allowing Tannehill to scramble for 30 yds to Jags 27, plus 5-yd illegal contact on Mathis

— Eugene Frenette (@GeneFrenette) December 16, 2012
Another three-and-out for the Jaguars:
Jags' last 6 drives have ended in 5 punts and a turnover on downs

— Ben Volin (@BenVolinPBP) December 16, 2012
Dolphins scoring drive summary: 5 plays, 60 yards in 2:54

3Q - 5:35
FIELD GOAL DOLPHINS
No fakes this time around. Dan Carpenter connects from 30 yards out and gives the Dolphins a 10-point lead midway through the third quarter.
Jaguars 3 - Dolphins 13
The Dolphins can't capitalize on Bush's 53-yard scamper.
Dan Carpenter out for a 30-yard field goal try...another fake?
Reggie Bush with an impressive 53-yard run to open the Dolphins' possession. Ball on JAC 19. MIA up 10-3. 7:20 left 3RD. #JACvsMIA

— Miami Dolphins (@MiamiDolphins) December 16, 2012
Looks like Fields maybe audibled to a fake when he saw Fasano wide open on the sideline. But CB ran over to cover, so Fields threw OB

— Ben Volin (@BenVolinPBP) December 16, 2012
Anthony Fasano stealthily stays on the sideline, but it takes Brandon Fields too long to take the snap and complete the pass. By the time Fields has the ball, Jaguars defenders were already in the vicinity.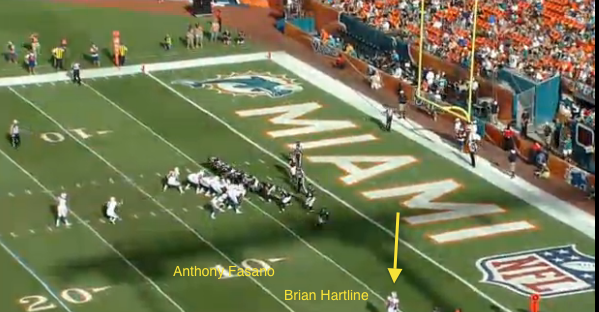 Fields then has no choice but to toss the ball into the stands.
Wow, the Dolphins attempt one of the worst fake field goals in history.
This article is
What is the duplicate article?
Why is this article offensive?
Where is this article plagiarized from?
Why is this article poorly edited?