Donaire Blasts Arce and Retains Title with Third Round Knockout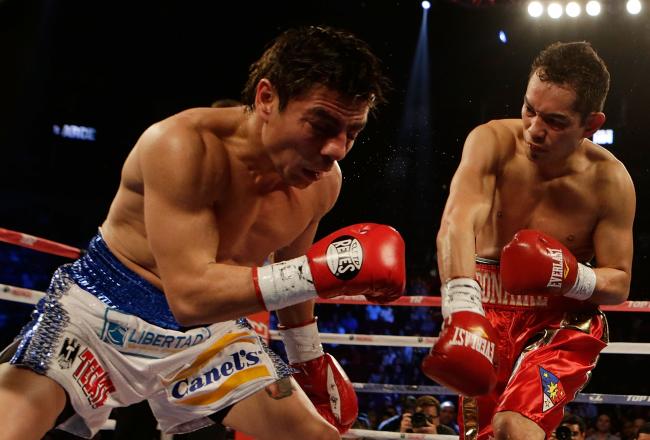 Donaire dominated Arce and solidified his fighter of the year credentials.
Scott Halleran/Getty Images
WBO junior featherweight champion Nonito Donaire dominated, dropped and stopped Mexican warrior Jorge Arce at the end of the third round tonight in Houston, Texas.
From the outset it was clear that Donaire (31-1 20 KO) was the stronger fighter and Arce would have to take huge risks to get close enough to land.
It was a risk that paid off in spades for Donaire who hurt his foe whenever he came in and scored three knockdowns, the final coming in the closing seconds of round three and ending the night.
With the win Donaire solidifies his credentials for fighter of the year and improves to 4-0 in 2012.
That will do it for tonight's live coverage of Donaire vs. Arce.
Hope you enjoyed our coverage and as always keep stopping by for the latest boxing news, analysis and opinions, right here at Bleacher Report!!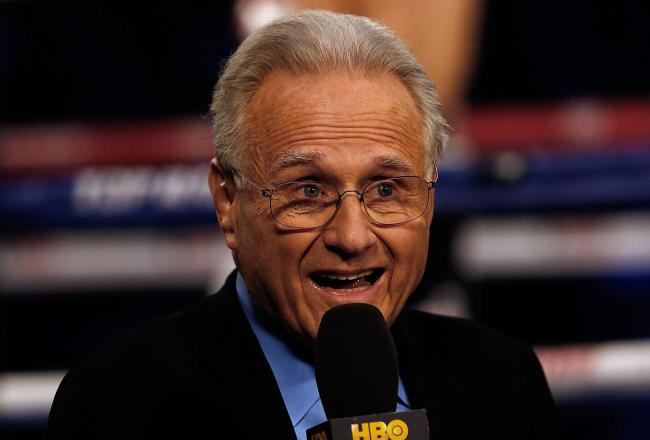 Arce tells Merchant in the ring: "You are the best."
Great moment and respect. Both guys will be missed.
Arce says in the ring his career is over after this fight. Good call. A true warrior and nothing left to prove. He never cheated the fans.
Donaire says he definitely felt the pressure of needing to perform for the Filipino fans after last weeks loss.
Donaire is a fighter of the year. Hands down. No debate or question about it.
Arce went out on his shield, as most predicted would happen. Still, a strong effort from Donaire to put away a hurt fighter.

— ESPN Boxing (@ESPNBoxing) December 16, 2012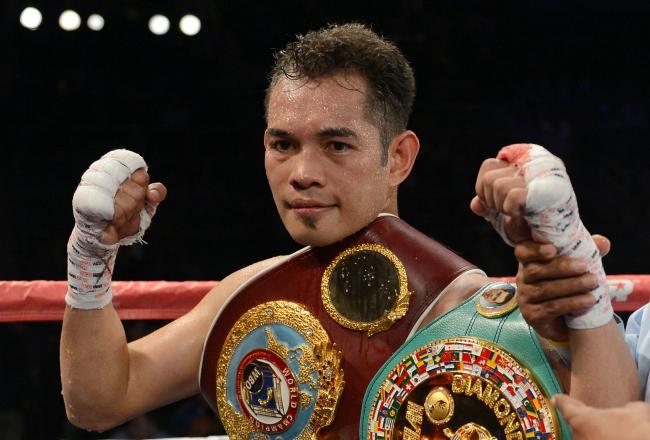 FIGHT OVER!!!! Donaire with a SPECTACULAR third round knockout of Jorge Arce!!
Dropped him hard twice in the final seconds of the round and ended the night with style!
Donaire drops Arce hard at the end of the third round. He's badly hurt. This could be over!!
Arce more aggressive, charges in and eats a big left hand for his troubles. Gonna be a tough night for him eating those shots to get inside.
Best action of the fight from Arce to start the third. He tackles Donaire...literally.
Nonito Donaire's socks are higher than late 1970's era NBA basketball teams. #Throwback

— Martin Mulcahey (@MartinMulcahey) December 16, 2012
Arce still tentative, with good reason, Donaire scores a knockdown in the second and takes it 10-8.
Donaire leads 20-17 after two rounds. Easy work so far.
Arce much more aggressive after getting up from the knockout. Not sure if that's a good idea but it's the only way he knows how to fight.
Down goes Arce on a brilliant counter in round two!!!
Donaire lands a clean right to Arce's chin. Arce asks for more.

— Top Rank Boxing (@trboxing) December 16, 2012
That ladies and gentlemen is Jorge Arce in a nutshell.
Donaire jabbed well in the first round. Throwing some shots with mean intentions as Arce is unable to close the distance. First round to the Filipino Flash 10-9.
Even with the weight difference favoring Arce, Donaire looks like the much bigger fighter in there. Can't see how Jorge is gonna take those shots with those legs.
Interesting storyline: These two guys are really good friends. Not tonight.
Buffer: "This one's for you, Larry Merchant."

— Michael Woods (@Woodsy1069) December 16, 2012
Classy move.
LET'S GET READY TO RUMBLE!!!!!!!!
That never gets tired.
HUGE amount of boos for Donaire as he enters the ring. Sounds like Pac-Marquez crowd last week. Though not as big.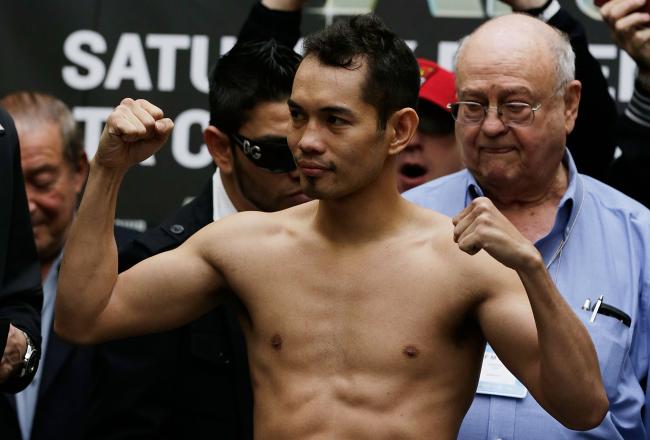 Here comes Donaire. He deserves a ton of credit for becoming the gold standard for PED testing in sports.
Jorge Arce is on his way to the ring. Seems like an Arce house filled with Mexican fans cheering for him. #boxing

— Dan Rafael (@danrafaelespn) December 16, 2012
Home-field advantage is definitely Arce's tonight.
Arce gains nearly 10% in body weight overnight, did he eat a sparring partner last night!?

— Martin Mulcahey (@MartinMulcahey) December 16, 2012
Must've been a small sparring partner...
This article is
What is the duplicate article?
Why is this article offensive?
Where is this article plagiarized from?
Why is this article poorly edited?