Jets vs. Chargers: 10 Keys to the Game for New York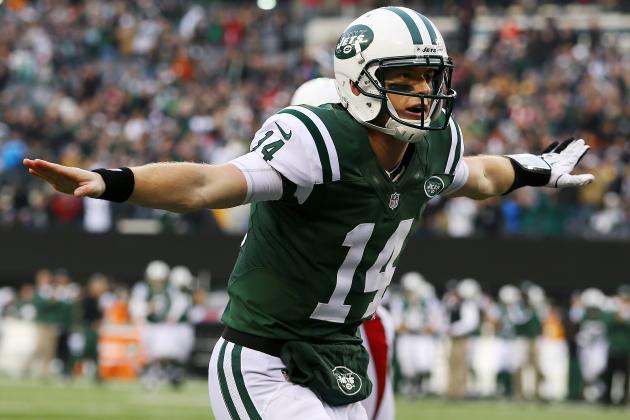 Al Bello/Getty Images
Greg McElroy will get his first career start for the Jets in Week 16.
The Jets (6-8) head into Week 16 in total disarray after being eliminated from playoff contention in embarrassing fashion on Monday night.
Head coach Rex Ryan will look towards third-string backup Greg McElroy as a last ditch effort to eek out the season's final two games and perhaps keep his job through the winter.
McElroy shouldn't be hard-pressed to impress onlookers, especially considering that embattled quarterback Mark Sanchez has been historically bad.
The Jets will try to salvage a brutally ugly season when they host the San Diego Chargers (5-9) at MetLife Stadium on Sunday in New York's final home game of 2012.
The following details 10 key objectives to the Jets earning a win in Week 16:
Begin Slideshow

»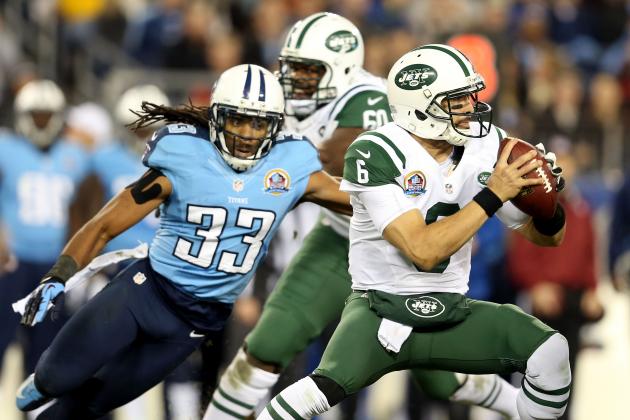 Andy Lyons/Getty Images

The Jets have been a turnover machine in 2012, largely because of Mark Sanchez's enigmatic play, as he has committed 24 turnovers this season.
Gang Green is void of an identity on offense as they've sputtered out of control. They rank 30th in total offense through 14 games this season and have failed to excel at any aspect of offensive execution.
If the Jets are going to establish a positive earmark in an otherwise destitute season, it will be crucial for starting quarterback Greg McElroy to make high-percentage throws and limit passes in traffic.
He needs to be the anti-Sanchez.
The Jets have committed an astounding 33 turnovers to tally the second-highest total in the NFL, averaging nearly 2.5 per game.
New York needs to protect the football to mount their seventh win of the season.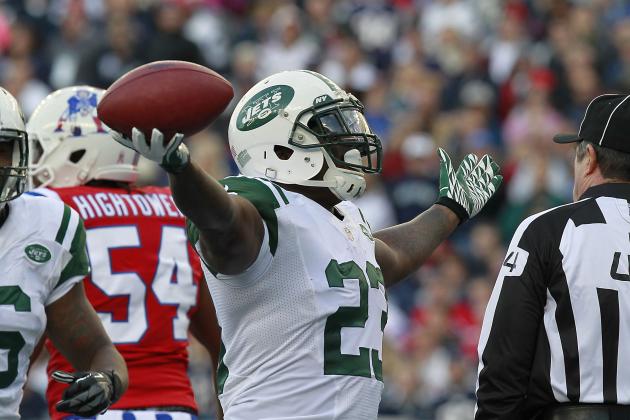 The Star-Ledger-USA TODAY Sports

The Jets need to establish the run to ease exaggerated pressure off of second-year quarterback Greg McElroy.
Expect the Jets to give the Chargers a heavy dose of Shonn Greene on Sunday, who needs just 49 yards to reach the 1,000-yard rushing plateau for the second consecutive season.
The Jets currently rank 10th in total rushing this season, mounting 121 yards on the ground per contest.
It will be important for the Jets to assert that kind of dominance on the ground, and allow McElroy to make high-percentage throws and gain some confidence.
Establishing the run early will open up the field for potential big plays in subsequent possessions and give McElroy an opportunity to succeed in his first career start.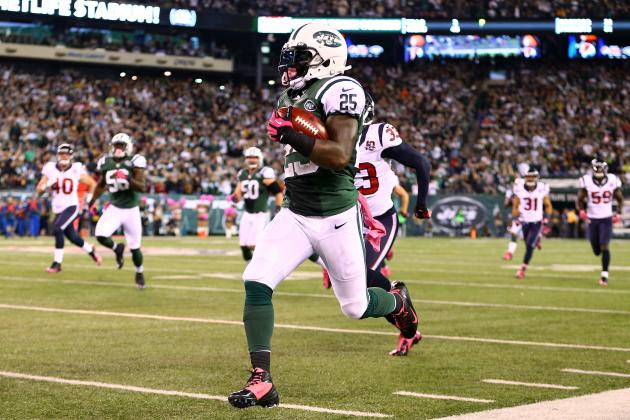 Al Bello/Getty Images

The Jets have become infamous for squandering pristine opportunities to put points on the scoreboard, demonstrated by the astonishing finish to their Week 15 debacle against the Tennessee Titans (5-9).
New York needs to take advantage of optimal starting field position given the opportunity on Sunday, simply to prove some element of resiliency.
Quality football teams reel in points when given outstanding field position, but the Jets aren't even close to resembling anything near "quality."
Still, it'll be important for the Jets to build on something positive for next season and commence the process of reestablishing an identity.
Taking advantage of starting field position inside of opponents' territory should be part of that identity. It's a staple in constructing a winning football team.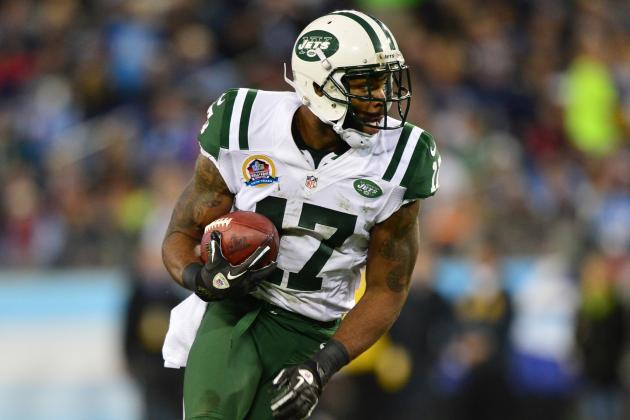 Don McPeak-USA TODAY Sports

The Jets don't possess a multitude of playmakers capable of altering the complexion of a game in an instant, but they need to flash something worth getting excited about to temporarily ignite a demoralized fan base in Week 16.
It doesn't matter how it happens, it just needs to happen.
Jets fans would be ecstatic to see McElroy toss a perfect spiral down the sideline to connect with an open receiver on a 60-yard touchdown bomb.
They'd be equally elated to see Shonn Greene break through the middle of the field for a big run and a score, or to watch Joe McKnight weave through traffic on a kickoff return and take the pigskin to the house for six points.
The Jets need to give grieving Jets fans a moment of fulfillment on Sunday in their final home game of the season.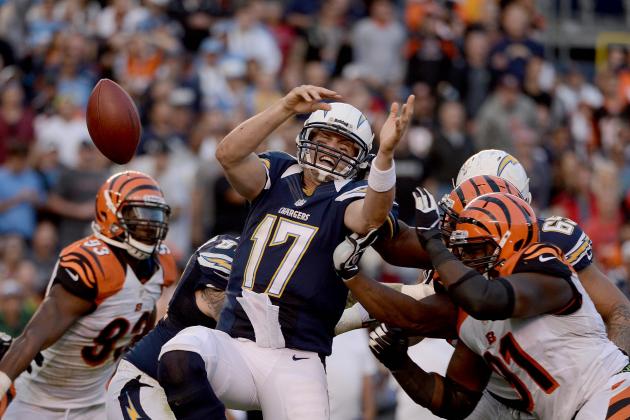 Donald Miralle/Getty Images

Chargers starting quarterback Philip Rivers has done his best Mark Sanchez impersonation in 2012.
The former Pro Bowl QB has committed 22 giveaways this season, making him among the most turnover-prone player in the NFL.
The Jets can enormously increase their chances of pulling out a win in Week 16 if they can force constant pressure upon Rivers.
Rivers' level of frustration has reached its pinnacle this season.
The Jets' defensive front needs to ensure that he never attains any degree of comfort in the pocket and lay some hits on the struggling QB, optimally forcing him to make bad decisions.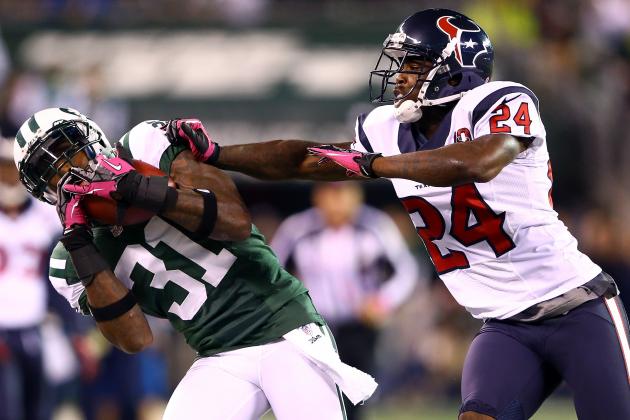 Al Bello/Getty Images

The Jets have been highly ineffective in generating a sufficient number of turnovers to combat their inflated total of giveaways.
It can be assumed that the Jets are going to have an opportunity to capitalize on a game-changing mistake at some point during their Week 16 matchup with the Chargers, given the rate of frequency that Phillip Rivers coughs the ball over.
The Jets average slightly over 18 points per game and have been unable to score points when given premiere opportunities.
That needs to change if Gang Green is going to win their seventh game of the season in their home finale.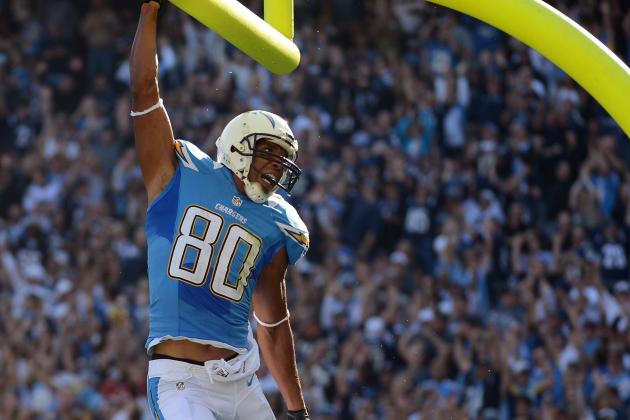 Harry How/Getty Images

Chargers wide receiver Malcolm Floyd has been a catalyst on a team that has severely underachieved in 2012.
He's a proven vertical threat with outstanding route-running ability and is the best threat the Chargers have on offense.
Floyd has found the end zone five times this season on 56 receptions. He's been targeted a team-high 84 times and averages over 58 receiving yards per game.
He'll be forced to lock up with cornerback Antonio Cromartie on Sunday and it will be pivotal for the shutdown corner to prevent massive gains downfield.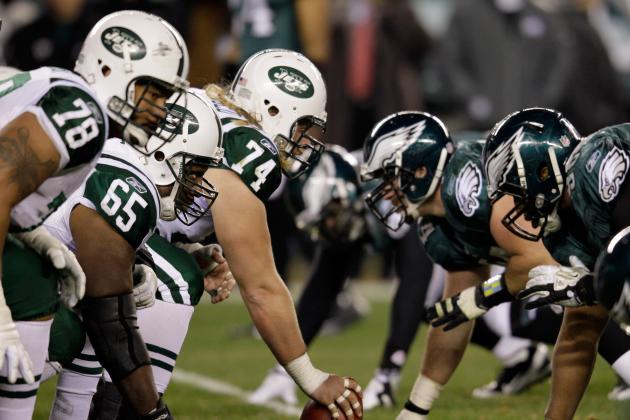 Rob Carr/Getty Images

The Jets need to win the trenches on both sides of the football to win their final home game of the 2012 season.
New York has been pushed around in blowout fashion a few times this season, largely because of bad protection on the offensive front and an absent pass rush on defense.
The Jets were bullied in a 34-0 loss at home to the San Francisco 49ers (10-3-1) in Week 4 and again in Week 12 when they suffered a 30-point defeat at the hands of the New England Patriots (10-4).
They've allowed 35 sacks to combat the 26 they've earned, a ratio that spells a losing season.
The Jets have to improve in the trenches on both offense and defense to win on Sunday.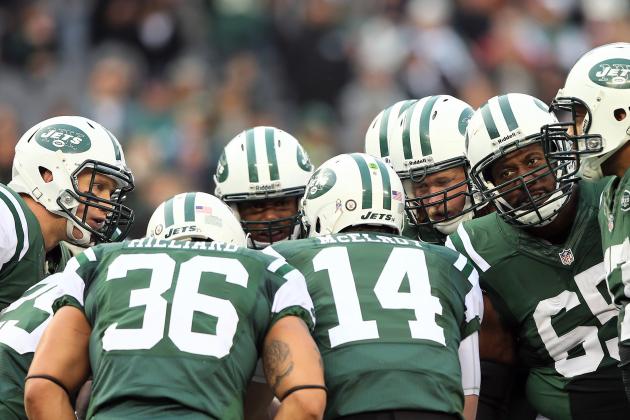 Elsa/Getty Images

Greg McElroy hasn't seen the field beyond his second-half stint against the Arizona Cardinals in Week 13.
It will be paramount for the Jets to protect an inexperienced quarterback and allow him to sustain some degree of poise in the pocket, ideally enabling him to be effective.
His offensive line needs to protect the pocket to give McElroy a chance to read the entire field and make optimal decisions.
In contrast, Mark Sanchez has been hindered by poor pocket protection for the majority of the season, often telegraphing passes into think coverage in an attempt to avoid getting crushed.
The Jets offensive line will determine whether or not McElroy falls into the same pit.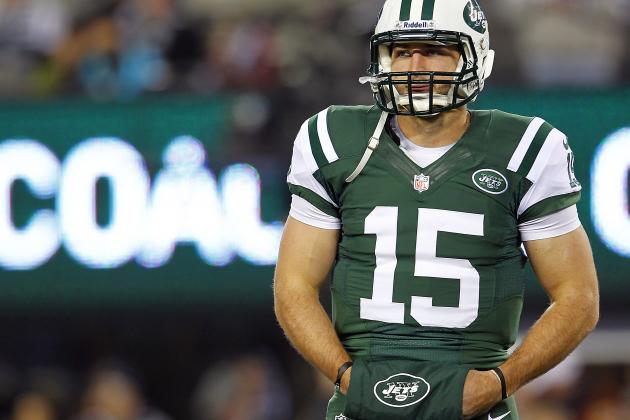 Rich Schultz/Getty Images

Tim Tebow has been misused as a member of the Jets and has proved to be a failed experiment for a highly dysfunctional franchise.
Tebow acknowledged his "disappointment" in not being chosen by head coach Rex Ryan to start on Sunday against the Chargers, although Jets' management made the correct call by opting to start McElroy instead.
It's not that Tebow is at fault for the Jets' demise, but he never should have been part of the equation.
It's evident that he hasn't improved since departing from Denver and the likelihood of him seeing significant playing time in the NFL is minimal at best.
The Jets would be wise to permanently end the Tebow experiment and keep him on the bench for the team's final two games.