Washington Wizards vs. Miami Heat: Postgame Grades and Analysis for Miami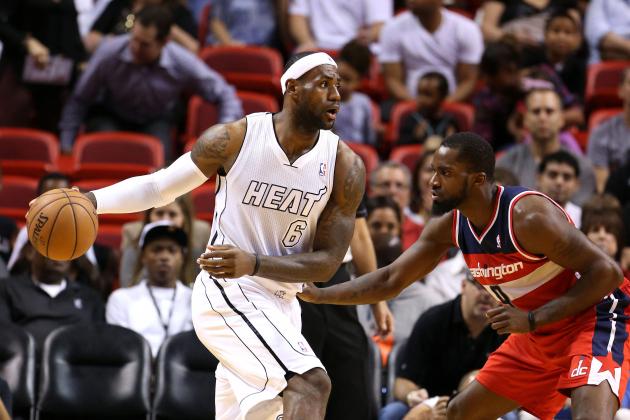 USA TODAY Sports

The Miami Heat set things right against the Washington Wizards on Saturday night, dominating on both ends of the court en route to a 102-72 blowout win. The Heat ratcheted up the defensive intensity against the overmatched Wizards, generating 21 turnovers and holding Washington to 38 percent shooting on the night.
For anyone questioning whether Miami still had an extra defensive gear, Saturday night's performance should provide a pretty clear answer.
Chris Bosh and Dwyane Wade scored the ball efficiently, and LeBron James delivered the haymaker, decisively knocking Washington out of the game with a 16-point third quarter. Miami's MVP set the tone for his team on defense, scrambling all over the floor, tipping passes and starting breakaways.
After falling to the lowly Wizards on Dec. 4, James and the Heat clearly had a mind to send a message on their home court, and they delivered it loud and clear.
Miami moved to 15-6 with the easy victory, while the Wizards dropped to 3-18, retaining the worst mark in the league.
After a game like this, the Heat are sure to be feeling better about themselves, but it couldn't hurt to tell every key Miami player how we feel about their performance. Let's get to the grades.
Begin Slideshow

»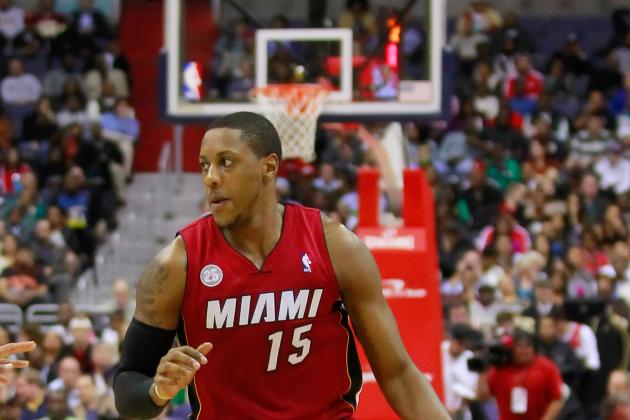 Geoff Burke-USA TODAY Sports

Mario Chalmers: B
Mario Chalmers scored just nine points despite playing more minutes than any other Heat starter, but it's really never been his job to score. For evidence of that, check his game log this season; it features only two games in double figures.
Instead, Miami depends on Chalmers to harass opposing guards on defense and to shoot efficiently when he's open on offense.
On the defensive front, Chalmers jumped back and forth between both of Washington's starting guards, and the results speak for themselves. Jordan Crawford made just 2-of-12 shots and Bradley Beal wasn't much better, hitting 6-of-18 from the field. All jokes about the Wizards' shot selection aside, Chalmers did his job against a couple of guards who are definitely inconsistent, but capable of putting up numbers when left alone.
Miami doesn't ask him to do much, but he usually handles his limited duties just fine. Saturday night was no different.
USA TODAY Sports

Dwyane Wade: B+
In what's got to be a relief for Miami fans, Saturday night's game provided a few glimpses of Dwyane Wade in vintage form.
Despite putting up better numbers of late, Miami's shooting guard has been struggling to showcase the reckless athleticism that marked the first nine years of his career. Pundits argued about whether he'd lost a step, and many pointed at Wade specifically when explaining why Miami's once-dogged defense was missing its bite.
While there's no getting around Wade's defensive lapses this year (the Heat are almost seven points per 100 possessions better on defense with Wade on the bench), he at least made a couple of plays that hinted he might be rounding into form.
A slick steal and behind-the-back pass led to a LeBron James dunk in the second quarter. A few possessions later, he received a pass on the right baseline, drove right into the chest of Emeka Okafor and hung in the air for what seemed like a half hour before finishing the double-clutch layup.
Wade finished with 13 points, but the flashes of athleticism on both ends of the court were the real story here. If he can continue to be a defensive ball hawk who scores efficiently (Wade was 5-of-8 against Washington), Miami fans will start to breathe a little easier.
USA TODAY Sports

LeBron James: A

Until the third quarter, LeBron James actually looked human.
During the first half on Saturday night, James' teammates picked him up, instead of the other way around. The reigning MVP finished the game's first 24 minutes with only seven points, but because Wade, Bosh and the rest of the Heat all contributed, it didn't prevent Miami from jumping out to a comfortable advantage against the Wizards.
But then the second half started and James took the game over, outscoring the entire Wizards team by a margin of 16-10 in the third.
He zipped the ball around the perimeter, hit cutters, grabbed boards and scored from everywhere on the floor with casual ease. James punctuated the quarter with a breakaway dunk on an assist from Wade (one of two on the night).
King James, whose night was done after three quarters, finished with 23 points, 10 rebounds and five assists on 8-of-15 shooting. It was the 26th consecutive game with at least 20 points for James, who also made at least 50 percent of his shots for the 10th contest in a row (a career-best streak).
Aside from the numbers, James' defensive hustle and intensity (constants all season) fueled a team-wide effort on D that forced the scrambling Wizards into 21 turnovers.
The lesson here: Never assume LeBron James is human.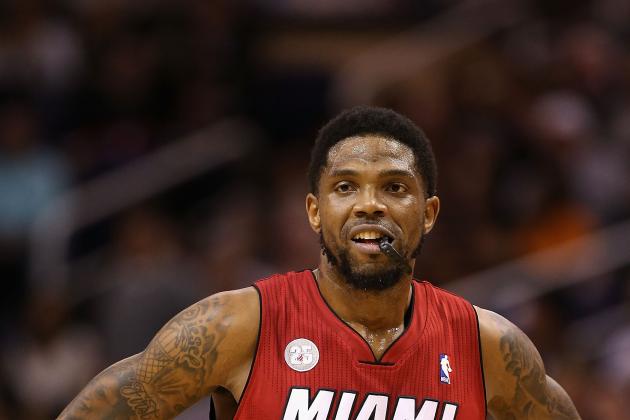 Christian Petersen/Getty Images

Udonis Haslem: B+

The undrafted Udonis Haslem started game No. 400 of his career on Saturday, and he displayed the skills against the Wizards that allowed him to accomplish such an unlikely feat.
Haslem battled underneath, played tough defense against Washington's bigger frontcourt players and knocked down nearly every mid-range shot that came his way.
The Heat's veteran power forward seems to have found a home in the starting lineup once again, despite sitting in favor of Shane Battier for a good portion of the early 2012-13 season. If he continues to produce with such quiet efficiency, coach Erik Spoelstra will have no choice but to leave Haslem in the starting unit.
On the night, No. 40 registered an efficient 13 points and seven rebounds in just 24 minutes.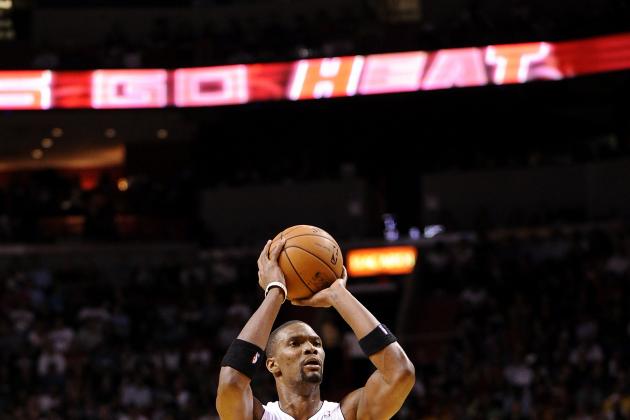 USA TODAY Sports

Chris Bosh: B+
Not to be outdone by Haslem's shooting performance, Chris Bosh unleashed his NBA-best mid-range game against the Wizards, drawing Washington's lumbering bigs away from the basket all night. The Heat's small-ball center knocked down jumper after jumper from all over the floor and even operated out of the post on occasion.
Bosh came into Saturday night's game with double-doubles in his last two contests, and the only thing that kept him from extending the streak was an early trip to the bench in the blowout.
On the night, Bosh posted 12 points, five rebounds and three assists on 5-of-7 shooting.
Going forward, he'll continue to be a real disruptor against opposing big men who'll have no choice but to chase him around the perimeter. As long as his shot is falling, the middle of the floor will continue to be wide open for Miami's athletic wings, which is an obvious key to the Heat's offensive dominance.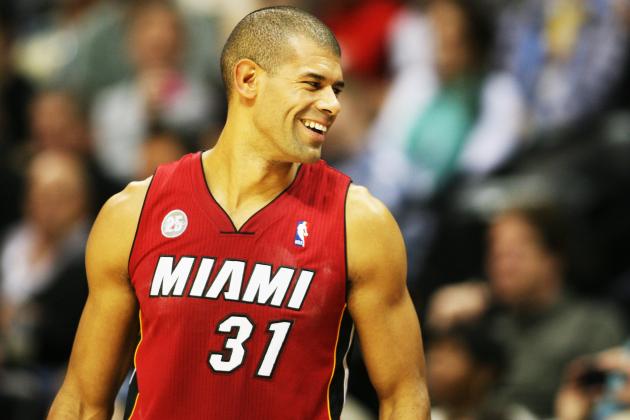 Chris Humphreys-USA TODAY Sports

Shane Battier: C+

Shane Battier came off the bench ahead of Ray Allen against Washington, and he played a few more minutes, so he'll qualify here as the Heat's sixth man.
Perhaps embracing that role, Battier came into the game gunning, putting up shots on each of the first two possessions he played. After a couple of quick made threes, Battier cooled off, finishing with six points on 2-of-7 shooting.
The defense will always be there for the cerebral role player, but the three-point shooting has been a real eye-opener this season. Battier's rough perimeter performance Saturday night came in a season in which he's been hitting at a career-best accuracy rate (45 percent coming into Saturday's game).
As long as Battier can defend and knock down threes, he'll continue to be a vital piece of the Heat's title defense. Because he didn't quite have the shooting touch Saturday night, his grade takes a bit of a hit.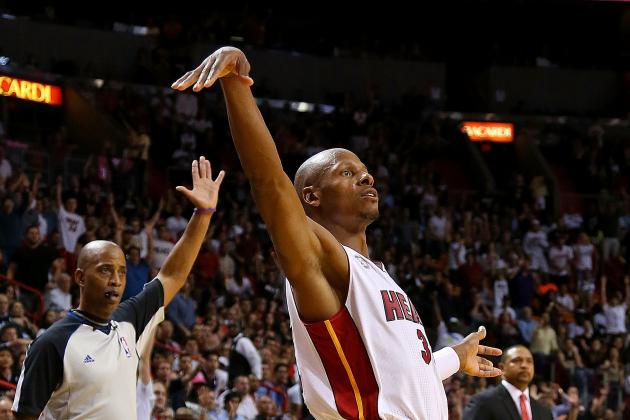 Mike Ehrmann/Getty Images

Bench: C-
In a game like this, it's almost impossible to grade the performance of Miami's bench. With the contest already decided after three quarters, the Wizards weren't exactly putting forth a committed effort against the Heat reserves down the stretch.
Nonetheless, it bears mentioning that virtually none of Miami's subs had a very good performance. Ray Allen hit a couple of threes, Joel Anthony grabbed four boards and Norris Cole buzzed around actively, but none of those guys had any real effect on the outcome Saturday night.
In fact, Washington actually outscored Miami in the fourth quarter. For that alone, the bench doesn't deserve anything above an average grade.