Brooklyn Nets vs Chicago Bulls: Live Score, Results and Game Highlights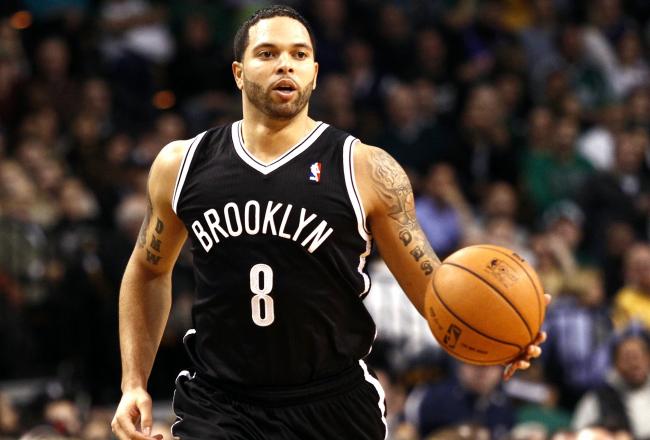 The Chicago Bulls were able to pull down an ugly win over the Brooklyn Nets 83-82 in Chicago, moving their record to 13-9. Brooklyn falls to 13-10 with the loss.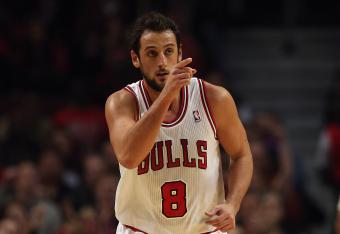 Keys to the Game
The Chicago Bulls continue to be the best team in the league at playing ugly basketball. At this point they seem as if they were born into ugly basketball, whereas other teams have merely adopted it for their games against the Bulls. They continue to know how to play to their strengths.
What the Bulls have been able to do this season is what they've been able to do all year long; force other teams to play their game.
Brooklyn would be much more comfortable in a faster-paced game with the lulls giving Brook Lopez the chance to work in the post. However, Chicago forced turnovers, bad shots and shot free throws to grind this one to a halt.
The Nets forced more turnovers, getting 18 to Chicago's 14, but they only scored 15 points off the turnovers they forced, while the Bulls scored 17.
In the end, both teams shot the ball 75 times, but Chicago made it more often. That's pretty much what it all boils down to.
Chicago knows how to win ugly, without many three-pointers, while getting out-rebounded and shooting fewer free throws than their opponent, and that's just what they did tonight.
Oh, and another breakout game from Marco Belinelli, who had 19 points tonight, surely didn't hurt.
Bulls 83, Nets 82.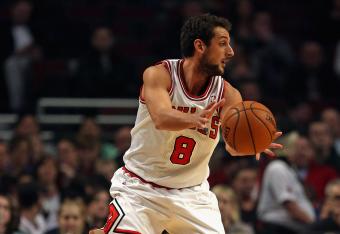 Marco Belinelli gets to the line and predictably knocks down both freebies. I'm not sure if the man can do any bad at this point.
Williams hits a three, but the game ends.
Bulls 83, Nets 82, Final.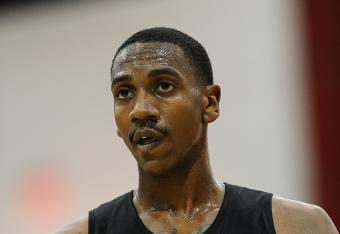 Deron Williams fails to get the step-back fader to fall. Good defense by Teague keeps him from turning the corner and getting to the rim.
The rook's got moves.
Bulls 81, Nets 79 with 0:05 left in the fourth.
It's a bit late, but we might as well take a look at the first round highlights as we've got a timeout to kill here.
Bulls 81, nets 79 with 0:14 left in the fourth.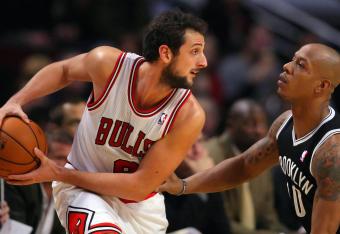 Marco Belinelli drive to the hoop. Stacey King goes crazy.
One makes no sense, the other is an everyday occurrence.
Buls 81, nets 79 with 0:22 left in the fourth.
Heady play by Marquis Teague as he's leading four Nets on a breakaway (after he stole the ball) to get the ball to a wide-open, older, wiser Luol Deng.
Nets 79, Bulls 79 with 0:40 left in the fourth.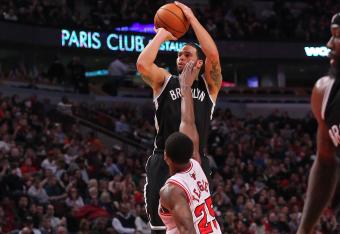 Serious crunch-time minutes for Marquis Teague here. It's time for him to live or die.
He's scored Chicago's last four points, but he just whacked Deron Williams on the face in the middle of a three-pointer.
Take the good with the bad, I suppose.
Nets 79, Bulls 75 with 2:01 left in the fourth.
Brook Lopez has been doing work tonight:
Brook Lopez (18 points, 10 rebounds) now has his third double-double of the season. (via @nets_pr) #BKNvsCHI

— Brooklyn Nets (@BrooklynNets) December 16, 2012
Nets 77, Bulls 75 with 3:15 left in the fourth.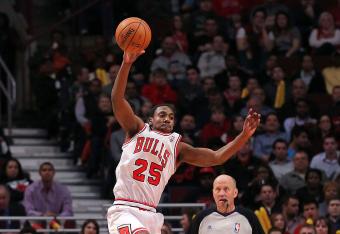 I've got no idea if it was a plan, but Marquis Teague gets down nearly on one knee, bounce passes to Boozer who is a good foot away from him, takes the ball back and sprints around him to the rim.
We'll call that one the layup proposal.
Nets 77, Bulls 73 with 3:59 left in the fourth.
A big run for Brooklyn boiling here, they're pushing for their biggest lead of the game.
Nets 77, Bulls 71 with 5:38 left in the fourth.
Forget a highlight reel, you could make a lowlight reel from the terrible play in this game. Marquis Teague gives us another to add with a shot that hits a good foot above the square and touches nothing else.
Nets 73, Bulls 71 with 6:36 left in the fourth.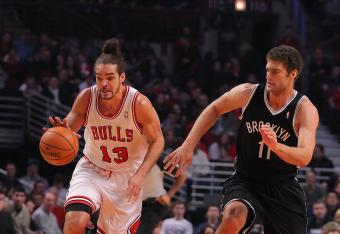 There have been two wedgies (balls getting trapped between the rim and the glass) in this game so far and at least four jump balls.
Needless to say, it's been a weird one.
Nets 71, Bulls 71 with 7:05 left in the fourth.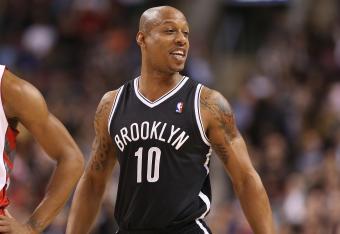 Brooklyn jets to the lead yet again, but I'm sure they'll decide to take some terrible three-pointers to let Chicago hang around as we whittle this one away.
Nets 71, Bulls 69 with 7:46 left in the fourth.
It honestly looks like the hoops are a good four or five inches higher in tonight's game. I've never seen this many shots hit the front of the rim, especially when we start talking about lay-ups.
Bulls 69, Nets 67 with 8:45 left in the fourth.
Deron Williams continues to lead the way with 19 points and five assists for the Nets as Brook Lopez follows him in with 12 points.
Four of Chicago's starters come into the fourth with double-digit scoring under their belts. Boozer has 15, Deng and Belinelli are at 13 and Noah is at 12.
Bulls 69, Nets 65 with 10:12 left in the fourth.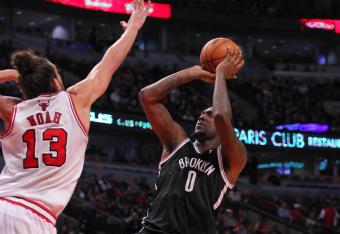 The back-and-forth swings a bit in Chicago's favor as the quarter mercifully sloths to an end.
Chicago remains up by five points as each team puts down 21 in the third.
Bulls 67, Nets 62 after the third.
Deron Williams chucked the ball low off the backboard leading to Blatche getting hit in the face by the ball and losing it out of bounds.
I think that pretty much sums up this game.
Bulls 61, Nets 60 with 2:09 left in the third.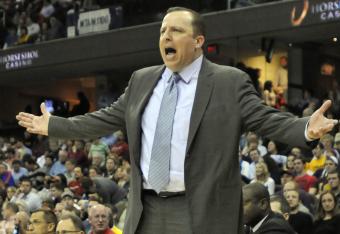 Say what you want about the rate of play from Thibs and the Bulls, but they might be the best in the league at forcing teams to play their game, and it definitely keeps them in most games.
That's a huge reason they're playing pretty decent basketball this season.
Bulls 61, Nets 60 with 2:41 left in the third.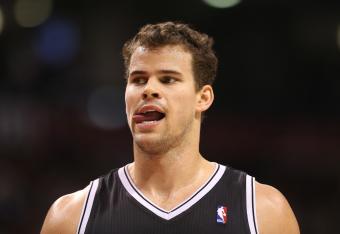 This game has devolved into a contest of who can manage the least contested jumper and who can screw up the fewest fast breaks.
So far Chicago is winning the contested jumper battle, but Brooklyn is winning the fast break battle.
Of course, Carlos Boozer and Kris Humphries trading air-balls helps the entertainment value in this one.
Nets 58, Bulls 57 with 4:30 left in the third.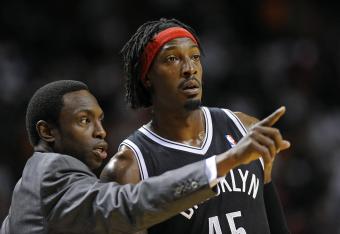 Gerald Wallace is taking this one over. A corner three-pointer, a few blocks and a few rebounds gives Brooklyn--well a bit of a closer game.
Bulls 57, Nets 56 with 5:46 left in the third.
Carlos Boozer has to lead the league in shots that almost fall, but somehow end up spinning out at the last possible second.
Bulls 57, Nets 56 with 6:19 left in the third.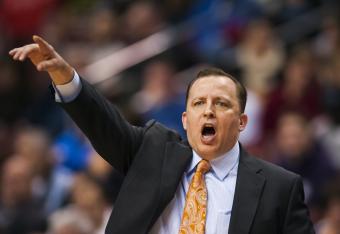 We're back to a fast-paced back-and-forth, but Tom Thibodeau is having none of that. He calls a timeout before this looks like a game from 2012, rather than the 1952 game he's pushing for.
He might go out and try to scratch away the three-point line at the next commercial break.
Bulls 57, Nets 51 with 8:33 left in the third.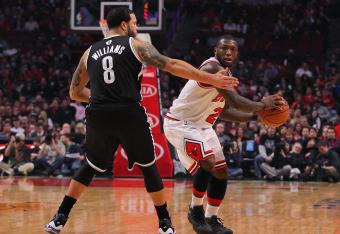 Nate Robinson and Marquis Teague both have three fouls. They're doing everything in their power to keep Deron Williams from tearing them apart, and it's almost, kind of working.
Bulls 55, Nets 49 with 9:28 left in the third.
Nate Robinson's block on MarShon Brooks was the highlight of the first half. If you didn't get a chance to see it in GIF form earlier, here it is as a video.
Bulls 51, Nets 43 with 10:32 left in the third.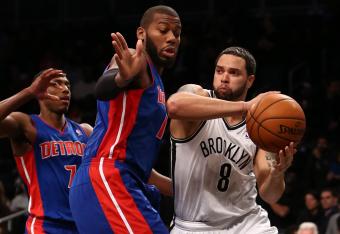 Deron Williams is leading all scorers with 15 points for the Brooklyn Nets, while Brook Lopez adds 10 and Andray Blatche puts in nine.
Carlos Boozer leads the way for Chicago with 13 points, Joakim Noah follows him with 10 and Luol Deng has seven.
Bulls 46, Nets 41 at halftime.
This article is
What is the duplicate article?
Why is this article offensive?
Where is this article plagiarized from?
Why is this article poorly edited?