New York Giants Mock Draft: How the Rich Can Get Richer for 2013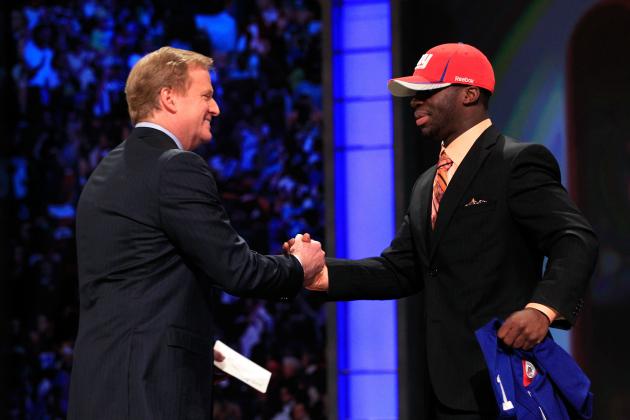 Chris Trotman/Getty Images

New York Giants general manager Jerry Reese is a man with a code. During Reese's tenure as GM, the Giants have consistently steered clear of drafting players based on team needs. Things will not be any different this April, as New York will look to improve its roster with budding prospects from the college ranks.
Take a look down the Giants roster and one thing becomes very apparent: this team is predominantly composed of homegrown talent.
Jerry Reese typically avoids making a big splash in the free-agent market, instead choosing to focus on drafting accomplished student athletes. As a result, the Giants have had tremendous success, choosing to develop their personnel over the years.
The 2013 draft will be pivotal for the Giants to ensure continuity for the future. Some of the players selected will be the foundation of Big Blue for years to come. Here's a look at some potential targets the Giants will aim for in April.
Begin Slideshow

»
The Giants have struggled against physical teams this season. Their 21st-ranked run defense is a clear indicator that they must improve at the point of attack.
Johnathan Jenkins is a 6'4'', 363 pound junior who innately possesses the ability to take up loads of space on the defensive front. Jenkins would be crucial in shoring up a defense that has been gauged up the middle all season long by opposing running backs.
Although Jenkins may return to school for his senior season, it's likely he will capitalize on the success he achieved this year in Athens and enter the NFL draft.
With this first-round pick, the Giants would get a defensive tackle who can shed blocks quickly and make big plays in tight areas along the line of scrimmage.
Justin Pugh represents yet another changing of the guard for the Giants offensive line. New York has seen a seismic shift to their personnel up front over the past three years.
David Diehl's struggles in 2012 will be the rationale for this second-round draft choice. Diehl has looked lethargic when protecting Eli Manning and is an aging commodity.
This 6'6'', 292 pound senior out of Syracuse will be a nice fit at the right tackle spot. Pugh has solid instincts and awareness as a pass protector. When a pass rush emerges from an unexpected linebacker or safety, Pugh is adept at making adjustments in coverage.
Justin Pugh's overall football acumen will ease the Giants' minds when contemplating drafting a young offensive lineman for a starting role.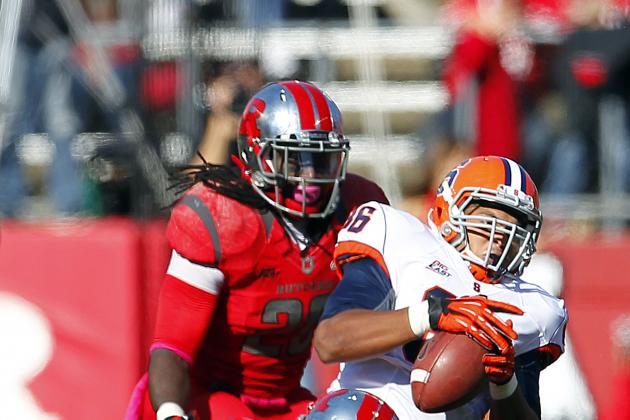 Rich Schultz/Getty Images

Khaseem Greene is a versatile linebacker out of Rutgers University. Greene has recorded 126 tackles in his senior year and has dedicated himself to being a team leader for the Scarlet Knights.
A former safety who converted to outside linebacker in 2011, Greene's strengths will be an attractive asset to Jerry Reese.
New York has struggled to maintain gaps on defense and has lacked the type of discipline needed to avoid big plays. This senior outside linebacker out of Piscataway has shown the ability to hold his gap assignments and is proficient at detecting screen plays.
Khaseem Greene's leadership and intangibles will garner him serious consideration from the Giants front office.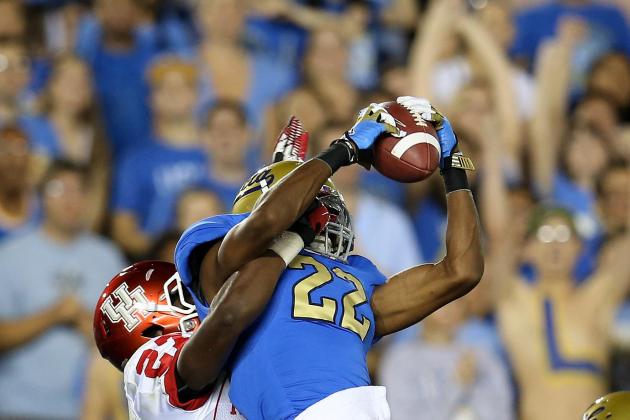 Stephen Dunn/Getty Images

The Giants will undoubtedly be looking to bolster their secondary via the draft. Sheldon Price is exactly the type of project Perry Fewell would like to get his hands on.
At 6'1'' and 185 pounds, Price possesses a litany of impressive physical attributes. With Terrell Thomas facing his third major knee injury and Prince Amukamara's inability to consistently stay on the field, this UCLA senior would add tremendous depth to the defensive backs unit.
Price is the type of prospect scouts salivate over. His size and athleticism enable him to match up comparably against nearly all of the imposing NFL wide receivers.
While Sheldon Price has many raw qualities in pass coverage, he presents the Giants brass with an enticing option in April.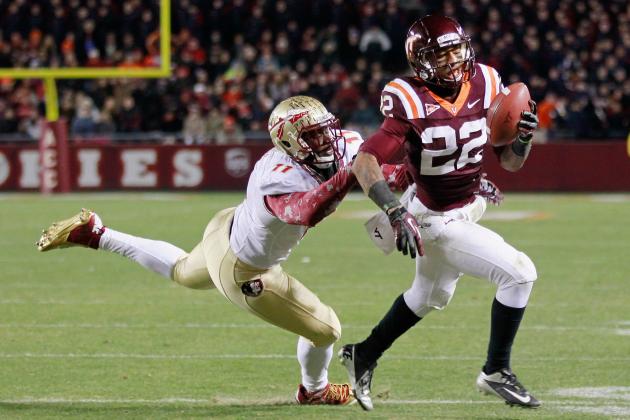 Geoff Burke/Getty Images

The 2013 draft will be dominated by defensive players. Since the talent pool is swayed heavily in one direction, the Giants should be able to nab above-average defensive prospects in later rounds.
Vince Williams is a middle linebacker with solid instincts and recognition skills. Although he has had issues with durability in the past, Williams' value would be tough to pass on at this point in the draft.
This Florida State senior's production is underwhelming (49 total tackles), but Vince Williams is a sound tackler and shows good discipline in terms of gap assignments. These are qualities the Giants covet.
Joe Robbins/Getty Images

If history is any indication, Jerry Reese is a firm believer that you can never have too many pass-rushers. With Justin Tuck and Osi Umenyiora approaching their decline as superstars, there is certainly room for an extra defensive end in the Giants rotation.
Izaan Cross is a two-year starting defensive end who could be a viable option for the Giants in later rounds.
Cross is not known as an elite pass-rusher, but will improve vastly under the tutelage of the veteran Giants defensive line. Given some time to develop, Izaan Cross could be a steal in the 2013 draft for New York.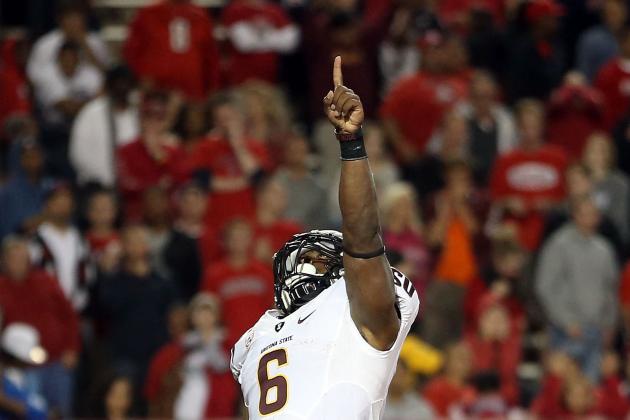 Christian Petersen/Getty Images

The Giants will be looking to add a running back who can thrive in short yardage situations. Cameron Marshall's 229-pound frame will certainly help in that matter.
New York has failed to consistently run the ball in a physically imposing manner this season. Ahmad Bradshaw's health is a concern moving forward, and David Wilson is viewed as a scatback with his unique capabilities.
Cameron Marshall saw his draft stock decline drastically after he failed to improve upon his stellar junior campaign at Arizona State. After rushing for 1,050 yards and 18 touchdowns in 2011, Marshall will be playing with a chip on his shoulder following a disappointing senior season.