Washington Wizards vs. Miami Heat: Live Score, Results and Game Highlights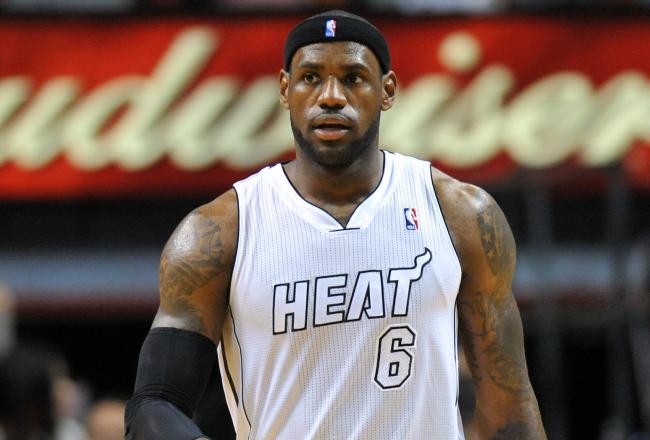 Miami and Washington are both coming off losses. The Heat dropped their last game to the Warriors, and the Wizards fell to the struggling Lakers.
Both squads will try to get back on track in America Airlines Arena in the wake of yesterday's tragedy. The Heat players had their children on the court before the game as respects were paid to the victims in Connecticut.
Let's have a look at tonight's game.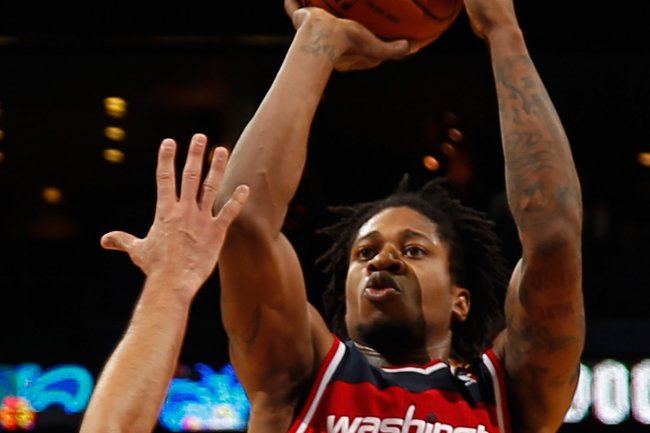 Chris Graythen/Getty Images
There's not really a lot that can be said about a game like this that I haven't said already. It's hard to find many positives in a 102-72 loss, but the Wizards did play last night at home against the L.A. Lakers. So they were tired. Take an untalented bad team and make them tired, and the recipe for disaster is primed.
LeBron James had his tenth straight game with 50-plus percent shooting and outscored the Wizards by himself 16-10 in the third quarter. Throw four other guys on the court, and the Wiz just didn't have a chance.
OK, so there is one silver lining I can find here: Cartier Martin is pretty awesome. Shaq may not have known who he was, but he scored 21 last night against the Lakers and 19 tonight on 6-of-9 shooting against the Heat. As to why he toiled in obscurity for four-plus seasons before these last two breakout games is anyone's guess. And hey, it might just be a total fluke, but the Wiz have to find some positives. Right?
FINAL SCORE: HEAT 102, WIZARDS 72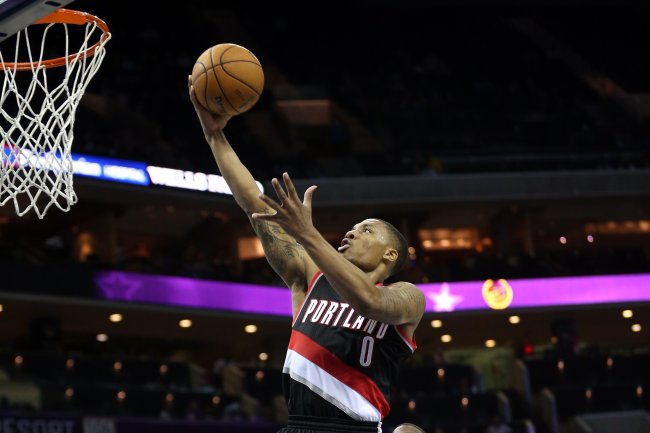 Streeter Lecka/Getty Images
Bradley Beal has had a couple games now in his last three near or at 20 points (depending on where he finishes this one), but he shot just 14-of-40 over that three-game span. It's good to see him looking for his shot, but not a good sign that someone billed as such a dead-eye shooter is hitting just 35 percent from the floor in his last three games.
It's too early to call Beal a bust, but does anyone think the Wizards might regret not having drafted Damian Lillard?
Yes, they already have John Wall at the point, but at this point I think every team except New Orleans regrets passing on Lillard.
Wiz management would probably stand to their guns and say "What sense would it have made to draft another point guard?" But guys can always be traded right? And how many teams are playing backcourts of two point guards these days? Give me talent every time.
HEAT 100, WIZARDS 72 — 26 seconds to go in a real thriller.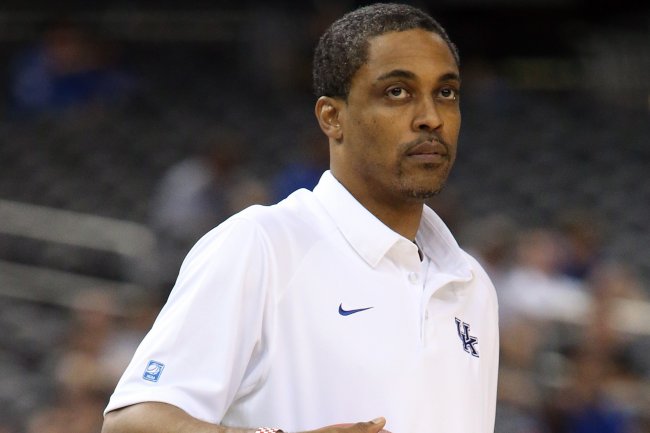 Ronald Martinez/Getty Images
So, the game just took a moment to highlight former Heat point guard Rod Strickland. With not much basketball to be seen of value in this one, let's take a moment to remember Rod. He was definitely in the top-10 greatest players to never make an All-Star team, and save winning Rookie of the Year with the Knicks, his career was mostly uncelebrated.
Oh wait, that brings me to my next point: he's only 46. Should the Wizards try to sign him?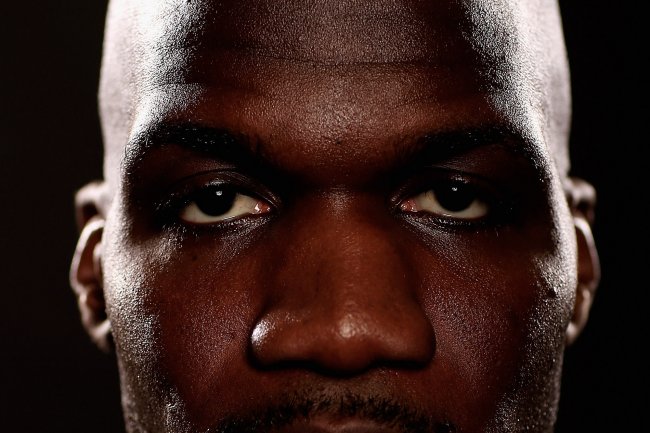 Chris Trotman/Getty Images
Joel Anthony now with two nice offensive moves: a running flip-hook and a short eight foot jumper. He doesn't look for his offense when he plays with the starters, but throw him out there with Norris Cole, Mike Miller, James Jones and Rashard Lewis and he becomes a gunner.
OK, so gunner is a stretch, but he is looking for his offense some.
Who can blame him with the Wizards down by 30 and playing no defense? Everyone likes to score, right?
HEAT 90, WIZARDS 60 — 5:40 Remaining in Game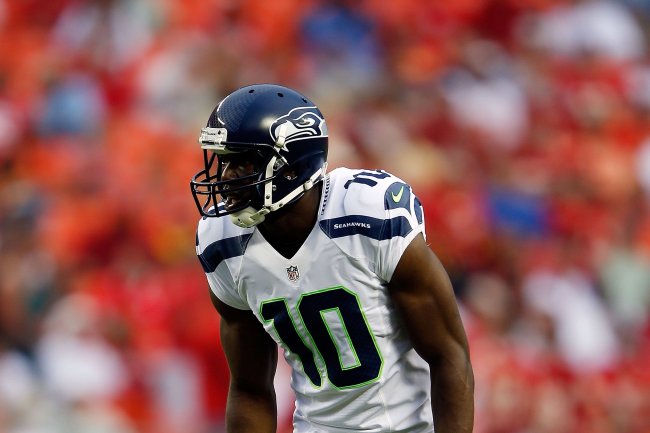 Jamie Squire/Getty Images
Hard to find much basketball value in this one now. The Wizards are just so outclassed as a basketball team, and at this point the only question left on the minds of many of us is whether this team is worse than last year's 7-59 Charlotte Bobcats.
Throw John Wall in the mix, and they might not be, but without the former No. 1 overall pick, there just isn't much talent on the team
Terrell Owens denied to TMZ having begged the Clippers for a 10-day contract, and said Blake Griffin was just joking. Well, Mr. Owens, there is a team that could probably use you. They play in our nation's capital.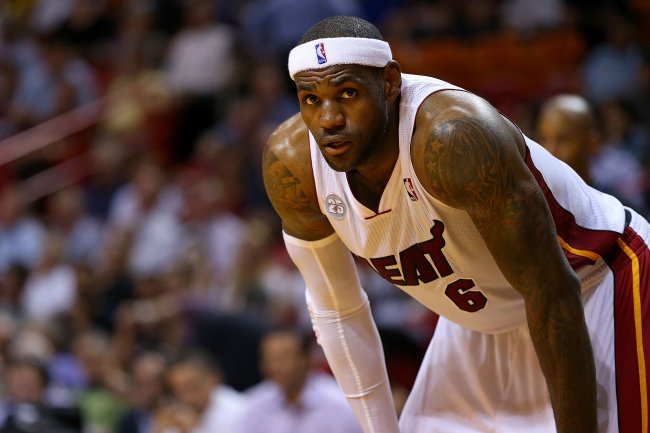 Mike Ehrmann/Getty Images
Well, there ends the third quarter. LBJ with 16 points in the quarter and the Wizards scored just 10 in the quarter. This fourth quarter promises to be a fun one, as we watch Jan Vesely and Joel Anthony prove their weight as NBA players. Anthony doesn't score much, but it's a safe bet he'll be looking to put some points on the board once the Big Three makes their way to the bench to sit out the rest of this laugher.
HEAT 79, WIZARDS 46 — End of 3rd Quarter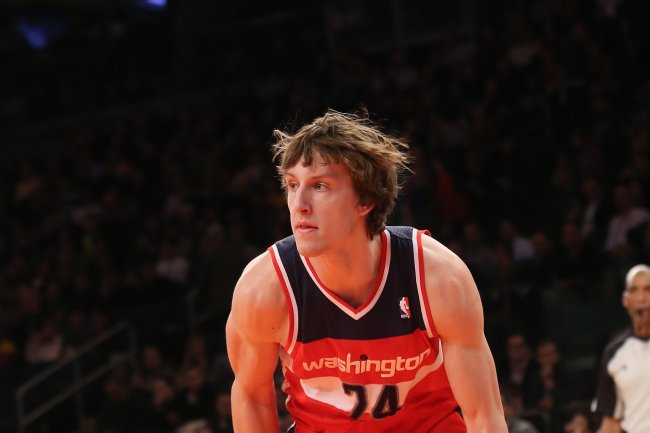 Bruce Bennett/Getty Images
So far, Vesely has really impressed. No, wait, he hasn't. He threw a gimme steal to LeBron James forcing something when no passing lane was there. Then two plays later, on defense, he was unable to corral a rebound with no opposing player challenging him. The verdict isn't in quite yet, but it seems to be nothing other than "wasted draft pick."
An interesting tidbit, before a Bradley Beal three, the Heat had a 31 point lead, their largest lead of the 2012-13 season. They opened the quarter on a 19-4 run.
HEAT 71, WIZARDS 45 — 2:35 in 3rd Quarter.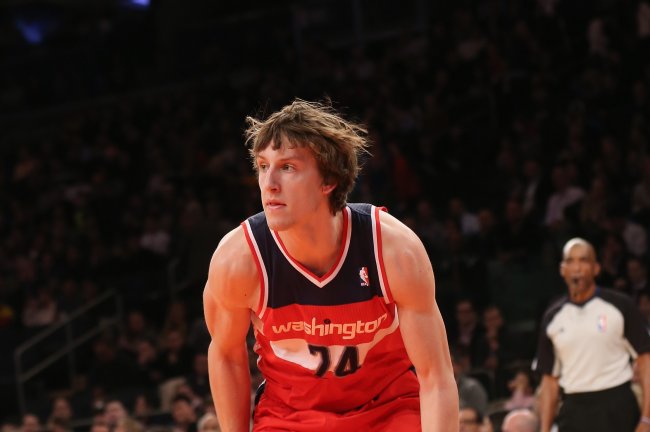 Bruce Bennett/Getty Images
The Heat open the quarter on a 12-2 run to push the lead to 21. This one is on the verge of getting completely out of hand. On a positive note, Wizards fans who haven't seen enough of 2011 No. 6 overall pick Jan Vesely will get to see if he has anything at all that should have warranted him being a high lottery selection.
Vesely has appeared in just 14 games this year and is averaging about 12 minutes per night in those games. The Czech product is long and athletic, but hasn't appeared to have much of a basketball IQ. Will that change in garbage time?
HEAT 59, WIZARDS 38 — 8:02 in 3rd Quarter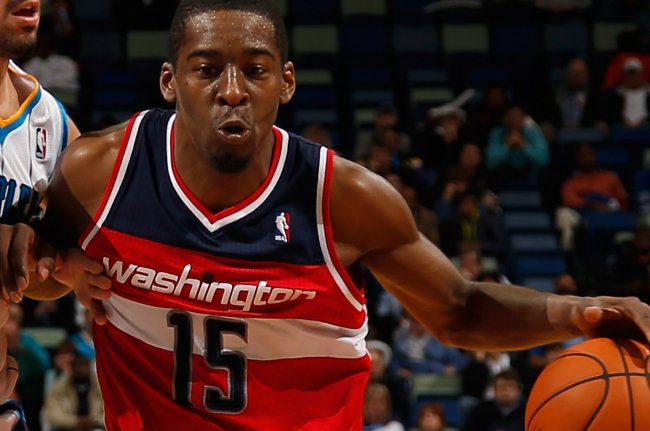 Chris Graythen/Getty Images
Erik Spolestra was smart to switch LeBron James onto Jordan Crawford. There's not a great chance the Wiz get back in this game, but if it were to happen it would be because Crawford is a fearless gunner. Crawford is averaging just under 15 points per game on the year, but he can get it going in a hurry.
Just 2-of-8 tonight, he's having trouble getting anything going, and he just shot an airball. With only one threat on the other team, the solution is clear: just put that King James fella on him.
HEAT 54, WIZARDS 36 — 8:58 in 3rd Quarter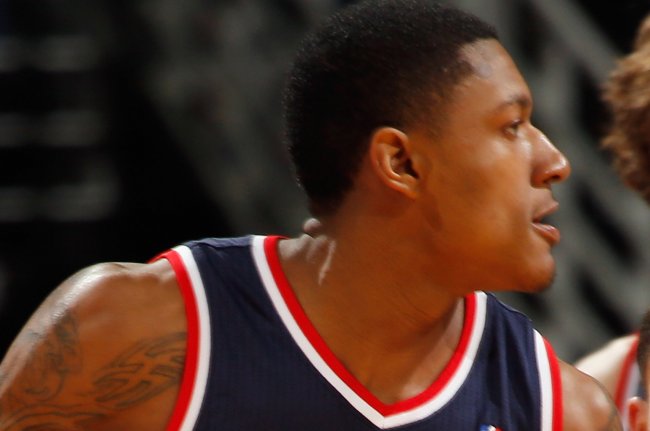 Chris Graythen/Getty Images
The Wizards scored the least points in a first half of any Heat opponent this year, dispelling any delusions that they may score another victory against the NBA champs. Undoubtedly, the Heat watched a lot of film from the loss on Dec. 4. In that loss, the Heat got 20-plus from all the members of the Big Three, but the rest of the team shot just 13-of-35.
Tonight, the non-Big Three is 9-of-22 from the floor. It's not a lot better, but it is improvement, and the Heat are playing better as a team.
The Wizards backcourt of Bradley Beal and Jordan Crawford is a combined 5-of-19 from the floor. No one on the Wizards can seem to get much of anything going, save that guy who Shaq has never seen before (Cartier Martin) who has nailed both his shots, both threes. The Wizards just don't have the firepower to hang with any team in the league for 48 minutes, and until John Wall returns, they won't. Besides that, as I mentioned, I'm not convinced that one man can save a team this bad.
HEAT 50, WIZARDS 36 — Half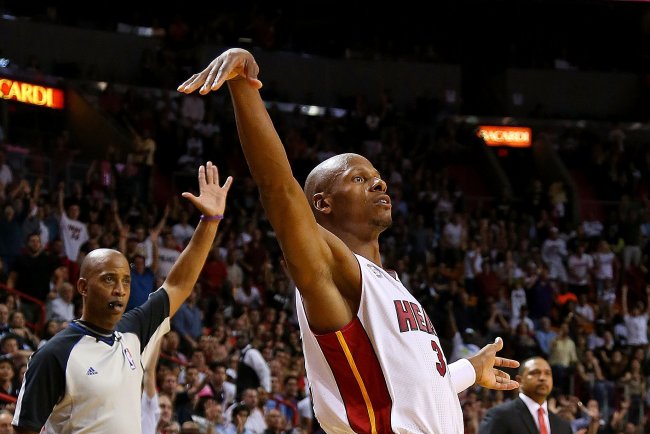 Mike Ehrmann/Getty Images
<blockquote class="twitter-tweet">
#Heat Ray Allen tonight has passed Adrian Dantley to move into 22nd on the NBA's career scoring list.
— ESPN Stats & Info (@ESPNStatsInfo) December 13, 2012
Congrats to Ray Allen, the best shooter in NBA history.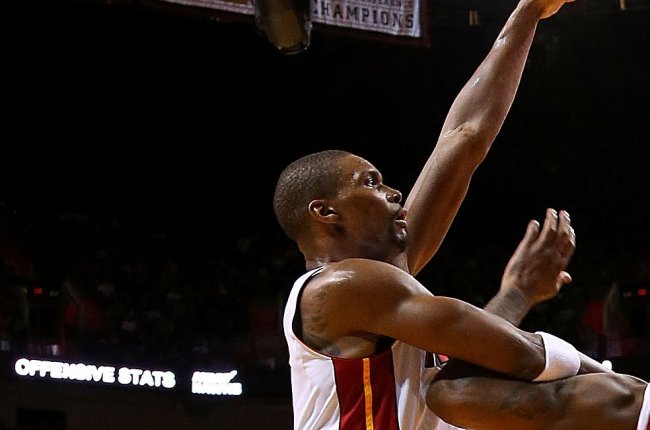 Mike Ehrmann/Getty Images
The Heat continue to get it done with balanced scoring. No one is in double figures yet, and we're closing in on halftime. The Wiz are managing to score, but their defense has been nearly non-existent. The Heat are shooting 47 percent from the floor, but the starters are shooting 65 percent (13-of-20).
The Heat may be the defending champs, but they still have one of the weaker benches among contending teams, to be sure. Ray Allen helped the bench's cause some, but when the best player coming in as a reserve is 38 years old and the second best player is a 34-year-old Shane Battier, it speaks to the lack of quality reserves on the team.
Either way, it doesn't matter much when Chris Bosh and Dwyane Wade have yet to miss a shot between them.
HEAT 45, WIZARDS 30 — 2:02 remaining in First Half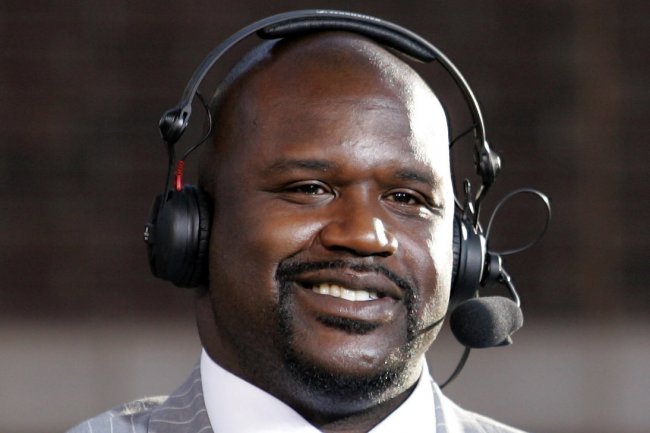 Brett Deering/Getty Images
"One guy just hit two threes, and I've never seen him before. You know, everyone's pumped up to play against the champs." -Shaq
That guy would be Cartier Martin, who may be on his way to making a name for himself. Martin hasn't had a celebrated career since coming out of K-State in 2008, but has managed to stay in the league. He seems to have developed a new confidence to take and hit big shots. The Wizards certainly need it. As for Shaq, it takes a lot more than 132 career NBA games averaging five points per game to get his attention.
HEAT 33, WIZARDS 22 — 7:20 in 2nd Quarter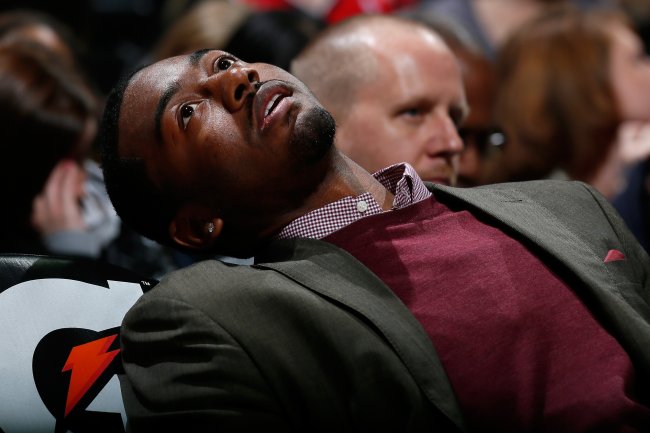 Kevin C. Cox/Getty Images
And so ends a disappointing Wizards first quarter. After looking as though they might turn the corner against the L.A. Lakers last night, we come to find out they have turned no such corners. The real question is whether things will change at all when John Wall comes back.
As bad as the Wizards have been this season, it's hard to imagine one player—even one as dynamic as Wall—just turning around a dismal season.
On a positive note, Cartier Martin picked up right where he left off by hitting his first shot, a three pointer. Unfortunately, it's going to take more than a three here and there to get the Wiz back in this one.
HEAT 26, WIZARDS 14 — End of 1st Quarter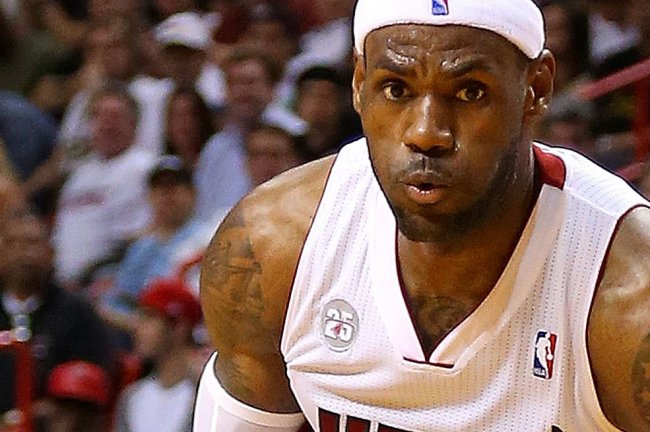 Mike Ehrmann/Getty Images
The Wizards are showing their fatigue after last night's loss to the Lakers. They're allowing the Heat to blow right by them and get easy looks at the basket.
The Wiz have missed their last seven shots, and none of them have been all that easy. The Heat defense is looking at its best again. They went four-plus minutes without a score until Martell Webster finally got a breakaway dunk.
The Heat have spread the offense around. All seven players who have played have scored...except Joel Anthony, but does he ever?
The Heat have hit 10-of-17 from the floor and forced four Wizards turnovers.
HEAT 23, WIZARDS 9 — 2:16 in 1st Quarter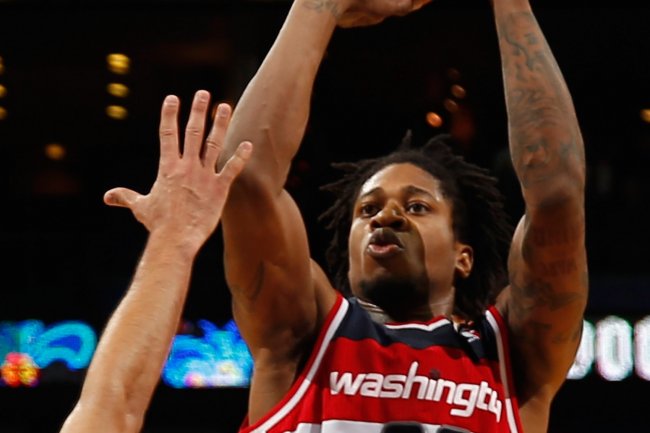 Chris Graythen/Getty Images
The Miami Heat are coming off a tough loss to the Golden State Warriors on Wednesday night. The Warriors held the Heat scoreless in the final 3:18 of the game. Michigan State product DraymondGreen finished them off with a layup with 0.9 seconds to go.

LeBron James had a chance to force overtime, but he missed a turnaround jumper from the corner. James finished with 31 points in the contest, but Dwyane Wade and Chris Bosh combined for just 35 points.

They Heat will have a great chance to resume their winning ways against the Washington Wizards.
The Wizards nearly beat the Los Angeles Lakers on Friday, Dec. 14. They lost by six, but they battled from behind and made several impressive runs.

Nene Hilario and Kevin Seraphin gave the Wizards a solid inside presence. In addition to their strong play, they received 21 points from Cartier Martin, who donned Iverson-esque dreads and played like a 6'7" version of the NBA legend. He was 5-of-11 from behind the arc and also grabbed eight rebounds.

Can Martin continue his strong play tonight against Wade and James, or was it a one-game fluke? Can the Wizards get more production from their best scorer, (sans John Wall) Jordan Crawford?

It's going to take a concerted effort on the part of the Wizards to win this game, and they're going to need more from Bradley Beal, who shot just 2-of-7 against Kobe Bryant and the Lakers.
Still, even if Beal does struggle, the Wizards received 52 points off the bench in last night's loss, and similar production could give even the Heat problems.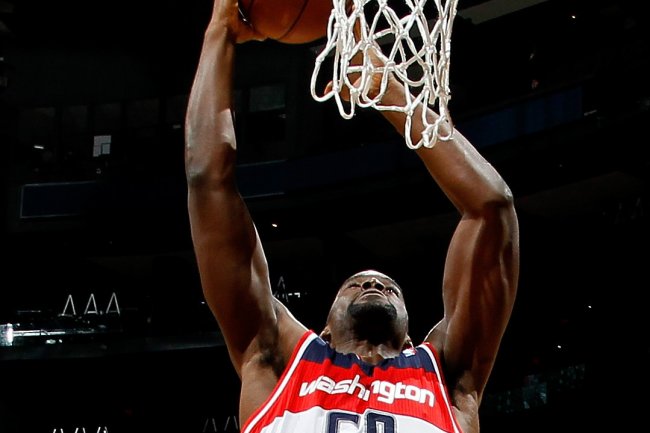 Kevin C. Cox/Getty Images
In Emeka Okafor's last nine games, he has reached double figures just once (19 points against Houston on Dec. 12). He had an aggressive take early on but missed both free throws. Okafor's career has been a little disappointing, in light of the fact he was nearly taken instead of Dwight Howard for the first overall pick in 2004.
He's played for some bad teams now, in New Orleans, Charlotte and now Washington. It certainly couldn't have been the career he anticipated after winning a championship at UConn before entering the draft.
Okafor has some solid defensive skills and is an able-bodied big man, but wasn't he supposed to be far more than a role player after being selected No. 2 overall?
HEAT 14, WIZARDS 7 — 5:33 in 1st Quarter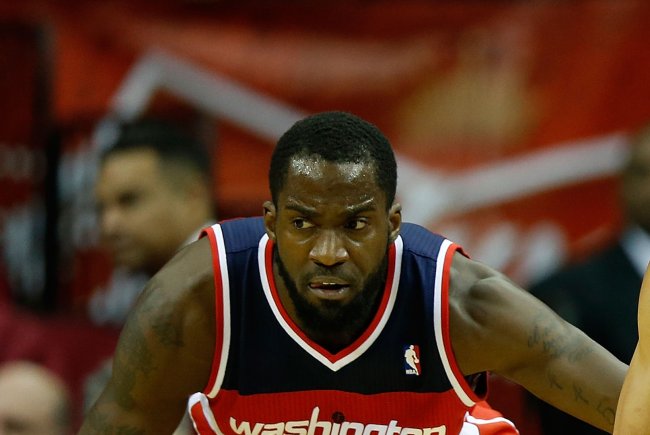 Scott Halleran/Getty Images
The Heat have come out firing. LeBron James had a nice take to the basket. How is Martell Webster going to match up against LBJ? Webster isn't known to be a good defender, as it is. This could be the makings of a huge game for James.
Chris Bosh answered back with a turnaround over Emeka Okafor, to give the Heat a 4-0 lead before a Chris Singleton jumper.
The Wizards' Chris Singleton made his first shot to cut the lead to two, but it appears as though the Wizards are quite outclassed...at every position.
Bradley Beal should get a good look at the player many were comparing him to tonight, as Dwyane Wade (and oddly enough Ray Allen, too) comparisons were thrown around when he was drafted this summer.
HEAT 6, WIZARDS 4 — 8:27 in 1st Quarter
This article is
What is the duplicate article?
Why is this article offensive?
Where is this article plagiarized from?
Why is this article poorly edited?