2013 NFL Mock Draft: Projected Landing Spots for Tomorrow's Defensive Stars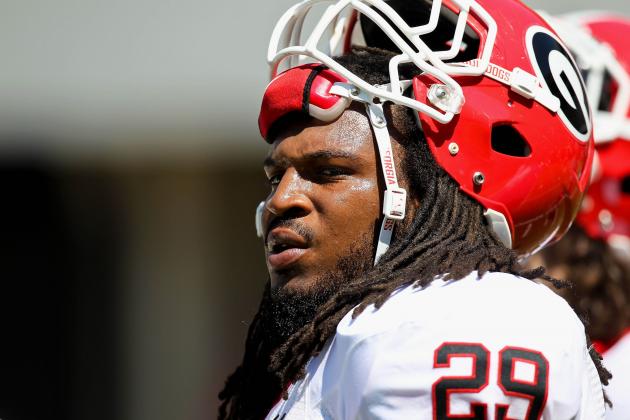 Daniel Shirey-USA TODAY Sports
Georgia's Jarvis Jones is the best sack-master this draft.
Another installment of a 2013 NFL mock draft is highlighting next season's stud defensive rookies.
Take Von Miller, J.J. Watt and Aldon Smith as a prime example of the potential impact when selecting a standout defender.
Unsurprisingly, each have their respective teams atop the division for a second consecutive season.
This is one reason why a guy such as Georgia's Jarvis Jones will get selected near the top. His pass-rushing skill set has proven to change the complexion of games and Jones is a straight up playmaker.
Just like Miller, Watt and Smith, Jones possesses the talent and natural athleticism to immediately make a big impact early in his career. And he's not alone when it comes to the 2013 NFL draft.
Begin Slideshow

»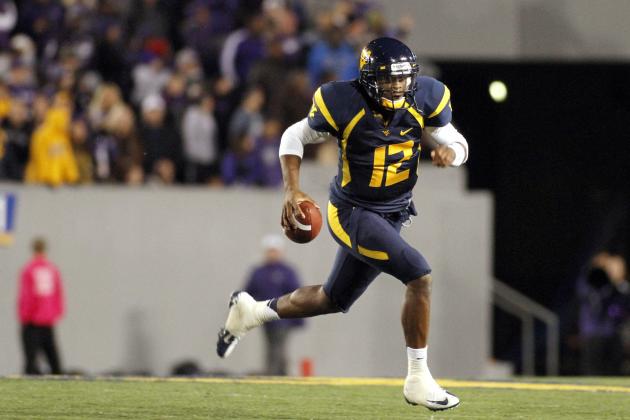 Justin K. Aller/Getty Images

The Kansas City Chiefs need a quarterback and Geno Smith is this draft's top signal-caller.
Putting his strong arm, accuracy and athleticism at the helm in K.C. and the Chiefs offense can begin to build properly.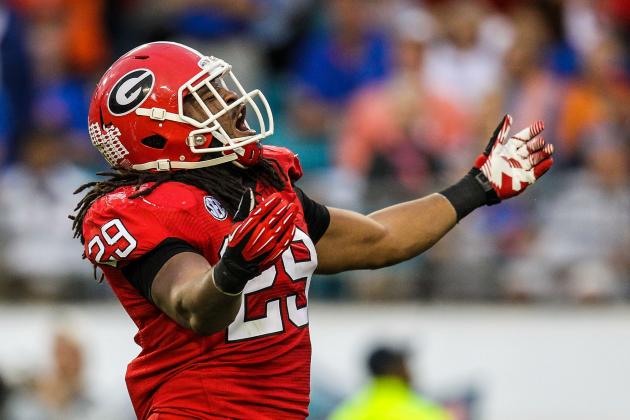 Daniel Shirey-USA TODAY Sports

Jarvis Jones enters bowl season having recorded 12.5 sacks and forced seven fumbles through 13 games.
By contrast, the Jacksonville Jaguars have collected only 15 sacks and forced just 12 fumbles in 14 games.
To no one's surprise, Jacksonville sits at 2-12 and is among the worst across every defensive category this season. Well, taking Jones at No. 2 overall is literally deja vu when the Denver Broncos took Von Miller at second overall in 2011.
The Jaguars need a stand out pass-rusher to wreck havoc in the backfield, cause fumbles and isolate running backs and the intermediate level in coverage. Jones can do it all and will allow the rest of Jacksonville's defense to focus on the run and controlling the line of scrimmage.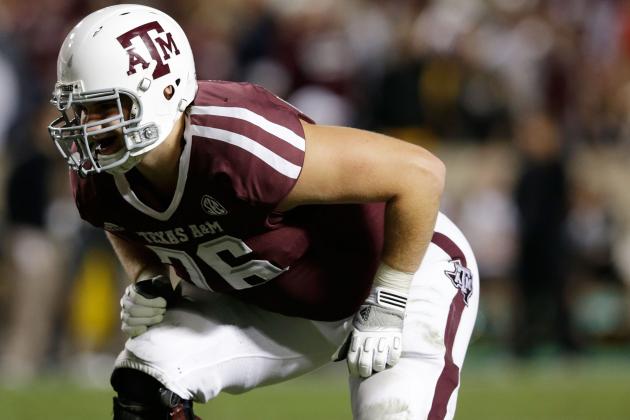 Scott Halleran/Getty Images

This season the Philadelphia Eagles have allowed 42 sacks of their quarterbacks.
In a division filled with solid pass-rushers such as DeMarcus Ware, Jason Pierre-Paul and Ryan Kerrigan, Luke Joeckel will get Philly's offense back on track.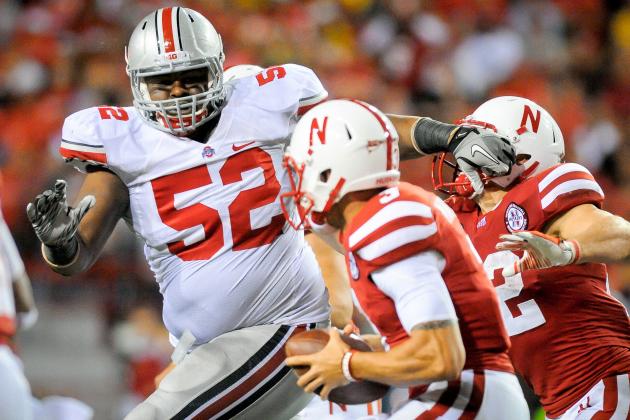 Eric Francis/Getty Images

Although the Oakland Raiders were able to shutdown Jamaal Charles, that's just one game against the league's worst team.
Still allowing an average of 4.5 yards per rush, landing Ohio State's Johnathan Hankins helps improve the trenches for Oakland and adds depth for a more consistent pass rush.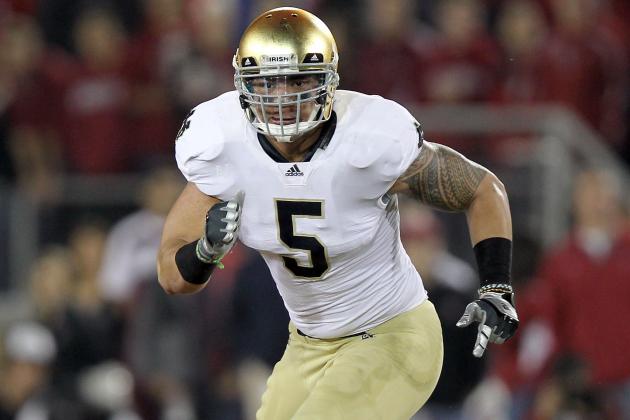 Ezra Shaw/Getty Images

Week 15 was the epitome of the Detroit Lions needing to get Notre Dame's Manti Te'o.
The Arizona Cardinals bulldozed the Lions for 99 rushing yards and Beanie Wells scored three times on the ground.
Additionally, Detroit recorded just one measly sack against the NFL's worst pass-protecting offensive line. Rookie quarterback Ryan Lindley even completed 67 percent of his throws, and only tossed one pick.
So, presenting Te'o in the middle helps blanket the intermediate level for any passing situation. The Heisman Trophy finalist also is consistently making plays against the run and redirecting a running back's course from the snap.
Te'o can man up with running backs and tight ends for man coverage, but his field awareness and lateral quickness can cover a wide range of surface area. As a result, the Lions don't give up so much across the middle and the rushers have a bit more time to apply pressure.
Kim Klement-USA TODAY Sports

The Tennessee Titans are virtually the same defense as the Jaguars.
Tennessee fails miserably against the run and pass and doesn't have a playmaker in the front seven. Bjoern Werner simply fixes this as he can get quarterback pressure, set the edge against the run and occasionally sink into coverage because of great instincts.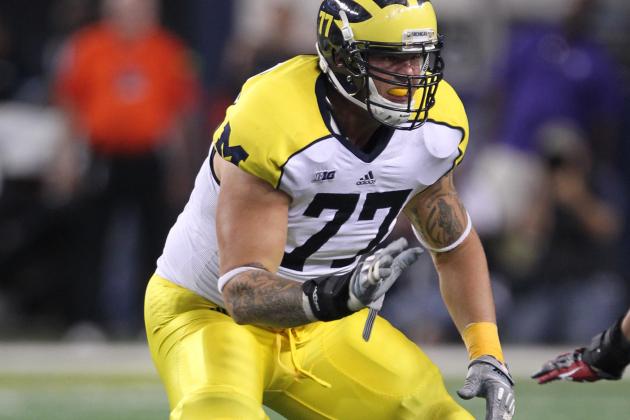 Matthew Emmons-USA TODAY Sports

What happens when the Arizona Cardinals don't allow an extensive amount of quarterback pressure?
They significantly increase their odds of winning, just as what occurred in Week 15.
Unfortunately, that has not been consistent for the Card's in 2012. Selecting Taylor Lewan will get Arizona more reliable pass protection, though, because of his great size and athleticism to extend his arms against the quicker pass-rushers.
Brett Davis-USA TODAY Sports

Philip Rivers has been sacked 43 times in 2012.
Yikes.
So, the San Diego Chargers must draft Jake Matthews of Texas A&M to wall off the outside. Doing so at least allows Rivers to survey his reads, instead of getting suplexed at a consistent rate.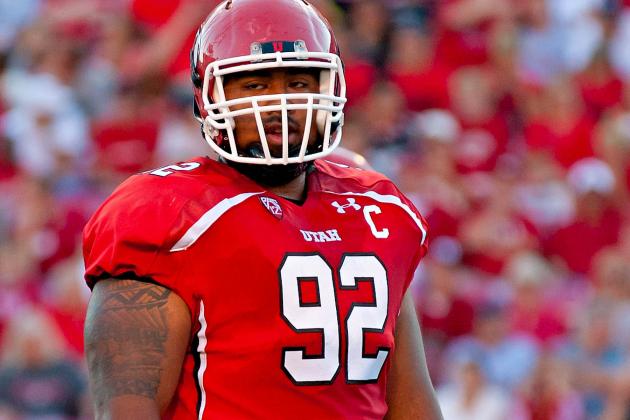 Russ Isabella-USA TODAY Sports

The Carolina Panthers may have allowed just 70 rushing yards to the San Diego Chargers, but the Bolts averaged 4.4 per carry.
Utah's Star Lotulelei, though, will easily reduce that per carry average of opponents for Carolina.
His lateral quickness and agility can clog lanes between the tackles. The end results are linebackers making more plays at the line and the defensive ends getting into the backfield.
Not to mention, Lotulelei drawing double-teams will let the Cats blitz more in a pass-happy division.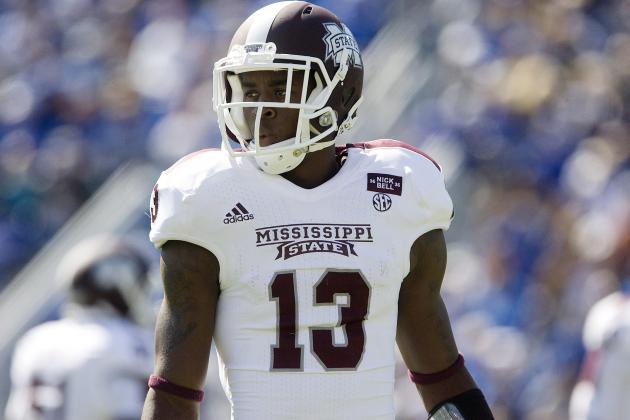 Mark Zerof-USA TODAY Sports

With Joe Haden on one side, the Cleveland Browns need one more stud cornerback to take away the field's other half.
Well, Mississippi State's Johnthan Banks brings excellent size and a knack for making plays to the secondary.
As he prepares for bowl season, Banks enters with 41 career defended passes, 217 tackles and 15 interceptions. The man also doesn't allow many yards after the catch and knows how to help with run support.
Given that veteran Sheldon Brown will be 34 years old before the 2013 season, selecting Banks ensures longevity at the position. Cleveland also ranks No. 24 in pass defense and allows a 62.4 completion percentage.
Banks playing opposite of Haden will greatly improve the turnover ratio and have the Browns forcing more punts.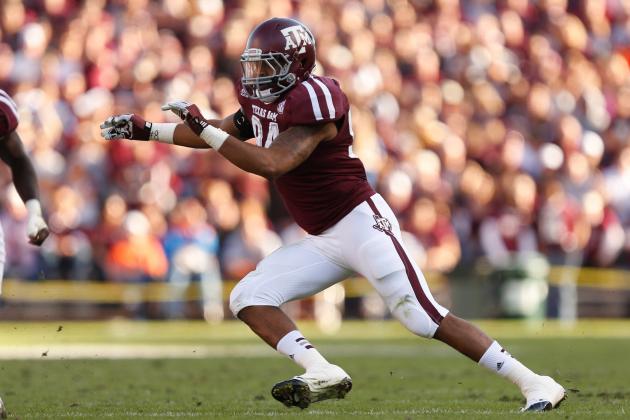 Thomas Campbell-USA TODAY Sports

On Sunday, the Seattle Seahawks rolled the Buffalo Bills for 270 yards and an 8.4 per carry average.
Marshawn Lynch averaged 11.3 yards per attempt against his old team and Buffalo allows an average of 5.1 per rush on the season. Texas A&M's Demontre Moore will only help, because Mark Anderson disappointed when on the field and Buffalo needs a second edge-rusher.
The defensive tackles and Mario Williams are solid, and Moore's ability to wreck in the backfield takes pressure off the coverage.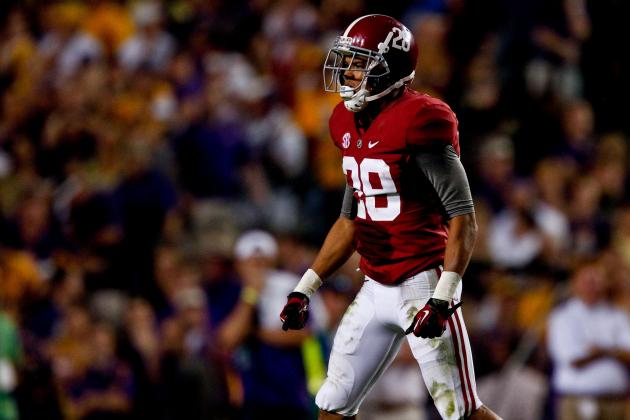 Derick E. Hingle-USA TODAY Sports

The biggest concern of the Miami Dolphins is defending the pass.
Giving up an average of 248 yards passing per game, the Dolphins are No. 25 in passing defense and have just nine picks. Alabama's Dee Milliner can come in and take away half the field, which only amplifies Miami's already incredible pass rush.
Plus, improving in coverage must happen immediately to compete with the New England Patriots.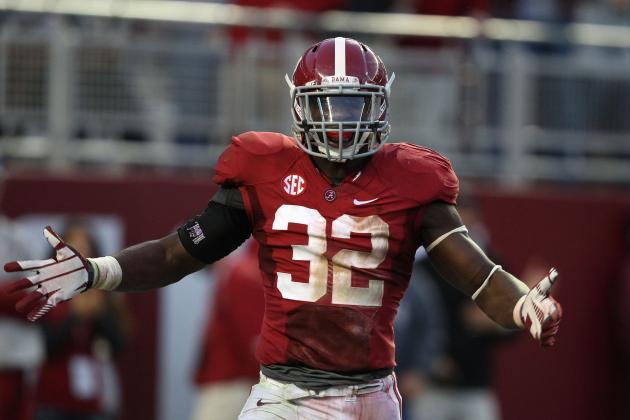 Mike Zarrilli/Getty Images

Because the Tampa Bay Buccaneers are so young across the board, aside from Ronde Barber, the defense can go a few directions in the 2013 draft.
Here, we have Alabama linebacker C.J. Mosley who can pass rush, read the run and shield in coverage.
As the Crimson Tide prepare for this season's BCS national championship, Mosley enters with a career 19 defended passes and 203 tackles. The Buccaneers rank No. 32 in pass defense and allow a 66.4 completion percentage.
Linebackers Lavonte David and Mason Foster lead Tampa in tackles, but other linebackers such as Quincy Black and Adam Hayward have underachieved by comparison. Despite 17 recorded picks on the season, the Bucs only rank No. 1 against the run as so few teams attempt to run against them.
Only 334 rushes have been tried vs. Tampa Bay, which is the fourth-least in pro football. Bring in Mosley and the Buccaneers will get a 'backer capable of quickly dissecting the developing play and locking down running backs and tight ends in man coverage.
This aspect then takes pressure off the defensive line and provides the secondary with more chances at generating turnovers.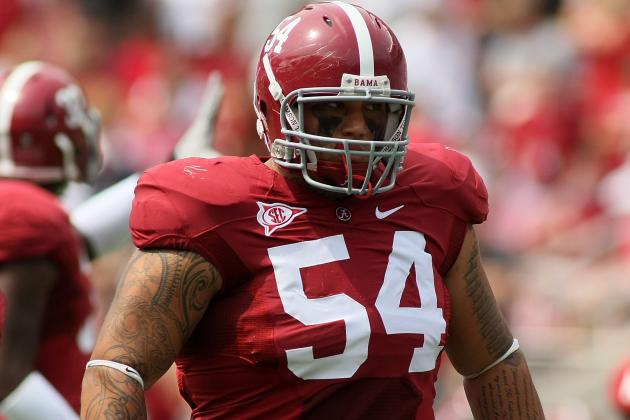 Greg McWilliams/Getty Images

Jesse Williams is more athletic than at first glance and we saw his toughness in the SEC title game.
The New Orleans Saints desperately need this kind of attitude along the defensive line, because they allow five yards per carry.
Williams will draw double-teams and get into the backfield as well, because his power and explosiveness can get quarterback pressure and free up the linebackers to make plays.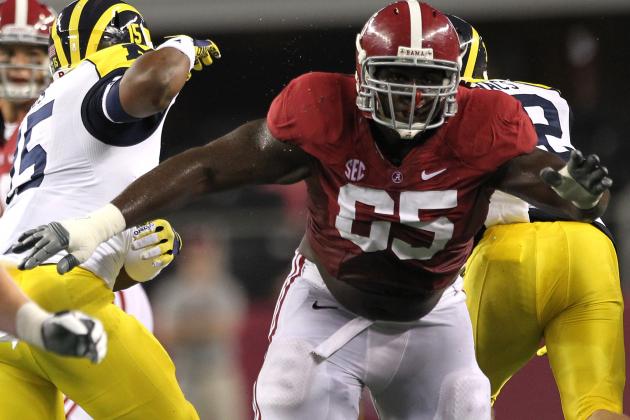 Matthew Emmons-USA TODAY Sports

The St. Louis Rams haven't quite found reliable consistency along the offensive line.
Sam Bradford has been sacked 35 times despite the ground game remaining dependable. Chance Warmack solidifies an inside presence for St. Louis to establish an even stronger rushing attack to set up the pass.
Include his pass-blocking skill set and Warmack suits St. Louis in the defensive tough NFC West.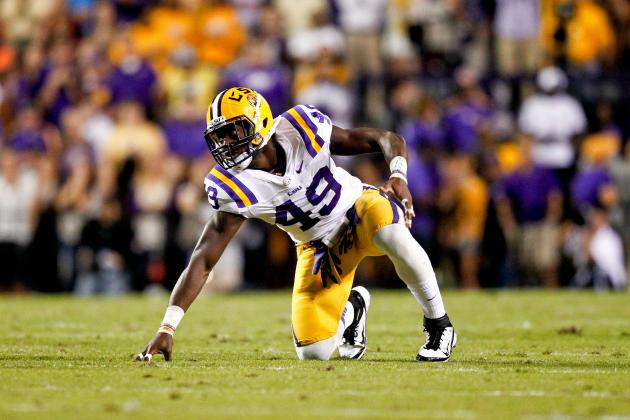 Derick E. Hingle-USA TODAY Sports

The New York Jets are aging at linebacker and it's a big part of their lacking defense against the run.
LSU's Barkevious Mingo is a perfect fit, because he can bolt off the edge to apply pressure and is fast enough to control the outside.
Considering that New York has recorded just 22 sacks entering Week 15 and Mingo will make a strong impact.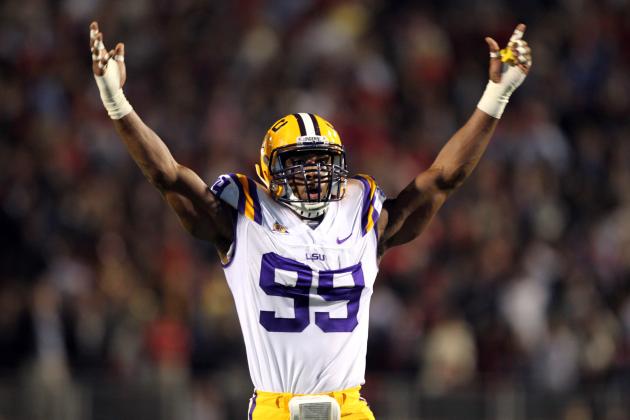 Joe Murphy/Getty Images

Just like the Jets, the Pittsburgh Steelers are getting old on defense.
The only difference is Pittsburgh has veterans all over its front seven. To help the Steelers quickly reload, Sam Montgomery possesses the acceleration and athleticism to rush inside or outside.
Factor in his impressive size frame and Montgomery can sneakily help in coverage and jam tight ends or slot receivers at the line. He certainly fits best as a defensive end, but Montgomery's possesses more versatile potential than given credit.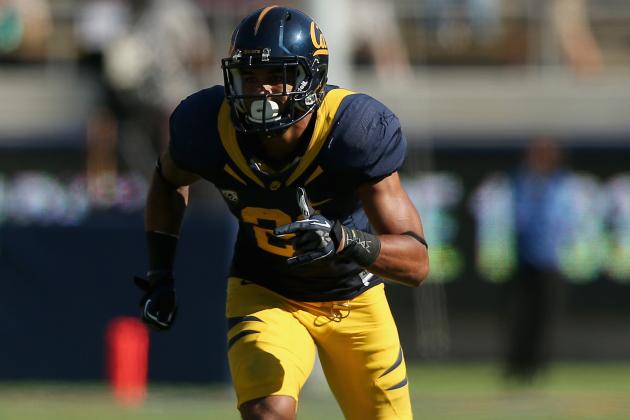 Ezra Shaw/Getty Images

When you have Adrian Peterson there's no reason to throw the rock downfield much.
The Minnesota Vikings also don't present a deep threat capable of stretching defenses. This is where Keenan Allen comes in, because Cal's No. 1 receiver can out-jump anyone in the secondary and go over the middle as a possession target.
His presence will simply increase the production of Peterson, as well as Percy Harvin, Kyle Rudolph and Christian Ponder.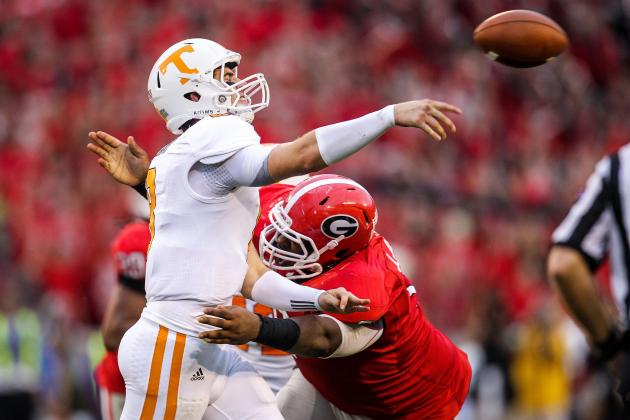 Daniel Shirey-USA TODAY Sports

The Dallas Cowboys have amassed 33 sacks in 2012.
Of those 33, 21.5 have come courtesy of DeMarcus Ware and Anthony Spencer.
Dallas also allows an average of 4.5 yards per rushing attempt and gives up a 62.3 completion percentage. Without question is part of that attributed to the absence of inside linebacker Sean Lee.
Still, the Cowboys have to get more talent and depth along the defensive line. Georgia's John Jenkins is of massive size and capable of closing two gaps across the line of scrimmage.
Impressively, though, Jenkins is quite athletic and possesses a nose for disrupting the backfield. He'll constantly draw double-teams and given that Jay Ratliff will be 32 before next season, the future is now.
Jenkins' ability to control the interior gaps renders the rest of Big D's front seven virtually unblockable. And that only makes Ware and Spencer more dangerous coming off the edge.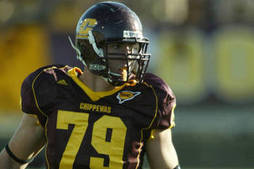 Photo Credit: Tim Fitzgerald, Central Michigan University Athletics
The New York Giants may not give up many sacks, but the aging offensive line is a concern down the road.
For Eli Manning's pocket safety to remain consistent, Central Michigan's Eric Fisher is the perfect selection.
He's supremely athletic and capable of making an immediate impact. In turn, New York's offense stays balanced, because Fisher's size and footwork quickly transition into pro football.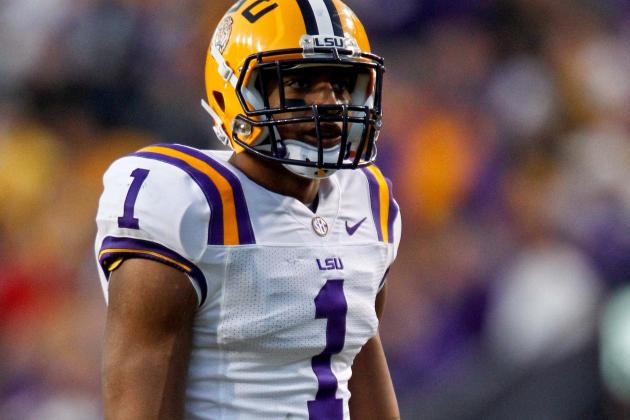 Derick E. Hingle-USA TODAY Sports

One thing to know about the Cincinnati Bengals is their aging secondary.
On top of that, Cincy allows a 62.7 completion percentage and has picked off only 11 passes. Putting LSU's Eric Reid back there and the Bengals see significant improvement.
Reid has a knack for finding the ball and he's a sure-tackler.
Right now the Bengals lead the NFL with 43 sacks, but the unreliable coverage has cost Cincy more than once. Reid's ball skills and natural instincts will simply provide Andy Dalton and A.J. Green with more possessions.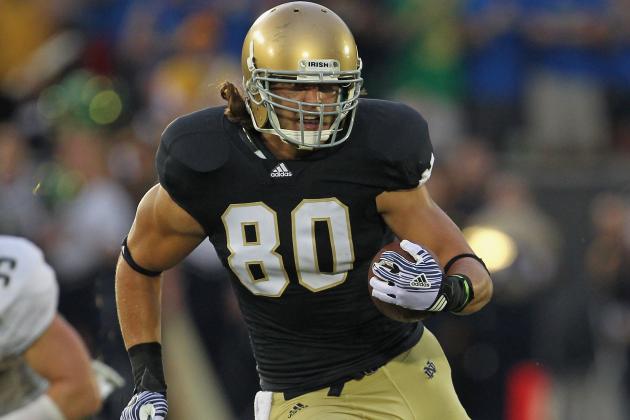 Jonathan Daniel/Getty Images

Tight end Kellen Davis has made 17 receptions on 41 targets for the Chicago Bears thus far in 2012.
Notre Dame's Tyler Eifert will make a much more reliable impact as a rookie, because he can draw double coverage and win those battles. When put one-on-one, Eifert will also win with excellent route-running and leaping skills.
The guys has sure hands, which also helps for Chicago's ground game: Eifert's a better blocker than given credit as the Irish averaged over 200 rushing yards per game this fall.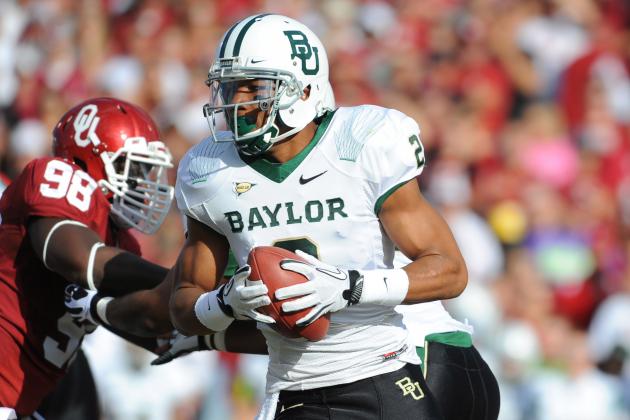 Denny Medley-USA TODAY Sports

Combining the elements of the Seattle Seahawks offense and another deep threat receiver is the only necessity.
Russell Wilson can spread the field and scramble when needed, whereas Marshawn Lynch slams between the tackles.
Incorporate Baylor's Terrance Williams and Seattle gets an explosive target that stretches defenses. In short, the offense sees more passing game production and yards accumulated after the catch.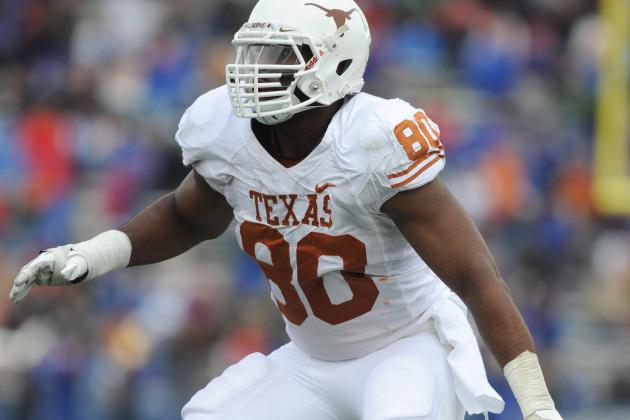 John Rieger-USA TODAY Sports

Each week it seems the Baltimore Ravens get worse against the run.
Hosting the Denver Broncos on Sunday, Baltimore allowed 163 rushing yards and Knowshon Moreno averaged 5.4 per carry.
The Broncos also collected 21 first downs, 12 of which came from the rushing attack.
Now for the season Baltimore gives up an average of 4.1 yards per rush attempt and has dropped three straight games. Most definitely is part of the Ravens' inability to control the trenches attributed to age and not being consistently healthy.
However, more youth and talent for depth must be present to immediately turnaround in 2013.
Alex Okafor of Texas is a constant menace to quarterbacks and setting up shop in the backfield. The man has a knack for creating turnovers and his combined size frame and athleticism will impact for Baltimore.
He can rush inside or out, line up as a defensive end or 'backer and use his wingspan to knockdown passes at the line. Mesh everything together and the Ravens are getting a complete defender.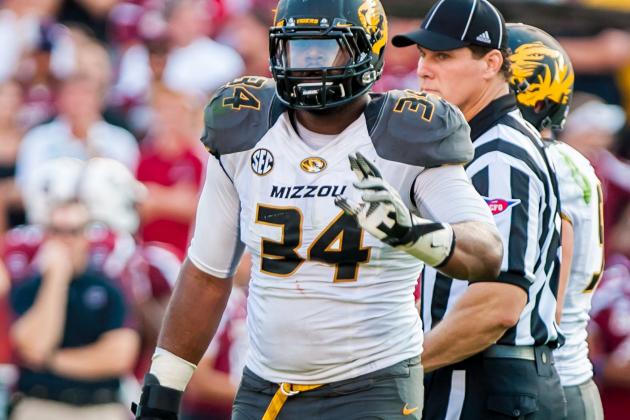 Jeff Blake-USA TODAY Sports

The Indianapolis Colts give up 4.8 yards per rushing attempt.
In a division that features standout ball-carriers such as Chris Johnson, Arian Foster and Maurice Jones-Drew (when healthy), Sheldon Richardson is required.
He'll create havoc in the backfield for additional turnover opportunities, while also applying quarterback pressure and playing gap discipline.
The end results are less points allowed and more series for Andrew Luck and the offense.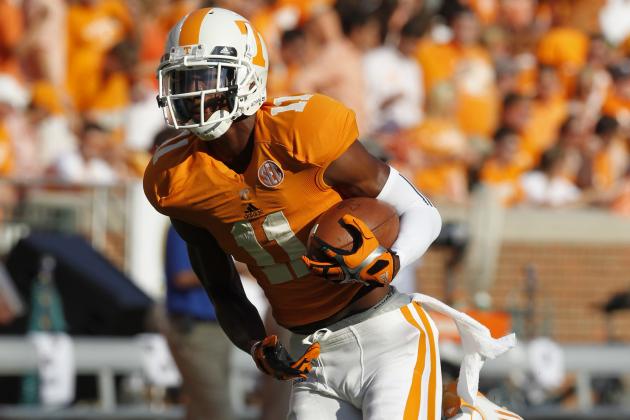 John Sommers II/Getty Images

Justin Hunter will take the St. Louis Rams offense to another level.
The running game is solid and the drafting of Chance Warmack improves the line for pass and run-blocking.
Hunter becomes part of an already reliable receiving corps, except his size and leaping ability are a grander downfield and red zone receiving threat: regardless of down-and-distance.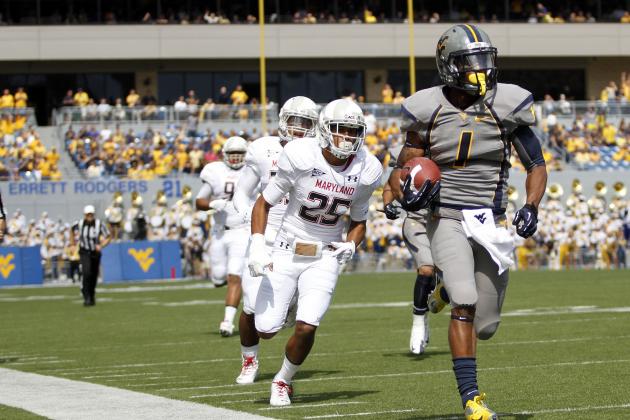 Justin K. Aller/Getty Images

At No. 27 overall the Denver Broncos could try to trade up for Tyler Eifert or trade down to stock up.
Nevertheless, landing Tavon Austin completes the receiving corps after Demaryius Thomas and Eric Decker.
Austin is ridiculously explosive and his dynamics create a potential horizontal ground game as well. If anything, though, his ability to compile yards after the catch make Peyton Manning's job even easier.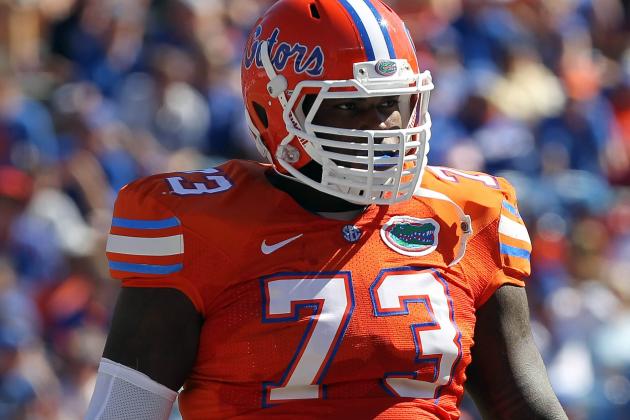 Kim Klement-USA TODAY Sports

There's no question the Atlanta Falcons steamrolled through the Giants.
That said, Big Blue still managed to average 4.6 yards per rush on 21 attempts.
As a result, the Falcons will take care of this weakness with Florida's Sharrif Floyd. His width and awareness combine to create a run-stuffing force between and just outside the tackles.
With the skill set to win one-on-one situations, Floyd will consistently make plays in the backfield.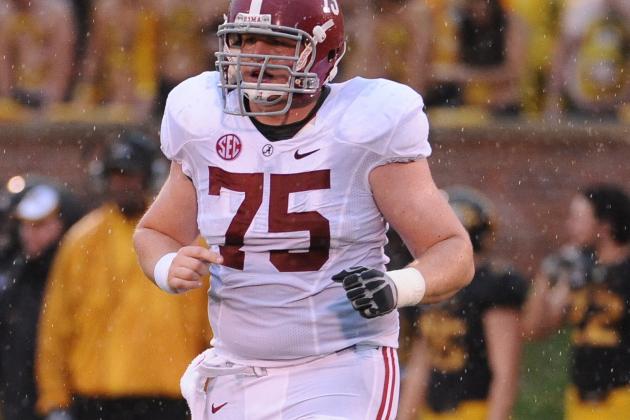 Dak Dillon-USA TODAY Sports

The sack numbers continue to pile up on Aaron Rodgers.
Through 14 games this season Rodgers has been sacked 45 times, which calls for Alabama's Barrett Jones in the 2013 draft.
He's the most versatile lineman for this spring and given that Jeff Saturday is 37 years old, a younger center will be needed sooner than later. And until the Packers address the offensive line, expect to see Rodgers get sacked again and again.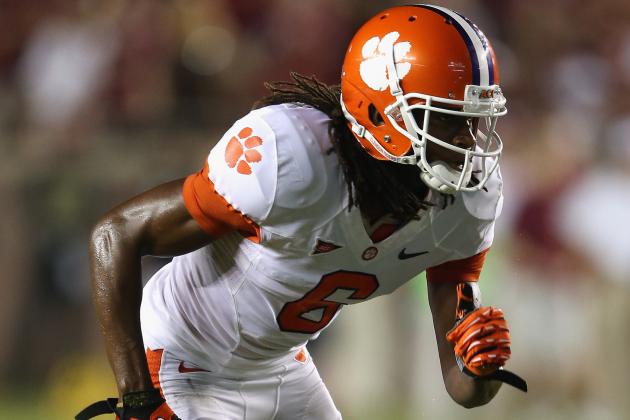 Streeter Lecka/Getty Images

A key reason why the New England Patriots move the ball so well are yards after the catch.
Wes Welker and Co. are masters at beating single coverage and finding the zone soft spots to get upfield and making defenders miss in open space.
Clemson's DeAndre Hopkins can benefit greatly from that strength, because he'll never get double-covered downfield. Tom Brady is then provided with a deeper outlet, which is a perfect complement to everything else underneath.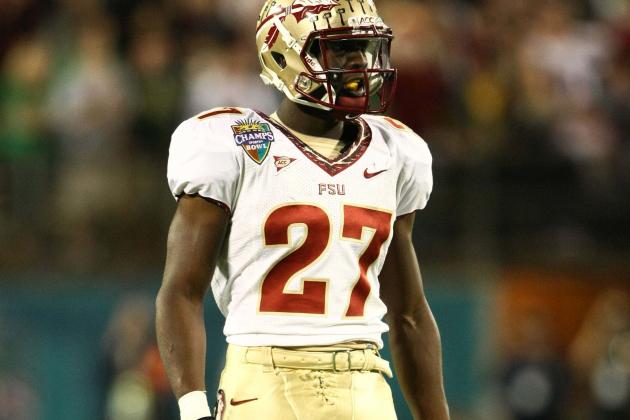 Douglas Jones-USA TODAY Sports

The Houston Texans may have sacked Andrew Luck five times, but Wade Phillips' defense also gave up two passing touchdowns and failed to pick off the rookie quarterback.
Factor other performances where the Texans got diced even more by Tom Brady and Aaron Rodgers, Houston must select a defensive back.
Xavier Rhodes has good size to isolate slot receivers and help double cover from the inside. He can also zone off for a blitzing linebacker to allow for additional quarterback pressure.
Include his instincts and the Texans will force more turnovers.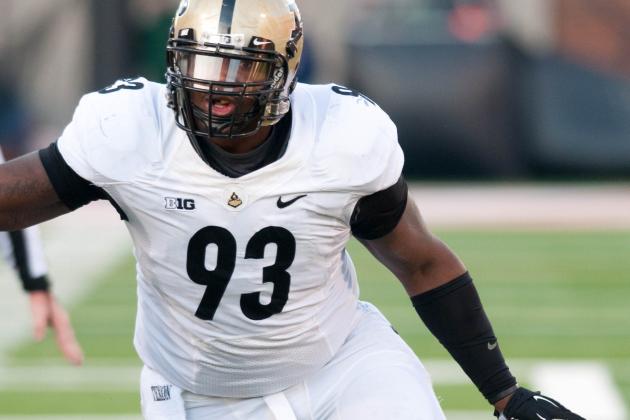 Bradley Leeb-USA TODAY Sports

Defending the run is a reasonable concern for the San Francisco 49ers.
For one, San Francisco got punished by the Giants earlier in 2012 and the Patriots racked up 95 rushing yards on 24 carries.
Secondly, the 'Niners have some older defenders up front in Justin Smith and Isaac Sopoaga. Therefore, getting Purdue's Kawann Short will reload the 49ers and keep this defense stellar in the trenches.
Short has racked up 48 tackles for loss during his career along with 18.5 sacks and 17 defended passes.
By comparison he is a bit undersized, although, Short is quicker and capable of causing turbulence behind the line of scrimmage. He won't be completely isolated when blocked one-on-one and his backfield presence will then draw more double-teams.
The 49ers can't ask for much more either, because with a great linebacking corps San Francisco will maintain its Super Bowl caliber defense. Not to mention, that is required to consistently compete in the NFC West these days.
Follow John Rozum on Twitter.