WWE TLC: 15 Things We Learned from This Year's PPV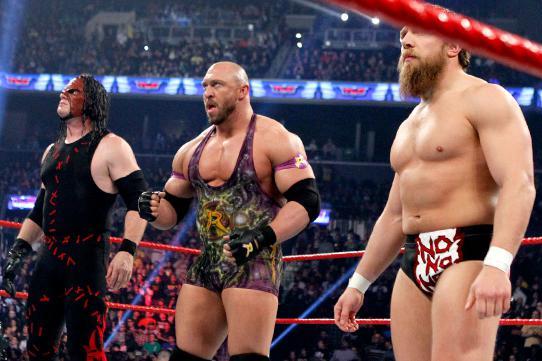 wwe.com
There is no shame in being last. There is no shame in setting the tone for an exciting new year in 2013. And there is certainly no shame in what happened at the TLC pay-per-view Sunday night.
And The Shield did nothing but steal the show. It was better than expected. It was better than good. It was brilliant.
We saw all titles stay in the hands of champions with some very compelling matches to boot. Sheamus lost the war to Big Show, Antonio Cesaro is still a beast in the ring and Kofi Kingston even surprised me with a win over Wade Barrett.
And then there is the curious case of John Cena, Dolph Ziggler and AJ Lee. Oh, the "Black Widow" really raised the bar on Sunday night. I knew this might happen and well, it just adds fuel to the fire.
And when we did not see a promo from The Rock, we saw a promo about him. Yes, CM Punk had his say, but the ad for the Brahma Bull did enough to keep us wanting more.
But nothing—nothing—came close to The Shield and their performance in Brooklyn.
Here are some things we learned about Sunday evening's PPV...
Begin Slideshow

»
wwe.com
To steal a phrase from Diamond Dallas Page, Good Gawd!
Naomi wins the Santa's Helper No. 1 Contender's Match. Not a bad way to start things off, if I say so myself.
The Diva's Division is moving forward in the right direction. It is still going to take time. I would have loved to have seen Tamina vs. Eve. But, as we know, that is not going to happen.
And the battle between Kaitlyn and Eve is still not over.
Stay tuned.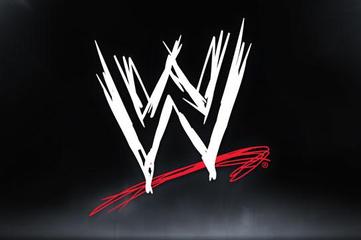 wwe.com
There is no other way to explain this. While football teams put aside their pigskins for a moment of silence, it was great to see the WWE represent with its moment of silence.
So much of our lives revolves around sports and wrestling, but it's great to see it is truly one people of the puzzle that we live in.
No one can disagree with that.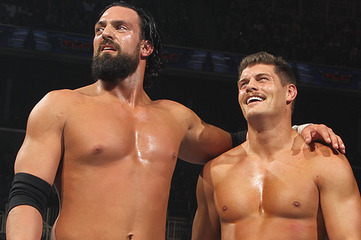 wwe.com
Chip on his shoulder...Caterpiller on his lip.
Cody Rhodes has looked pretty darn good since coming back to the WWE from injury. He and Damien Sandow look like perennial tag team contenders.
Sin Cara and Rey Mysterio at some point will feud. It is inevitable. But tonight, the match that started off TLC was pretty darn good.
Having a tables match to set things off just rocked.
But in the end, Sin Cara went through the table.
Team Rhodes Scholars wins the right to be the top contender for the tag titles.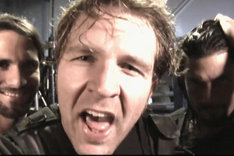 cagesideseats.com
They are so nWo-like.
The oddness to it, the mystery and the in-the-fly small camera shots.
They all work. And they are nothing like the WWE has done before. It will be interesting to see if someone else will be added to this trio.
I hope not, because right now, it is the best thing going on the WWE.
wwe.com
He may be right. No American may be able to beat him.
Maybe he and Alberto Del Rio should face each other.
Seriously, Cesaro is a great talent and while he beat a good opponent in R-Truth, he still needs another challenger who can put him in his place.
Seeing him in the match earlier this week against Sheamus proved how strong and brilliant he is.
I want to see more from him.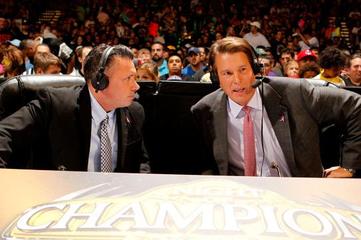 wwe.com
I know I have been gushing over this, but it so refreshing to see him on camera with some real insight. It seems like Jerry Lawler is an afterthought at this PPV.
JBL and Michael Cole are great in the give-and-take. It reminds me of Bobby Heenan and Vince McMahon in years gone by.
It is pure magic.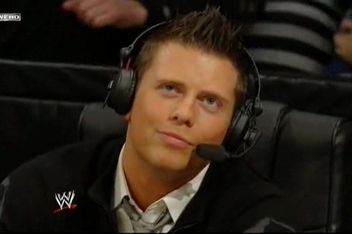 fanpop.com
Or so it seems.
And 3MB is funny, but it does not work. Insulting Jay-Z and the Rolling Stones did not work for me.
The Miz and the comedic turn he has taken is good since he is great on the mic works. But it is not the same Piper's Pit. The WWE is barking up the wrong tree trying to recreate something that was so great.
But he still is AWESOME.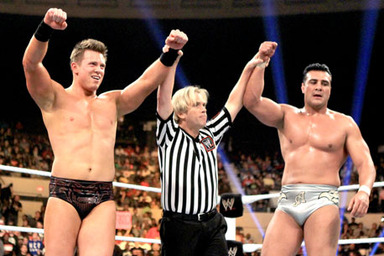 wrestlingline.org
Seriously?
I thought these two disliked each other in real life? Does that mean we are seeing another face turn in this PPV?
Alberto Del Rio a face? Hard to believe.
I like the concept. I like the idea our heels and our faces within the WWE are not completely "likable."
And seeing the Booklyn Brawler was awesome!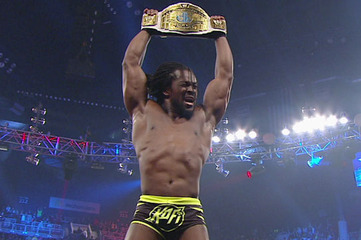 wwe.com
The match between Wade Barrett and Kofi Kingston is the one match I was hoping would live up to the hype.
It did.
The power of Barrett, the speed and agility of Kingston. I am really shocked at the ending. I thought Barrett would win and move on to the World Title.
Kingston obviously will be getting the push and maybe a WWE Title Match in the future. I still think Barrett will be in the title picture at some point.
I really like this match. Great showing by both men.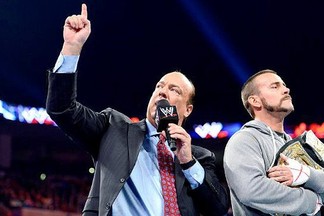 espn.go.com
And the words coming from his mouth are great since he was in a sky box.
Don't you just love the fact someone talks a great game when knows he cannot be touched? Oh, and CM Punk is a big fan of The Shield, but he is not affiliated with them.
Yes, he is just getting started.
It still fired another salvo about how great he is. And he may be right.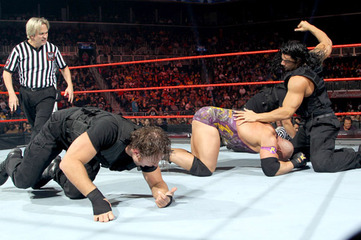 wwe.com
It was AWESOME!
Ryback made it happen. Kane made it happen. Daniel Bryan made it happen. And is JBL said, The Shield did not disappoint.
I loved this.
The DDT on the chair by Dean Ambrose on Kane really took me back. They all sold the match so well.
Ryback double body slam will go down as the single greatest move in TLC.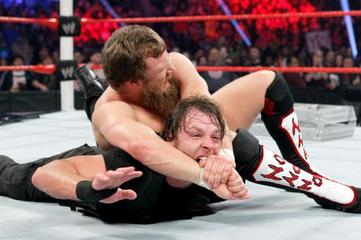 wwe.com
How they controlled the ring. How they picked their spots.
They were amazing.
If there was any doubt about how great Dean Ambrose, Roman Reigns and Seth Rollins were, we all forgot about it Sunday night.This
And it was all brilliant.
The plan for this group, whoever came up with it was simply brilliant.
It did not matter who won this match, it just rocked. The gave their all.
This was a three on three match and The Shield isolated one wrestler at a time.
Brilliant.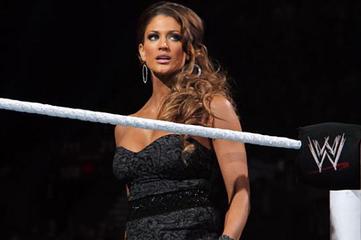 wwe.com
Let's hope AJ Lee will become the top contender for the Diva's Title. Eve made such little work of Naomi.
It was done of course because Eve must have some fear about facing Kaitlyn.
Whatever the reason, Eve has a mean streak and is perfect to be the heel champion. AJ has to have something to say about this.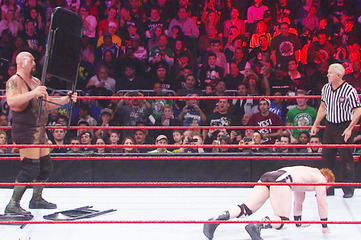 wwe.com
The Big Show won the battle and won the war. And while the chair shots were not as brutal as the 31 shots Big Show took from Sheamus after Survivor Series, it certainly looked "big" when he beat Sheamus with the "Big Chair."
It will be interesting to see who gets a title match now from Show.
I think this match and feud, which has been very good, has finally run its course.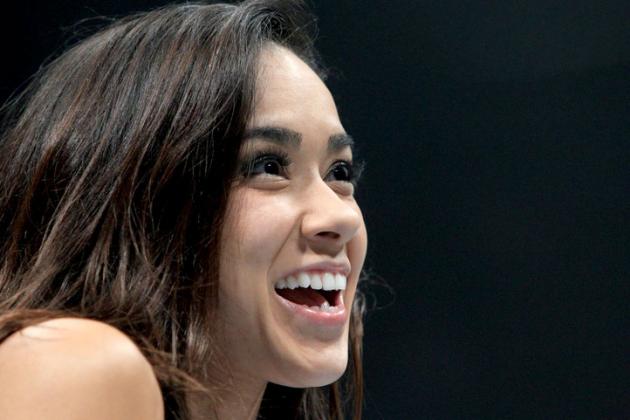 fanpop.com
AJ Lee cost John Cena the match. I told you it would happen. After what was a decent match, not a great match, Lee showed her true colors, and cost Cena the match.
Ziggler and Cena sold it well. It was slow and deliberate at times.
The two delivered and Ziggler sold it, which also means there are many questions left to be answered.
Will Cena get a shot at the World Title? Will AJ and Dolph Ziggler now join forces? Will there be hell to pay on Monday night?
It seems Cena continues to lose big matches and this time, he actually lost to a female. Now, we have seen everything.
Ziggler now has to cash in his MITB contract at some point.