Sexiest Sports Moments of 2012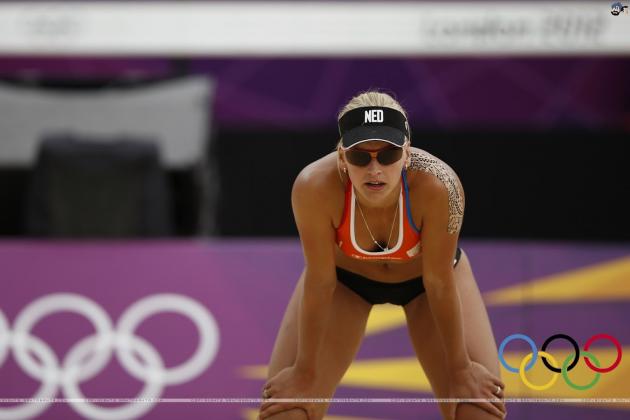 Image via best4pic.com
The year 2012 brought the fun back into funk. There was so much glory, glorious doesn't even begin to describe the year in sports.
And all that joy we felt thanks to King James winning his first title, Call Me Maybe becoming something to do on road trips, USA destroying the world at the Olympics and so many other incredible sports moments.
Somewhere along the way, we also got to witness some really sexy people and events. So here's my list of the sexiest sports moments of 2012.
Enjoy.
Begin Slideshow

»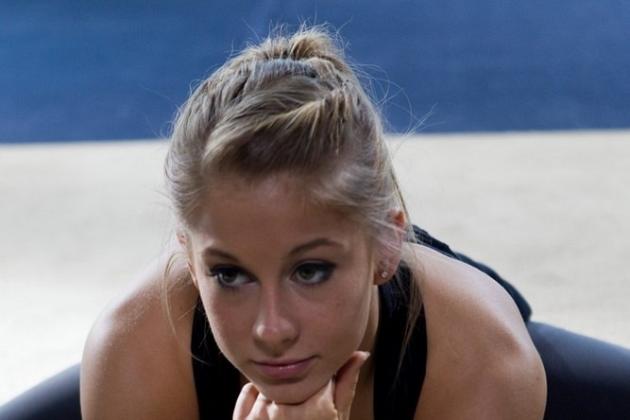 Image via superiorpics.com
Though she was done with the Olympics, Shawn Johnson wasn't done competing. And the world wasn't done watching her. I'm talking endorsements, photo shoots and magazine covers.
I have to admit, I had no idea she would have become such a fox. But I am 100 percent ready for SJ in 2013.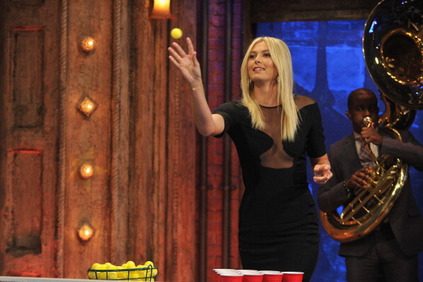 Image via thebiglead.com
In August, Maria Sharapova appeared on the Jimmy Fallon late night talk show and not only was a guest, she volunteered to play beer pong which she claims she has never played before.
After a few tosses, I would have to believe her. But that's OK, we still don't mind watching her do just about anything, ever.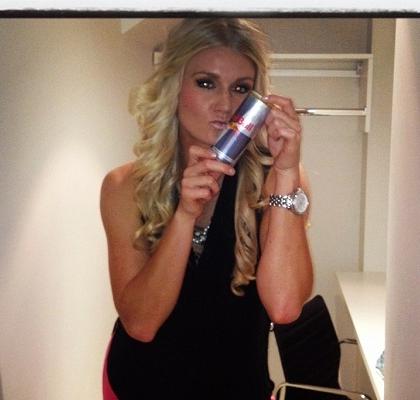 Image via twitter.com
Kaylyn Kyle is from Saskatoon, Canada. If that isn't the greatest name for a city in the history of words, then I don't know what could be more incredible.
She played soccer in the Olympics and since then has discovered how to use Twitter right. In other words, Kaylyn, you are doing it right.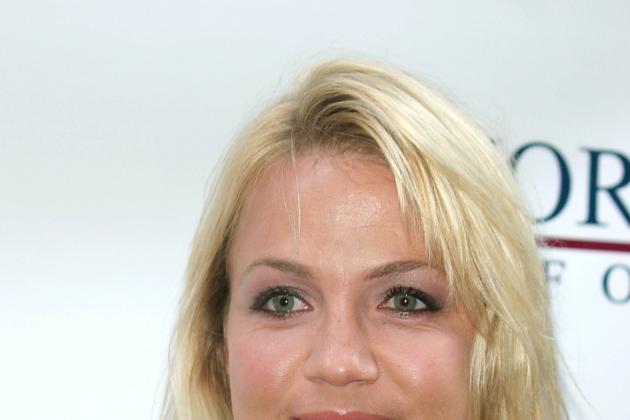 Image via imagecollect.com
Michelle Beadle hung around long enough to make that weird ESPN show watchable, then left us for NBC.
What? After all the love we gave, you just get up and go without notice?
I am sending back all my Beadle Backers shirts. They're no longer useful to me. (sad face)
Kate Upton went from riding horses, as a nationally recognized equestrian athlete, to the Sports Illustrated Swimsuit Issue, to WAG, to my favorite reason for having eyes. All in a few years' time.
But in 2012, she appeared on the cover of Sports Illustrated and left us with this video of her dancing in the water and on the beach.
She wins at life. Period.
I wasn't quite finished with Kate. She also made a commercial that was supposed to air during the Super Bowl but was banned by network censors thanks to her sexiness.
So we can watch guys get plastered drinking alcohol, but having a beautiful woman eat a burger is crossing the line?
For some reason, I want a burger now.
Image via thechive.com
This is sexy for two reasons.
The first is obvious, President Bush is a guy just like any of us and is apparently a beach volleyball fan.
The second is because beach volleyball is a sport that you feel dirty watching but love anyhow.
I love beach volleyball.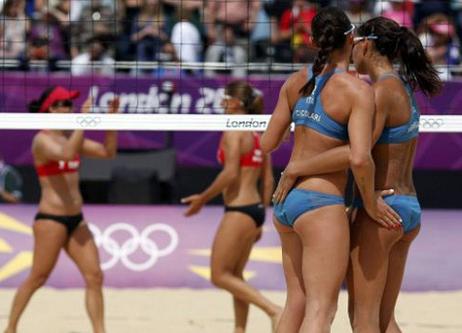 Image via cracked.com
As I was saying before, beach volleyball is the only sport I would rather watch at home alone with the doors locked and the shades rolled down.
I wouldn't want anyone thinking I was a creep watching women in bikinis running around a beach hitting a volleyball. Would you?
Image via trishstratus.com
What happened over the past ten years? Where the hell did Trish Stratus run and hide?
Regardless of where she went or what she was doing, Trish Stratus is back and looking better than ever.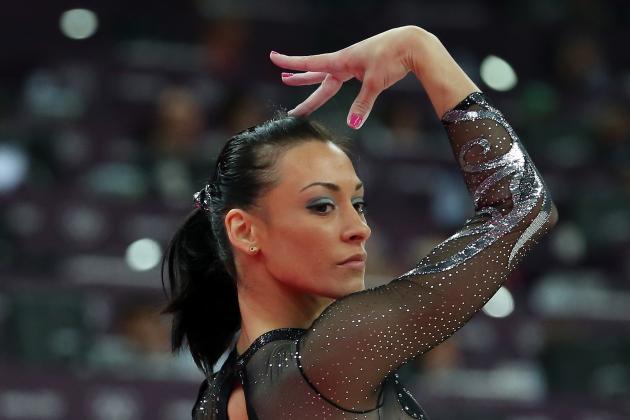 Ronald Martinez/Getty Images

Catalina Ponor was never a household name in the United States. She was never the girl we all feared would single-handedly defeat the Fab Five. But at 25 years old, she defied the odds and won two medals in London.
She also tied for third place in the balance beam but lost thanks to tie-breaking procedures that awarded the medal to Aly Raisman of the United States.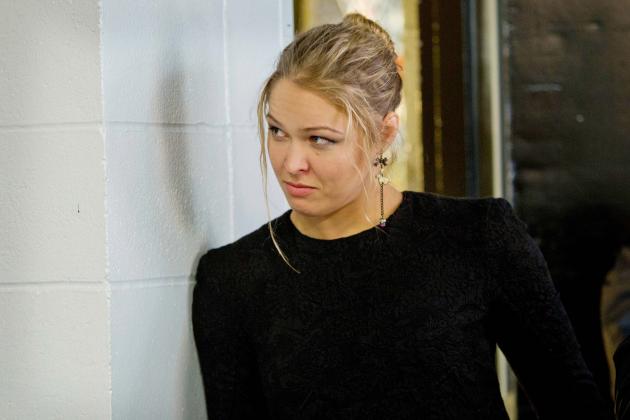 Bruce Kluckhohn-USA TODAY Sports

Ronda Rousey became the first female fighter ever to sign a contract with the UFC in 2012.
The only thing left to do is find her some opponents. We wouldn't want her beating up the dudes now, would we?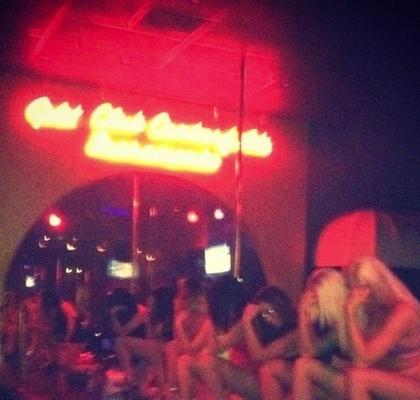 Image via bustedcoverage.com
Once strippers began Tebowing, there was nothing left to say. That was it. That was the line that needed to be crossed before the world stopped Tebowing.
Now, only outdated hipsters still Tebow. And, of course, douchers like me.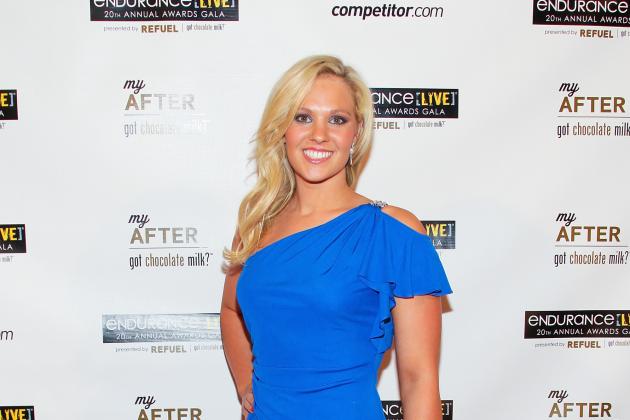 Noel Vasquez/Getty Images

She didn't medal. She didn't win. She didn't place in any race in London.
But Chloe Sutton was still a sexy moment this year for one reason: being the sexiest US swimmer at the US Olympic trials this summer. She headed to London but failed to win anything.
That's OK, we still love her.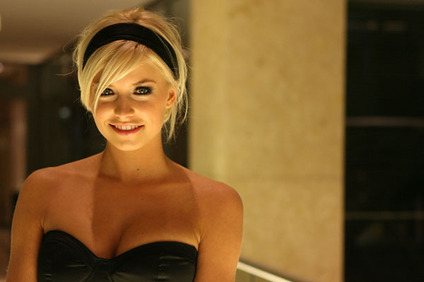 Image via bustedcoverage.com
So earlier this year, Sami Khedira's old lady, WAG Lena Gercke, posed on the cover of Germany's GQ magazine.
I can't quite show you the image but feel free to click on this link and see for yourself.
It...was...awesome!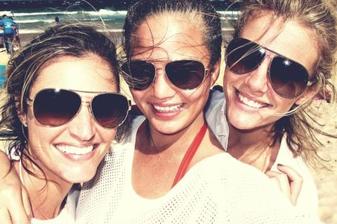 Image via twitter.com
Apparently, Erin Andrews, Brooklyn Decker and Chrissy Teigen are BFFs. Back in early 2012, this trio spent a few days out on the beaches of Australia in what can only be called, "Stunning while sunning in bikinis and aviators."
Even if that isn't a catchy name, knowing these three women hang out makes me want to rethink my life choices.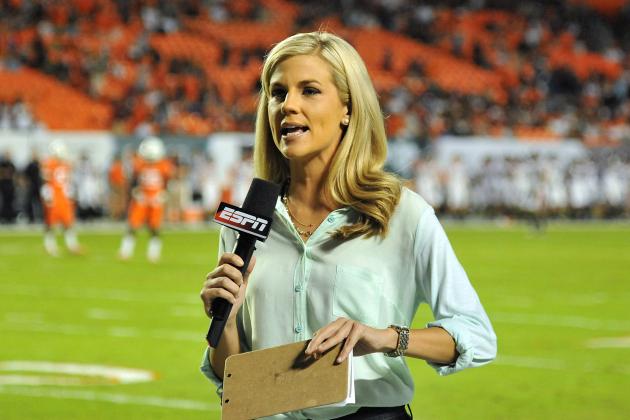 Steve Mitchell-USA TODAY Sports

We were all sad when Michelle Beadle left ESPN. We were even more sad when we found out that Erin Andrews was also leaving.
But then along came Samantha Steele, the beautiful blond sports reporter from Austin, Texas. And now that she's getting married to Christian Ponder, her WAG status will keep her around for years.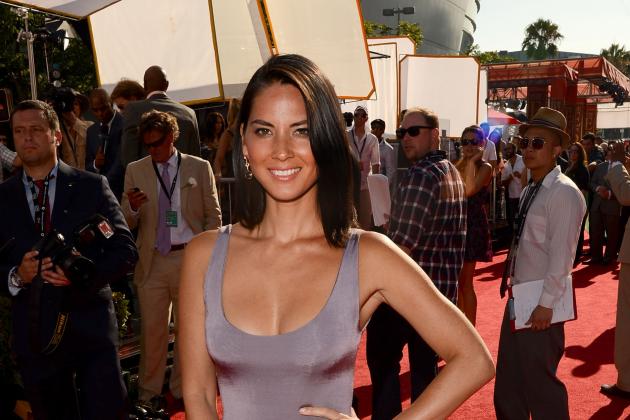 Image via bustedcoverage.com
At one time, Olivia Munn was known around the sports world as a WAG after she dated NHL player Brad Richards. But then came the 2012 ESPYs and Olivia Munn is now known as the smoking hot beautiful beauty that rocked the red carpet.
I don't know much about fashion but whoever designed that dress belongs in a Hall of Fame.
Image via sportsillustrated.cnn.com
I know it's a hard concept to grasp, but somehow Jaime Edmondson went from sizzling to straight-up nuclear in 2012.
I don't know exactly how that can happen—maybe it has something to do with me following her on Twitter all year—but she is now an amazingly stunning WAG who should be around for years now that Evan Longoria has signed a looong contract with Tampa.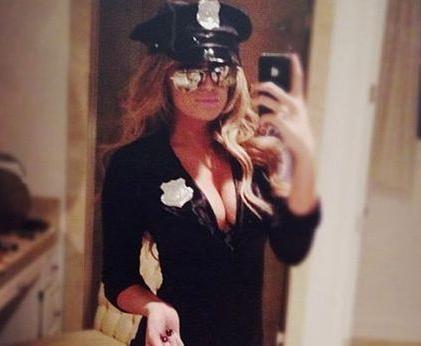 Images via twitter.com
I'm not sure if Paulina Gretzky has the best life ever, or if we do because we get to witness it unfold via Twitter and Instagram.
Before 2012, I had no idea Paulina Gretzky would be the reason I opened up an Instagram account. But she was, and not just for me but for millions of others worldwide.
Her photos are now legendary.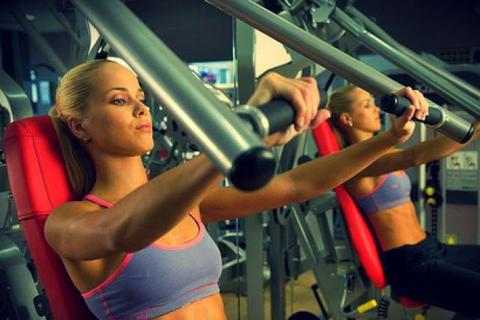 Image via listal.com
When all else fails, watch the Olympics. Because some country, somewhere, is going to have at least one smokebomb representing them. Antonija Misura was the Croatian sensation that we were all asking about this year.
It wasn't because she played basketball. It was because we love sports and beautiful women, so why not combine the two together and have some fun.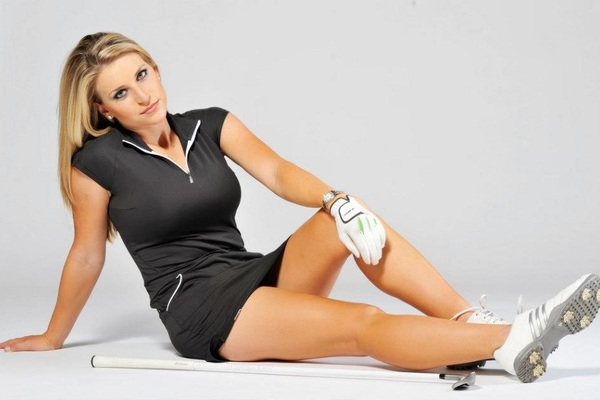 Image via listal.com
Meghan Hardin was nothing more than a reality TV show contestant on Golf Channel's Big Break series before the Internet got hold of her. Now she is one of the biggest names on the LPGA tour, and she hasn't even won a tournament yet.
Winning isn't everything. Especially when you look like a million bucks on an ice cream sundae.
The Dallas Stars Ice Girls have to love this lockout. It gives them time to make their own country music videos.
Now don't get me wrong, I miss the NHL. But not because of the games. I miss the ice girls. I am a country boy from the South. We don't do hockey down here. Sorry, NHL fans.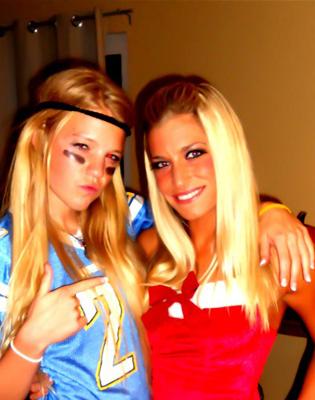 Image via bustedcoverage.com
Thanks to Jace Williams, Britt Vonk and the rest of the University of California softball team that went to Hawaii earlier this year and figured out how to post pictures on Twitter and Instagram.
Thank you, ladies.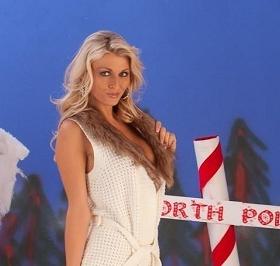 Image via aliciasecrets.com
Being sexy isn't good enough to make this list. That's like having Thanksgiving dinner and only having a turkey. You have to bring something else to the table.
Alicia Secrets isn't just a superfan. She is a model and cam girl known for posting some seriously NSFW images on Twitter to help the Texans' fanbase with some moral support.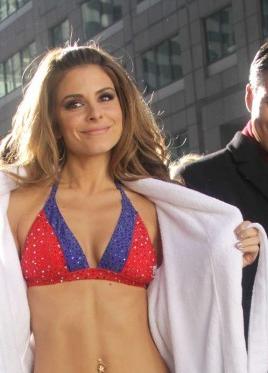 Image via gotceleb.com
When Maria Menounos made a bet with one of her co-workers, she probably never thought she would have to pay it off. The faithful New England Patriots fan agreed to wear a Giants bikini while hosting Extra if her team lost the Super Bowl.
Well, she lost. And we won.
Image via twitter.com
Prior to 2012, Alex Morgan's stock was beginning to grow. But it took an Olympic gold medal for the rest of the world to get on board.
She is now one of the biggest names and faces of a global sport. Everyone I know has an Alex Morgan shirt, especially me. It says, "Alex Morgan is my Boo."
Carly Rae Jepsen created one of the catchiest tunes we have ever heard with her song Call Me Maybe. She probably didn't intend for it to become as big a success as it did, tearing up the Billboard charts almost the entire year. But it did.
And for some reason, people started making parodies of the song. Everyone from President Obama to Justin Bieber got in on the craze this year.
But it was when the Miami Dolphins' cheerleaders made a music video parody of the song that I knew it was going to be a great year in sports.
Sexy? I'm not sure that word suffices in this scenario.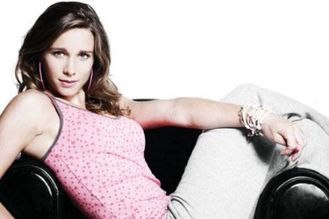 Image via fanpix.net
Field hockey was never a sexy sport, aside from the uniforms which can only be described as short.
But other than that, we never thought we would see a woman emerge from the field hockey scene and become one of the hottest female athletes on the planet.
She isn't even just the hottest athlete, she is one of the hottest females in the world.
Fact.
By now you've heard about Michelle Jenneke, the Australian hurdler that swayed her way into our hearts thanks to a YouTube video showing off her now-famous warm-up dance routine.
And if you haven't heard of her, why are you still asking your friends about it? The Internet isn't going to download itself.