NHL Lockout: Why Latest Wrangling Between NHL and NHLPA Could Be a Good Thing
Use your ← → (arrow) keys to browse more stories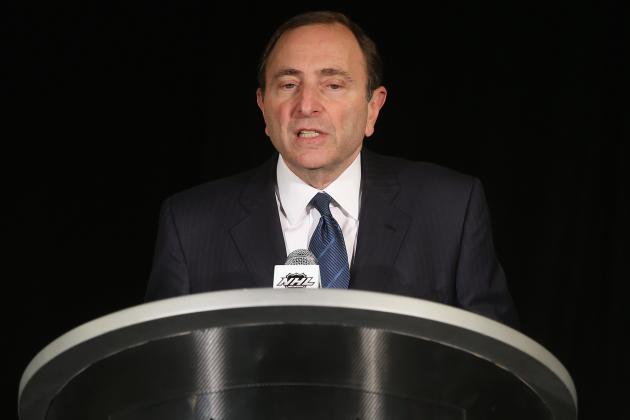 Bruce Bennett/Getty Images

If things weren't real enough for you in the battle between the NHL and the NHLPA, the two sides decided to kick things up a notch on Friday. According to TSN.ca (via the Associated Press), the NHLPA executive board has floated the idea of allowing the players to vote on a disclaimer of interest, while the NHL followed that up by filing a class-action lawsuit against the NHLPA.
Before you think that this is the end, the final straw that sends everything crashing down into the abyss and leaves us with no NHL season in 2013, take a minute to collect yourself and breathe deep.
These incidents are not the negatives you would think; they could actually be a positive.
I know that seems like spin, but I see this as the last volley that the two sides are throwing at each other before agreeing on a deal to get the game back on the ice early in 2013.
The relationship between the NHL and NHLPA is less than cordial. At times, it has even become downright hostile—and that's in public. One can only imagine how toxic things are behind closed doors or what kind of vitriol is thrown around when one side is discussing the other amongst themselves.
Take the worst possible divorce scenario that Hollywood has ever dreamed up and it still won't approach the level of animosity, distrust and straight-up hatred that the NHLPA has for Gary Bettman or Bettman and the owners have for NHLPA head Donald Fehr.
There's nothing left to argue about at the bargaining table. Each side has to intimately know what it is going to take to get a deal done. All that gamesmanship has been played out and those threats have become empty and meaningless, leaving us with just these legal wranglings meant to "mean business."
Which they don't; they're just the last muscle flex from both sides before they hammer this thing out. After all, no one—and I mean no one—could be dumb enough to walk away from billions of dollars, could they?