In a sport where going with the flow seems to be the normal trend, Roy Nelson is a man apart. The Season 10 TUF winner has not been afraid to buck the system at every turn, no matter the additional criticism it may bring. Over his three years with the UFC, "Big Country" has fallen in and out of favor with UFC President Dana White on several occasions. While this may be the shaky ground other fighters look to avoid, Nelson keeps on keeping on.
The reality is, Nelson is a man of conviction. Opinions from his fellow fighters or the men atop the promotion are of no concern to him because the 36-year-old Las Vegas native has absolutely zero issues with forging his own path through the sport.
He isn't afraid to make waves by bringing difficult questions to the table, and no matter how much scorn it may bring, Nelson's toughness inside and outside of the cage have put him in the interesting position to shake things up. His opinions may make him unpopular with his UFC boss, but his willingness to throw down has made him a favorite amongst the organization's fan base.
He is afforded this platform due in large part to the fact Nelson always "shows up" to fight. His exciting style and durability have made him a commodity in an organization that has been ravaged by injury. Despite illness or changes in opponents, Nelson will always make that walk to the Octagon, and once that cage door closes, he's going to give everything he has until the final bell sounds.
This is the exact mentality he will carry into his bout tonight with fellow TUF 10 alum Matt Mitrione in the main event of The Ultimate Fighter 16 Finale.
Despite preparing to face fellow slugger Shane Carwin for the second time, and having the Team Grudge heavyweight withdraw due to injury once again, the show will go on because of Nelson's willingness to fight whoever the UFC puts in front of him.
Will defeating Mitrione get Nelson closer to the title shot he's been searching for since coming into the UFC? No it won't, but what it will serve to prove is that when Nelson's name is on the bill, fans are going to get to see him fight, and things of this nature have been "hit or miss" for the UFC in 2012.
The Art of the "Old School" Scrap Mentality
It's a common thing these days to hear fighters and promoters talk about an "anytime, anywhere" brand of toughness. While this may sound good in a buzzword sense, few mixed martial artists actually embody the sentiment.
Nelson, however, carries the flag when it comes to representing the old-school mentality the UFC was built upon.
It doesn't matter whom the UFC matches him up against, a fight is a fight to Nelson. When his original opponent at UFC 117, Cheick Kongo, withdrew due to injury, the former IFL champion immediately stepped up to face future champion Junior Dos Santos.
While the bout ultimately resulted in Nelson's first loss under the UFC banner, he became the first man to take JDS to the judge's cards. In a fight where he survived a nasty first round, the MMA veteran regained his footing, and was trading heavy leather with "Cigano" until the final bell.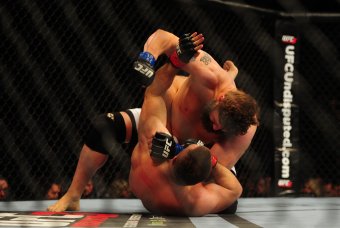 Mark J. Rebilas-USA TODAY Sports
Nelson looked to bounce back into the win column in his next outing against former champion Frank Mir at UFC 130, but was defeated in a one-sided decision. White criticized Nelson's performance and in turn, the Team Country Club leader answered back by showing up to his next fight against Pride legend Mirko "Cro Cop" Filipovic in leaner fashion. He was able to score a second round TKO over the Croatian and regain his place in the increasingly competitive ranks of the heavyweight division.
After facing another setback against Fabricio Werdum at UFC 143, Nelson was slated to face Antonio "Big Foot" Silva in the UFC's all-heavyweight showcase at UFC 146. The events that transpired in the lead-up to the event serve as a perfect example of Nelson's willingness to fight despite shifting circumstances.
Originally scheduled to face Silva, the debacle that forced former Strikeforce heavyweight champion Alistair Overeem from the event created a complete shift in the card's line-up. During this process, Nelson's opponent changed twice, and after the initial replacement Gabriel Gonzaga withdrew due to injury, journeyman Dave Herman stepped in on two week's notice.
Where other fighters would have asked to be taken off the card due to a lack of preparation time, Nelson charged on and scored a first-round knockout over the Indiana native.
Much like the Mitrione fight, defeating Herman carried little upside. On the other hand, had Nelson lost to "Pee Wee", his stock would have bottomed out and his job with the UFC could have become non-existent. In the business of MMA, these are the circumstances that force fighters to make safe decisions. But for a fighter like Nelson who thrives on testing himself, there is only one way to move forward, and that is to fight.
The Roy Nelson Way
As the sport continues to grow and the trend of trash-talking continues to become the norm, Nelson refuses to waiver. He wears his heart on his sleeve and speaks his mind, and regardless of the potential backlash. This is simply "Roy being Roy," and whether you like it or not, he isn't going to change his ways to fit into the easy way of things.
I've personally known Nelson for quite some time and over the years, Nelson's straight talk has assisted in my navigation, not just of the MMA world, but through the sometimes rocky waters of life itself.
"Get a backbone Finley," he has said to me on more than a few occasions. While he has always said it with a chuckle, it doesn't make the words carry any less meaning. The sport of MMA is a business, and in many ways, life reflects the business world as well, and going forward with an iron chin, a sharp mind and a huge heart is a formula I'm proud to say I've adapted.
The Roy Nelson way may not always be the most popular. It is, however, a path you can travel where you can look at yourself in the mirror at the end of the day, and be proud of who you are and the way you handle your business.