TUF 16 Finale: Final Predictions for Nelson vs Mitrione Main Card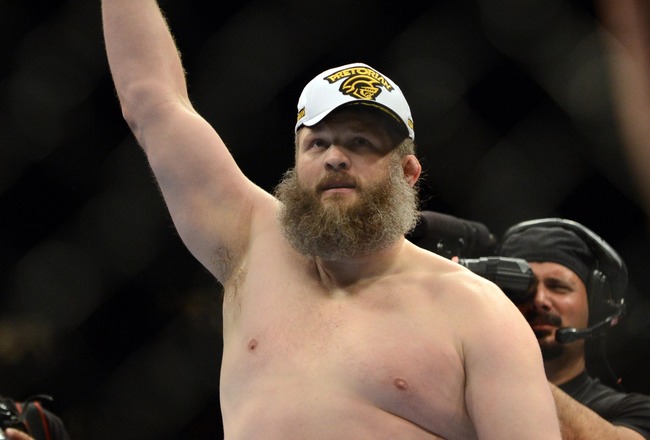 Roy Nelson looks to remain relevant in the heavyweight division by beating Matt Mitrione.
Ron Chenoy-USA TODAY Sports
With the TUF 16 Finale fast approaching, it's time for some final picks of the winners of tonight's main card.
Headlining the card is TUF 10 winner Roy Nelson fighting the also-ran from the season (but still very talented) Matt Mitrione. Nelson was originally slated to face rival coach Shane Carwin, though Carwin ultimately withdrew from the fight following a serious knee injury. This opened the door for Mitrione to return to the UFC after a year's hiatus due to a slew of injuries.
Past Nelson vs. Mitrione is a downright amazing card filled with solid fighters that total, perhaps, the best card on FX or Fuel to this point in the UFC's deal with Fox.
The co-main event is a bout between TUF 16 finalists Colton Smith and Mike Ricci. This is, in fact, the only bout featuring fighters from the season, as the less-than-exciting bouts infuriated White into abandoning precedent and filling out the rest of the card with prospects obtained outside this season of TUF.
A matchup between heavyweight kickboxers Shane del Rosario and Pat Barry almost guarantees explosions. Another matchup between strong lightweight strikers, Jamie Varner and Melvin Guillard, is another bout to really look forward to. Topping it all off is former TUF winner Jonathan Brookins fighting featherweight up-and-comer Dustin Poirier.
It's a downright great card that I am lucky enough to make predictions on. Keep reading to find out my picks!
Dustin Poirier vs. Jonathan Brookins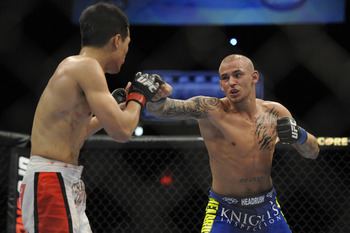 Poirier should be able to bounce back against Jonathan Brookins.
Rafael Suanes-USA TODAY Sports
The first fight on the main card features TUF 12 winner Jonathan Brookins against hot prospect Dustin Poirier. It's a deceptively high-stakes bout between two featherweights that are looking to ensure the bright futures ahead of them.
Poirier seemed fast-tracked to the top of the featherweight division, and was supposed to be a challenger to Jon Jones' status as the youngest UFC champion. Then he lost to Chan-Sung Jung. Then Frankie Edgar and Clay Guida decided to join the featherweight division. Then Cub Swanson jumped back into the top of the division.
Now, he is trying to maintain his relevance against Jonathan Brookins.
Brookins is 2-2 in his UFC career. The two wins are clear demonstrations of skill. The two losses came from a poor judgment against former top contender Erik Koch, and a submission by Charles Oliveira. He is a solid wrestler but his actual skill level in other areas of the cage, in many ways, remains a mystery.
So will he be able to beat Dustin Poirier? Well, it ultimately boils down to whose wrestling is better and there is very little evidence to suggest that Poirier doesn't have the superior wrestling.
Look for Poirier to advance position and either maintain top position for the majority of the fight, or make Brookins tap.
Prediction: Poirier via submission, round 2
Melvin Guillard vs. Jamie Varner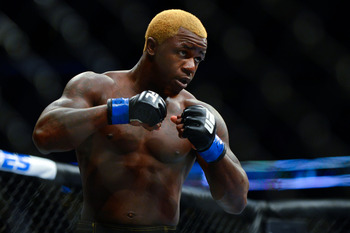 Melvin Guillard's solid kickboxing should give him the edge over Jamie Varner.
Ron Chenoy-USA TODAY Sports
This right here is my bet for fight of the night. We all know that Guillard is a very strong striker, and he owns some downright amazing, highlight-reel knockouts. Jamie Varner isn't as well-regarded or well-respected as he used to be, but he still owns some very good hands and seems to have only gotten better since his ugly losing streak following his fight with Ben Henderson at WEC 46.
With either fighter looking to right their ship to ensure their UFC future, they are going to come out swinging heavy leather with bad intent. That said, picking a winner is a tough call.
Varner has had fair success in his UFC return against really tough competition. He punched out Edson Barboza, and had a fight of the year candidate against all-around beast, Joe Lauzon. He still has a solid grappling game, and remains an accomplished boxer, but Melvin Guillard is a scary dude.
In 2011, Guillard was right near the top of the lightweight title picture after a five-fight winning streak in the UFC that included 3 KOs. His Achilles' heel, though, remains his weak grappling and even worse submission defense. He was submitted in the opening minute of his fight against Joe Lauzon, and was submitted in the first round of his fight against Jim Miller.
His most recent fight was a knockout loss to Donald Cerrone, in what was probably the most exciting 76-second fight in MMA history. Guillard rocked Cerrone early, but "Cowboy" ended up catching him with a big headkick that forced the ref to wave things to a close.
That in mind, Guillard has basically never lost a striking battle. Varner doesn't have the grappling game to dominate Guillard and I would not say that his hands are good enough to beat out Guillard's diverse striking. Varner's never been knocked out, so look for a lengthy brawl.
Prediction: Guillard via Decision
Pat Barry vs. Shane Del Rosario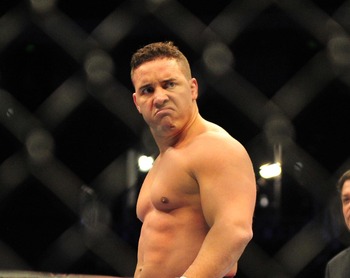 Unfortunately, Pat Barry tends to struggle against fighters like Shane del Rosario.
Don McPeak-USA TODAY Sports
In a battle between slipping heavyweight kickboxers, we have Pat Barry fighting Shane del Rosario.
While Barry is a fan favorite, he is likely in a do-or-die position right now, as he is 1-3 in his last four fights, and 4-5 in his UFC career. His goofy demeanor and fan-pleasing, exciting striking game has kept him popular, but there is no getting around the bunches of losses at the top of his official record.
Del Rosario, meanwhile, has the substantially greater record on-paper, and sits at 11-1 in his career, which includes time in some large promotions such as M-1, ShoXC and Strikeforce. He lost his UFC debut against Stipe Miocic at UFC 146 by TKO, but is looking to bounce back here.
Making a prediction here is really tough, simply because of the wildness in Barry's record. He has fought strikers in most of his UFC fights and, with the exception of his fights with Stefan Struve and Christian Morecraft, has not really found himself in bad spots on the ground.
Against those strikers, Barry has had very mixed success.
He beats Antoni Hardonk, then loses to Mirko Cro Cop. He beats Joey Beltran, then he loses to Cheick Kongo. He beats Christian Morecraft, then loses to Lavar Johnson.
While my pattern recognition wants me to pick Pat Barry, my gut is telling me del Rosario is going to stamp Pat Barry's ticket back to K-1. Barry is a smaller heavyweight and has tended to lose against bigger strikers. Del Rosario certainly fits that bill.
Prediction: Del Rosario via KO, round 1
Colton Smith vs. Mike Ricci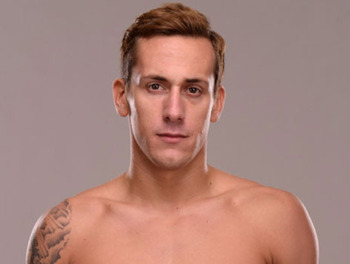 Mike Ricci's superior striking and coaching makes him a huge favorite against Colton Smith.
While Dana White was enamored with the amount of talent found in TUF: Live, he was so annoyed at the fighters this season that this is the only fight on the card made up of fighters from the season. In fact, there are more fighters on this card from TUF: Live than the current Nelson vs. Carwin season.
The biggest reason for this is because there were basically no stoppages this season. In 14 fights, there was precisely one submission, and one knockout.
Could this be because they primarily recruited group of fighters from a Brazilian Jiu-Jitsu or wrestling background? Maybe, but that's what they get for building a show based on drunken stupidity rather than great fighters.
Either way, the one fighter to really distinguish himself throughout the season was Mike Ricci. A product of the TriStar Gym, home to Georges St-Pierre, Rory MacDonald and Ivan Menjivar, Ricci already trains with greatness. Between the entry fights and the primary tournament, Ricci was the only fighter to get more than one stoppage, twice scoring first-round knockouts.
Colton Smith is a decent enough human being, and deserves commendation for his military service, and credit for his solid wrestling. That said, Mike Ricci trains with Georges St-Pierre, probably the best in the MMA wrestling business. There is no reason to expect this fight to play out any other way.
Prediction: Ricci via TKO, round 2
Roy Nelson vs. Matt Mitrione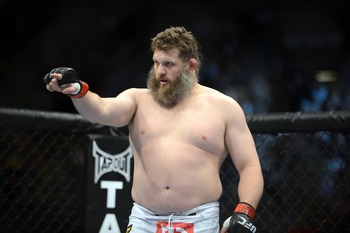 Roy Nelson's evolved game will likely prove too much for the still-raw Mitrione.
Ron Chenoy-USA TODAY Sports
Roy Nelson vs. Matt Mitrione is, honestly, a tough fight to call. Basically, this comes down to the clinch game and takedown defense of Mitrione.
Nelson is a fighter who has deceptive cardio, knockout power, and I don't even need to come up with a wacky simile to describe his chin.
Matt Mitrione, meanwhile, is a strong, tough guy with some of the best cardio in the heavyweight division.
Both fighters have primarily found success in the UFC via knockout, with all of Nelson's four UFC wins coming via the big overhand right, and four of Mitrione's five wins coming via punches. Their losses, meanwhile, have come via the sort of fighter they're about to face.
Roy Nelson has losses against Junior dos Santos, Frank Mir and Fabricio Werdum. Neither Mir nor Werdum have especially fearsome striking, but snowballed early by landing a high volume of strikes and never giving up the lead. Mitrione's sole loss, meanwhile, came against Cheick Kongo, who used his superior striking and clinch game to completely neutralize anything Mitrione had planned.
So who will win? If Mitrione can keep things at striking distance, he is very capable of out-landing Nelson over the course of the fight. Meanwhile, if Nelson can clinch or take Mitrione down, he should have a serious edge, simply based on his substantially greater MMA experience.
Based on that, and with the possibility of a Roy Nelson Whopper Punch, I have to give the nod to Nelson. That said, if Mitrione works Nelson early, this fight could become out of reach in the opening minutes.
Prediction: Nelson via Unanimous Decision
Keep Reading