Montreal Canadiens: 10 Biggest Fan Favorites in Franchise History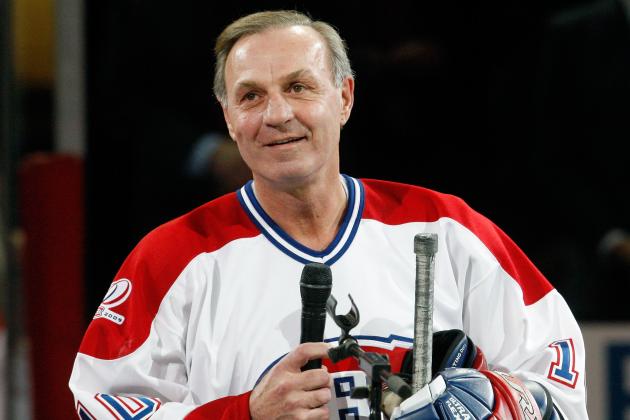 Richard Wolowicz/Getty Images
Guy Lafleur of the Montreal Canadiens.
While it's a tad difficult to name the 10 best Montreal Canadiens ever—because there are so many Hockey Hall of Famers from which to choose—it's even more difficult to separate the absolute fan favorites from the pack.
So many Habs were beloved, and not necessarily for scoring, play-making or puck-stopping ability.
I mean how does one discount the contributions of or general admiration for a guy like John Ferguson, who, despite his talent for laying a beating on opposing players, was also able to put the puck in the net, only once scoring less than 15 goals during his eight years in the National Hockey League, all with Montreal???
In all honesty, rather easily with names like Guy Lafleur (yes, he's on here) and Jean Béliveau (ditto) to consider, not to mention the fact that he is related to former Toronto Maple Leafs GM John Ferguson Jr., which, let's be honest, one cannot ignore.
Hell, it would probably keep him off a list of favorite Leafs, as well, had he played in Toronto instead.
In any case, how does one also discount the likes of Saku Koivu, a guy who overcame injury after injury to lead the teams he captained to one improbable playoff series victory after another? Admittedly, somewhat less easily, but necessarily with a guy like Henri Richard, who won 11 Stanley Cups as a Hab, out there, as well.
As such, here is that Richard brother and the nine other most popular Habs of all time:
Begin Slideshow

»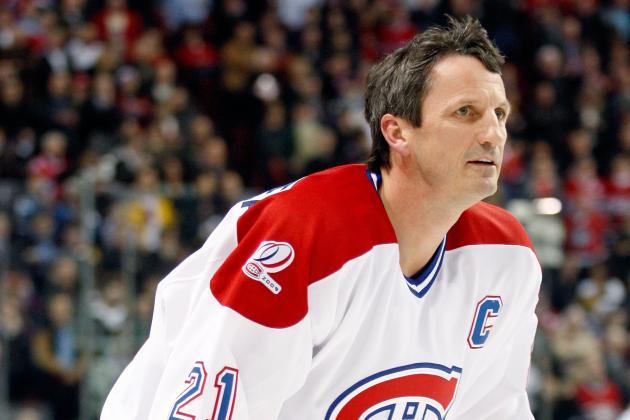 Richard Wolowicz/Getty Images
Guy Carbonneau of the Montreal Canadiens.
Guy Carbonneau was the last Habs captain to win a Stanley Cup, but that's not the reason he sneaked in at the No. 10 spot. Well, it's part of the reason, admittedly, but mostly it's the way he played the game that fans most appreciated, as a bring-your-lunch-pail-to-work kind of guy, who never took a shift off.
Carbonneau was a premier defensive forward in the mold of one Bob Gainey, winning the Frank J. Selke Trophy three times. So, why choose Carbo over "Le Capitaine" (no, Gainey isn't on here), who won it a record four times and for whom the award was arguably created in the first place?
Well, for starters, the fans never chanted "Guy, Guy, Guy" much like they did for Guy Lafleur (who scored goals, but didn't necessarily prevent them), whenever Gainey touched the puck. For the record, they also didn't chant "Bob, Bob, Bob."
Granted, one can make a case for Guillaume Latendresse to be on this list based on that criterion (and that criterion alone), but people look back on his time with the team mostly with regret (mostly regret he wasn't traded away sooner). Not the case with Carbonneau.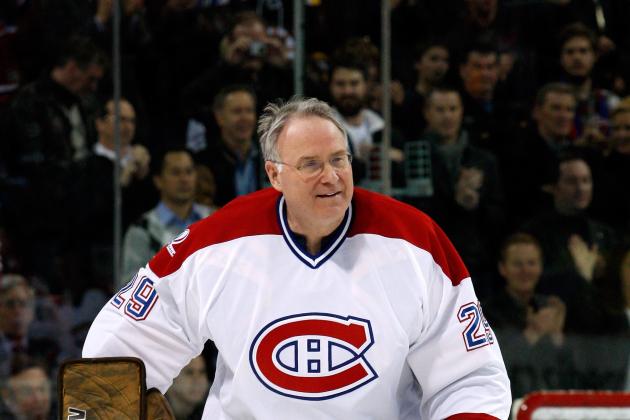 Richard Wolowicz/Getty Images
Ken Dryden of the Montreal Canadiens.
Inducted into the Hall of Fame in 1983, Ken Dryden's arguably most notable accomplishment was winning the Conn Smythe Trophy before he did the Calder Trophy.
Now, Dryden isn't the best goalie in Habs history and he did have the benefit of playing in front of a dynasty and some incredible teams individually speaking (1976-77 Habs, anyone?), but those few who would use that fact to discredit his accomplishments conveniently forget that the goalie is a part of any team, great or not, and that Dryden was a key part of those squads.
In fact, the goalie is traditionally seen as any team's best penalty killer, which means a guy who played behind Serge Savard, Larry Robinson and Guy Lapointe deserves a lot of accolades and fanfare, to say the least.
Of course, it also means Columbus Blue Jacket James Wisniewski isn't just being paid an average of $5.5 million to make bone-headed plays, but also be a worse penalty killer than Steve Mason, if that was possible. So, read into the adage as much as you like.
Don't deny, though, Dryden's overall worth as an all-time great and fan favorite.
Along with Elmer Lach and Maurice Richard, Toe Blake formed the infamous Punch line. Blake, at left wing, scored the least amount of points of the three, but his overall legacy with the team is hard to minimize.
As a player, Blake won two Stanley Cups (1944 and 1946). As a coach, he won eight, including five straight from 1956-60, seasons during which he actually coached Richard (Lach had just retired when he took over behind the bench).
In fact, considering he served as team captain during his final years as a Hab and then as head coach, in a way Blake spent a great deal of his career telling Richard what to do. One has to at least give him mad props for that.
And, if that weren't enough to earn him a spot on this list, it's the image of him behind the bench, wearing his trademark fedora, that is one of the most lasting in Habs history.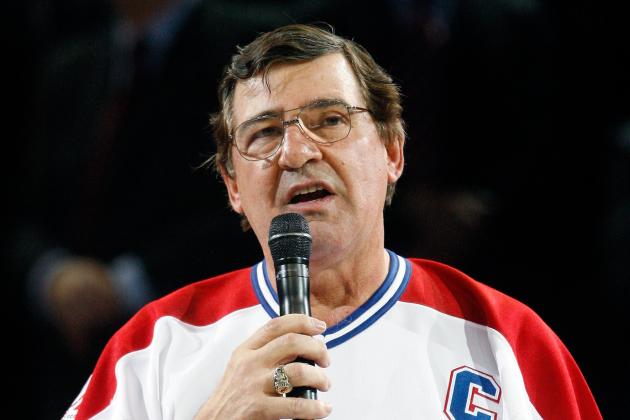 Richard Wolowicz/Getty Images
Serge Savard of the Montreal Canadiens.
In the interest of full disclosure, Serge Savard's defense partner Larry Robinson just narrowly missed making this list. Not enough spots, unfortunately, even for a guy nicknamed Big Bird for his height and quite obviously his hopefully once-in-style afro.
Granted, the two need not be mutually exclusive, and they honestly aren't. Savard was just more of a fan favorite. Sure, Robinson was the more-productive and better player of the two, but that's not everything on a list like this.
Case and point: While Robinson ranks number one in terms of points by a Canadiens defenseman and Savard number four, Patrice Brisebois is number five. So, yeah, not exactly a suitable measuring stick.
Savard also gave the world the "Savardian Spin-o-rama." And, while Robinson inevitably always enters into the conversation whenever Montreal is looking for a new head coach (often), Savard actually was hired as the team's general manager.
Yeah, he lost the job and was no Sam Pollock, but Habs fans truly look back at his time as gm from 1983-95 with fondness, if for no other reason than the fact that his successor was Réjean Houle.
Defenseman Doug Harvey would not necessarily be beloved for his contributions to the game today. Sure, he won the James Norris Memorial Trophy seven times, the same as Nicklas Lidstrom (Bobby Orr won it eight times), but he also was a driving force behind the original Players' Association.
He, along with Ted Lindsay, were incredibly outspoken in favor of rights of players, leading eventually to the labor stalemate at which they and the league now find themselves.
However, that's now. Harvey was then, and then there was little taking away from Harvey's skill level, as he is currently consistently ranked as one of the best hockey players ever and the second-best blue-liner behind Orr.
Even if a few embittered hockey fans choose to resent the man for today's lack of hockey, the anger would obviously be quite misplaced.
Look at it this way: He's a large reason why every kid growing up in Canada dreams of being a professional hockey player, because hockey players can actually make good livings doing what they do. As such, in a way, he clearly is a favorite of all hockey players, who undeniably were all once fans.
Harvey was actually a pioneer in more ways than one and revolutionized defense by introducing an element of offense in his game.
So, in a way, without Harvey, there would be no Orr as we knew him and no Lidstrom, and everyone absolutely reveres those guys, so it stands to reason Harvey has more than earned his spot here.
Yes, there would also be no Marc-Andre Bergeron, but let's not blame too much on Harvey now.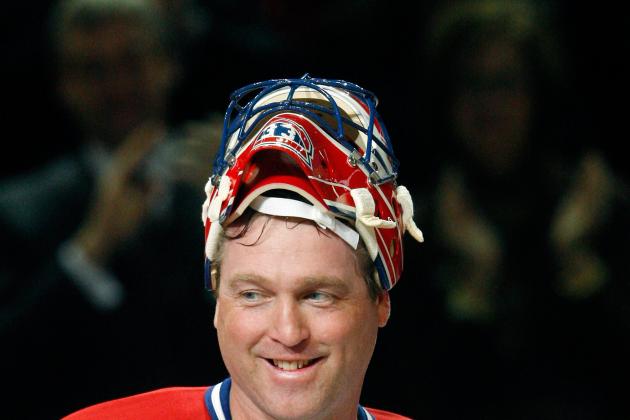 Richard Wolowicz/Getty Images
Patrick Roy of the Montreal Canadiens.
Temperamental? Check. A hot dog? The hot-doggiest. A whiner? To a certain extent, but you try being kept in for nine goals against the Detroit Red Wings and not demanding a trade (of course, try being an NHL goalie first…baby steps).
When it's all said and done, though, was he talented? Of course…and beloved without question.
Arguably the best goalie in Habs history, Patrick Roy received huge applause when he took to the ice for the Habs' 100th anniversary celebrations back in 2009. And if fans can forgive the circumstances surrounding his departure from the team in 1995, he really can never do any wrong in their eyes.
Roy served as inspiration for a whole generation of French-Canadian goalies including Martin Brodeur. So, if that's not enough for which to be grateful, what is?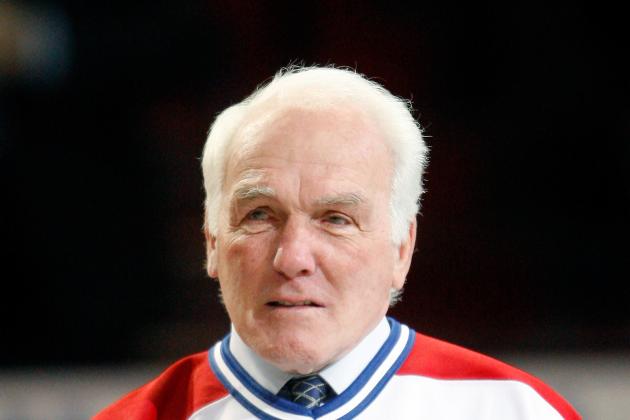 Richard Wolowicz/Getty Images
Henri Richard of the Montreal Canadiens.
The "Pocket Rocket" may forever live in the shadow of his bigger brother, Maurice, who was 15 years his senior, but Henri Richard nonetheless was able to make a name for himself, winning a record 11 Stanley Cups as a player, meaning he has more rings than fingers.
Of course, fans never grew up idolizing the man for the jewelry on his hands, but his hands in general, as he displayed sick skills with the puck.
Standing just 5'7", Canadiens fans today look to him as proof that a center need not be big to be successful. They then look to Scott Gomez as proof that a center need not be successful to make the NHL, but that's a story for another day.
Bottom line is fans, both then and now, can identify with Richard as an underdog, who might never have scored more than 30 goals in a season, but still found a way to contribute and succeed as a great all-around player (and still score over 1,000 points).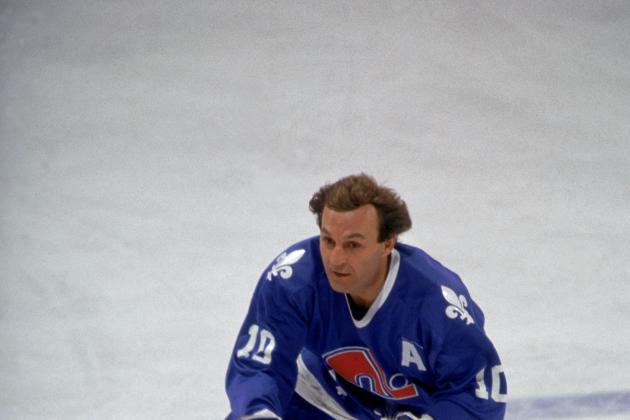 Rick Stewart/Getty Images
Guy Lafleur, when he played for the Quebec Nordiques.
Montreal fans were spoiled to say the least, with lineups boasting so many stars they probably wouldn't have noticed growing up in the 50s, 60s or 70s if the Earth had grown a second sun all of a sudden.
Arguably the last great superstar the team has had, Guy Lafleur was respected by fans all across the league, at least according to Hall-of-Fame writer Red Fisher who said (via the Hockey Hall of Fame):
"In all the years I've covered the Canadiens [over 50], I don't think any one of the teams had more rapport with or respect from fans in other cities. The respect and reaction of out-of-town fans was almost surprising as if they felt that Guy belonged not only to the Canadiens but in large part to them as well."
His popularity no doubt largely stemmed from his prolific nature, earning him the nickname the "Blond Demon" (le "demon blond") for his end-to-end rushes that left his hair flowing in the wind.
However, seeing as he was the most prolific Hab of all time with 1,246 points in 961 games, that also makes him one of the biggest fan favorites almost by definition.
When he retired for the first time at the start of the 1984-85 season (he returned in 1988 to play for the New York Rangers), it marked the end of a truly golden era for the Habs. As such, it's easy to look back at Lafleur's days with the team (although he is now an ambassador) nostalgically…and fondly.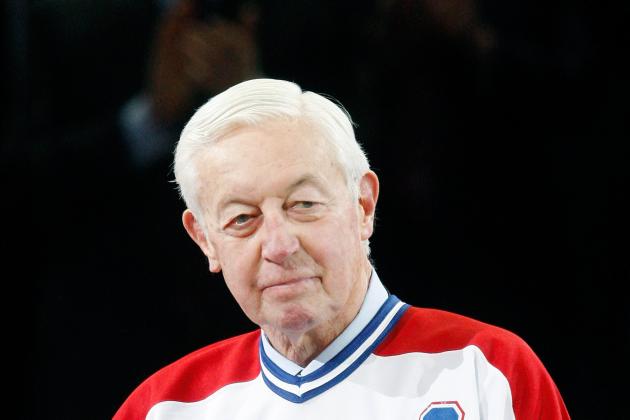 Richard Wolowicz/Getty Images
Jean Beliveau of the Montreal Canadiens.
Jean Beliveau remains the epitome of class, even over 30 years after he retired as player. More than that, he's become synonymous with the Canadiens.
Currently an ambassador of the Habs, Beliveau, or "Le Gros Bill" as he was nicknamed, played on 10 Stanley Cup teams, but has his name on a record 17 championships, having won seven as an executive.
Serving as a bridge between eras of sorts between those of Maurice Richard and Lafleur, Beliveau, arguably the best player of three, combined Richard's power (despite Richard being just 5'10" and 180 pounds) with Lafleur's innate skill. Indeed Beliveau was the complete package on the ice as well as off.
Contributing to many charities, Beliveau ironically never gave away anything on the ice and left it out there every single night. Considering his skill level, it was a lot to say the least and it showed.
You know you're incredibly beloved by fans when they risk arrest and all-out riot on your behalf.
That's exactly what the people of Montreal did when Richard was suspended in 1955 for the remainder of the regular season after being high-sticked by Bruins defenseman Hal Laycoe and then losing it to the point of breaking his stick over the latter, unsuccessfully being restrained by multiple linesmen and then punching one in the face. That right there is bat-dung crazy.
Richard in effect personified the feelings of oppression French Canadians felt toward the English-speaking establishment and the NHL, whose head office was in Montreal, and the incident lit a fuse so to speak.
Of course, when fellow French-Canadian, not to mention fellow Montreal Canadien, Bernie "Boom Boom" Geoffrion won the scoring race as a result of the suspension, he was booed by fans.
That? Nearly as crazy, but these weren't exactly rational times, admittedly kind of like now when Anglo Montrealers are getting egged in the street for not speaking French (via Global Montreal).
It all just goes to show how much of a fan favorite Richard was and how wronged they felt he was and they as a result. He was an extension of themselves, someone who had to fight and claw just to get a chance to succeed.
Richard will go down in history maybe not as the best Canadien of all time (arguably Beliveau), but as the first player to score 50 goals in 50 games, and that cannot ever be taken away from him. By the same token, even 12 years after his death, Richard can never be taken away from Montrealers.