SEC Football: 10 Stars Most Likely to Declare for 2013 Draft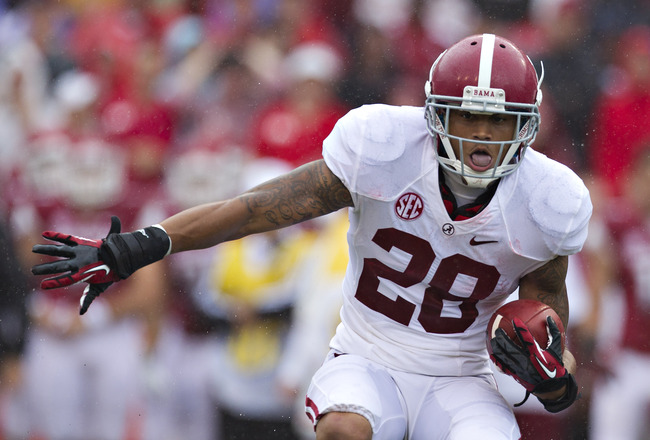 Wesley Hitt/Getty Images
Players leaving early for the NFL draft is a common theme in the SEC.
What else would you expect? The best teams in college football are sure to have the best athletes in America, and in this time period, age is just a number. Heck, just look at all the rookie quarterbacks making waves in the NFL right about now.
So really, a player like Sheldon Richardson declaring for the 2013 NFL draft as a junior should come as no surprise.
Richardson is the first of notable SEC juniors to declare, but who will soon follow?
Jarvis Jones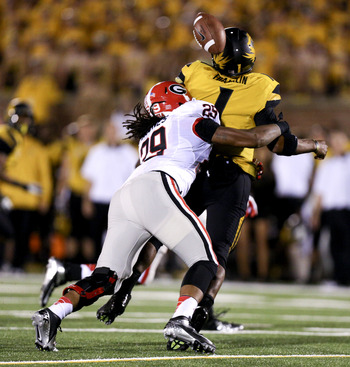 Ed Zurga/Getty Images
Sure to follow Richardson is a man that the Missouri defensive lineman knows all too well.
After Richardson made comments that Georgia played "old man football," Jarvis Jones corrected him by showing Missouri that the SEC plays "grown man football." With a sack fumble and interception late in the game, Jones sealed the victory for Georgia over the Tigers.
That's just a classic example of how good this football player really is. For those that already assume Manti Te'o is the best defensive player in college football, you might want to give Jones another look before doing so.
Jones doesn't have the interceptions that Te'o has, but his 22.5 tackles for loss and seven forced fumbles blow Te'o's out of the water. Jones is a game-changing defensive player, and he'll be a Top 10 pick undoubtedly.
C.J. Mosley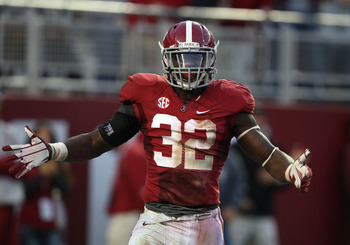 Mike Zarrilli/Getty Images
You have to love those defensive standouts at Alabama, don't you?
The NFL certainly does. Heck, in last year's draft, four Alabama defensive players were taken in the first 35 picks. Though it won't be anywhere near that this year, expect C.J. Mosley to be one of those players taken early on.
Mosley totaled 99 tackles, two interceptions, four sacks and forced a fumble for the Crimson Tide this year, but it's his knowledge that will give him an edge over most defenders in the 2013 class.
After serving three years in Saban's system, Mosley will have no problems impressing scouts with his football IQ.
Luke Joeckel
Scott Halleran/Getty Images
Luke Joeckel surpassed expectations in 2012.
That's hard to do when fans are expecting you to be one of the best tackles in the nation, right? Add in the fact that Joeckel would now be facing the best defensive lines in the country, and that's a pretty steep challenge to overcome.
No worries for Joeckel. He was everything and more that he was supposed to as an offensive tackle in the SEC, and for that, he'll most likely be a top 10 pick (if not top five) in the upcoming NFL draft.
At 6'6", 310 pounds, Joeckel did more than hold his own. His pass protection and run blocking was so impressive that it earned him a spot on the First Team AP All-American Team.
Barkevious Mingo
Stacy Revere/Getty Images
The footage of Barkevious Mingo in 2012 isn't exactly eye-popping.
However, his raw natural abilities and God-given athleticism will have defenses salivating over him.
Here's a defensive end that's 6'5", 240 pounds, but has the speed to chase down players in the backfield. Seriously, have you seen this guy's 40-yard dash?
According to NFL Draft Scout, Mingo has a low of 4.46. That's insane for a defensive lineman, and with that athletic ability, he should be a top pick. NFL defensive coordinators love players who are flexible in their systems, and Mingo should be able to play defensive end or linebacker.
Sam Montgomery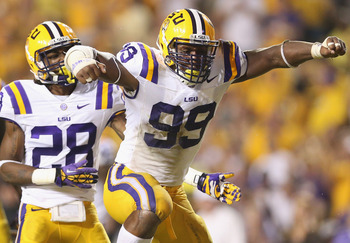 Ronald Martinez/Getty Images
While Mingo might have more potential down the road, Montgomery is already a proven prime-time performer.
As a junior at LSU, Montgomery has totaled 12 tackles for loss, seven sacks and one forced fumble. He's an outstanding pass-rusher that has the ability to stop the run as well.
Montgomery is not only a phenomenal athlete with the ability to alter the game from the defensive end position, but he's a leader in every sense of the word.
He's constantly trying to fire up his teammates and he's a true professional. Any organization would be lucky to have this bonafide star.
Damontre Moore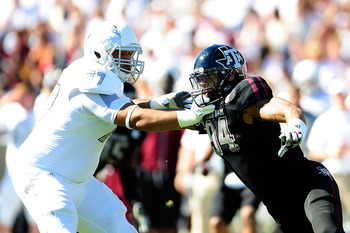 Stacy Revere/Getty Images
Hardly anyone saw Damontre Moore's breakout season coming.
In fact, an argument could be made that Moore's defensive performance in 2012 was just as big of a surprise as freshman teammate Johnny "Heisman" Manziel. OK, maybe not that big of surprise, but still.
Although Moore gathered 8.5 sacks in the Big 12 in 2011, many assumed he would not be as successful in the SEC. Well, Moore proved the doubters all wrong.
After totaling 12.5 sacks, 20 tackles for loss and 80 total tackles, Moore showed that he was one of the best defensive linemen in college football. Now, it's time to see if he can continue to raise his level of play against stiffer competition.
Kevin Minter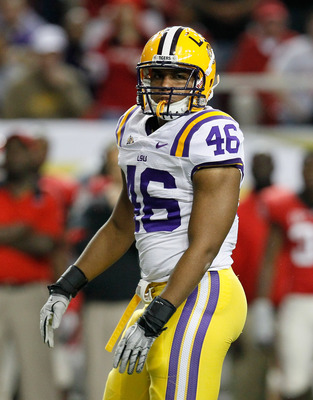 Kevin C. Cox/Getty Images
Kevin Minter was a tackling machine for LSU this year.
Montgomery and Mingo received all the preseason hype, but Minter outperformed both defenders this season for the Tigers.
Minter finished the season with 111 tackles, three sacks, one forced fumble and an interception. But really, it was one performance in 2012 that showed Minter's true potential.
Against Florida, this high-caliber linebacker made 20 tackles, two sacks and forced a fumble in the loss. Minter's talents should generate first-round talk, which will make it difficult for the junior linebacker to pass up the draft.
Dee Milliner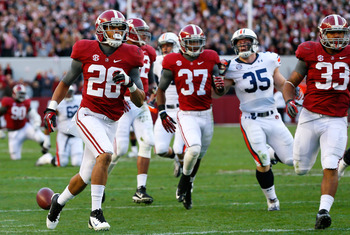 Kevin C. Cox/Getty Images
Dee Milliner is a shutdown cornerback.
Though Nick Saban will argue that those type of players do not exist, an argument can surely be made that Milliner is pretty darn close.
Quarterbacks reluctantly go after Milliner because one of two things normally happen—a pass deflection or a turnover.
Therefore receivers are normally left on an island when Milliner is covering, and with the NFL turning into a pass-happy league, lockdown cornerbacks are treasured.
Alec Ogletree
Scott Cunningham/Getty Images
Alec Ogletree is NFL-ready.
Despite missing the first four games of the season, Ogletree totaled 98 tackles, one interceptions, 8.5 tackles for loss and broke up five passes.
This guy is the full package. If NFL teams are looking for a linebacker that can play physical and stop the run, Ogletree is their guy. If they're looking for a player that can cover backs out of the backfield, well, Ogletree may be their guy too.
With a player as athletically gifted as Ogeltree, he'll receive an unlimited amount of interest from NFL teams. Ogletree is sure to make a lot of money in 2013.
Cordarelle Patterson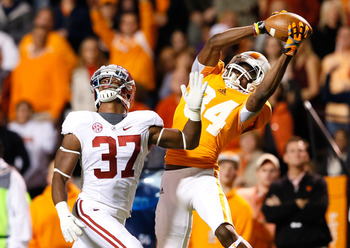 Kevin C. Cox/Getty Images
Cordarelle Patterson could really benefit from staying an extra year at Tennessee, but who could blame him for wanting to leave that circus?
Look, Tennessee is in a bind right now. The Vols were squashed by Vanderbilt 41-18, 5-7 on the season and are now bringing in a new coach.
Why should Patterson stay and risk getting injured when he could be a first or second-round pick now?
Despite Tennessee's struggles in 2012, Patterson was a bright spot for this team. Patterson gained 778 yards receiving and five touchdowns as a junior. He's a true deep threat, and that's sure to attract many NFL teams.
Keep Reading