UFC on FX 6: Hector Lombard Calls Out Michael Bisping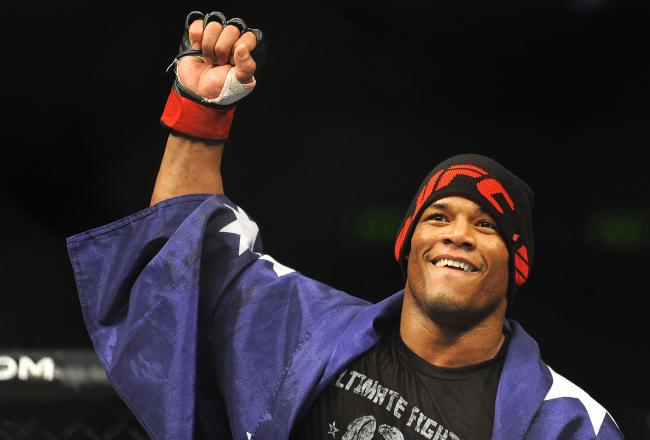 Matt Roberts/Getty Images
It took Hector Lombard less than four minutes to vanquish Rousimar Palhares in a first-round TKO at UFC on FX 6 on Friday night, thus redeeming his lacklustre UFC debut in July.
The former Bellator middleweight champion's first and only request after the fight was to call out Michael Bisping.
In a post-fight interview, when asked whom he'd like to face next, Lombard replied:
Bisping, please. Where is he? I want a piece of him. I don't want to talk, let's just sort it in the cage. Me and him.
That request hasn't come out of nowhere either. Tension has been building between the loud-mouthed Brit and the Cuban-Australian middleweight ever since Lombard signed with the UFC.
That tension surrounds Bisping'a anxiety over being skipped over for a title shot.
The British middleweight has been fighting in the UFC for more than six-and-a-half years and has never been offered a chance to fight for the belt. Lombard, on the other hand, after going undefeated in 25 fights, was brought into the promotion with many expecting him to be fast-tracked to face current 185-pound champion, Anderson Silva.
Unsurprisingly, this did not sit well with Bisping.
Back in July he told the MMA Hour (H/T MMA Mania) that he would be "massively p***** off" if Lombard got to face Silva instead of him.
"I will be honest, I have never seen the guy fight once because I've never seen Bellator, I don't watch it, I have no interest," he said of the former Bellator champ. "By all accounts he's an aggressive fighter and he knocks people out, but I have never seen him fight. He could be the best thing since sliced bread, I don't' know. But what I do know is that he has never fought in the UFC, so why the f*** is he getting a title shot?"
His verbal assault on Lombard didn't end there. During a pre-UFC 149 Q&A, Bisping recounted the time when he met Lombard in an elevator (H/T MMA Fighting).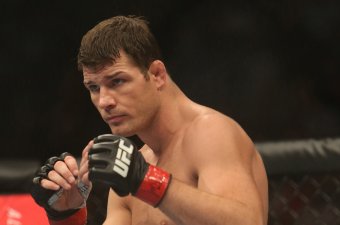 Tom Szczerbowski-USA TODAY Sports
"I thought somebody was playing a practical joke," said Bisping of his meeting. "I was like, who is this little poison dwarf? He's about this big. I mean come on, seriously? Seriously? This is the guy with all the hype? I think he's in the wrong weight class. There's a 125 weight class I think he should be in that. He obviously didn't get enough sleep as a kid or his mum was smoking because he's growth has been majorly stunted."
For the most part Lombard has kept quiet, but more recently has become more vocal in his disdain for Bisping. In an interview with MMA Junkie before his fight against Palhares he called Bisping a "douchebag." He also recounted his own version of the meeting with Bisping in an elevator, telling MMA Junkie:
"I actually saw him at the elevator, and Michael Bisping has got the smallest hands I've ever seen in my life. He says I'm a midget. OK. Fair enough. But I squeeze his hand – I didn't want to shake his hand, but I said, I don't want to leave you like that because I have a little bit of education – and he was about to cry, so I let it go."
Lombard's emphatic victory against Palhares sets his career back on track to be considered a serious contender at 185 pounds and well worthy of a match against Bisping, who himself is coming off a significant win against Brian Stann.
And Lombard is itching to get back in the cage and take on "The Count".
"He bothers me," said Lombard of Bisping. "I hope the UFC give me the opportunity. But I want to fight him maybe in the next couple of months. I'm healthy, I don't have any injuries so I'm ready."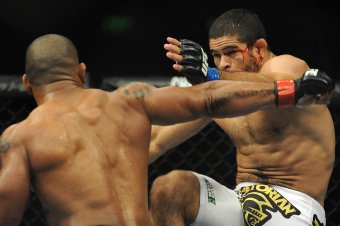 Matt Roberts/Getty Images
There's only one problem. Bisping is due to fight Vitor Belfort at UFC on FX 7 in Brazil. And with the little regard that Bisping has shown Lombard, there's no indication the Brit would consider Lombard a worthy opponent, even after the Palhares win.
But Lombard has already said that he'd be willing to step in against Bisping in January, a little over four weeks away, should Belfort get injured.
He told MMA Junkie that he would gladly "jump in" to replace Belfort if he had to.
"I would love to fight Michael Bisping – he's said a lot of things about me lately and I want to settle it in the Octagon," said Lombard.
Whatever Bisping thinks of Lombard, this would be a great matchup. Lombard has fully made up for his poor performance against Tim Boetsch in July and looks every bit a serious threat at 185 pounds.
What's more, the personal animosity brewing between him and Bisping would make an encounter between the two far more satisfying than a match between Bisping and Belfort.
Of course the ink is now dry on the Bisping/Belfort contract and the match is just around the corner, so Lombard is unlikely to get his wish any time soon. But as we know, anything can happen in the sport of MMA.
This article is
What is the duplicate article?
Why is this article offensive?
Where is this article plagiarized from?
Why is this article poorly edited?