Steelers vs. Cowboys: Final Report Cards, Player Grades for Dallas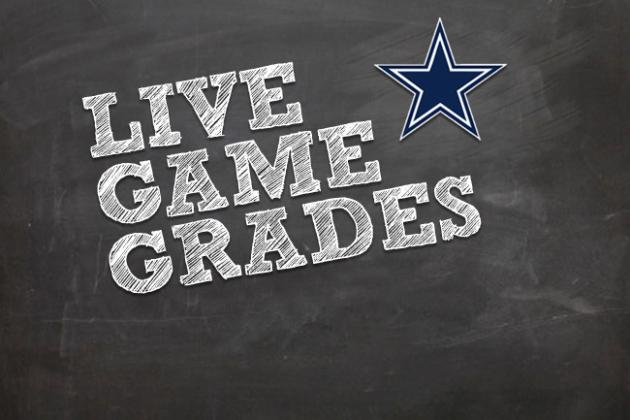 Final/OT: Steelers 24 - Cowboys 27
The Dallas Cowboys jumped right back into the middle of the playoff race. This week they won their second overtime game of the season, defeating the Pittsburgh Steelers at home.
The Cowboys and Steelers fought hard and Brandon Carr intercepted Ben Roethlisberger in overtime setting up the game winning field goal. The Cowboys improved to 8-6 on the season and dropped the Steelers to 7-7.
Dallas now leads the regular-season series against Pittsburgh 15-13. Jump in and take a closer look at the final player grades and analysis for the Dallas Cowboys.
Begin Slideshow

»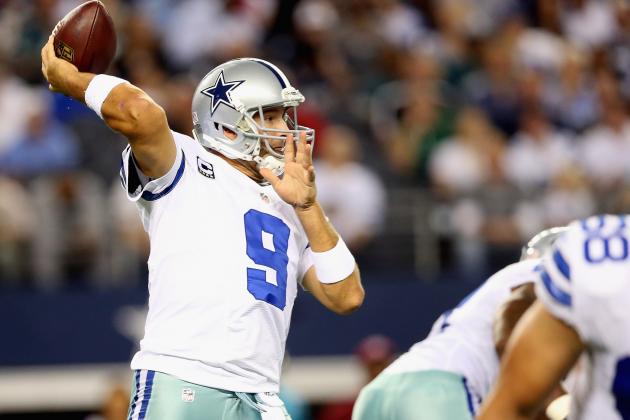 Ronald Martinez/Getty Images

Tony Romo: A+
One day Jason Garrett will realize that Tony Romo is, in fact, his best offensive weapon. Romo has been nearly perfect on the day and had impressive 111.3 passer rating performance against the Steelers
At one point in the third quarter, Romo completed 11 consecutive passes. Romo finished the game going 30-of-42 passing for 341 yards and two touchdowns with zero interceptions.
He is making great decisions with the ball and has made protecting the football a priority.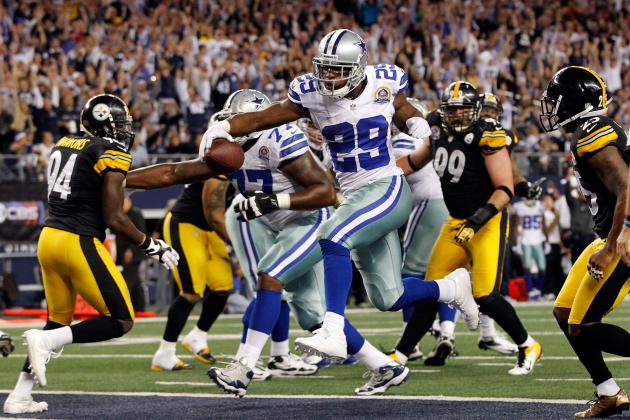 Tom Pennington/Getty Images

DeMarco Murray: B+
The Cowboys offense has come to life since Demarco Murray returned back to the starting lineup. Murray averaged 5.8 yards per carry as he gained 82 yards on 14 rush attempts.
Murray also scored a touchdown on a critical third down run. However, he did fumble in the first half when the Cowboys were in the red zone so he has to make sure he holds on to the ball in the future.
Felix Jones: C+
Felix Jones has seen his role diminish with the return of Murray. Jones only saw three carries and he gained 10 yards. Jones' future with the Cowboys is a little blurry right now.
Lawrence Vickers: B
Lawrence Vickers has really picked up his game recently. He has been huge blocking for Murray and this week he added a nice catch for a 15 yard gain.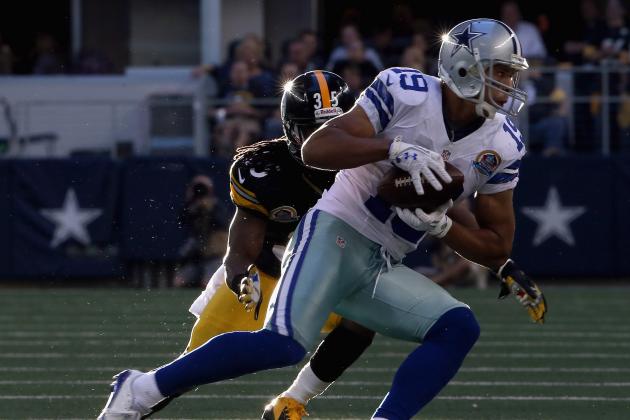 Ronald Martinez/Getty Images

Dez Bryant: B+
Let me start by saying that I give Dez Bryant an A for playing with a broken finger. It shows just how much Bryant has grown in putting the team first.
Bryant was extremely quiet in the first half and there were a few passes that he did not catch that we can attribute to the injury. However his touchdown catch was fantastic. He finished with 4 catches for 59 yards and one TD.
Miles Austin: A
Welcome back Miles Austin! Austin had been pretty quiet lately and this week quarterback Tony Romo's preferred target. Austin was targeted 10 times and he caught seven passes for 79 yards.
With the injury to Bryant, the Cowboys are going to need Austin to become a consistent threat in the passing game.
Dwayne Harris: A
It might be time for the Cowboys to stick with Dwayne Harris as their third receiver. He certainly has earned that right. Harris caught all four passes thrown his way and finished with 46 yards. He took two screen passes and made huge plays out of them.
Kevin Ogletree: D+
I have said it before and I will say it again, time to move Ogletree down a notch and replace him with Harris. Ogletree is just not creating any separation and has lost his position as the third option.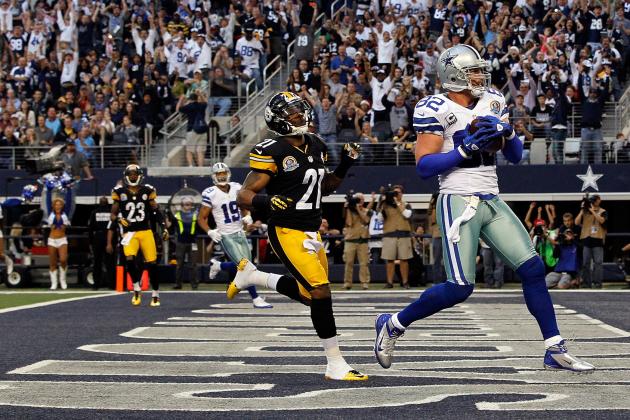 Tom Pennington/Getty Images

Jason Witten: A
It had been 10 games since Jason Witten has found the end zone. Witten only managed five catches for 43 yards, but one catch was a big one.
He scored the Cowboys first touchdown of the game on a 17-yard touchdown catch. Witten ran a great route and was wide open on the play.
Witten has also become a great run blocker in the run game.
James Hanna: B+
Another great blocking tight end has been James Hanna. Hanna also ran some good routes and caught both passes thrown his way. He gained 45 yards on those two catches.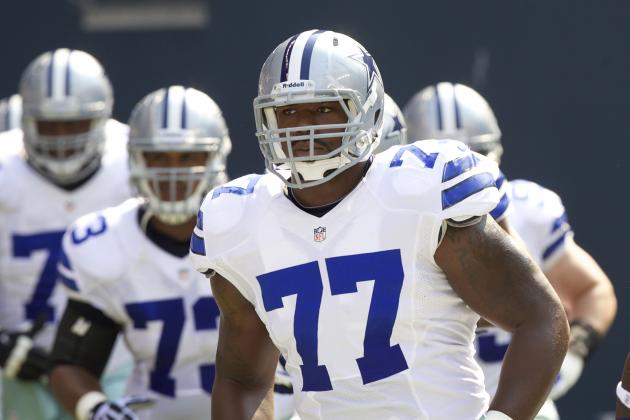 Stephen Brashear/Getty Images

Tyron Smith: B-
Tyron Smith did a good job in protection. However he did have another performance where he tried to do his best Larry Allen impersonation. He was penalized for two false start penalties Fortunately for the Cowboys, only one of those penalties stalled a drive.
Doug Free: B+
I have been brutally hard on Doug Free, but Free had a great game against the Steelers. He neutralized the Steelers' Ziggy Hood most of the game and there was hardly any pressure from Free's side of the line.
Better yet, you won't see Free's name in the play-by-play as he did not commit a single penalty. This is the best I have seen Free play all year.
Ryan Cook: B-
Ryan Cook did a good job at center and is getting better. Seeing as Cook was not even with the team until five days before the season started, he has done an excellent job learning the system and fitting in. He did have one bad offensive holding penalty but was solid throughout most of the game.
Nate Livings: A-
One week after suffering a concussion in the Cowboys 20-19 victory over the Cincinnati Bengals, Nate Livings played in the game and had a solid performance. He was solid next to Tryon Smith. He was called for Illegal Use of Hands, but that was a highly questionable call.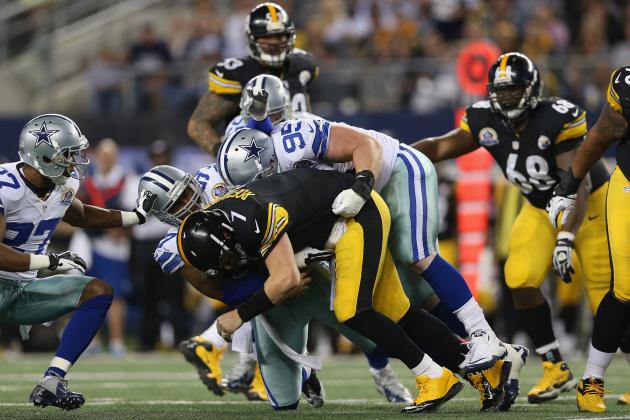 Ronald Martinez/Getty Images

Jason Hatcher: B+
Jason Hatcher may not have had a huge stat line, but he certainly had a ton of pressure on the quarterback. Hatcher finished with three tackles and one quarterback hit.
Marcus Spears: B+
Although Marcus Spears was only credited with a single solo tackle, he did have a huge sack on Ben Roethlisberger. Spears is primarily a run stopper, but with all the times defensive coordinator Rob Ryan went with a three man rush, Spears sure provided some pressure on the QB.
Spears did have a tackle for a loss and one quarterback hit.
Sean Lissemore: A
Sean Lissemore will continue to see plenty of playing time due to the injury to Jay Ratliff and the situation with Josh Brent and Lissemore is making the most of his opportunity. He only had three tackles in the game but he had one huge sack late in the game, which kept the Steelers out of field goal range and forced them to punt.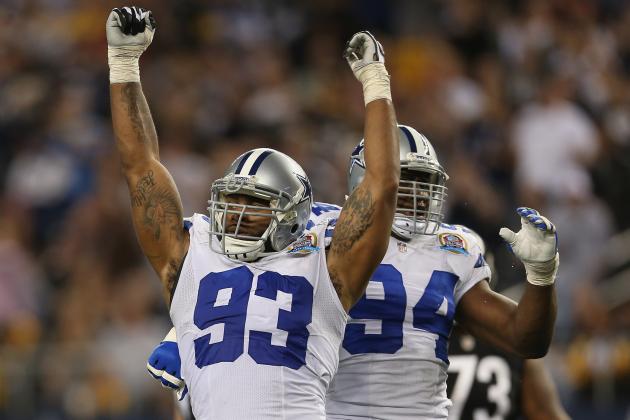 Ronald Martinez/Getty Images

DeMarcus Ware: C+
I have a strange feeling that DeMarcus Ware is not 100 percent healthy. He has not looked like himself on lately, but when there are already six regular starters missing from the defense, you have to think Ware is playing through some kind of pain.
Ware only managed two tackles and a half a sack. He was also credited with two quarterback hits.
Ernie Sims: Incomplete
Ernie Sims started the game in place of the injured Bruce Carter and he himself was injured. Sims was forced out of the game against the Steelers in the first quarter with a concussion.
Alex Albright: A-
Alex Albright was a bright spot for the Cowboys defense. Albright came in to replace the injured Sims and had a solid performance. Albright finished the game with six solo tackles and looked good as a replacement.
One play showed Albright's potential. Early in the second quarter with the Steelers facing a 3 rd-and-4 from their own 13-yard line, Albright stopped Chris Rainey short of the first down forcing a punt.
Anthony Spencer: A-
Anthony Spencer has stepped up to become a leader on the defense. He continues to be impressive opposite DeMarcus Ware and had another solid game.
Spencer was an integral part in stopping the Steelers late in the game. He finished with one and half sacks and had two quarterback hits.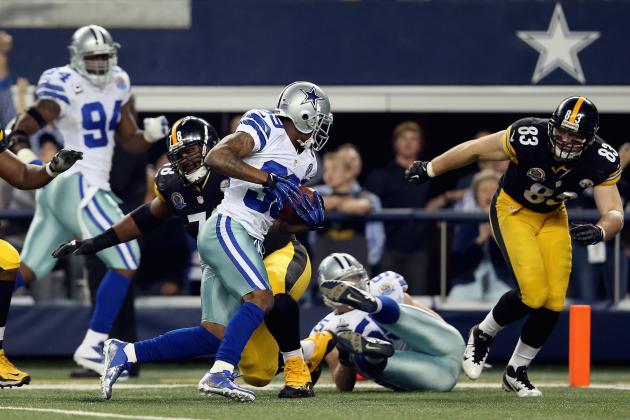 Ronald Martinez/Getty Images

Brandon Carr: A
If only Rob Ryan would allow Brandon Carr to play more man-to-man press coverage. Carr excels in that type of bump-and-run coverage and has struggled from time to time in the zone.
Carr's interception in overtime setup the Cowboys for the win. Carr finished the game with four solo tackles and was credited with three passes defensed.
Mike Jenkins: B+
Mike Jenkins was starting in place of injured rookie Morris Claiborne. Jenkins was solid in coverage and the touchdown he gave up would have been difficult for most cornerbacks to defend.
Jenkins finished with four tackles, including three solo tackles and one pass defensed.
Gerald Sensabaugh: B-
Gerald Sensabaugh struggled in coverage and was out of position on Mike Wallace's 60-yard catch. Sensabaugh did turn it up in the fourth quarter and finished the game with five tackles.
Danny McCray: C-
One thing is certain, you can tell that Danny McCray is not a regular full-time starting safety. McCray has had problems in coverage lately and he continually got beat by Heath Miller. McCray did lead the team in tackles with seven, but most of those occurred after he gave up big catches.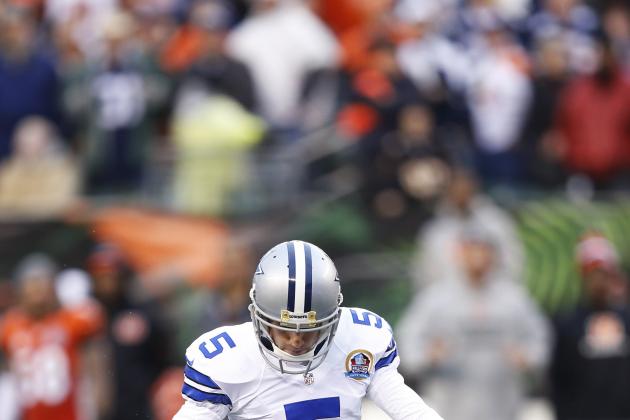 Joe Robbins/Getty Images

Dan Bailey: A-
I am going to start calling him "50-dollar Bailey". Kicker Dan Bailey remains perfects on field goal attempts of 50 yards or less. This week he was successful on kicks of 50 and 21 yards.
Bailey remains a perfect 25-of-25 on field goal attempts of 50 yards or less.
Brian Moorman: B-
Brian Moorman got a back on track this week. Moorman averaged 48 yards per punt on six punts. He also had a punt of 60 yards.
Dwayne Harris: A
Dwayne Harris continues to show his explosiveness in the return game. Harris returned on kick for 25 yards and also had an electrifying 39-yard punt return late in the game.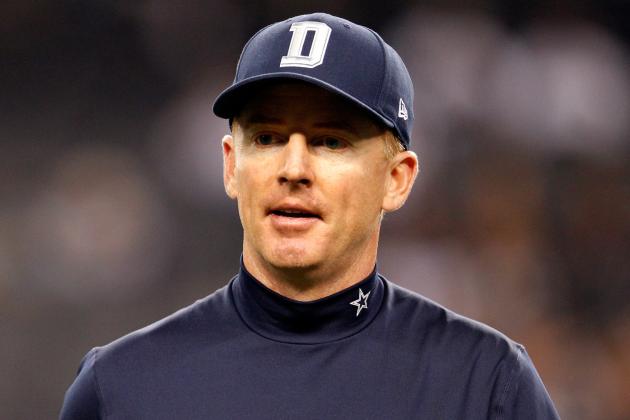 Tom Pennington/Getty Images

Jason Garrett: B+
Jason Garrett is an enigma, wrapped in a mystery and tucked inside Pandora's box! You just never know what he is going to give you.
At times his offense looks amazing, and other times his offense looks anemic. Late in regulation, it looked like he was going to attempt a 61-yard field goal, fortunately for Garrett he changed his mind and made the proper decision to punt the ball. His team forced overtime, and won the game. In overtime, he promptly decided to kick the game-winning field goal after Brandon Carr's interception.
However there were a couple of times when Garrett got a little cute with his offense and it cost him several first downs. I must admit that based on all the injuries and recent player tragedy Jason Garrett has to be proud of how tough and focused his team has been the past two weeks.