Houston Rockets' Grades in Win over Boston Celtics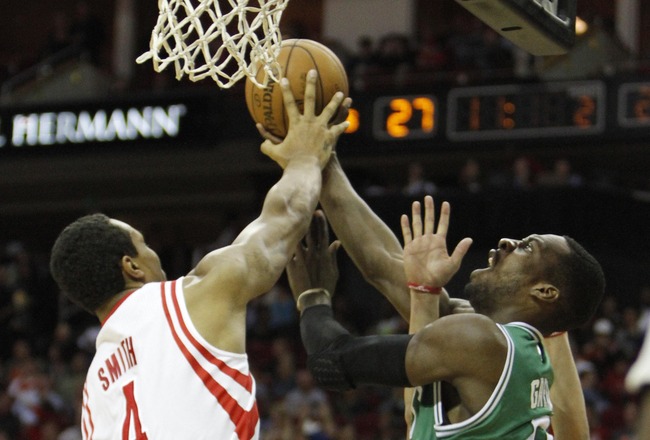 USA TODAY Sports
It was another coming out party for Houston Rockets center Greg Smith. This time, a national audience watched Smith lead Houston to an impressive win over the Boston Celtics Friday night on ESPN.
Smith and several other Rockets earned high grades as Houston put the clamps on Boston 101-89 at Toyota Center.
Houston evened their record at 11-11, and here you'll find out which players were most responsible for the victory. And which ones weren't.
Chandler Parsons, Small Forward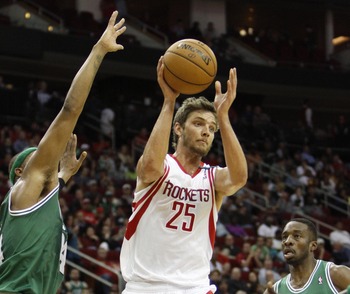 USA TODAY Sports
Overall Grade: A
Chandler Parsons must have left Doc Rivers wondering why Boston failed to draft the former Florida Gator in 2011.
Parsons showed off his ever-growing offensive repertoire and almost registered his first NBA triple-double. Houston's second-round steal last season finished with 15 points, nine rebounds and a career-high eight assists.
Chandler's plus-23 led both teams in the plus/minus column. This was hardly a coincidence considering Parsons' efficiency on both ends of the court; he shot 5-of-7 from the field and recorded two steals.
Greg Smith, Center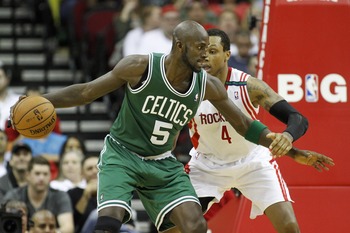 USA TODAY Sports
Overall Grade: A
Greg Smith is leaving every team in the NBA wondering why he went undrafted in 2011. The Rockets' backup center looked more than "Country Ox Strong" against the Celtics.
Smith got loose for seven layups while shooting 8-of-9 from the field. He scored a game-high 20 points in 22 minutes off the pine, proving his stellar game against the Lakers last week was no fluke.
Smith is now firmly entrenched as Omer Asik's backup in the pivot. The former Fresno State Bulldog grabbed six rebounds and blocked three shots against Boston. Smith looked unfazed by Celtics legend Kevin Garnett and helped limit him to 14 points and five rebounds.
James Harden, Shooting Guard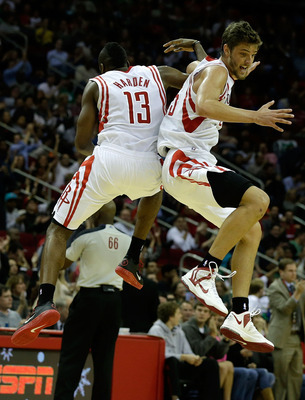 Scott Halleran/Getty Images
Overall Grade: B
James Harden shot only 6-of-17 from the field, but that hardly tells the story.
Despite being hounded by Rajon Rondo and the rest of Boston's defense, Harden finished with 21 points, five assists and only one turnover.
The Rockets trailed 45-43 at halftime, but Harden keyed a pivotal run in the third quarter with 10 points and four assists. Houston outscored Boston 32-25 in the third stanza.
Harden also nailed a shot from downtown with just under five minutes left to help the Rockets coast to a 12-point victory.
Throughout the game, Harden was instrumental in setting up Smith's 20-point performance. The Beard was also feared on the defensive end with three steals.
Omer Asik, Center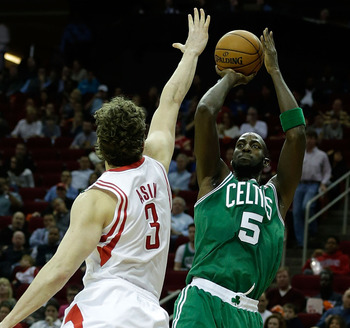 Scott Halleran/Getty Images
Overall Grade: B
Despite the emergence of Greg Smith, Omer Asik's job as starting center is in no jeopardy.
Asik garnered nine points, two blocks and a game-high 10 rebounds in 26 minutes. The big man from Turkey was the main reason Houston out-rebounded Boston, 45-41.
The Rockets suddenly own a two-headed monster in the middle. Asik must improve his free-throw shooting to avoid getting benched at the end of tight games. That potential controversy didn't arise Friday night as the Rockets won easily, 101-89.
Point Guards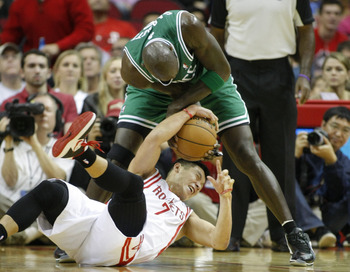 USA TODAY Sports
Overall Grade: B-
Jeremy Lin and Toney Douglas helped force Rajon Rondo into seven turnovers. The Celtics point guard still managed 15 points and 13 assists, but that's what Rondo does.
Offensively, Lin scored only five points on 2-of-7 shooting; however, he dished out seven assists in 27 minutes.
Douglas continued to ride a hot hand from the three-point line, canning 2-of-3 trifectas. The Rockets' backup point guard scored 11 points in 24 minutes but put up a goose-egg in the assists department.
Rest of the Rockets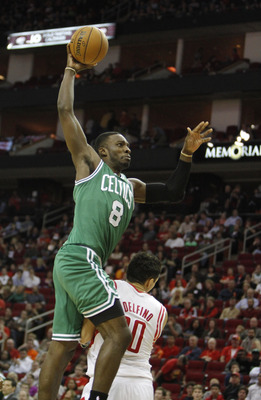 USA TODAY Sports
Overall Grade: D
Patrick Patterson and Carlos Delfino both had hum-drum games. As for Marcus Morris, he was even worse.
Patterson, the Rockets' starting "power" forward, grabbed only three rebounds in 25 minutes. That is especially disappointing against a porous rebounding team like Boston. "2Pat" scored nine points on 4-of-8 shooting.
Morris nabbed seven rebounds in 16 minutes, but scored only two points on 1-of-7 shooting. His minus-12 plus/minus was by far the worst of any Rocket.
Delfino was 3-of-5 from downtown, scoring nine points in 22 minutes; however, he committed a team-high five turnovers and got posterized by the Celtics' Jeff Green on an emphatic dunk.
Keep Reading

Houston Rockets: Like this team?