Report Card Grades for Brook Lopez's Return from Injury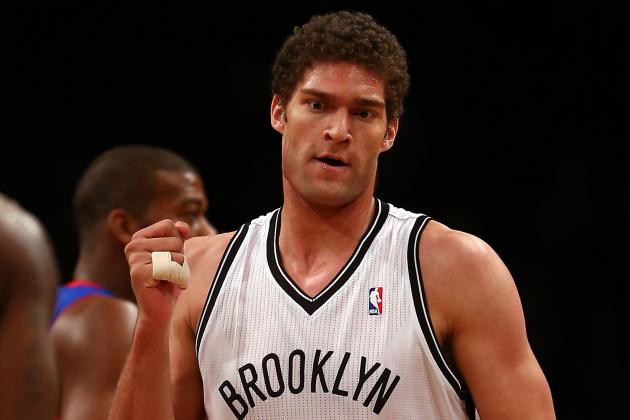 Elsa/Getty Images

The Brooklyn Nets found two things on Friday night that they'd been missing of late: Brook Lopez and home victories.
Lopez played for the first time since spraining his right foot against the Boston Celtics on November 28.
Brooklyn's big man missed seven games, five of those being Brooklyn losses. And four of those defeats came inside their luxurious new digs, the Barclays Center.
The Detroit Pistons (7-18) gave the Nets (13-9) everything they had, forcing the game into double overtime. But Joe Johnson's buzzer-beater lifted the Nets to a 107-105 win.
Lopez played just 10 seconds shy of the 24-minute mark that coach Avery Johnson laid out before the game.
He won't jump out of the box score, but he made an immediate and consistent impact on his team.
Begin Slideshow

»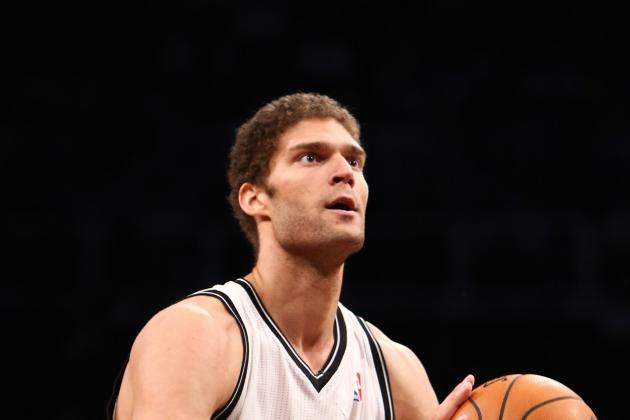 Debby Wong-USA TODAY Sports

Lopez unleashed his complete arsenal on the Pistons defenders.
Unfortunately, he did so with some expected rust.
His first shot attempt, a hook shot, clanged off the side of the backboard. His next effort was closer, but his bank shot rattled out.
He found his way on to the scoreboard with a point-blank layup off of a nice pass by Gerald Wallace.
But his best move of the night came on his next bucket.
With Greg Monroe on his back, Lopez rolled to his left side. He muscled his way through contact and connected on the jumper.
He added a dunk and a floater later in the game.
But he never looked comfortable with his hook shot. It requires an incredible amount of touch to convert, and Lopez just didn't have it.
His grade dips a bit here because he went to the hook so often (four times by my count) without seeing results.
But his offensive versatility keeps it from bottoming out.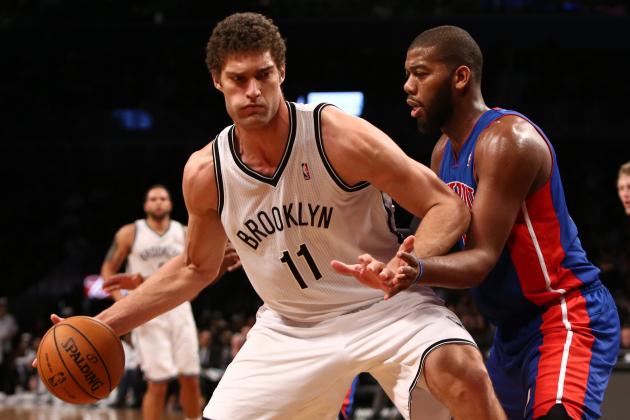 USA TODAY Sports

They might not be the Bad Bay Pistons anymore, but this Detroit frontcourt is intimidating.
Between Greg Monroe and Andre Drummond, Pistons coach Lawrence Frank kept his bigs hounding Lopez.
But Lopez looked sharp in his processes, even if the results weren't there.
He battled for good position on the block. When he found his touches, he showed the same kind of footwork as before the injury. He spun well to either shoulder and his moves created separation.
Avery Johnson eased him in to the game plan a bit, but it didn't take long for the offense to make its way through him.
His presence on the block opened up driving lanes for Joe Johnson and Gerald Wallace. Detroit defenders had to stay home on Lopez, creating space on the weak side.
Defensively, he forced Monroe away from the basket and didn't relinquish position to Drummond. The duo shot a combined 11-of-23 for the game.
Bruce Bennett/Getty Images

It's always been the area that has kept Lopez from being considered elite.
He's averaged just 7.5 rebounds in 33.8 minutes for his career, and he's averaged fewer than seven in each season since 2009-10.
This game was no different.
In his 23-plus minutes, he pulled down just four rebounds.
He did keep a couple balls alive by tipping them to the perimeter, but not enough to consider him a real factor on the glass.
Two things really hindered his ability to grab rebounds.
For starters, Detroit wings were finding some success attacking the basket. As the team's best shot-blocker, Lopez rotated to challenge those looks, but he gave up valuable rebounding position in the process.
What keeps his grade so low, though, were the poor decisions that he made.
He often rotated too early, leaving his man at the basket trying to challenge plays that he couldn't even get to. He also gave up his position too early, assuming some plays were over that weren't.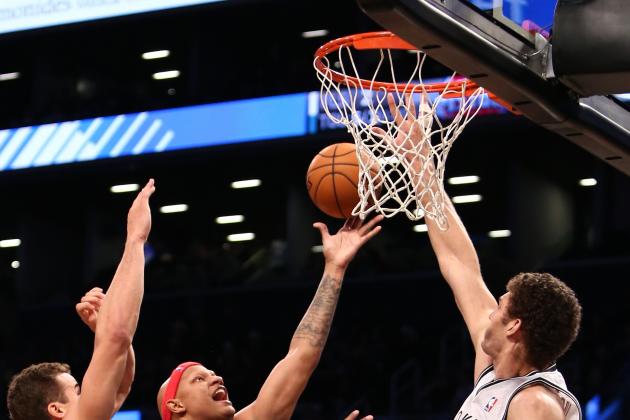 USA TODAY Sports

Lopez traversed so much ground in this game, you had to double-check the box score just to make sure he played fewer than 24 minutes.
There were no obvious lingering effects from the injury.
He showed well on defense away from the basket, denying drives and staying in front of ball-handlers. Some of those rotations came prematurely, but that was a better alternative than seeing a laboring Lopez struggling to keep up.
Near the basket, he continued to show off his shot-blocking prowess. He finished the game with three blocks, including an impressive effort coming across the basket and erasing a Brandon Knight floater high off the glass.
He showed the same effort to establish position in the fourth quarter as he did in the game's opening minutes. His motor was never in question and that 24-minute cap was less than six minutes fewer than his season average (29.7).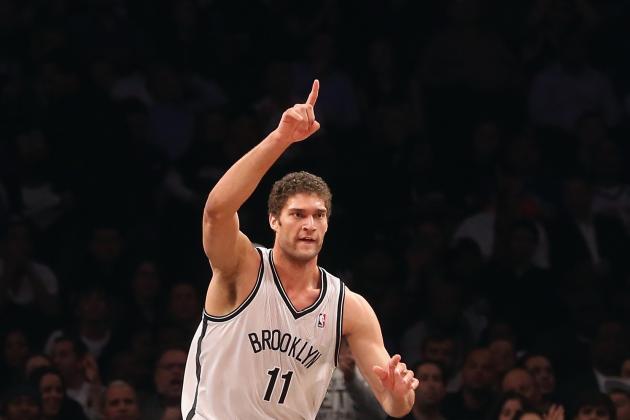 Bruce Bennett/Getty Images

He's going to need a little time to readjust to the speed and intensity of the NBA, but his showing was encouraging for Nets fans. If Lopez had a tad more touch on his shot, he would have played himself right back in to his typical production (18.5 points and 6.8 rebounds per game entering the contest).
Detroit gave the Nets fans an unexpected scare, but they also proved a good test for Brooklyn's big man. They were quick and physical, but Lopez held his ground.
He found ways to be a factor even when his shots weren't falling.
His presence on the floor opened up space on offense and deterred penetration on defense.
Most importantly, his performance came in a winning effort.
If the seven games that he missed proved anything, it was just how important Lopez is to making this Nets team a contender.
He's not their most talented player and may not even be in their top three, but there might not be a more valuable player on this roster.