Philadelphia Eagles: Can Bryce Brown Be Fixed?
Use your ← → (arrow) keys to browse more stories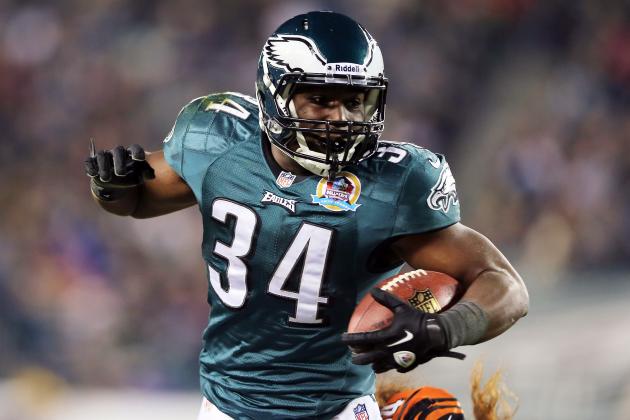 Elsa/Getty Images

Through his first two NFL starts, Bryce Brown looked to be the real deal. He displayed impressive power and speed, while showing an ability to carry the offense. Brown racked up a total of 347 rushing yards and ran for two touchdowns in each outing.
However, Brown did fumble the football three times, losing all of them. Since then, he's carried the football 28 times and gained just 40 yards. That's an average of 1.4 yards per carry.
He's fumbled the ball once since then, losing it against the Cincinnati Bengals.
He's shown a scary level of regression, bouncing to the outside to avoid would-be blockers. Brown seems to almost anticipate the hits coming before he takes the contact.
Look at his fumble on Thursday night against the Bengals.
The Eagles were down 17-13 against the Bengals, trying to get back on track following Nick Foles' interception to Leon Hall. Brown lined up as the lone back in the backfield.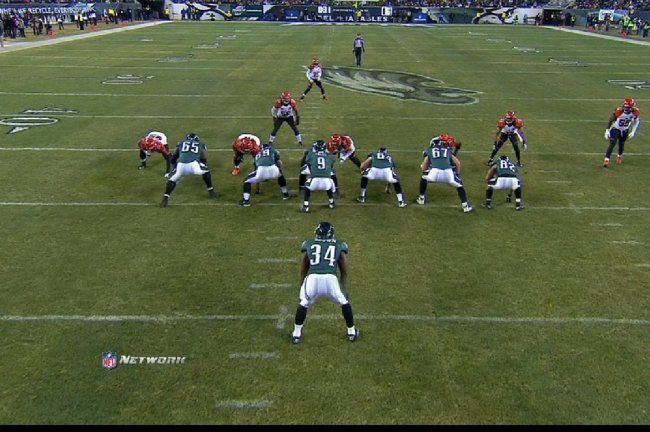 Upon taking the snap, Bengals defensive tackle Pat Sims had already beat Eagles' left guard Evan Mathis. In fact, Mathis later took full responsibility for the play.
Just talked to Evan Mathis. He took full responsibility for Brown fumble. He missed block on Sims. Still Mathis did a job on Atkins all game
— Jeff

McLane

(@Jeff_McLane) December 14, 2012
It was a rough situation for Brown.
Literally, as he was getting the ball from Foles, the Bengals' 340-pound defensive tackle was bearing down on him. The official stat sheet credited the fumble to Foles, but take a look here.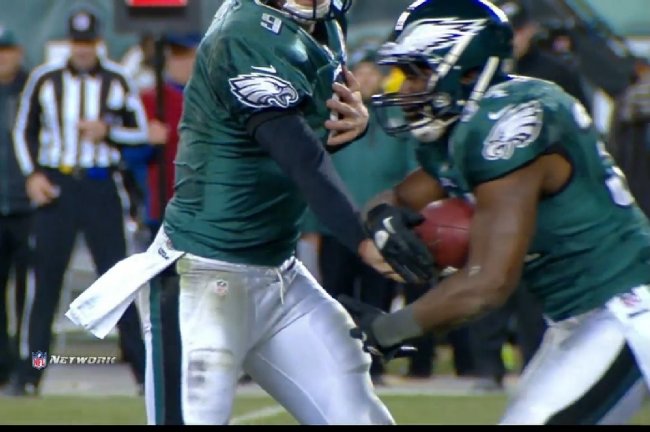 Foles has the ball shoved into Brown's stomach, but Brown wasn't paying attention to getting the ball. Brown was focused solely on the hit he was about to take from Sims. But Brown isn't the first running back to be hit in the backfield, and fumbling the football there is inexcusable.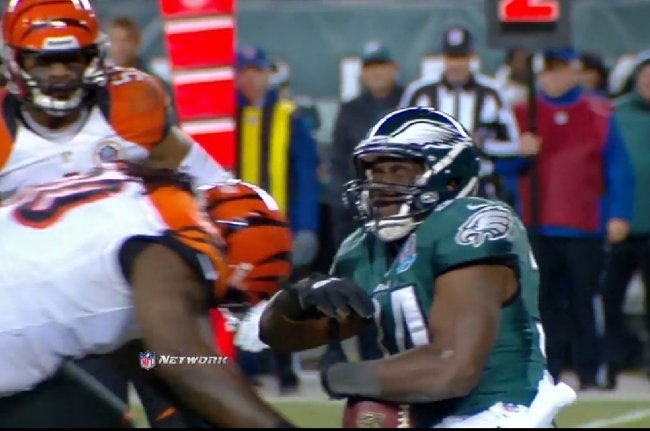 As you can see, Brown never possessed the football. It slipped through his hands upon receiving the handoff and Bengals defensive end Wallace Gilberry scooped it up for a touchdown.
Brown has more problems than just the fumbles, though. He's all but refused to run between the tackles in the last two games, a la Reggie Bush from his USC days.
That will work at the high school level and even the college level for the most talented of backs. But in the National Football League, the defensive ends and linebackers are just too fast.
Cornerbacks can tackle. Safeties anticipate a running back that's always looking to go outside. And once that running back gets a reputation as one that doesn't like contact, he's going to get a lot of contact.
Brown never really played college football, so he's still learning the intricacies of the running back position. When the Eagles drafted Brown in the seventh round of the 2011 NFL draft, it was more on potential than the numbers he had put up.
Brown is extremely raw as a runner and he's a poor blocker.
His terrific numbers were against a Carolina Panthers team that ranks 18th in rushing yards allowed per attempt and a Dallas Cowboys team that ranks 23rd. He faced much stiffer competition in the games against the Tampa Bay Buccaneers (1st) and the Bengals (11th).
Brown will likely get his fair share of carries in the final two weeks, as the Eagles play the Washington Redskins and New York Giants. The Eagles aren't going anywhere at 4-10, and they need to see what they have in their young players.
If Brown can hold onto the football, he has a chance to be one of the best backups in the league in 2013. After all, his two-game stretch had football fans everywhere talking about a two-headed running back tandem featuring LeSean McCoy and Brown.
Running backs coach Ted Williams is one of the best in the business. After all, Brian Westbrook fumbled just 12 times in 107 games with the Eagles and played all of 2011 (an All-Pro season) without losing a fumble.
Brown has four in four starts (13 games).
Williams will work with Brown, showing him how to avoid holding the ball like a he's advertising it to the defense. He'll teach him how to switch hands when he breaks a long run so that the ball always remains away from the defenders.
But if Brown doesn't fix his major flaws, he won't see any action in 2013.
He'll spend most of his time watching his teammates from the bench, like he did late in Thursday's contest after his fumble.