49ers vs. Patriots: Final Player Grades, Report Card for New England
San Francisco 49ers 41, New England Patriots 34

Unlike the game one week earlier, where a much-anticipated Monday night matchup against the Houston Texans turned into a dominant win for the New England Patriots, Sunday night's primetime matchup between the Patriots and San Francisco 49ers was an instant classic.

Unfortunately for the Patriots, a 28-point comeback rally to tie the game after a 31-3 deficit was not enough for a victory, and the Patriots' seven-game winning streak was snapped.

That said, the Patriots showed incredible resilience in their comeback effort, and if a Super Bowl matchup materializes between these two teams, football fans everywhere should be delighted.

While every game can be a roller-coaster of sorts, this game featured the highest of ups and lowest of downs. Which players made the big contributions to help the team nearly pull off one of the NFL's greatest comebacks ever, and which players put them in a big hole to begin with?

The following slides attempt to make sense of the game as a whole, and grade each significant player on their performance in this game.
Begin Slideshow

»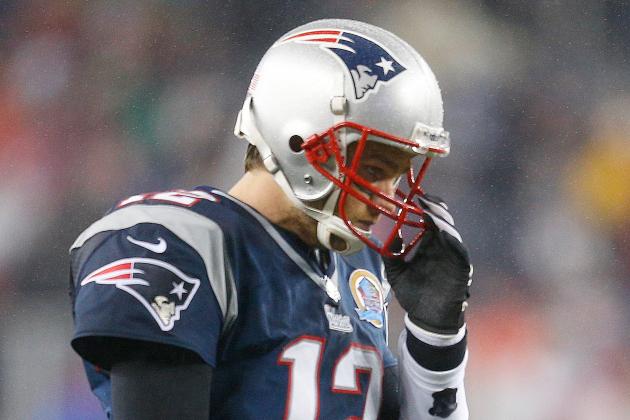 Jim Rogash/Getty Images

Tom Brady: B+

For much of Sunday night's game, Tom Brady was far from being at his best. He threw two interceptions, completed only 36 of 65 total passing attempts, and was out of rhythm throughout the first half and early portion of the third quarter.

But after the Patriots went into a 31-3 hole, the vintage, clutch Tom Brady that we as football fans have come to know and love arose. With terrific downfield passing, composure in even the most pressure-filled situations and even some clutch running plays, Brady led the Patriots on four consecutive touchdown drives to tie the game up, before the Patriots eventually fell to the 49ers.

Brady certainly didn't lose the Patriots this game, and after a rough start, he did everything he could in the game's final 25 minutes to win it for his team. He finished the game with 443 yards, and made some outstanding throws down the stretch to make the game close once again.

The grades across four quarters may not add up to a B+, but Brady earned good marks by leading an incredible comeback effort.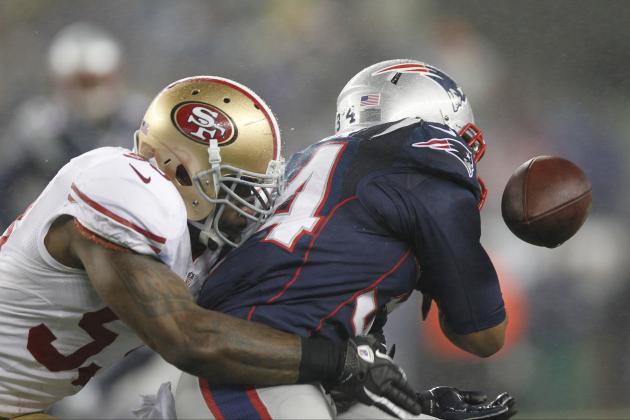 Greg M. Cooper-USA TODAY Sports
Shane Vereen's lone touch of the game ended badly.
Stevan Ridley: F

Stevan Ridley has certainly established himself as the Patriots' feature back this season, but he lost that responsibility on Sunday night.

After nearly fumbling the football on the game's opening drive, he actually fumbled the ball on their first drive of the second half. That fumble not only killed a drive that had gone into 49ers territory, but was returned all the way to the 3-yard line, and on the very next play, the 49ers scored a touchdown.

As a result, Patriots head coach Bill Belichick lost his trust in Ridley, and took the ball out of his hands with the exception of one carry. That one carry, a 3rd-and-goal attempt from the 1-yard line on which the Patriots certainly expected their most powerful back to be able to score a touchdown, he was shut down completely.

Ridley gained just 23 yards on nine carries in this game, and his fumble will be remembered as one of the moments that helped cost the Patriots this game. If he is going to continue to be the Patriots' bell-cow in the postseason, he will have to redeem himself.

Shane Vereen: F-

Giving Ridley and Shane Vereen the same grade wouldn't be fair, hence the unusual mark of an F-minus. Vereen only touched the ball one time in this game, and fumbled on that one touch.

In a game where turnovers killed the Patriots, Belichick lost his trust in Vereen after this gaffe in the first quarter, and he never came back into the game.

Danny Woodhead: B+

After fumbles by Ridley and Vereen took them out of the game, the Patriots turned to Danny Woodhead to be their reliable running back, and he came through. Woodhead had a very solid day running the football, gaining 61 yards on 12 carries and scoring two touchdowns, while also gaining 23 yards on five receptions.

The Patriots usually use Woodhead mostly on screen passes, but in this game, they turned to Woodhead to run the ball up the middle, and he did so effectively. He played a big role in sparking the Patriots' comeback with a 15-yard run to convert 3rd-and-9 followed by a 6-yard touchdown, their first touchdown of the game.

Brandon Bolden: N/A

Even in a game where neither Ridley or Vereen were factors, Brandon Bolden still didn't see any carries, as the Patriots trusted Woodhead over him to run the ball between the tackles. The Patriots seem to have lost trust in Bolden to play in meaningful action, which is not a good sign for his future with the team beyond this season.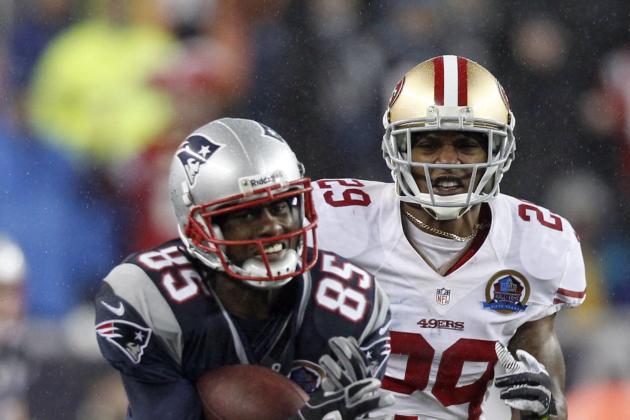 Greg M. Cooper-USA TODAY Sports
Brandon Lloyd
Brandon Lloyd: A+

For much of this season, Brandon Lloyd wasn't the downfield playmaker the Patriots signed him to be. But against one of his former teams on Sunday night, Lloyd stepped up as the team's offensive star.

Lloyd caught 10 passes for 190 yards, with four receptions of 20 yards or more including a 53-yard reception. Additionally, Lloyd also drew a 38-yard defensive pass interference over the middle which set up the Patriots' second fourth-quarter touchdown on the next play.

Lloyd made multiple big plays against both Tarell Brown and Chris Culliver, two of the 49ers' top three cornerbacks, and was both a reliable go-to target for Brady as well as their big downfield playmaker. Lloyd did have one drop in this game, but even that couldn't damage his grade on what was easily his best game yet as a Patriot.

Wes Welker: C

While Lloyd had a breakout game, Wes Welker had a quiet day. He did not catch a single pass in the first half, had two passes go off his hands, and ended up with just five receptions for 56 yards.

Welker was the recipient of a crucial 4th-and-2 pass that kept the Patriots' third touchdown drive alive, but he made little impact otherwise. He did not have a great day returning punts either, gaining just 13 yards on five returns, although three of his returns were at least partially nullified by holding penalties.

Deion Branch: B+

In his first game back with the Patriots in his second stint with the team this season, Deion Branch ended up being a key player. Branch caught four passes for 37 yards, two of which came on crucial fourth-down conversions.

Branch didn't make any big plays in terms of yardage, but he was reliable when the Patriots needed to go to him, which is exactly why the Patriots brought him back in the fold.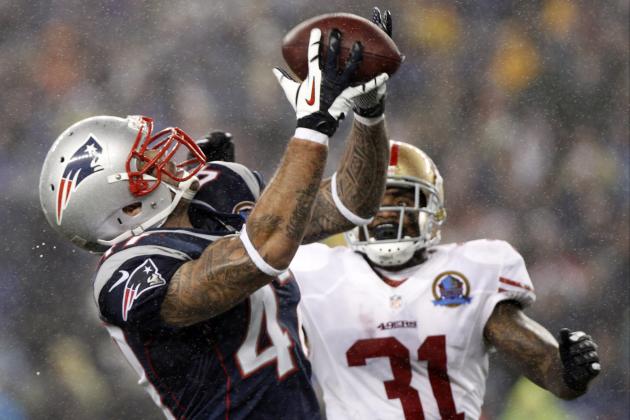 USA TODAY Sports
Michael Hoomanawanui
Aaron Hernandez: C

Statistically, it would appear tight end Aaron Hernandez had a great day, catching 10 passes for 90 yards and a touchdown. However, he also had three passes go off of his hands, including one which was deflected into the hands of 49ers outside linebacker Aldon Smith for a very costly interception.

Hernandez made some key plays, including the 5-yard touchdown reception, but his mistakes also really cost the Patriots, and he wasn't as reliable as usual. He also struggled mightily as a blocker, as the Patriots used him in many blocking situations where they would normally use Rob Gronkowski, which is a much better blocker but was out with injury.

Michael Hoomanawanui: B+

Michael Hoomanawanui didn't make his usual impact in this game as a blocker, but he made an unusual highlight as a receiver. Hoomanawanui had one of the Patriots' biggest plays of the day when Tom Brady hit him on a 41-yard deep ball, a play which set up the Patriots' second touchdown.

Hoomanawanui isn't known for his speed and receiving ability, but he did a terrific job on this play, beating the coverage of Donte Whitner to make one of the Patriots' most explosive plays.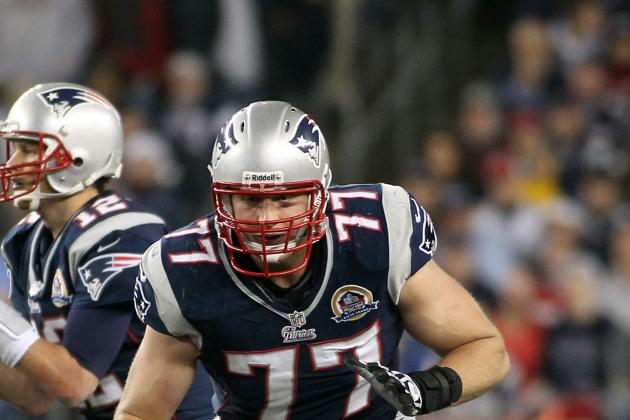 USA TODAY Sports
Nate Solder
Nate Solder: B-

Against the San Francisco 49ers' explosive defensive front, left tackle Nate Solder had possibly his toughest game of the season in pass protection.

Solder was beaten badly by three different players. When Aldon Smith beat him, he forced a throw-away that was nearly a strip sack. When Justin Smith beat Solder, it caused another throw-away and near-interception. Solder also gave up one of the 49ers' three sacks to backup defensive end Ricky Jean-Francois.

Solder had a very solid game in run blocking, but his main responsibility is protecting Brady, and he had a hard time fulfilling that duty on Sunday night.

Sebastian Vollmer: B-

Sebastian Vollmer has had a string of three very tough matchups in a row, and although he is one of the NFL's best right tackles, he has struggled with all of them.

While he was better Sunday night against the 49ers, he did give up pressure in pass protection on multiple occasions. That included a very ugly sack allowed to Ray McDonald, a play on which he allowed the sack even with being called for an illegal hands to the face penalty.

The Patriots didn't generate much of a ground game running to the right side of the field either.

Logan Mankins: B-

Logan Mankins spent much of the game matched up against 49ers star defensive end Justin Smith, and it proved to be a very tough challenge for him. Smith won the battle often in pass protection, not necessarily bringing pressure himself but occupying Mankins to open a hole in the middle of the line for his teammates to come through as pass-rushers.

Mankins was also called for a false start on one occasion while working against Smith. He did have a solid day as a lead run blocker, but he was not at his best in pass protection.

Ryan Wendell: B+

Of any Patriots offensive lineman, center Ryan Wendell had the most solid all-around day.

While his matchup against nose tackle Isaac Sopoga was not as difficult as some of the other matchups his linemates faced, he did not give up any significant pressure. He did a good job leading the ground game, as the bulk of the Patriots' rushing success Sunday night went straight up the middle.

Dan Connolly: C

Right guard Dan Connolly proved to be the weak link of the Patriots' offensive line on Sunday night, as has most often been the case when all five starters are healthy.

Connolly was bullied by Ray McDonald to give up a 3rd-and-goal sack which stalled a potential touchdown drive, and he didn't have much success in this game as a run blocker either.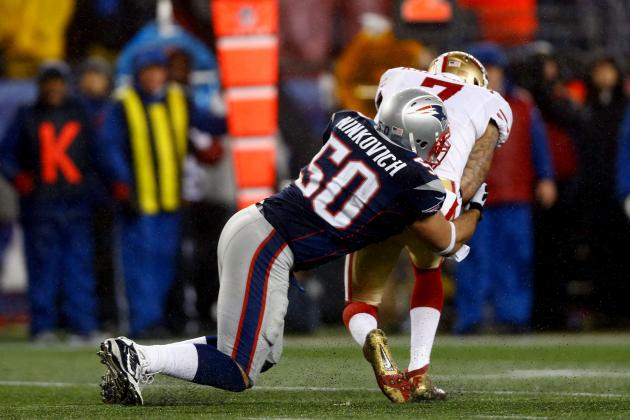 Jared Wickerham/Getty Images
Rob Ninkovich
Vince Wilfork: B

Nose tackle Vince Wilfork had a decent game up front, but compared to his recent dominance, Wilfork wasn't as great on Sunday night.

Wilfork made or helped make some big stops in run defense on Sunday night, but there were also times when he completely pushed out of the play when the 49ers got big gains on the ground up the middle. And with the exception of drawing an illegal hands to the face penalty, Wilfork generated very little interior pass-rush pressure in this game.

Rob Ninkovich: A-

With defensive end Chandler Jones playing limited repetitions in this game after missing time with an ankle injury, Rob Ninkovich became the team's lead defensive end, and he was easily the Patriots' best defensive lineman on Sunday night.

Ninkovich had a terrific game on run defense, shutting down a number of plays and also doing a great job, with the exception of a couple breakaways, at containing Colin Kaepernick's dual-threat run ability. He also took down Kaepernick 13 yards behind the line of scrimmage for the Patriots' only sack of the game.

The Patriots had a very weak pass-rushing effort with virtually no pressure from the rest of the line, but Ninkovich had a very strong effort individually.

Brandon Deaderick: C+

Brandon Deaderick played a majority of snaps for the second consecutive game on Monday night, playing at both defensive end and defensive tackle in this game. Deaderick had a very solid game against the run, holding his gap well at both positions and making a number of stops happen, but he made virtually no impact as a pass-rusher.

Deaderick did a solid job in this game, but the Patriots need more out of him in his expanded role.

Kyle Love: C+

As is usually the case with defensive tackle Kyle Love, it was a very up-and-down day for him.

Even with Deaderick in the lineup, Love played often inside when the Patriots moved Deaderick and/or Wilfork out to defensive end in both four- and three-man fronts.

Love made some great stops, including two consecutive huge stops on 3rd & 1 to end the first quarter and 4th & 1 to start the second quarter that forced a turnover on downs. At times, however, Love allowed running backs to run right by him, the most notable and obvious of which came on Frank Gore's 9-yard fumble recovery touchdown.

Chandler Jones: C

For the second straight week after missing multiple games with an ankle injury, Jones played in a limited role and clearly wasn't at full strength. When Jones was in the game, he made no impact as a pass-rusher and had some mistakes.

Jones did make one crucial stop on the final defensive play of the first half, which held the 49ers to a field goal rather than a touchdown. He also missed some tackles badly on run defense, however, and was called for an offsides penalty at one point.

If Jones still isn't fully healthy next week, they should consider resting him again, because he has not been nearly the player he can be over the past two weeks.

Justin Francis: B+

In a rotational role Sunday night, Justin Francis made a real impact on the Patriots' defensive line.

Francis made an early impact when his pressure against center Jonathan Goodwin forced one of numerous fumbled snap exchanges for the 49ers in the game. Francis finished the game with four tackles, including one tackle for loss, and he showed his athleticism and ability to drop back and make a play when he quickly tackled Michael Crabtree after a reception to hold him to an 8-yard gain on 3rd & 22.

Francis' play has gradually improved over the course of the season, and he continues to make a case for more and more playing time.

Trevor Scott: N/A

Surprisingly, even with Chandler Jones playing in a limited role, Trevor Scott received little to no snaps in the game on defense. He has shown impressive flashes as a pass-rusher in recent weeks, but was not used in that role Sunday night.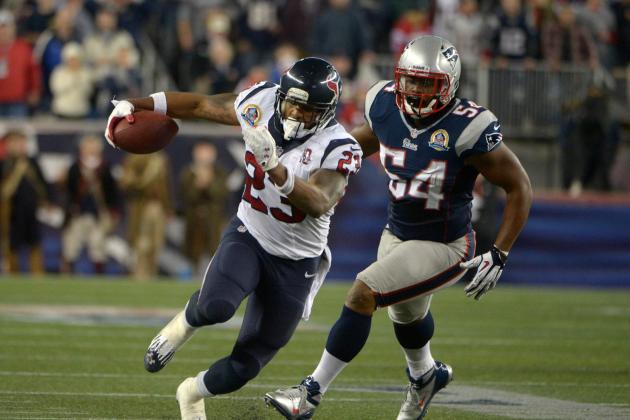 USA TODAY Sports
Dont'a Hightower
Jerod Mayo: C

It's easy to be fooled by Jerod Mayo's team-leading 12 tackles and think he played a great game on Sunday night, but in fact, he played far from that.

While Mayo had 12 tackles, he could have had many more. Specifically, Mayo really struggled against when Frank Gore got the football to the outside of the tackles, whether that being on screen passes or on outside runs. On a far-too-high number of plays where Mayo should have been in position to make a tackle, he missed completely.

Mayo is usually a very reliable tackler, but he really struggled against the 49ers' ground and short passing attacks on Sunday. In this game, his tackling numbers were deceiving; while he made some good stops, none of them were major plays in the game, so his misplays had a greater impact on the outcome of this game.

Dont'a Hightower: A-

After weeks of struggling coming off of a hamstring injury, rookie Dont'a Hightower was the Patriots' best linebacker for the second straight game on Sunday night.

Hightower made plays all over the field throughout the game.

He started the game out strong, attacking a screen pass exceptionally to break up a screen pass to LaMichael James on the opening drive. He did a great job against the run the whole game, and even brought pressure on a couple of occasions, and finished the game with eight tackles and two tackles for loss.

Brandon Spikes: B

Brandon Spikes didn't make a big impact in this game, and going against a spread offense in the San Francisco 49ers, it was an unfavorable matchup for the great run-stopper but slower linebacker. That said, he was still fairly productive when on the field, and didn't make any costly mistakes.

He was beaten on a number of occasions in pass coverage, but none badly. He made some very good stops in run defense, and finished with six tackles.

Mike Rivera: Incomplete

Special teams player and seldom-used linebacker Mike Rivera actually started the game on defense for the Patriots at middle linebacker, and made a tackle on the 49ers' second offensive play from scrimmage. He didn't play much at linebacker after the first drive, however, so there is not enough of a sample to give him a fair grade.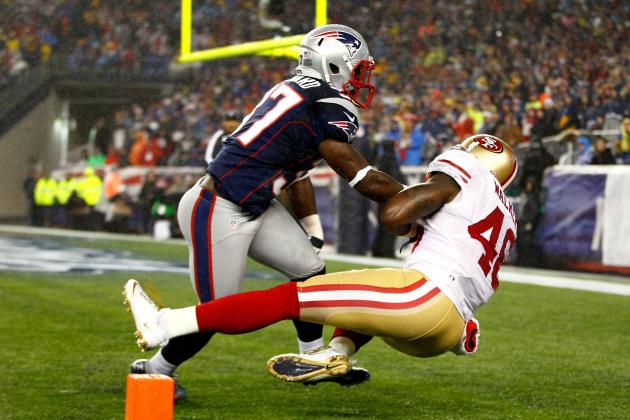 Jared Wickerham/Getty Images
Alfonzo Dennard getting beat on Delanie Walker touchdown
Aqib Talib: C

The performance of midseason acquisition Aqib Talib as a starting cornerback has been very up-and-down thus far with the Patriots. Even with a takeaway on a fumble recovery, this game was much more down than it was up.

Talib was matched up in one-on-one coverage with 49ers wide receiver Michael Crabtree for much of the game, and he had a hard time with that matchup. He was beaten on both short and long passes by Crabtree, with his worst beat of the day coming when he was called for a 35-yard defensive pass interference penalty for face-guarding Crabtree.

Alfonzo Dennard: C

Alfonzo Dennard only played one half in this game before leaving with an apparent knee injury, and it wasn't a good half.

Notably, Dennard was beaten on both of the 49ers' first two touchdowns of the game. The first was not exactly poor coverage, but rather a perfect pass from Colin Kaepernick to Randy Moss, but on the second touchdown, he was completely out of position between two wide-open receivers, which allowed Kaepernick to hit Delanie Walker for a wide-open 34-yard touchdown.

Dennard did break up one pass in the end zone against Moss, but that was his only highlight. He struggled badly in coverage, and also didn't make his usual impact as a tackler, struggling in run defense and ending the game with only one tackle.

Kyle Arrington: D

Before the Patriots' midseason realignment of their defensive backfield, Kyle Arrington was getting embarrassed on a weekly basis as one of the Patriots' two outside starting cornerbacks. When Dennard went out of the game, Arrington was forced back into that role, and he got embarrassed again on what turned out to be the 49ers' game-winning touchdown.

After the Patriots had scored 28 unanswered points, the 49ers bounced right back with a one-play touchdown drive, and it was all the fault of Arrington's horrendous coverage against Michael Crabtree. Arrington's initial coverage was poor, giving Crabtree too much cushion to make the catch, then he completely whiffed on a tackle which gave the receiver an open lane to the end zone for a 38-yard score.

Arrington hardly made any positive plays in this game, and that one gaffe was enough to really hurt his grade.

Devin McCourty: B

Devin McCourty made one of the Patriots' biggest defensive plays of the day, with a rangy interception over the middle at the goal line that was nearly identical to his interception one week earlier against the Houston Texans. He also gave up one of the biggest plays of the day, however, when Michael Crabtree split McCourty and Steve Gregory over the middle to the end zone for a 27-yard touchdown.

McCourty's interception was a great play that shows just how good he can be as he continues to develop at safety, but aside from his pick, it wasn't a great day for the free safety.

Steve Gregory: C-

Steve Gregory made the Patriots' biggest defensive play of the day when he made a big hit on Delanie Walker to force a fumble in a goal-to-go situation in the first quarter. He also made an impressive pass deflection while working in deep pass coverage against wide receiver Michael Crabtree.

Over the course of the game, however, Gregory was clearly the secondary's weak link in pass coverage. How bad did it get? So bad that the Patriots replaced Gregory in the third quarter with Patrick Chung, who has notoriously been terrible in pass coverage.

In the first quarter, he was beaten badly on a Vernon Davis post that should have been a 34-yard touchdown. Later, he and McCourty were beaten over the middle by Michael Crabtree on a 27-yard touchdown.

With the exception of two big plays, which he deserves credit for, Gregory had one of his worst games of the season, which is why his grade is as low as it is even with credit for the plays he made.

Patrick Chung: B

After replacing Gregory in the lineup, strong safety Patrick Chung had a fairly quiet game. That is not a bad thing, as it means he held his ground well in pass coverage, while he still ended up finishing with the game with four tackles.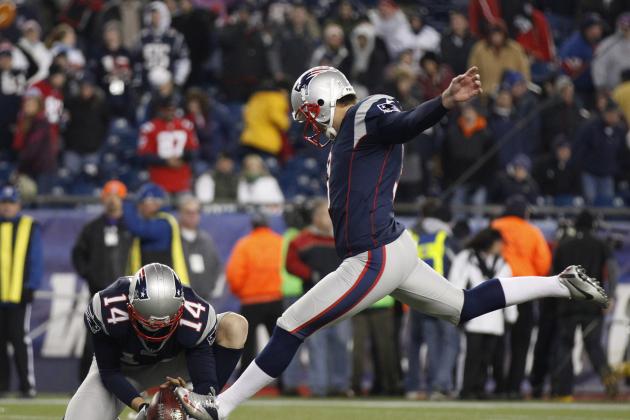 David Butler II-USA TODAY Sports

Stephen Gostkowski: B-

Stephen Gostkowski has not been automatic as a placekicker this season, so the fact that he made both of his field goal attempts on the day, from 41 and 32 yards out, is a good sign.

He had a very weak day for his standards on kickoffs, however, only getting a touchback on one of six deep kickoffs. Additionally, his effort at putting down an onside kick late in the game was very poor, giving his team no chance whatsoever at a recovery.

Zoltan Mesko: A-

Zoltan Mesko had a very solid day punting the football for the Patriots on Sunday night. All five of his punts went for 42 yards or more, with a very solid average of 45.6 yards per punt, while none of his punts were returned for more than 8 yards.

Matt Slater: C

Matt Slater led the New England Patriots with three special teams tackles on Sunday night, so why does he get a C for his efforts? While many Patriots were blocked out of the play or misplayed LaMichael James' 62-yard kickoff return, it was a missed tackle by Slater that allowed the runback to continue for approximately 30 more yards.

It is rare for Slater to make a mistake on special teams, but his lone mistake in this game proved to be very costly.

Note: Assessing blame where blame is due, three other players who were at least partially responsible for James' runback were Niko Koutouvides, Tavon Wilson and Devin McCourty.

Mike Rivera: B-

In addition to getting some rare snaps on defense, Mike Rivera made an impact on special teams. He was called for one of three punt return holding penalties in the game, but later made up for it by making a very nice kickoff return tackle at the 20-yard line.

James Develin: D

James Develin was active for the first time on Sunday night, and his only notable impact on the game came when he committed a holding penalty on a punt return. Chances are good he won't be active again for the Patriots this season.

Marquice Cole: F

Marquice Cole is usually one of the Patriots' most steady special teams player, but he made some terrible mistakes on Sunday night.

First, it was Cole who was burned badly on Dashon Goldson's 31-yard fake punt run. Cole was late to see the fake and although his responsibility was to guard the left sideline, he let Goldson run up the sideline without even touching him.

Cole was also called later for a holding penalty on a punt return.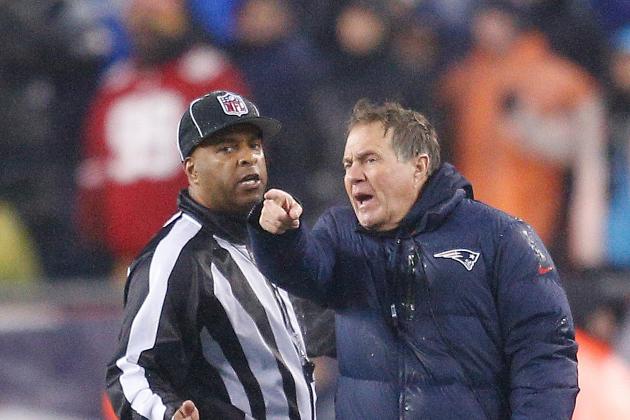 Jim Rogash/Getty Images

Coaching Staff: B+

It's easy to blame the coaching staff whenever a team goes through a disappointing loss, but in the case, head coach Bill Belichick and his staff really don't deserve the brunt of the blame.

The Patriots' first half gameplan certainly didn't work very well. The Patriots were sluggish on offense, and were beaten by some big passing plays on defense.

The third-quarter collapse, however, was not on the coaches, but rather a result of costly turnovers and lack of defensive effort off of turnovers. The halftime adjustments that the Patriots actually seemed to work wonders for the most part, as the Patriots went to a no-huddle, downfield passing offense that lit up the vaunted 49ers' defense, while the defense was very sound with the exception of allowing a couple costly big plays through the air.

Belichick and his staff deserve some serious credit for keeping the team composed, even when they went down 31-3, and leading them to an incredible comeback effort. Additionally, Belichick was never scared to make gutsy fourth-down calls in this game, and for the most part, they worked and allowed the Patriots to make such a great comeback rally.

While the effort came up short, and the 4th & 2 call from the 12-yard line ended up a failure, the coaches proved that they will ensure that their team never gives up, even when they appear to be down by an insurmountable deficit.

Dan Hope is the New England Patriots game day correspondent and an NFL draft Featured Columnist for Bleacher Report. For more coverage of the Patriots, follow him on Twitter @Dan_Hope.