The Strangest Ejections in Sports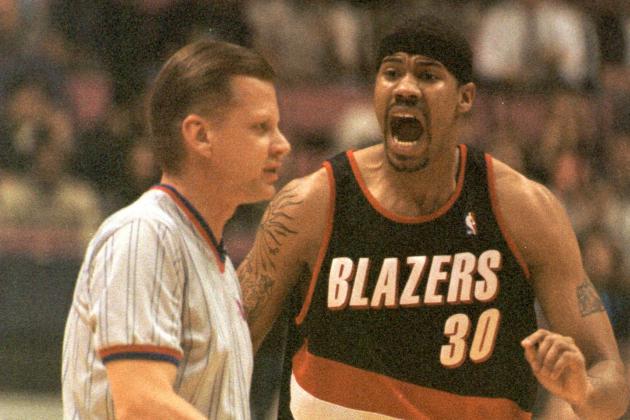 Jamie Squire/Getty Images

Like it or not, ejections are a necessary part of the game.
Players become too heated, coaches begin foaming at the mouth and it's usually best for all parties involved that they hit the showers.
But not all ejections were created equal—and sometimes they get weird. That's where we come in.
From baffling referee calls to monumental coach freak-outs and bizarre forms of player protest, the following 22 ejections account for some of the strangest send-offs we've ever seen in sports.
Begin Slideshow

»
Rasheed Wallace talks trash to his opponents the same way Lil Wayne records music—constantly, and completely unaware of whether anyone else enjoys hearing it or not.
As a veteran ballplayer and long-time character in the league you might expect referees to turn a deaf ear on Wallace's on-court antics; but apparently some of them are getting sick and tired of 'Sheed's noise, as evidenced in his recent ejection from a game for yelling his famous "Ball don't lie!" line.
In what certainly must be one of the strangest and most passive-aggressive ejections in sports history, Amarillo Dillas manager Brady Bogart was ejected by an umpire from the game in what appears to be a disagreement over whether the grass on the field is a Bermuda or a tall fescue species.
We can't be sure what happened, but they both handled the call like professionals.
Cold, Dexter-like professionals.
Throwing a dunk down with authority is usually fine with referees, but laying down the martial law like Shaquille O'Neal did on Andrei Kirilenko in this video is the kind of stuff officials will never let slide.
Intentional or not, O'Neal's right hand follow-through after the dunk nearly knocks Kirilenko's head off, and he was immediately ejected from the game.
While this Arkansas baseball player could be in the running for an Emmy after this performance, he definitely won't receive any high marks for attitude.
Rule no. 1 for players faking injuries to help their team win—when your gamesmanship can be seen on instant replay, thank your lucky stars the refs didn't discipline you for it, and move on.
He's no Ronaldinho, but a seething, then-Orlando Magic Tracy McGrady tried his best to showcase the versatility of the T-Mac shoe line by taking a wild free kick on a loose basketball and punting another into the stands at a 2004 game against the Orlando Magic.
McGrady was immediately ejected for booting the basketballs, completely unconcerned with the fact he had scored his 10,000th point earlier in the game.
Polish goalkeeper Bartosz Bialkowski became a little too cheeky with juggling the ball and ended up having to limp-wrist his way out of giving up a certain goal to Spain during an international meetup.
The deception was short-lived, however, considering everyone with eyes saw Bialkowski awkwardly smack the ball away from the opposing striker, and referees awarded him with an immediate ejection for his efforts.
Aaron Brooks was ejected from a 2011 Phoenix Suns game against the Oklahoma City Thunder for mocking a referee's call with an anything-but-classy "deez" genitalia gesture.
Athletes can get away with a lot of jabber-jawing from time to time, but Brooks' ejection proves that any gesture involving the McNuggets will only punch you a one-way ticket to the showers.
Referees are supposed to know the rules of the game in and out, but sometimes things happen on the playing field that make everyone tilt their head and go, "Huh?"
Which is exactly what happened when high school football player Cam Haas was ejected for flipping across the field in motion like some kind Siegfried and Roy sideshow.
Was it legal?
I'd like to think so—rules state that a player may proceed in motion before the snap, as long they do not move toward the line of scrimmage. Unfortunately for Haas, the refs that night didn't feel the same.
It's usually his mouth that gets Rasheed Wallace in trouble, but this time it was Wallace's eyes that led to his dismissal from a 2000 Portland Trail Blazers game against the Los Angeles Lakers.
Wallace received his second technical and was—WHACK!—ejected from the game for staring at referee Ron Garretson after being warned multiple times by him to cease and desist eye contact.
We know you didn't say anything, Wallace—but no grown man likes it when you won't stop giving him those crazy eyes of yours.
NC State alumni and former NBA players Chris Corchiani and Tom Gugliotta were sitting court-side watching the Wolfpack play Florida State when referee Karl Hess ejected the two men for their "excessive demonstration" against fouls called on the floor.
To be very clear, they weren't kicked out for excessive drunkenness and swearing—they were asked to leave for excessive demonstration.
You know, like free speech.
And unfortunately for Hess, the ACC wasn't too happy with his quelling of individual expression.
"The Elbow Seen 'Round the World."
Metta World Peace's violent and completely uncalled-for elbow earned him everything a random MMA move will earn you when used in the game of basketball—an immediate ejection and a seven-game suspension worth $348,000 in salary money.
The dirt-kicking. The hat-tossing. The foam flying from his mouth.
Watching Chicago Cubs manager Lou Piniella rage after being ejected is an act worthy of a stage and admission price in and of itself.
Amir Johnson was managing a pretty run-of-the-mill NBA flip-out until—BAM!—out comes the dental protection.
Not exactly sure if there's more symbolism behind throwing a mouthguard—like shoe-throwing is for some cultures—but we do know if Johnson took the time to boil and fit that piece properly, he wasn't playing around when he chucked it away.
Watching Bobby Knight get ejected from a basketball game is a bit like watching a bald eagle soar over a mountain or a great white shark breach the water with a seal in its maw.
You realize that this creature was born to do this, and if this kind of thing never happened on our earth, the planet's life cycle wouldn't be quite the same.
The hockey equivalent of Bob Knight's chair freakout, then-New Jersey Red Devils coach Robbie Ftorek's bench-slinging breakdown upped the ante on the ridiculousness and lethality of objects thrown by coaches into the field of play.
It was a foul so prolific and unexpected that the act has been immortalized with a 16-foot stone statue.
Zinedine Zidane's headbutt and subsequent ejection from the 2006 World Cup Final game against Italy was a strange and low point for the French national team.
Image via bigapplemetstalk.com
Getting ejected from a ball game isn't weird.
Sneaking back into the dugout with a disguise on, however, is strange as it is legendary.
Sure, it cost Bobby Valentine a three-game suspension and $5,000, but the New York Mets' mustache-and-sunglasses surprise was a "blue moon" kind of experience you're almost guaranteed never to see again in the world of sports.
The umpire in this video is a picture of cool until the beginning notes of "Three Blind Mice" begin slinking over the ballpark PA system, at which point the official sees red and throws the DJ from the ballpark and demands all sound be cut off for the duration of the game.
No referee wants it inferred that he's blind, least of all by an employee of the ballpark.
But something about the swiftness and degree of his reaction suggests this all goes much deeper than it seems.
Ump...what did those blind mice do to you?
After being T'd up for disagreeing with a foul while sitting on the bench, San Antonio Spurs player Tim Duncan was marked up for a second technical and thrown out of a game by notoriously testy referee Joey Crawford for the crime of laughing.
Yup. Duncan was thrown out for chuckling.
Why was Duncan giggling? According to him, an incensed Crawford had asked the Spurs center, "Do you want to fight?"
We don't get it, and neither did the NBA Commissioner David Stern, who suspended Crawford for the rest of the season.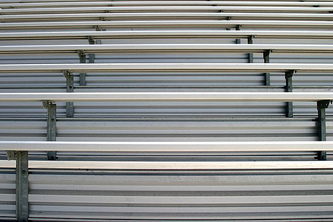 Image via dipity.com
In what certainly has to be one of the greatest shows of narcissism in sports (which is saying something), umpire Don Briggs decided the crowd at an Iowa high school baseball game had become too "unruly" and elected to eject the entire stadium.
Briggs' decision to boot over 100 people from Winfield-Mount Union High School ballpark stopped the game in its tracks, and play only resumed after the school's superintendent promised the umpire no one would "say anything negative" for the rest of the game.
"I know it sounds like I'm the bad guy—but it was the crowd," said Briggs, while presumably tossing another Duraflame log onto a First Amendment bonfire.
One love tap is fine. Two? Well hey, that's just paying back a compliment.
But three—three love taps on the court is one too many, and possibly a breach of the Geneva Convention.
Grant Hill and Reggie Evans found this rule out the hard way after a show of excessive sportsmanship between the two led to their dual ejections from the game.
Their only crime was love-tapping each other too much—but as a wise man once said, "Yo, I'm not on your team, man."
Minor League Braves manager Phil Wellman and his mind-melting demonstration following his ejection from a game have set the bar almost entirely out of reach for other minor league managers hoping to flip out into fame.
But if they want to try...well, we just won't mind.