Biggest Takeaways from Friday Night's NBA Action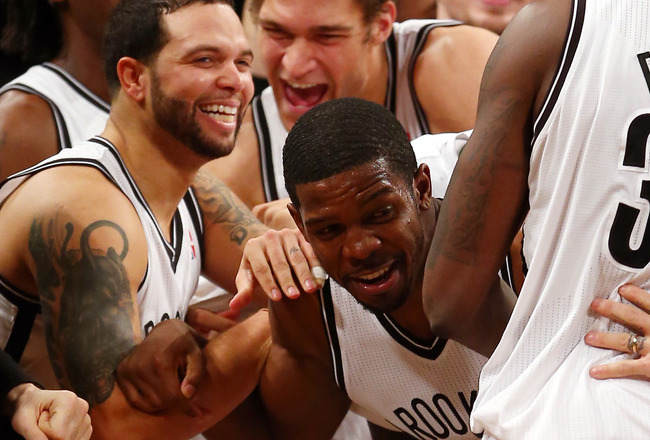 Elsa/Getty Images
Austin Rivers Can Play a Little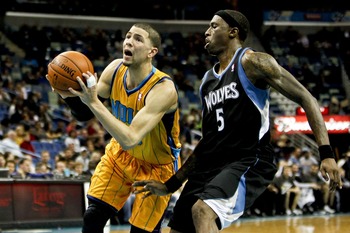 USA TODAY Sports
Austin Rivers had his best game as a pro Friday night, going off for 27 points on 9-of-14 shooting from the floor.
If it was a talent show, Rivers would have gotten a standing ovation.
You won't find many guards with a quicker first step. He's exceptionally smooth off the dribble, and if his shot is falling, it can make him a potent weapon with the ball in his hands.
He was converting in the mid-range and over ball screens 26 feet from the rim on Friday. He finished 5-of-6 from downtown, showing off that lethal range from deep.
His effectiveness from the perimeter as a ball-dominant guard should make him an ideal candidate for a sixth-man role down the road. There's a lot of O.J. Mayo in his game; he just doesn't have his strength yet.
These types of performances should occur on a more frequent basis as his career progresses.
The Lakers Are Better Than the Wizards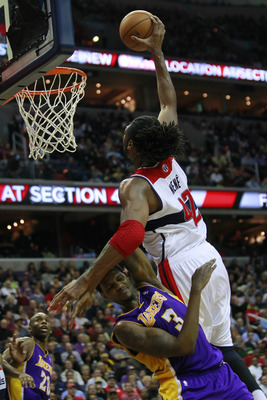 Geoff Burke-USA TODAY Sports
The Lakers are better than the Washington Wizards. That's about the only thing you could take away from this game, which saw L.A. hold on after allowing Washington to creep within three points late in the game.
The Lakers would have gotten smacked if they played 26 other teams Friday night. They gave up 17 points to Martell Webster, 16 to Kevin Seraphin and 21 to Cartier Martin—yes, you read that last one right.
The offense revolves around Kobe Bryant making tough shots, Dwight Howard making easy ones and praying someone gets hot from downtown—Friday night it was Jodie Meeks, who finished 4-of-7 from long range.
But if Meeks makes three threes instead of four, it's a totally different ballgame.
Without Pau Gasol and Steve Nash, the Lakers are forced to rely on someone like Meeks to step up. Who would have thought Meeks would ever be called an X-factor in his career? For the Lakers no less.
There was nothing inspirational about this win. We'll see what happens when they take on the Sixers in Philadelphia Sunday night.
Brooklyn Nets Could Struggle Without Stronger Interior Presence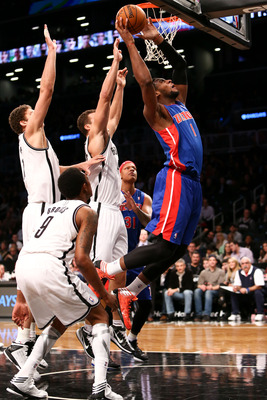 USA TODAY Sports
The Brooklyn Nets came away with a win in double-overtime against the Detroit Pistons, but it wasn't easy.
Brook Lopez only played around 24 minutes after returning from a foot injury, but his presence is unlikely to change the culture of the team defensively.
Rodney Stuckey and Brandon Knight were able to score big baskets down the stretch without any contest at the rim. The Nets also gave up at least eight rebounds to four different players.
Brook Lopez, Kris Humphries, Andray Blatche and Reggie Evans are all of the under-the-rim variety. It won't prevent the Nets from finishing top five or so in the East, but it could be a problem in a seven-games series against a more physical and athletic lineup.
Without a Go-To Scorer, Denver's Best Offense Is Defense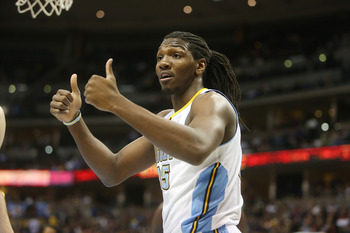 USA TODAY Sports
The Denver Nuggets didn't beat the Memphis Grizzlies with offensive firepower.
Down the stretch, they forced missed shots and turnovers, and they quickly turned them into points the other way.
Without a go-to scorer, aggressive defense will be their best shot at generating offense.
They're missing that top scoring option to make baskets in crunch time. Danilo Gallinari can score, but there's a reason he's shooting 39 percent from the floor and hasn't ever shot better than 45 percent for a season.
Many of Denver's offensive possessions down the stretch resulted in isolation failures, giveaways or missed jumpers. Up one with 10 seconds to go, Denver forced a Rudy Gay turnover to close out the game.
The Nuggets' identity should focus on counterpunching, which is what got them the win against a tough Memphis Grizzlies squad.
Michael Beasley Just Can't Figure It Out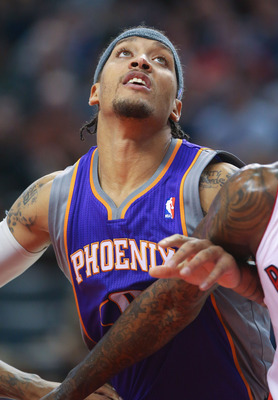 Tom Szczerbowski-USA TODAY Sports
You'd think this would be the perfect setting for Michael Beasley to finally figure out where he's comfortable playing. There's no logjam, no veterans to steal minutes, no pressure to win ballgames.
But Beasley is having the worst season of his career, averaging 11.1 points and 3.8 rebounds on 37.3 percent shooting from the floor.
He was taken out Friday night early in the fourth and never returned. The Phoenix Suns ended up cruising down the stretch to beat the Utah Jazz at home.
This was the feeling you got as Beasley exited the game:
Terrible news for the Jazz Michael Beasley checks out#UTAatPHX

— David Locke (@Lockedonsports) December 15, 2012
Beasley was one of the most dominant college basketball players I've ever seen. I would never have thought we'd be referring to him as a draft bust.
If it never works out for Beasley, you could pin his face to the "tweener" bulletin board.
The James Harden Trade Was a Win-Win for the Rockets, Thunder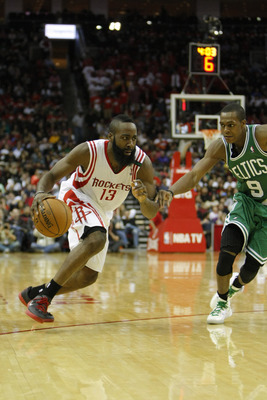 USA TODAY Sports
James Harden and the Houston Rockets knocked off the Boston Celtics in convincing fashion, while Kevin Martin experienced another successful day at the office in Oklahoma City.
Harden's youth and explosiveness were just too much for a veteran Boston team to handle. He finished with 21 points, five boards, five assists and three steals, but his impact was bigger than the box score.
He's injected life into a team that didn't have much before his arrival. Because of Harden, Houston has a chance of winning on any given night, something the team couldn't have said with Kevin Martin as the top option.
In Oklahoma City, Martin has found the role built for his game.
He scored 18 effortless points off the bench against the Sacramento Kings to keep his average right around that 16-per-game mark.
With less responsibilities, Martin is shooting 46.4 percent from the floor and a career-high 46.8 percent from downtown. He doesn't have Harden's upside, but that's where the draft picks come into play.
Minnesota Timberwolves Are No Pushover Anymore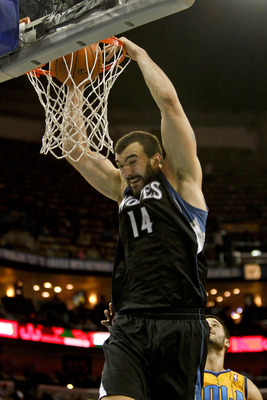 USA TODAY Sports
Nikola Pekovic has man-strength. He looks like a dude from Game of Thrones. He's one of the most physical interior players around, using his power and touch to score easy baskets inside.
Pekovic finished 14-of-18 from the floor for 31 points against New Orleans.
Andrei Kirilenko finished with 21 and 11, and he is playing some of the most effective basketball of his career. He's all over the place. Sometimes it feels like there's two of him out there.
Even Alexey Shved was balling, racking up eight assists to go with 13 points on three three-pointers.
If Ricky Rubio can get back to full strength and Derrick Williams finds a way to contribute consistent minutes off the bench, the Wolves will be dangerous.
They really need a playoff berth in order to satisfy Kevin Love, who has expressed some uncertainty over his future in Minnesota. This team could be a must-watch on League Pass once Rubio returns to the lineup.
Standout Performances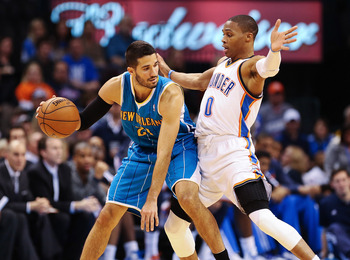 Kevin Jairaj-USA TODAY Sports
Joe Johnson had the highlight of the night with a step-back at the buzzer—one you only practice alone in the gym, counting down in your head.
Greivis Vasquez racked up 17 assists to go with 15 points. Don't worry, I double-checked the box score. This really happened.
Nikola Vucevic finished with 12 points and 17 boards. Dwight Howard, the man he replaced, finished with 12 points and 14 boards. Victory Vucevic.
Monta Ellis went into takeover mode, going off for 33 points.
George Hill triple-doubled for the Indiana Pacers, going for 15 points, 10 boards and 10 assists. Not too shabby.
Isaiah Thomas scored 26 points in 16 minutes. The Kings were getting crushed, but those numbers are still noteworthy.
Gerald Wallace played 50 minutes, scored 25 points and grabbed 10 boards.
Keep Reading