5 Conferences Could Be Impacted by Big East Split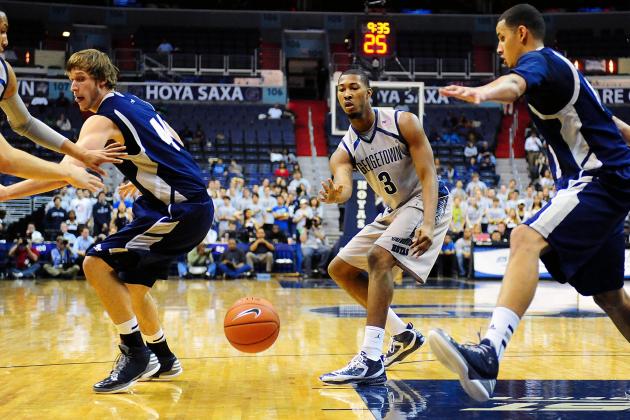 Evan Habeeb-USA TODAY Sports

With the news about the Big East non-football schools being expected to split, discussion has been quite extensive regarding where the seven schools will ultimately wind up.
The prevailing wisdom indicates that these schools—Georgetown, Villanova, Seton Hall, St. John's, Providence, DePaul and Marquette—will work to form a new, non-football conference.
For college basketball fans, the idea of a basketball-friendly league such as this is very appealing. This proposed league could serve as a refreshing counterpart to the BCS conglomerates, which can drive schools away from their basketball strongholds for the sake of maintaining some relevance on the football field.
If these teams create the foundation of a new league, it could become the desired landing spot for dozens of schools which do not compete in football—or at least do not compete at the FBS level.
All of this is still merely an idea. It's possible these seven schools will wind up latching on to the Atlantic 10, and no new conference will be formed.
For now, however, it is interesting to think about the possibilities that could lie ahead for certain schools. Some of them have only dreamed to play in a conference that could compete on a top-tier level in basketball.
With the prospect of migrating to what would become the premier non-football conference in the country, there is yet another potential ripple effect lying in wait. On one hand, it may not be quite as extensive as the ones we've seen over the past several years.
On the other hand, conferences that have thus far not been dramatically affected by the whole football-driven realignment may suddenly find themselves in danger of losing their long-time core members.
Here are some conferences that may be susceptible to teams leaving for a new Big East-spinoff league.
Begin Slideshow

»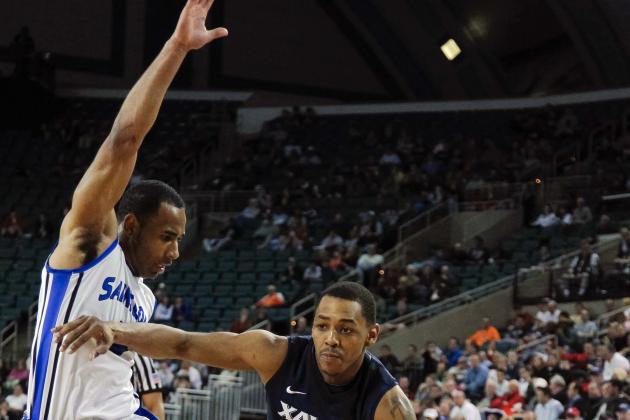 Jim O'Connor-USA TODAY Sports

Possible departures: Xavier, Dayton and Butler
The A-10 is already losing Temple to the Big East next year as well as Charlotte to Conference USA. Now, it must face the prospect of losing at least a couple more of its key members.
Xavier and Dayton—each with over 15 years in the A-10—would be two of the most attractive prospects to join the seven Big East defectors in a new league. Each has been a consistently competitive program for at least a decade now, with Xavier having a particularly high level of success in the NCAA Tournament.
It's also possible that one of the A-10's newest members, Butler, could also join Xavier and Dayton. While the other two would provide the league with potential revenue from the Cincinnati market, Butler could give the league the Indianapolis market. Adding Butler would also give the league a strong core of teams in the Midwest to join Marquette and DePaul.
The one potential issue for Dayton and Butler would be how to balance membership in a new league with their current football programs. Each is currently an FCS member, playing in the Pioneer League—a football-only league that includes teams from coast to coast. Therefore, it's very possible each could join a new league for all sports except football, for which they could remain in their current league.
It's also not beyond the realm of possibility that the Big East, as it is now, again looks to nab a couple more teams from the Atlantic 10. One such option could be Massachusetts, which would probably jump at the chance to leave the Mid-American Conference—where it is now for football only—for the Big East.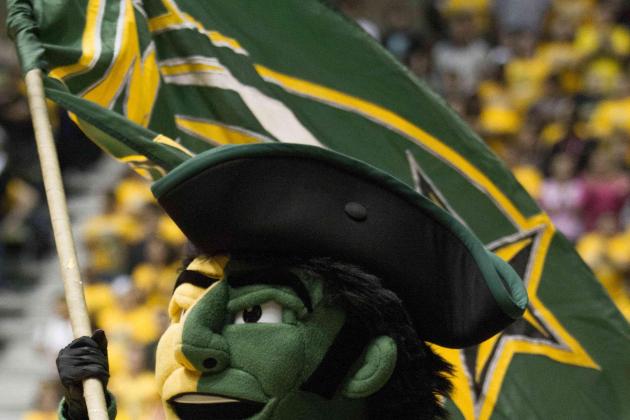 USA TODAY Sports

Possible departures: George Mason, Drexel
If the Atlantic 10 does indeed see a few of its members depart for the promise of an even more competitive league, it could once again look to fill the void by turning to the Colonial Athletic Association.
The A-10 just lured away one of the CAA's prized possessions, Virginia Commonwealth, this year. It is quite possible that a couple more current CAA schools could soon join their former conference foe before too long.
The first team that should be considered is George Mason. Like VCU, it has represented the CAA in the Final Four within the past several years. It has used that extraordinary accomplishment as a springboard for consistency, as it is almost always in contention for the league title and the league's NCAA automatic bid. Adding GMU would be a sound replacement, and would give the A-10 two teams in the immediate Washington, D.C. area.
A second option from the CAA would be Drexel. The Dragons won the league's regular season title a year ago, only to be beaten by VCU in the CAA Tournament Final and eventually missing out on an NCAA bid. Drexel would also give the A-10 a Philadelphia team to replace Temple, and having an extra matchup with both St. Joseph's and La Salle could generate additional excitement within the city and the league.
Losing both George Mason and Drexel—after already losing VCU, with Old Dominion and Georgia State to depart in July of 2013—could put the CAA in serious desperation mode.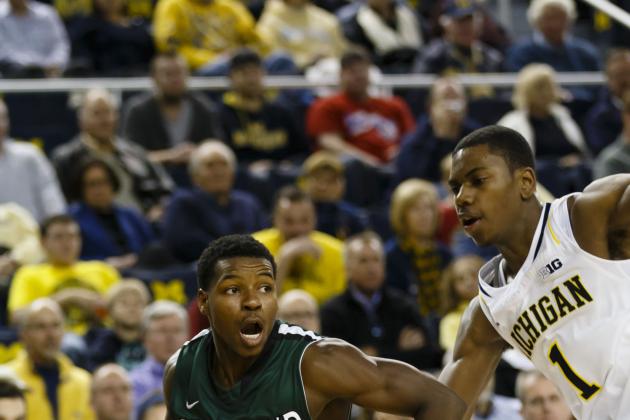 Rick Osentoski-USA TODAY Sports

Possible Departures: Cleveland State, Detroit
The Atlantic 10's reach to grab replacements could easily go beyond just one quality mid-major conference. In fact, their reach could extend well beyond the East Coast.
Should the A-10 lose Butler, Dayton and/or Xavier to a new conference, it may look to the Horizon League to add teams from the Midwest, like it already did with Butler earlier this year. The next two most suitable teams from the Horizon would likely be Cleveland State and Detroit.
Both schools—long-time members of the league—have enjoyed success within the Horizon over the past few years. CSU made a name for itself in 2009 when it defeated Butler to win the league championship, then upset Wake Forest in the first round of the NCAA Tournament. Detroit caught fire last last season, winning the league tournament and NCAA automatic bid last season.
In sticking with the theme, both CSU and Detroit would provide the A-10 an opportunity to expand its following into two new cities and would help offset the potential loss of presence in others.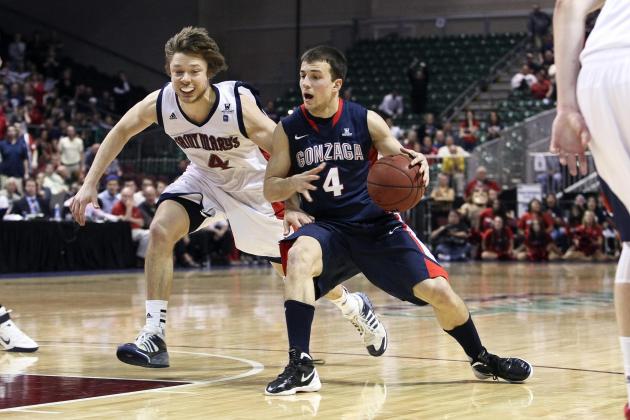 Kelley L Cox-USA TODAY Sports

Possible Departures: Gonzaga, Saint Mary's
This could be a reach—both figuratively and certainly geographically—but it is not entirely out of the realm of possibility.
If the Big East was willing to take Boise State and San Diego State for football, can a new non-football league be blamed for looking to the far west for a couple of perennial mid-major powerhouses?
Gonzaga has long been a program that has played on a different level than any other mid-major. Gonzaga's ability to recruit and schedule on its own terms and their frequent television appearances make Gonzaga the envy of any aspiring smaller-conference school, particularly those without football.
For a program that is used to following the play anybody, anywhere mindset with regards to scheduling, would geography really be a huge obstacle for Gonzaga in a league of eastern teams? More likely, the opportunity to play the likes of Georgetown and Marquette each January and February would be too tempting to pass up.
If Gonzaga eventually breaks from the WCC for the opportunities east, what's to say that Saint Mary's won't follow at some point? Over the past five years, SMC has enjoyed a very similar level of success—at least in terms of conference titles and NCAA Tournament wins—to their rivals from Spokane.
If this projected new conference wishes to expand to a 14 or 16-team format down the road, it may have to go bit outside the lines to do so, especially if it wants to maintain a high level of competition.
That may require adding two schools nearly 3,000 miles away, but it's a move that could be worth exploring.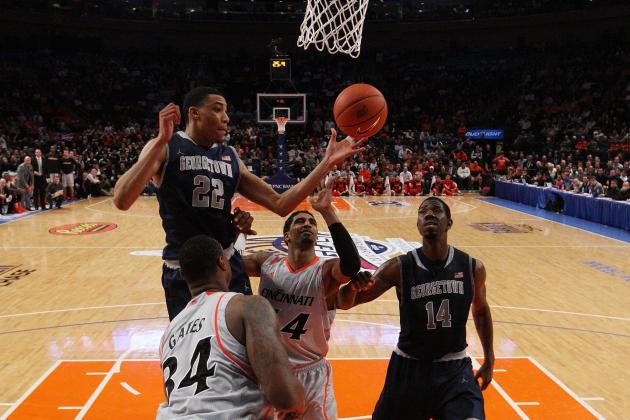 Jim McIsaac/Getty Images

This pretty much goes without saying.
With seven teams set to depart, the Big East will have nine schools heading into next year.
Those nine include three of its current members—Connecticut, Cincinnati and South Florida—along with the six new members joining in 2013 for all sports. Those include Temple, Memphis, UCF, Tulane, Houston and SMU.
The current three, seeing their Big East football counterparts depart for the ACC, would certainly jump at the chance to do the same if the opportunity presents itself. That could leave the conference with potentially none of its current members within a couple years.
That would leave the Big East scrambling—yet again—to field a competitive, relevant league, though this time in basketball. Temple and Memphis would carry their weight for sure, but the other football-motivated additions are not exactly basketball powerhouses.
Where would the Big East look to save face in the other major revenue sport? The Atlantic 10 would probably be the logical place to start.
The problem may be that some of those teams depart for the new league, created by the non-football schools' discontent.