All 30 Teams' Impending Free Agent They Can't Afford to Lose After 2013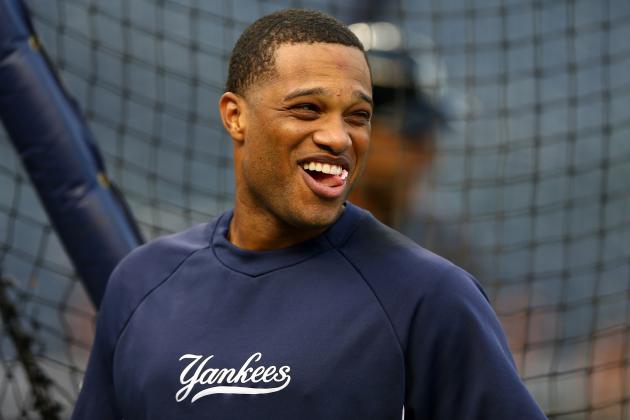 Elsa/Getty Images

Often overlooked in the midst of the Hot Stove League and all of the action that it brings is how many of the moves being made this winter are being made with next winter in mind.
With budgets fluctuating from year to year and the uncertainty of how prospects will develop or how veterans will age, it's far less risky for teams to stay with the players they know rather than take a chance on someone else's veteran or count on a prospect to produce at the highest level.
Yet plenty of free agents are going to hit the open market following the 2013 season, forcing general managers to make some tough decisions when they look to build a roster for 2014.
Let's take a look at one player from each team around baseball that those general managers would be wise to keep off of the open market.
Begin Slideshow

»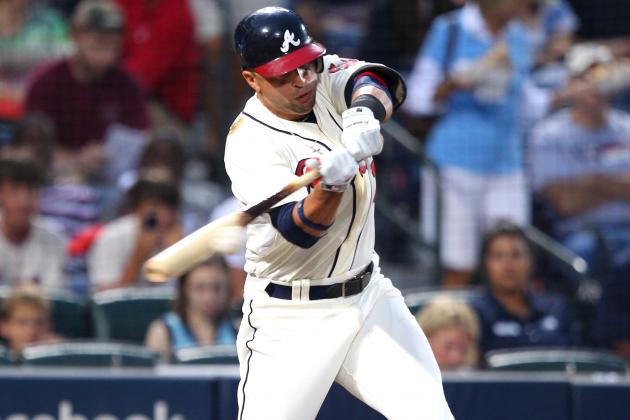 Mike Zarrilli/Getty Images

This was a tough call between Martin Prado and longtime Braves catcher Brian McCann, but Prado's ability to play multiple positions—and play them well—gives him the nod.
Atlanta's starting left fielder and leadoff hitter, Prado has posted a .294/.342/.436 slash line over the past four years while playing excellent defense and garnering MVP votes in both 2010 and 2012.
While replacing McCann is no easy task, American League teams will pursue him hard—and McCann may be more amenable to joining a squad from the junior circuit where he could split time between catcher and designated hitter.
Additionally, the Braves do have 21-year-old prospect Christian Bethancourt working his way through the farm system, and he could be ready to take over behind the plate in 2014.
Other Free Agents
Tim Hudson, RHP
Reed Johnson, OF ($1.6 million team option)
Paul Maholm, RHP
Brian McCann, C
Eric O'Flaherty, LHP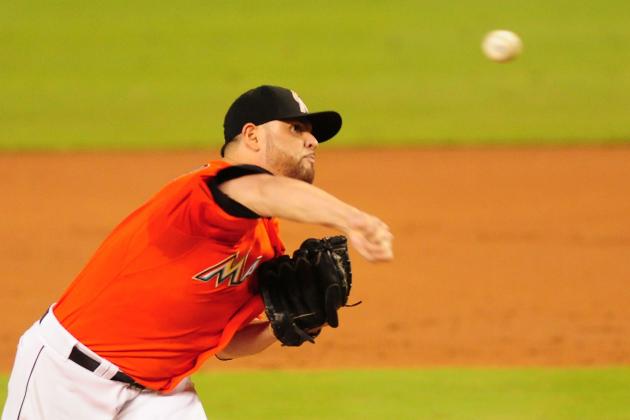 Jason Arnold/Getty Images

When you look at Miami's starting rotation, it's pretty much Ricky Nolasco and four guys with talent but no extensive track record of success:
SP1: Ricky Nolasco
SP2: Henderson Alvarez
SP3: Wade LeBlanc
SP4: Nate Eovaldi
SP5: Jacob Turner
Nolasco, 30, is the elder statesman of the rotation and the veteran that the Marlins rely upon to offer a quality start every fifth day.
Of course, if Nolasco had his way, he'd already be out of Miami, as his agent Matt Sosnick told ESPN's Jerry Crasnick earlier this month (h/t ESPN):
Ricky and I have spoken a lot since the end of the season. Just watching the way the offseason has transpired for the Marlins and the moves they've made, he and I agree that he would probably be better served playing somewhere else. If he had his druthers, he would pitch for somebody other than the Marlins in 2013 and beyond.
Whether Nolasco winds up elsewhere or not, it's hard to say that any of the team's other free agents absolutely must be retained.
Other Free Agents
Greg Dobbs, 1B
Juan Pierre, OF
Jacob Turner, RHP ($1 million team option)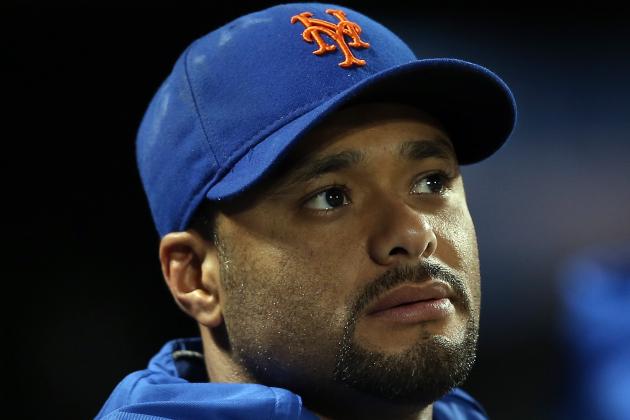 Elsa/Getty Images

The Mets cannot exercise their $25 million team option on Johan Santana for the 2014 season because he's just not worth it.
But they can't really afford to let him walk away either.
Santana is no longer the dominating force that he once was, but the 33-year-old southpaw is still a quality starting pitcher.
With the Mets now having a young catcher (Travis d'Arnaud) and a handful of youngsters on their pitching staff—namely Dylan Gee, Matt Harvey, Jon Niese and, eventually, Zack Wheeler—Santana is the veteran presence the Mets need in the rotation for everyone to learn from.
Other Free Agents
John Buck, C
Frank Francisco, RHP
Alex Trautwig/Getty Images

Chase Utley isn't getting any younger, and his knees are more likely to cost him playing time than not. But the Phillies cannot afford to let Utley walk after the 2013 season.
It quickly became evident in 2012 that Freddy Galvis is not up to the task of playing second base on a daily basis, and there isn't an heir apparent who is MLB-ready in the system.
Other Free Agents
Roy Halladay, RHP ($20 million vesting option)
Laynce Nix OF
Carlos Ruiz, C
Michael Young, 3B/SS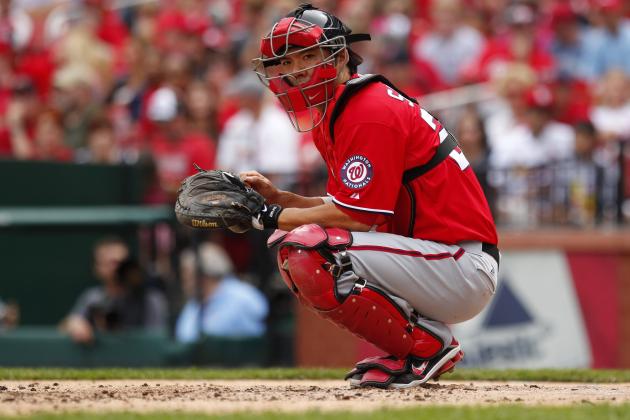 Kyle Rivas/Getty Images

Even the most talented pitching staff can go awry without a quality catcher on the receiving end, and Kurt Suzuki filled that role well for Washington.
Acquired by the Nationals shortly after the 2012 non-waiver trade deadline, Suzuki was solid at the plate, posting a .267/.321/.404 slash line with five home runs and 25 RBI in 43 games.
An argument could be made for Dan Haren as the selection, seeing as how the Nationals also have catcher Wilson Ramos, 25, waiting in the wings to reclaim the starting spot.
But with the Nationals holding an $8.5 million team option on the 29-year-old Suzuki, it makes sense to keep the veteran around our nation's capital to serve as a mentor for Ramos through the 2014 season.
Other Free Agents
Zach Duke, RHP
Dan Haren, LHP
Mike Morse, OF/1B
Chad Tracy, 1B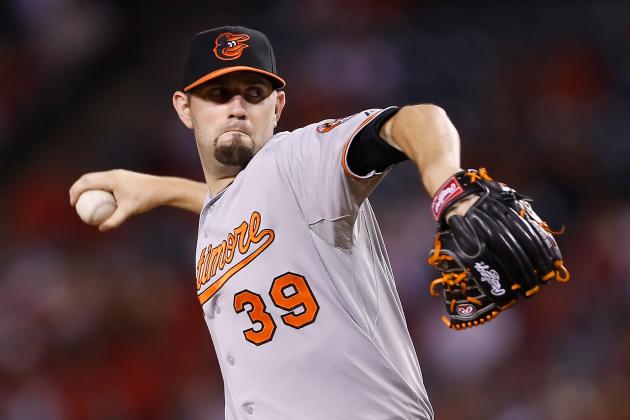 Jeff Gross/Getty Images

None of the Orioles' free agents are irreplaceable, but of the group, Jason Hammel is the most important for the team to keep past the 2013 season.
Hammel has made 135 career starts, while the other four members of the Orioles rotation: Wei-Yin Chen, Miguel Gonzalez, Chris Tillman and Zach Britton, have a combined 137 career starts between them.
When you add the team's top prospect, Dylan Bundy to the mix, keeping a veteran like Hammel around to mentor the rest of the staff is a must.
Other Free Agents
Luis Ayala, LHP
Wilson Betemit, IF ($3.2 million vesting option)
Nate McLouth, OF
Brian Roberts, 2B
Jared Wickerham/Getty Images

Boston's best starting pitcher by a wide margin, Jon Lester is one of baseball's best left-handed starters when he's on—something he wasn't for most of the 2012 season.
Losing Lester would deal a catastrophic blow to a rotation that, even with the addition of Ryan Dempster, remains shaky entering 2013.
Other Free Agents
Craig Breslow, LHP
Ryan Dempster, RHP
Jacoby Ellsbury, CF
Jarrod Saltalamacchia, C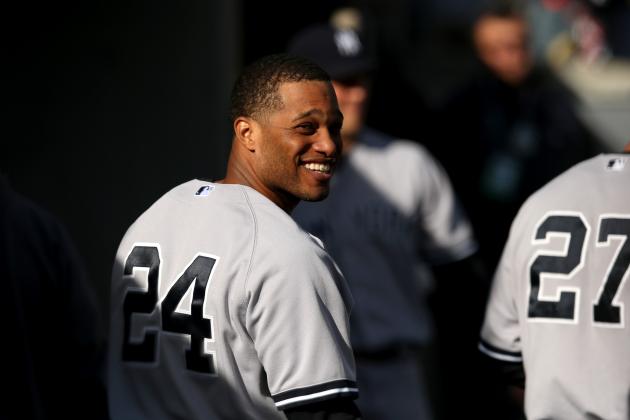 Jonathan Daniel/Getty Images

He's the best second baseman in baseball, the best player on the Yankees and a perennial MVP candidate.
The Yankees have a number of key pieces hitting the open market following the 2013 season, including CF Curtis Granderson, starting pitchers Phil Hughes, Hiroki Kuroda and Andy Pettitte, Mariano Rivera and potentially SS Derek Jeter.
But not even the Yankees captain is not as irreplaceable as Robinson Cano is.
Other Free Agents
David Aardsma, RHP
Joba Chamberlain, RHP
Curtis Granderson, CF
Phil Hughes, RHP
Derek Jeter, SS ($8 million player option)
Hiroki Kuroda, RHP
Boone Logan, LHP
Andy Pettitte, LHP
Mariano Rivera, RHP
Kevin Youkilis, 1B/3B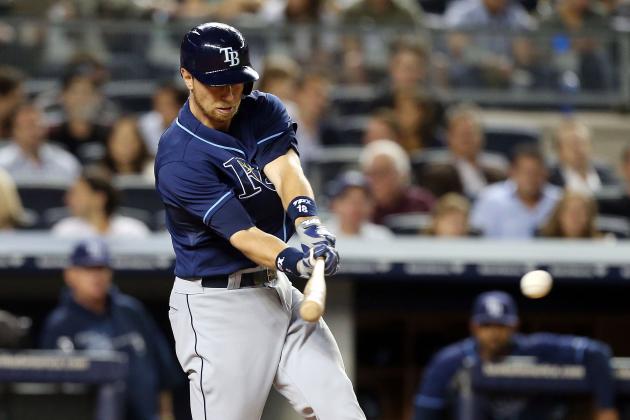 Jim McIsaac/Getty Images

One of the more underrated players in the game, Ben Zobrist is a versatile on-base machine for the Tampa Bay Rays—one that the team simply cannot afford to lose.
With a career slash line of .260/.354/.442 and the ability to play second base, third base and the outfield, he is simply too big a piece of the picture in Tampa Bay for the Rays to let him walk.
The good news for the Rays is that keeping Zobrist for the 2014 season is simply a matter of the team picking up his $7 million option.
Other Free Agents
Yunel Escobar, SS ($5 million team option)
Roberto Hernandez, RHP
James Loney, 1B
Jose Molina, C
Fernando Rodney, RHP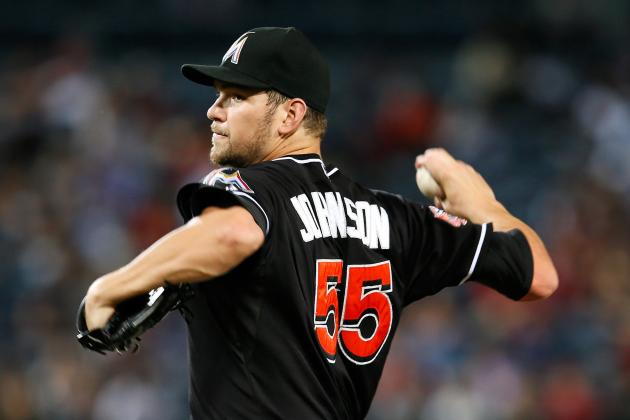 Kevin C. Cox/Getty Images

The Toronto Blue Jays knows as well as any team in the majors that you can never have too much pitching.
After losing eighty percent of their Opening Day rotation to injury, the Blue Jays went out and addressed their rotation in a major way this winter, adding Josh Johnson, Mark Buehrle and 2012 NL Cy Young Award winner R.A. Dickey from the Mets.
The Blue Jays didn't trade for that trio with the thought of letting one of them walk after only one season.
While the team would have internal options to take Johnson's spot in the rotation—Kyle Drabek, Dustin McGowan and Drew Hutchison—none can actually replace him.
Other Free Agents
Rajai Davis, OF
Casey Janssen, RHP
Adam Lind, 1B ($7 million team option)
Darren Oliver, LHP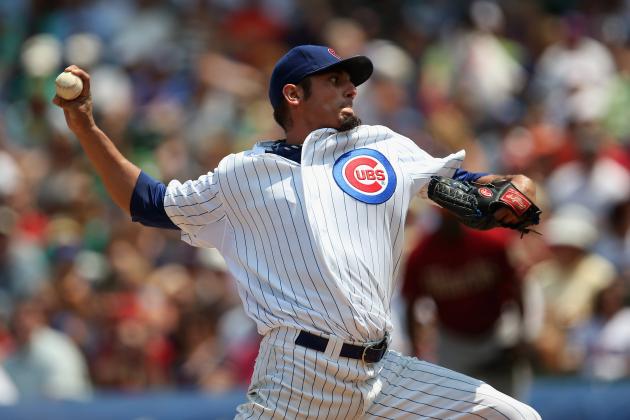 Jonathan Daniel/Getty Images

The ace of a mediocre pitching staff, Matt Garza is the most irreplaceable free agent that the Cubs have.
Yet, if the team chooses to finally trade Garza at the trade deadline (as has been rumored in each of the past two years) to further its rebuilding efforts, it would be totally understandable.
But doing so would leave a void in the Cubs rotation that would not be easily filled, as no pitcher on the roster is as battle-tested—or reliable—as Garza is.
Other Free Agents
Scott Baker, RHP
Shawn Camp, RHP
David DeJesus, OF ($6.5 million team option)
Scott Feldman, RHP
Carlos Marmol, RHP
Dioner Navarro, C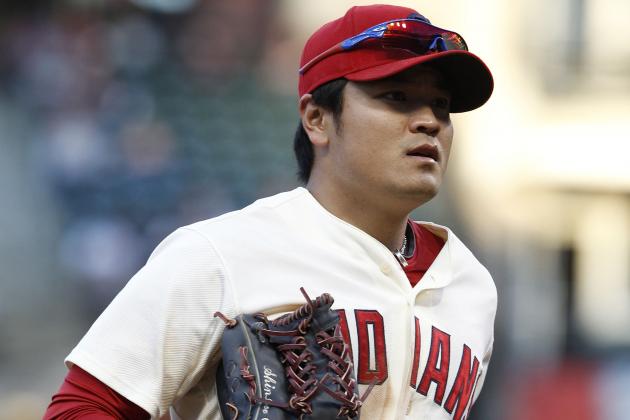 David Maxwell/Getty Images

Cincinnati's prized acquisition of the winter, Shin-Soo Choo, is the choice here by default.
But with Billy Hamilton and his ridiculous speed working their way through the Reds' minor league system as the team tries to convert him into a center fielder, the team very well could let Choo walk after the 2013 season.
In reality, the Reds might not have a choice, as Choo is represented by Scott Boras, and he typically always takes his players to the open market, where a bidding war ensues.
Other Free Agents
Bronson Arroyo, RHP
Nick Masset, RHP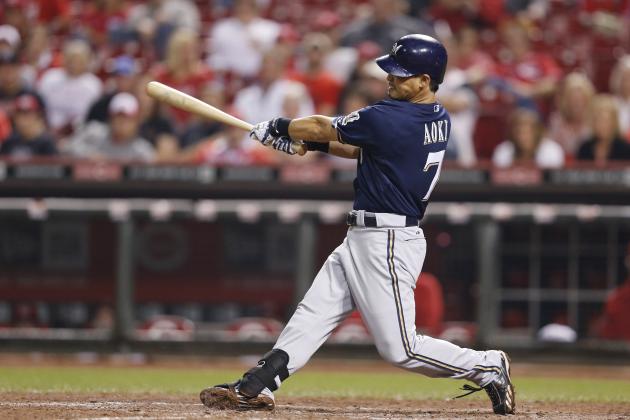 Joe Robbins/Getty Images

One of the more underrated international signings in recent memory, Norichika Aoki has become the table setter for one of the most explosive offenses in baseball.
An argument could certainly be made for Corey Hart, who has averaged 24 home runs and 83 RBI a season for the past six seasons. but replacing power is easier than replacing an on-base machine like Aoki, who posted a .355 OBP in 2012.
Other Free Agents
Carlos Gomez, CF
Corey Hart OF/1B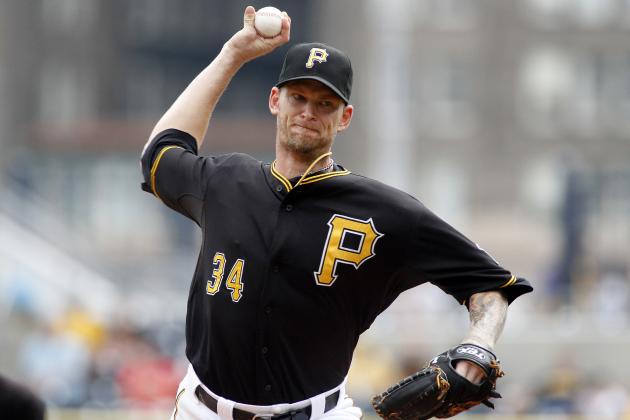 Justin K. Aller/Getty Images

Prospects Gerrit Cole and Jameson Taillon might be ready to join the Pirates rotation in 2014, but they'll need a veteran presence to lean upon.
Amazingly, A.J. Burnett turned his career around in 2012, establishing himself as Pittsburgh's most reliable starter and posting an 9.0 K/9 and a 2.8 BB/9—the second-lowest mark of his career.
Other Free Agents
Clint Barmes, SS
Joel Hanrahan, RHP
Wandy Rodriguez, LHP ($13 million team option)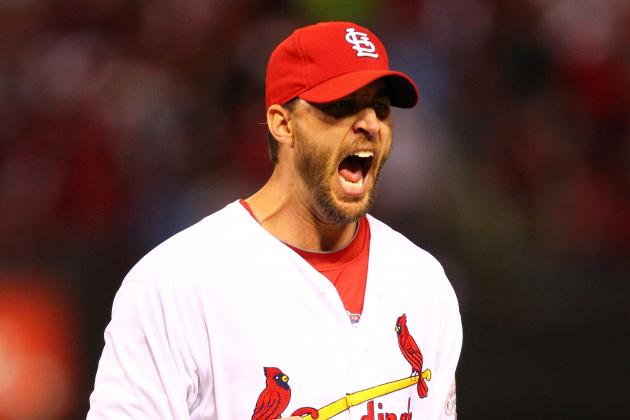 Dilip Vishwanat/Getty Images

With three-fifths of its starting rotation set to hit the open market after 2013, St. Louis needs to retain the services of at least one of those pitchers—and it might as well be the ace of the staff, Adam Wainwright.
After missing all of the 2011 season due to Tommy John surgery (h/t Sporting News), Wainwright got better as the 2012 season progressed, pitching to a 3.28 ERA and 1.15 WHIP during the second half of the season.
If that's any sign of what's to come, Wainwright figures to find himself back in the thick of the Cy Young discussion in 2013.
Other Free Agents
Carlos Beltran, RF
Chris Carpenter, RHP
Rafael Furcal, SS
Edward Mujica, RHP
Jake Westbrook, RHP ($9.5 mutual option)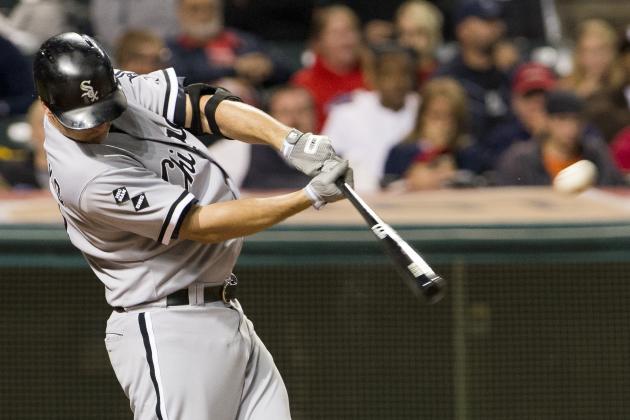 Jason Miller/Getty Images

Chicago's most consistent player, the heart and soul of the team and its undisputed leader, losing Paul Konerko would deal a major blow to the White Sox's chances of contending in the AL Central.
Over his 14-year White Sox career, an average season for Konerko has been a .285 batting average, 30 home runs and 84 RBI.
Other Free Agents
Jesse Crain, RHP
Gavin Floyd, RHP
Matt Thornton, LHP ($6 million team option)
DeWayne Wise, OF
Tom Szczerbowski/Getty Images

It may seem odd to have a middle reliever as the choice in Cleveland, but when you look at the other free agents that the Indians are faced with after the 2013 season, Smith is more valuable to the team's success than any of the others.
Over the past two years, Smith has appeared in 143 games for the Indians, pitching to a 2.49 ERA and 1.13 WHIP over 134 innings of work.
Other Free Agents
Matt Albers, RHP
Mark Reynolds, 1B
Ubaldo Jimenez, RHP ($8 million team option)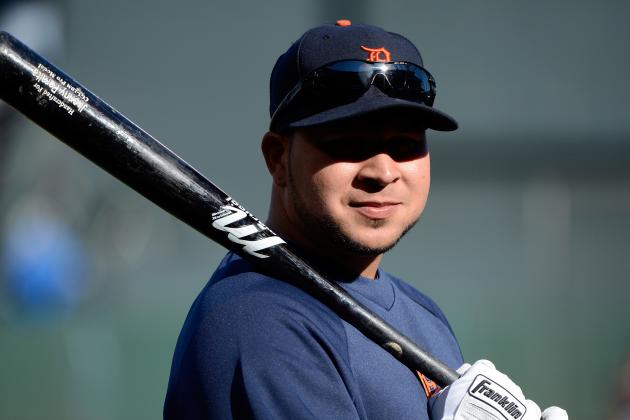 Thearon W. Henderson/Getty Images

I know, I know, most Tigers fans cannot wait until the team moves on from Jhonny Peralta at shortstop.
After a 2011 season that saw Peralta hit .299 with 21 home runs and 86 RBI while being selected for his first All-Star game, Peralta struggled in 2012, hitting only .239 with 13 home runs and 63 RBI.
But with no immediate options to replace him in the system, Peralta is Detroit's best choice to man the position—and should his 2013 look anything like his 2012 did, Detroit should be able to keep him in the fold rather inexpensively.
Other Free Agents
Joaquin Benoit, RHP
Octavio Dotel, RHP
Omar Infante, 2B
Brayan Pena, C
Ramon Santiago, IF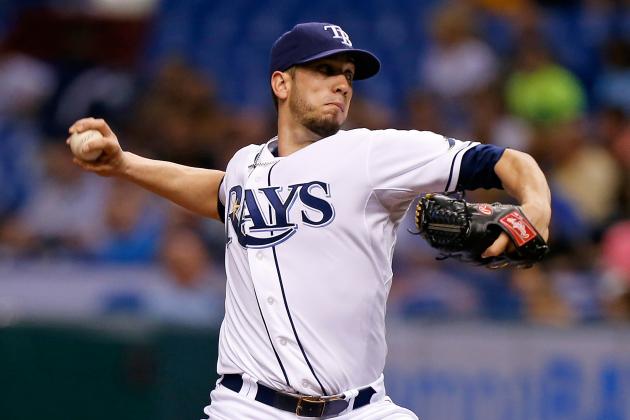 J. Meric/Getty Images

After years of feebly trying to convince people that Luke Hochevar and Bruce Chen were front-of-the-rotation starters, the Royals went out and did what they needed to do, acquiring James Shields from the Tampa Bay Rays.
But it came at a steep price, namely the best hitting prospect in all of baseball, OF Wil Myers, and two of Kansas City's top pitching prospects, Mike Montgomery and Jake Odorizzi.
Fans would revolt were Shields permitted to walk away from it all after only one year.
With a $12 million team option on Shields for the 2014 season, keeping him in the mix for two years is easy enough. But two years of Shields isn't going to be enough to justify that cost, and the team will need to work out a long-term deal to satisfy everyone involved.
Other Free Agents
Bruce Chen, RHP
Jeff Francoeur, OF
Ervin Santana, RHP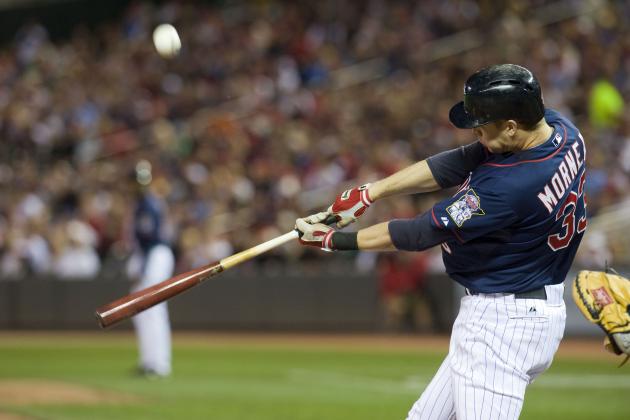 Marilyn Indahl/Getty Images

After two years of battling the after effects of concussions, Justin Morneau finally began to look like the All-Star first baseman that was a perennial MVP candidate.
From 2005 through 2009, Morneau averaged a slash line of .283/.353/.502 with 28 home runs and 110 RBI per season.
Not only would the Twins struggle to replace his bat in the middle of the lineup, but with Jamey Carroll as the team's only other free agent following the 2013 season, Morneau had to be the choice.
Other Free Agents
Jamey Carroll, IF ($2 million team option)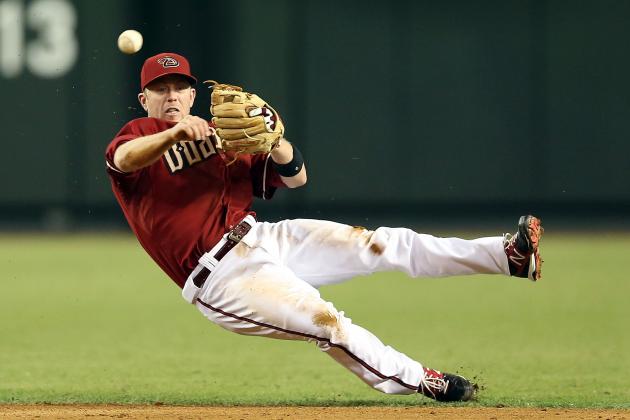 Christian Petersen/Getty Images

Aaron Hill's first full season in Arizona was a rousing success for the 30-year-old second baseman.
Hill posted a career-best .302/.360/.522 slash line while rediscovering the power stroke that escaped him in 2011, slugging 26 home runs and driving in 85 runs.
On the heels of Arizona acquiring its shortstop of the future in Didi Gregorius, the last thing the team needs to do is add uncertainty to the middle of the diamond again by removing the most solid infielder on the team from the equation.
Other Free Agents
Willie Bloomquist, IF
Eric Chavez, 3B
Eric Hinske, 1B/OF
Jason Kubel, OF ($7.5 million team option)
John McDonald, IF
Wil Nieves, C
J.J. Putz, RHP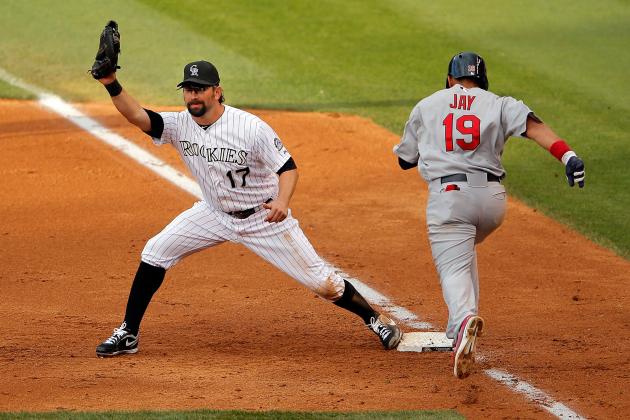 Doug Pensinger/Getty Images

Colorado doesn't have a "must-keep" free agent following the 2013 season, so the pick here is the sentimental choice: longtime Rockies first baseman Todd Helton.
He's a shell of the player that he once was and can no longer play on a daily basis, but Helton is the unquestioned leader of the Rockies, and his presence in the clubhouse isn't something that the Rockies can easily replace.
Other Free Agents
Matt Belisle, RHP ($4.25 million mutual option)
Rafael Betancourt, RHP ($4.25 million team option)
Jorge De La Rosa, LHP ($11 million team option)
Jeff Francis, LHP
Ramon Hernandez, C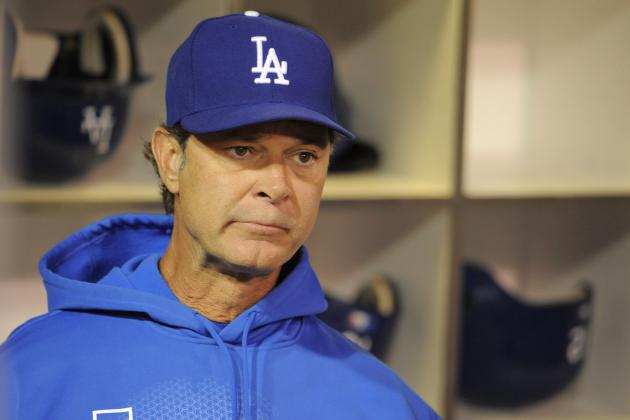 Denis Poroy/Getty Images

Things haven't gone exactly as planned for the Dodgers since Don Mattingly took the reins from Joe Torre, but the team has put him in position to succeed in 2013.
With the addition of Zack Greinke to the rotation and a full season of Hanley Ramirez and Adrian Gonzalez, Mattingly finds himself in a much better position than he was in before.
Of course, expectations have never been higher, and should the Dodgers fail to make the playoffs in 2013, Donny Baseball could be looking for work in 2014.
But for someone as widely respected as Mattingly is around the league, it wouldn't take him long to land on his feet—and who exactly the Dodgers would replace him with is a question that isn't easily answered.
Other Free Agents
Chris Capuano, RHP ($6 million team option)
Mark Ellis, 2B ($5.75 team option)
Matt Guerrier, RHP
Jerry Hairston, OF
Aaron Harang, RHP ($7 million mutual option)
Ted Lilly, LHP
Nick Punto, IF
Skip Schumaker, 2B/OF
Juan Uribe, IF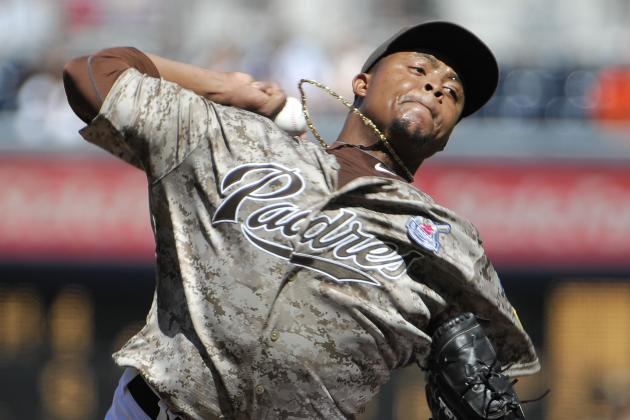 Denis Poroy/Getty Images

Command and control of his pitches continue to plague Edinson Volquez, who led the National League with 105 walks in 2012. But there's little doubt that he is San Diego's best starting pitcher.
Volquez, 29, had the most drastically different home and away splits in 2012.
Home: 2.95 ERA, 1.29 WHIP, 100.2 IP, 74 H
Away: 5.60 ERA, 1.65 WHIP, 82 IP, 86 H
If the Padres are able to bring his performance on the road even a smidgeon closer to his numbers at Petco Park, there's no reason that Volquez couldn't be a 15-game winner for years to come in San Diego.
Other Free Agents
Mark Kotsay, OF
Jason Marquis, RHP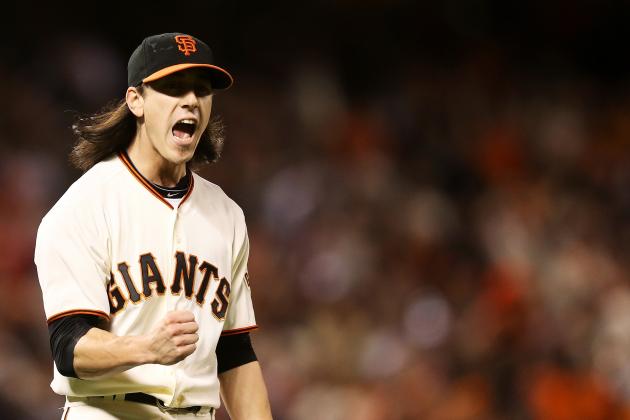 Ezra Shaw/Getty Images

You simply don't let a talent like Tim Lincecum walk out the door.
A two-time Cy Young Award winner and one of the best pitchers in all of baseball, Lincecum had the worst season of his career in 2012, leading the National League in losses (15), earned runs (107) and wild pitches (17).
Nobody expects a repeat of those numbers in 2013, and should the Giants make the odd decision to allow Lincecum to hit the open market following the 2013 season, there will be 29 other teams ready to offer "Big Time Timmy Jim" bags of cash to bring his talents to their citiy.
Other Free Agents
Javier Lopez, LHP
Hunter Pence, OF
Andres Torres, OF
Ryan Vogelsong, RHP ($6.5 million team option)
Barry Zito, LHP ($18 million team option)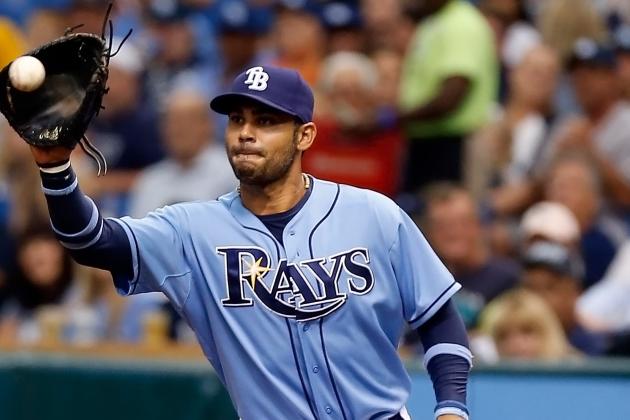 J. Meric/Getty Images

Houston has only two free agents following the 2013 season: first baseman Carlos Pena and RHP Philip Humber.
With Jonathan Singleton biding his time in the minor leagues and the clear first baseman of the future in Houston, Pena is easily replaceable
As for Humber, he's a middling pitcher who has shown flashes of brilliance, but is far more often too erratic and inconsistent to be relied upon every fifth day.
Like Pena, Humber is easily replaceable.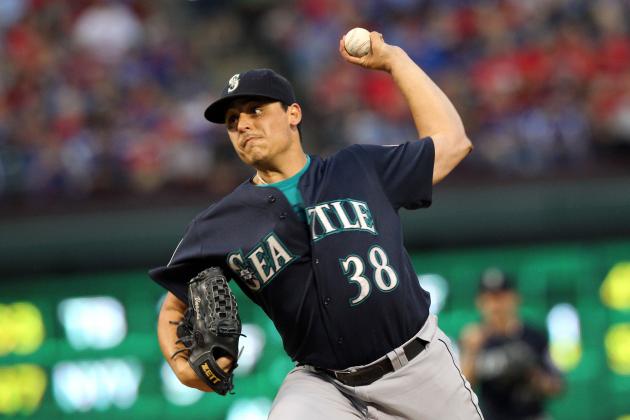 Layne Murdoch/Getty Images

Why is Jason Vargas the choice?
I'll let Angels GM Jerry DiPoto explain, as he did on Wednesday when discussing the trade that sent DH/1B Kendrys Morales to the Seattle Mariners in exchange for the 30-year-old southpaw (h/t ESPN):
Jason was what we were looking for on the market this year, just a steady reliable left-hander who can go out there. He's got a history of pitching a high volume of innings and clearly I think we make ourselves a little bit better just in that we don't have to face him because he's given us fits. So we're thrilled to make the deal. We feel like this makes us a better, more complete and balanced team.
It's hard to argue against that reasoning.
Other Free Agents
Alberto Callaspo, 3B
Scott Downs, LHP
Ryan Madson, RHP
Ezra Shaw/Getty Images

Young, quality starting pitchers don't hit the open market often, and when they do, a bidding war almost always ensues.
When it's a young, quality left-handed starter, it's a guarantee that big-market teams will look to outbid small-market clubs for the player's services.
Besides, it's far more along the lines of a Billy Beane move to exercise the team's $8 million option on Anderson for 2014 and then look to move him at the trade deadline for additional pieces.
Other Free Agents
Grant Balfour, RHP
Bartolo Colon, LHP
Coco Crisp, OF ($7.5 million team option)
Chris Young, OF ($11 million team option)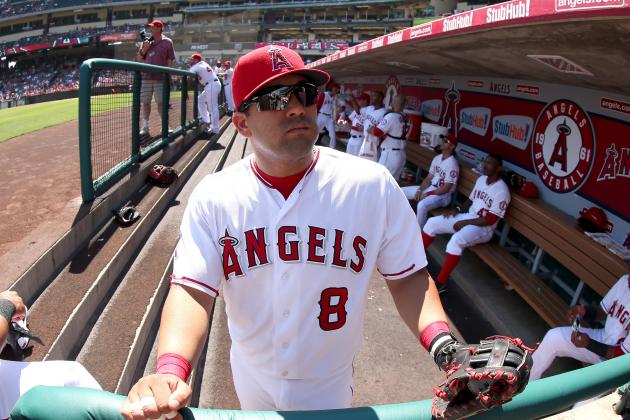 Stephen Dunn/Getty Images

Seattle didn't trade Jason Vargas for Kendrys Morales to keep the slugger in the Emerald City for one season and then watch him walk away.
Morales, 29, is the power hitter that Seattle has lacked in the middle of its lineup for years. His presence takes pressure off of youngsters Jesus Montero and Kyle Seager, who both found themselves pressing a bit in 2012 as they tried to make up for Seattle's offensive deficiencies by themselves.
Other Free Agents
Jason Bay, OF/DH
Franklin Guttierez, OF ($7.5 million team option)
Oliver Perez, LHP
Brendan Ryan, SS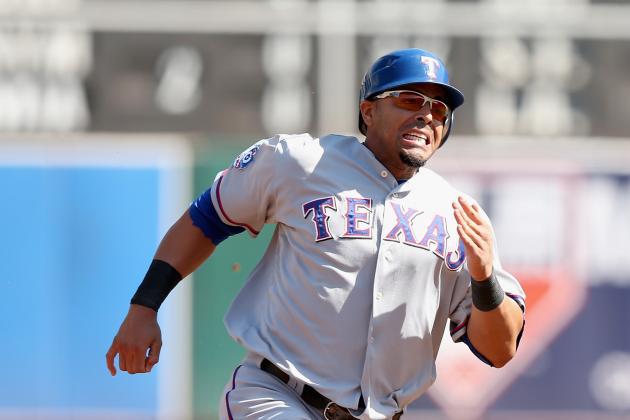 Ezra Shaw/Getty Images

This one is as open to change as any on this list, as it all depends on what Texas winds up doing to address the production lost by Josh Hamilton's departure to Los Angeles.
But until that is addressed, Nelson Cruz, who has averaged 27 home runs and 83 RBI for Texas over the past four years, is the choice.
With Ian Kinsler, Elvis Andrus and Jurickson Profar hitting in front of him, Cruz's power is imperative to the Rangers' ability to score those runs when that trio finds itself on base.
Other Free Agents
Colby Lewis, RHP
David Murphy, OF
Joe Nathan, RHP ($9 million team option)
Geovany Soto, C
Rick Weiner is a Featured Columnist covering all of MLB and a member of B/R's Breaking News Team.