L.A. Lakers vs Washington Wizards : Live Score, Results and Game Highlights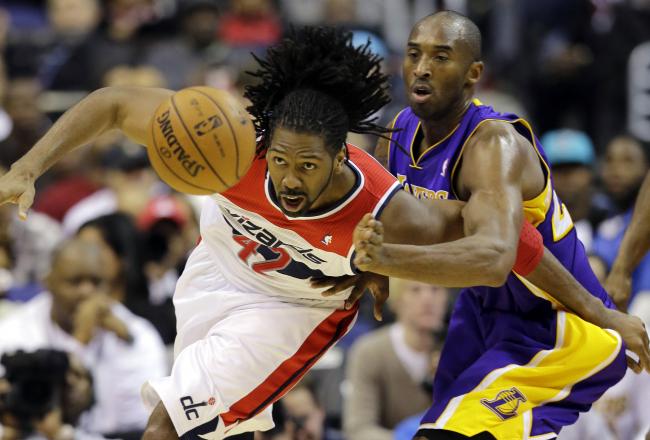 Can things get any worse in Los Angeles?
The Lakers come in at just 9-14 and have lost their last four games. Washington is doing much worse, but expectations were never that high for them after losing John Wall.
Can the Lakers rebound against the Wizards tonight?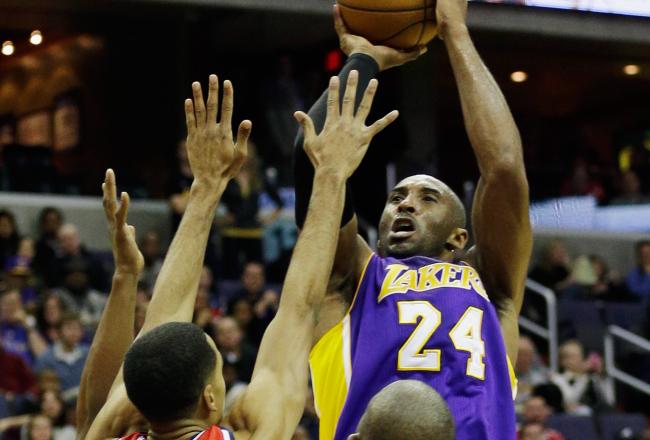 After a night when it seemed things might go wrong again, the Lakers were able to hang on to beat the Washington Wizards on the road, in an arena that was cheering for them anyway. Most arenas have a lot of Lakers fans, but all the more so when the home team is as bad as the Wizards.
Actually, truth be told, the Wiz showed they had some nice things going on that can be built upon. The frontcourt of Nene Hilario, Kevin Seraphin and Emeka Okafor looked strong. Cartier Martin showed he is a big time scorer when he puts his mind to it. And then, of course, there is still John Wall's return clouded in uncertainty. The Wizards are not a team without hope.
The Lakers improve to 10-14 on the season after having lost their last four prior to tonight's 102-96 victory. At this point, the Lakers are just happy to get a win, even if it was a closely contested match against the worst team in the Association.
FINAL SCORE: LAKERS 102, WIZARDS 96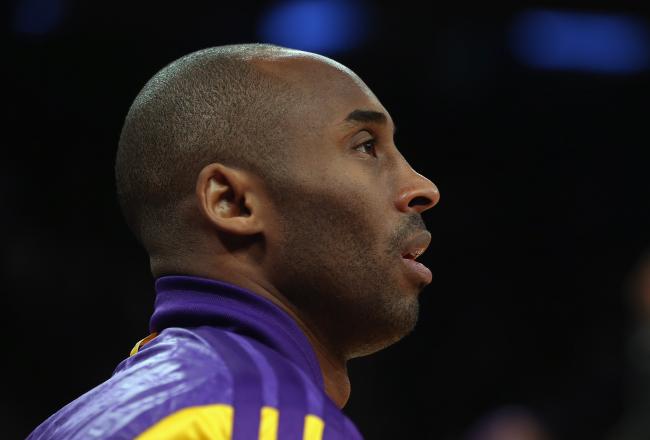 Kobe, after missing two jumpers, comes flying in to tip in a Howard missed free throw. No one boxed Kobe out, and he got to the basket and tipped the ball in with his left hand, giving the Lakers a fairly safe lead since Howard actually converted the first free throw.
LAKERS 102, WIZARDS 93 — 1:21 Remaining in Game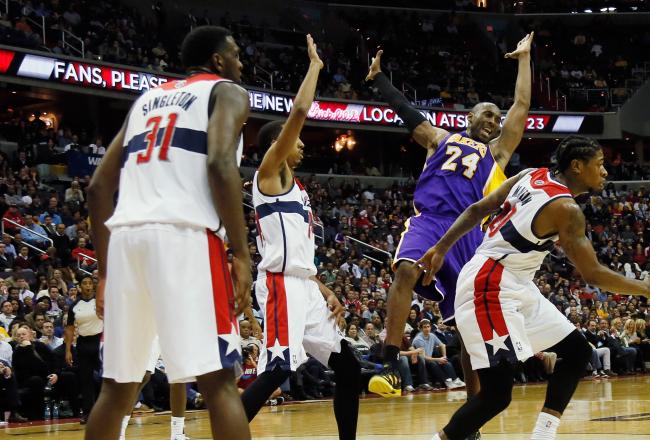 And as if just to make me look foolish, Kobe misses a three and then turns it over after Jodie Meeks grabbed the offensive rebound from his missed three. I guess Kobe can't do it every time. Then again, there's still a few minutes in the game for Bryant to do some real damage.
LAKERS 98, WIZARDS 91 — 2:44 Remaining in Game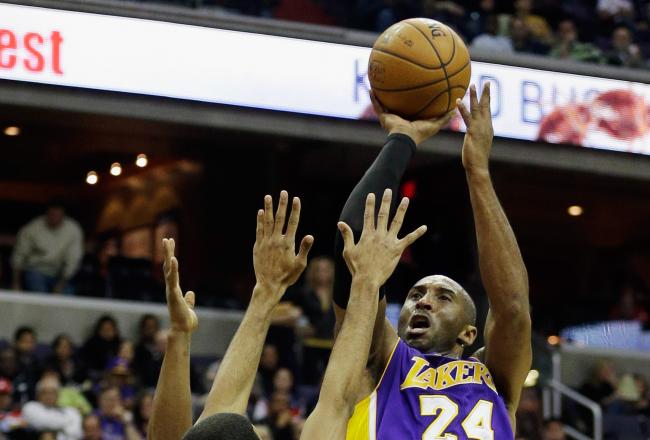 The Wizards now have five players in double figures and have cut the Lakers lead down to five points.
Cartier Martin has 18, Martell Webster's put up 17—and Jordan Crawford, Nene Hilario and Kevin Seraphin have all scored double figures as well.
They've had some balanced scoring, strong play, but just need more consistency. The Wizards went on a 17-4 run to cut it down to three and now it's probably the time we're all going to sit back and watch Kobe Bryant do what he does.
Dwight Howard makes a hook shot to extend it to five. Howard, one rebound shy of a double-double.
LAKERS 94, WIZARDS 89 — 5:05 4th Quarter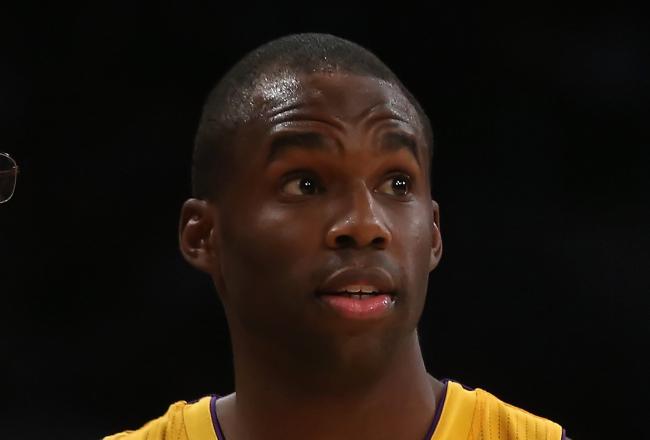 Jodie Meeks is making it rain. He hits two more field goals, a 17-foot jumper and another three, to bring the Lakers to a 13 point lead. Meeks with 24. He and Kobe have had a hand in the last 18 Lakers' points.
The Lakers anticipated Meeks would help when they signed him this summer, but no one was expecting this. He's having a career night. That said, Meeks is still a very important cog for the Lakers' backcourt, and could be the guy that ends up saving the season. If that's possible still.
After that reassurance, the Wizards reeled off a 9-0 run and cut it to seven. This game is wildly unpredictable, as it was looking like the Wiz were about to mail it in before a short burst of inspired play. They are a Jekyll & Hyde type of team, capable of both great and horrible play within short spans of time.
LAKERS 88, WIZARDS 81 — 9:20 in 4th Quarter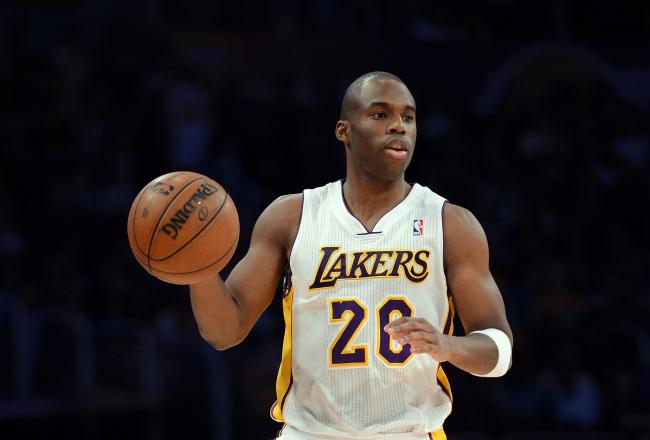 It's interesting to see that D'Antoni's counter to Kevin Seraphin and Nene has been Dwight Howard and Robert Sacre. Prior to tonight, Sacre hadn't seen more than seven minutes in a game, and he's already logged 12 tonight.
And you know what? He's pretty good. He finished with a nice dunk earlier in the game and has looked very mobile for a 7-foot 260 pound body. The last center who played behind Howard certainly benefitted (Marcin Gortat). Sacre is thrown into the fire every day against Howard, and now they are sharing the frontcourt together.
Lakers close the quarter out on a 15-5 run as Jodie Meeks continues his hot shooting, totaling up his 19th point on a three pointer from the left wing. Meeks dropped 50 at Kentucky, but did anyone see a chance of him outscoring Kobe? OK, so he's not; Kobe has 22. But Kobe is 7-of-20 from the floor, while Meeks is 7-of-11. There's a lot to be said for efficiency, Jodie Meeks-Payton.
LAKERS 83, WIZARDS 69 — end of 3rd Quarter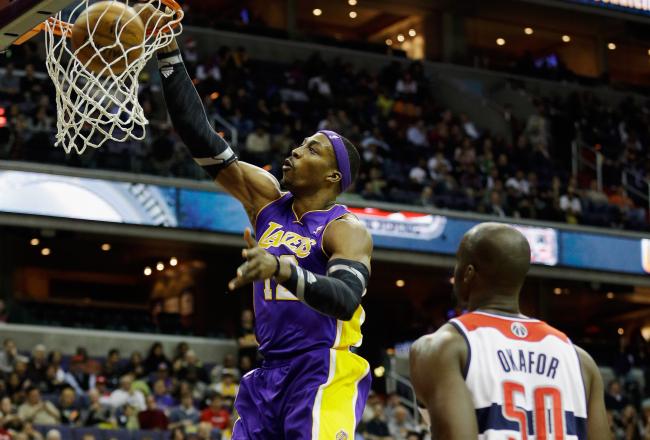 The Lakers feed the ball into Dwight Howard finally, and he squares up. There's not a lot of centers in the NBA that choose to bang with Nene, but Howard is best to work for his sweeping hook, especially against a defender who stands closer to 6'9" than his listed 6'11" Howard does have a speed advantage, though, too.
All that said, Nene is a very good defender and will give Howard plenty of problems.
And as we say that, Howard picks up his fourth foul and heads to the bench.
LAKERS 76, WIZARDS 64 — 3:05 in 2nd Quarter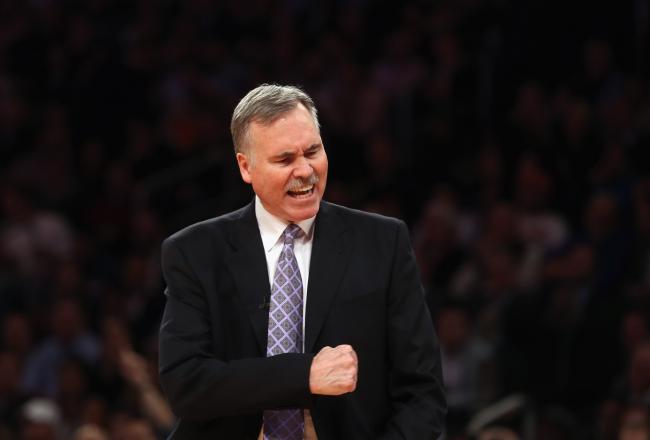 D'Antoni as mad as he has been as Lakers coach, yelling at Lakers for sloppy play keeping game close. ... LA 68, WASH 62.

— KEVIN DING (@KevinDing) December 15, 2012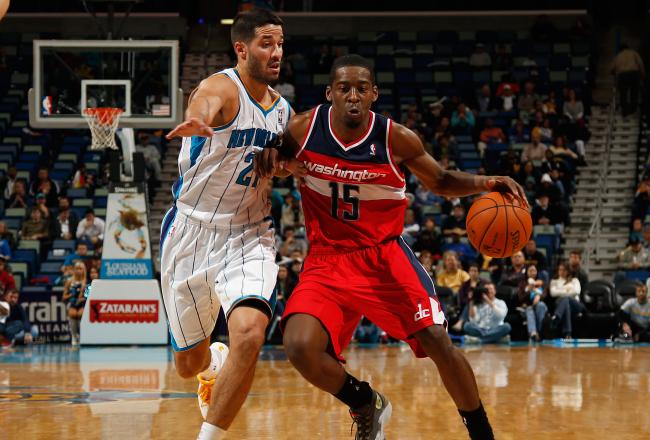 The Wizards best player (sans John Wall) Jordan Crawford is starting to get it cooking now. He's made his last two field goals and now has eight points. Crawford came in averaging 14.9 points per game, but has had a number of big games, including a 26 point performance against the New Orleans Hornets on Tuesday night (Dec. 11).
LAKERS 68, WIZARDS 62 — 6:51 in 3rd Quarter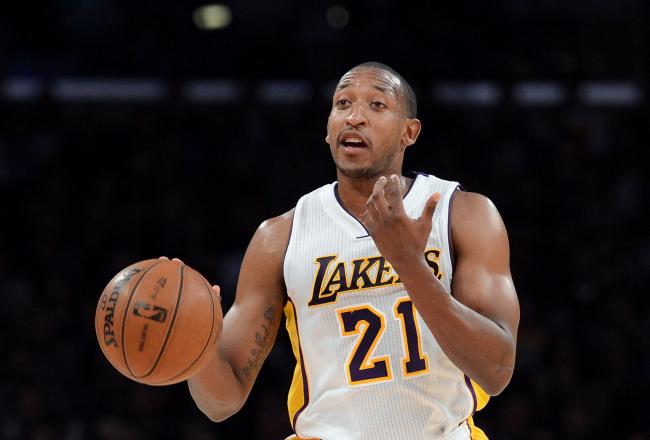 Lakers 9-0 run extends back into the third quarter. Chris Duhon fearlessly shot a three and banged it, and Dwight Howard ignited a fast break. They came out and struck first, and are now up again by a decent margin. Dwight Howard can still change games with his defense.
LAKERS 67, WIZARDS 58 — 8:51 in 3rd Quarter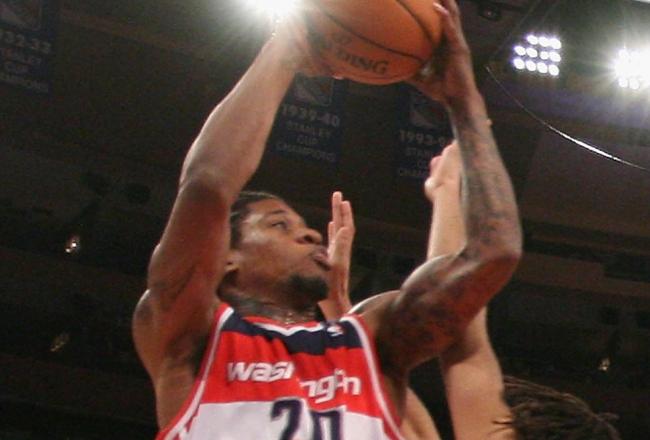 Nene and Kevin Seraphin on the court together is a very imposing frontline. Both are capable shot blockers, big bodies, and great rebounders. The Wizards have some nice pieces in place if things can develop, and though no one saw this coming from Cartier Martin, it is a nice sign, whatever it means.
The real question will be to see how much better the Wiz get when John Wall comes back.
Metta World Peace has willed back-to-back field goals into the hole, just determined to get shots up. World Peace just took it hard to the hole, and Nene couldn't prevent him from getting it up.
The high scorer of the game is Martin with 15, and the high scorer of the Lakers isn't even Kobe Bryant. It's Jodie Meeks of Kentucky, with 14 off the bench. The Lakers have also had some nice contributions by the aforementioned MWP and Devin Ebanks who had a nice alley-oop early on and hit 3-of-5 from the floor.
The Lakers have to get more out of Dwight Howard than two field goal attempts in 13-plus minutes of action. Players don't play on max contracts to be as uninvolved as he is offensively, and just rebounding the ball isn't enough when the player in question is as talented and dominant as Howard is.
Mike D'Antoni has to find a way to get Howard more involved. He did get to the line four times, but he's just not getting the usage he did while in Orlando.
The Lakers would be far better off if they ran the ball down to Dwight far more, and worked the offense from the inside-out. But will that ever happen on a team with Kobe Bryant? It seemed Bryant deferred to Shaq more than he is to Howard.
LAKERS 58, WIZARDS 55 — Halftime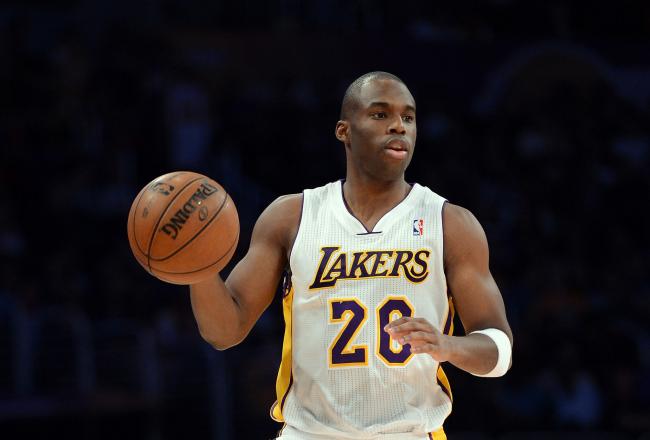 Every time I see Jodie Meeks wearing No. 20 and doing his thing, on a small monitor, it keeps making me think I am watching Gary Payton in his season in Lakers' gold. Their games aren't that similar, but their size and bald heads are close enough.
I'm not going to say Meeks is anywhere on the level of The Glove's game, but he has 14 points on 5-of-8 shooting. His great shooting brought the Lakers back into this one.
LAKERS 49, WIZARDS 49 — 2:09 in 2nd Quarter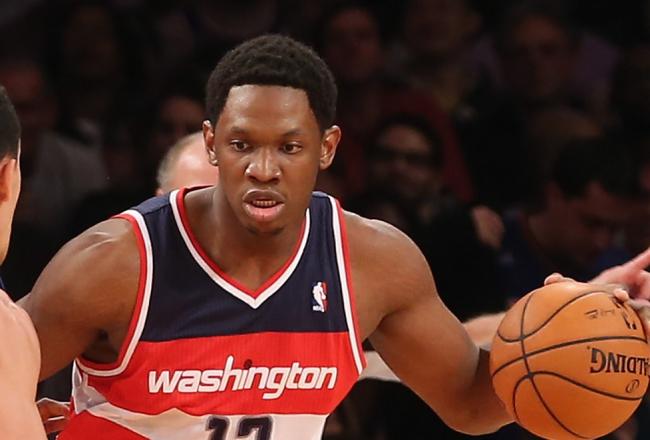 Kevin Seraphin gives the Wizards at least one nice big man for the future. Seraphin executed a very soft rolling hook over Robert Sacre, a move he has unleashed in recent times. He continues to get more developed on the block and really knows how to make the most of his massive frame.
Oddly, he is playing behind a guy he used as a role model in Nene Hilario, and he's clearly learned from the NBA veteran. Seraphin should eventually carve out a nice career on the strength of shoulders that appear nearly as wide as Dwight Howard's, if not more so.
WIZARDS 45, LAKERS 39 — 4:36 2nd Quarter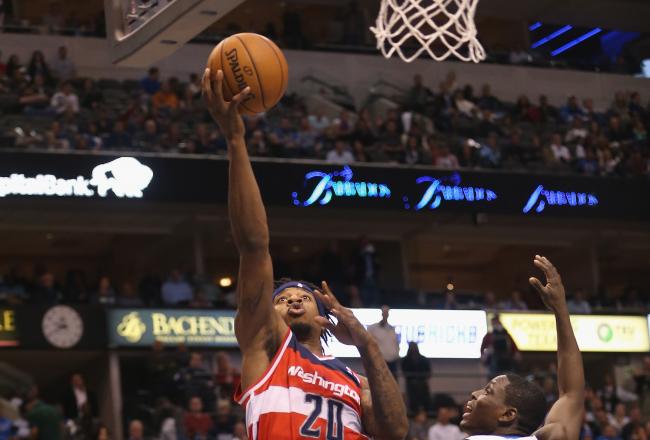 "The Lakers are making All-Stars out of no name players. Cartier Martin with 14 on his fifth field goal."

-Lakers color commentator
Washington is acting like this is their game to lose. Cartier Martin connected on his 15th point from the free throw line and is looking like a guy we've just never seen before. Is Martin on the verge of a career breakout or are the Lakers really this bad? I'm completely unsure right now.
WIZARDS 41, LAKERS 32 — 6:43 in 2nd Quarter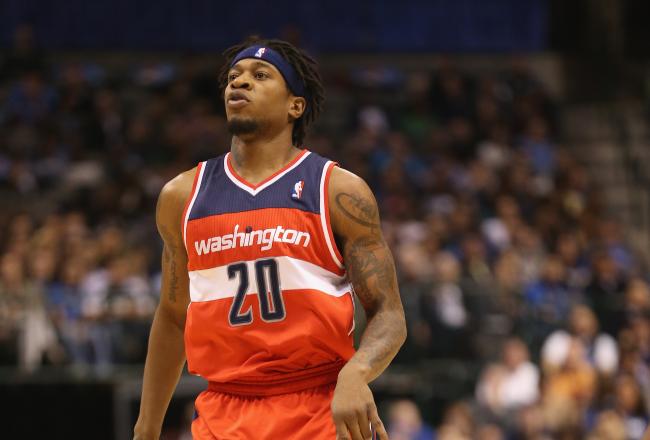 AAAAnd, Cartier Martin hits his fourth field goal, another three. The Wizards continue to roll, behind Martin's team-high 12 points. Where has this been your whole career, Mr. Martin?
WIZARDS 38, LAKERS 32 — 8:16 in 2nd Quarter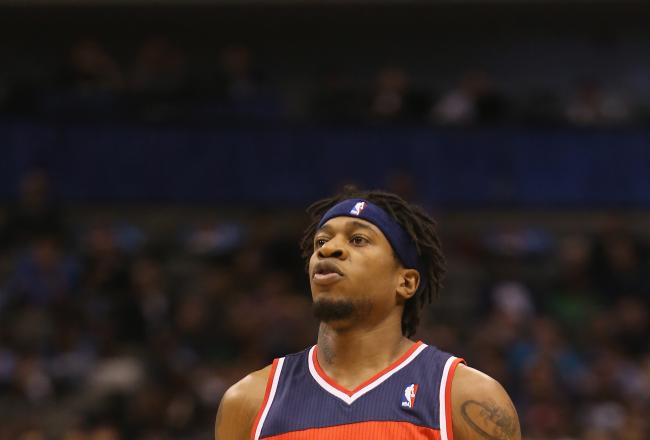 Anyone notice Cartier Martin's hair looks like Allen Iverson's when he had the cornrows? Is Martin trying to recreate the spirit of A.I.? Martin has looked aggressive and very good (flat out) early on. The 6'7" swingman from K-State averages just 5.5 points per game on the season, but has nine already and has been instrumental in their comeback tonight. All things start small, right?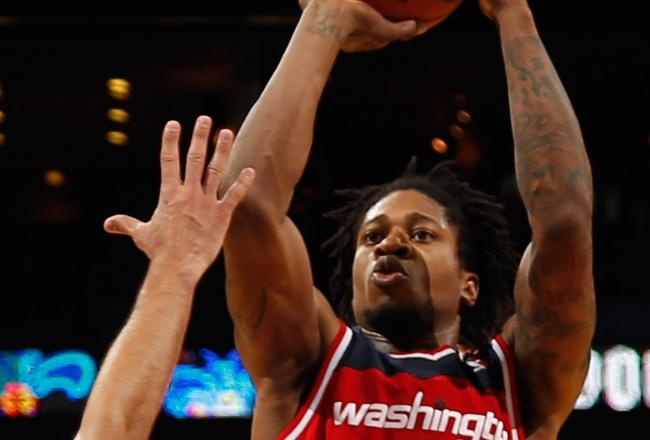 The Wizards have now gone on a 17-6 run since Nene Hilario checked into the game. Maybe they don't regret that JaVale McGee trade so much. More than half of the Wizards points now have come from their bench, led by Nene and Cartier Martin. Kevin Seraphin has also been running the court well and just was rewarded with his first basket.
The Wizards are exposing the Lakers as a very weak defensive team. I guess things can get even worse. I asked rhetorically to open this live blog, and the Lakers managed to answer me: they just got worse. They're losing to the Wizards.
WIZARDS 33, LAKERS 27 — 11:05 in 2nd Quarter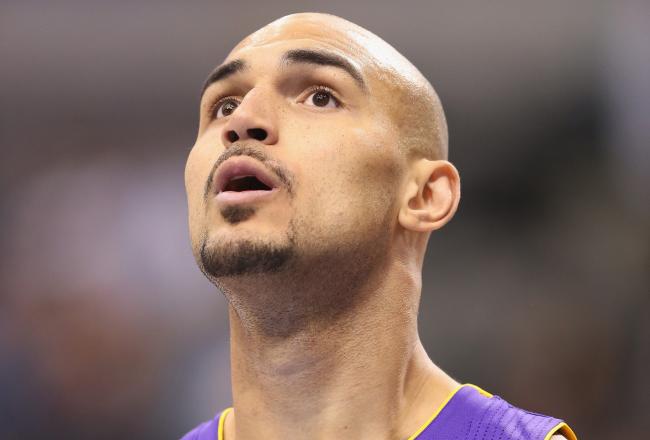 Robert Sacre just did his best Dwight Howard impression. The seldom used reserved tapped up an offensive rebound to himself and finished with a basket rattling dunk. It's good to see a guy who has supported his teammates all season get a chance to throw down a highlight.
The Lakers, however, fell apart after Sacre's dunk and gave up a run to the Wizards who tied the score at 25-25 on a Cartier Martin three and Nene Hilario dunk.
Then, Kobe Bryant answered back for his fourth field goal of the night—on 10 attempts.
LAKERS 27, WIZARDS 25 — end of the 1st Quarter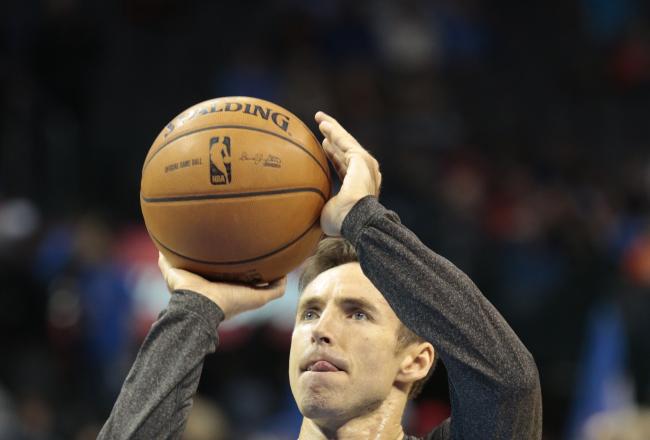 The Wizards are struggling to generate offense. Their backcourt of Jordan Crawford and Bradley Beal is a combined 1-of-5, and Kobe Bryant and Chris Duhon are 4-of-9.
Duhon isn't a starting caliber guard, but playing alongside Bryant, he's the best option the Lakers have at this point with Steve Nash and Steve Blake both on the shelf.
The real question for the Lakers is whether having Nash back can save the season. It seems like a lot of hope to hang on the body of a 38-year-old point guard, but Nash has proven over his career he can ignite an offense.
The two-time MVP has only played 50 minutes this season so far and is scheduled to return to practice next week according to ESPN.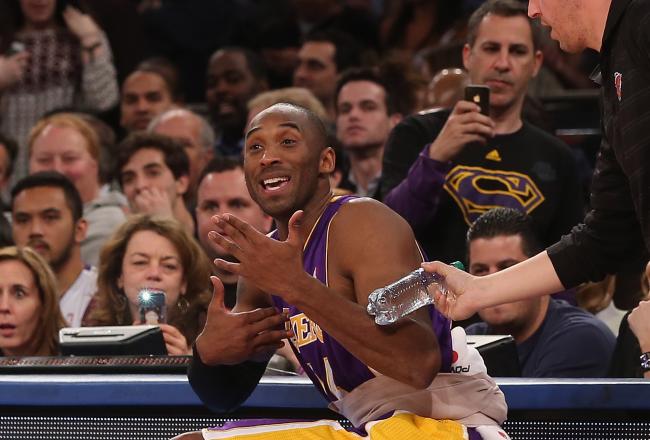 Bradley Beal has impressed defensively so far, and just forced Kobe Bryant into a tough look from about 12 feet away. Kobe was 0-of-3 from the floor before breaking free and hitting a three. He may have to work hard for his points tonight, as Beal was billed as a good defender coming out of Florida.
If Beal holds Kobe under 25, the Wiz might still lose, but it would be a big notch on his belt as a defender to do something with Bryant tonight. No. 24 comes in averaging 29.3 points per game on the season.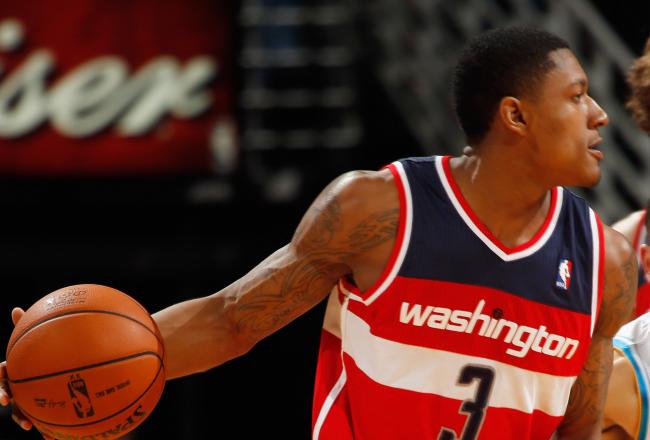 Bradley Beal got aggressive against the above-average defense of James Harden. In the 99-93 loss to the Rockets, Beal attempted 15 field goals and scored 20 points. Kobe is sure to test Beal if he remains aggressive, but the rookie from Florida might not be afraid to fire back. Beal also had six assists and four rebounds, so perhaps his best basketball is still to be played.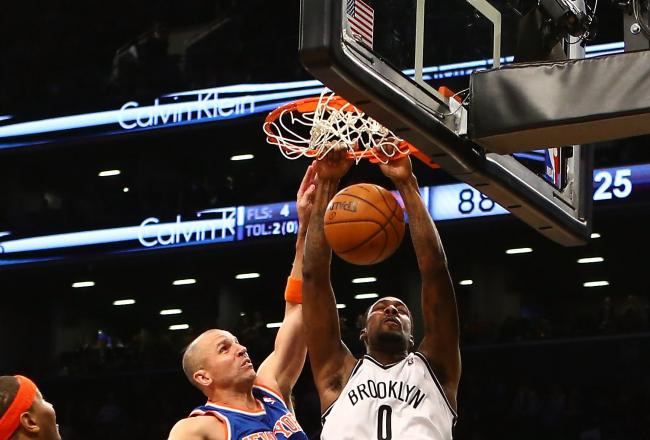 One has to wonder if the Wizards regret amnestying Andray Blatche and trading JaVale McGee for Nene Hilario.
Does Washington give up on guys too early, or does the losing culture of Washington just infect every guy they bring along?
McGee has a bright future in Denver after working with Hakeem this summer, and he's looked better every pro season. Blatche has had some incredible nights for the Brooklyn Nets coming off the bench. Both players could help the Wizards immensely, given their current roster.
Washington appears to have made the wrong draft choice again, but that can be said about every team in the draft except the New Orleans Hornets, as Damian Lillard has emerged as the clear second best player in the draft class.
But do the Wizards regret losing Blatche? Do they regret not giving JaVale McGee enough time? Do they even (already) regret drafting Beal?
Maybe not yet, on all accounts. But if they keep losing like this, they might.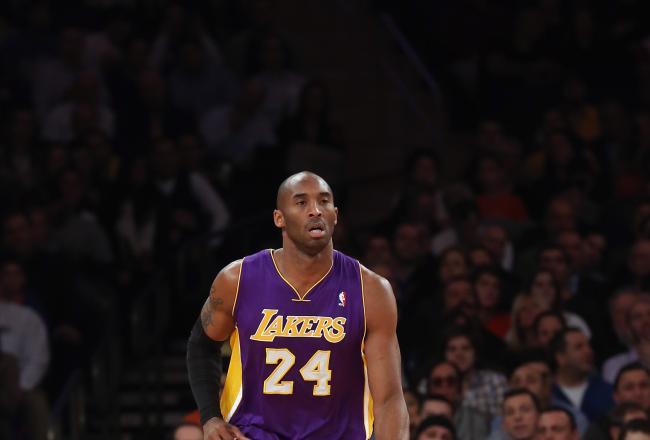 Can things get any worse in Los Angeles?
The Lakers have continued to struggle and Kobe Bryant is getting frustrated. He has said he's "baffled" by the recent losses and stated simply, "I just don't know."
Bryant even reticently admitted that this is "the most challenging stretch I've been in in my 17 years, for sure," via Kevin Ding and the Orange County Register.
It leaves he and Mike D'Antoni both restless, searching for answers.
Washington may be all the answer they need.
The Wizards managed to beat the Miami Heat on their homecourt last week, but likely remain the weakest NBA opponent, with an ailing Nene Hilario and an injured John Wall. Wall has yet to play a game this season, and even before the frustrations of this injury, hadn't seemed to find his way as an NBA point guard yet.
Yes, Wall had his nights. But the level of talent hasn't matched the level of performance, and people expect a lot more from guys who go No. 1 overall in any given draft class.
If Wall can return, he and the struggling Bradley Beal can begin to go to work. The Wizards turned down an opportunity to trade for James Harden, according to the Washington Post. That decision cast their lot on Wall and Beal. It is a decision that seems to have been made more on a financial basis than on any grounds of logic, as Isaac Rauch on Deadspin joked, "The Wizards are not allowed to have nice things."
The Lakers are. And they haven't done enough with them. With so many teams attempting to obtain Dwight Howard last year, the Lakers were supposed to count themselves lucky to have landed him.
We have yet to see it translate to success, and Howard's offensive usage rate has plummeted, relegating him to the sole roles of rebounder and defender (and free-throw misser).
The solution for the Lakers just doesn't seem clear, and short of firing D'Antoni and begging Phil Jackson to return, no Lakers fan has given much of a clear solution as to how to remedy the problem.
Let's see if the Lakers can get things back on track against the Wizards tonight.
This article is
What is the duplicate article?
Why is this article offensive?
Where is this article plagiarized from?
Why is this article poorly edited?