3 Reasons the Chicago Bulls Should Sit Derrick Rose for the Season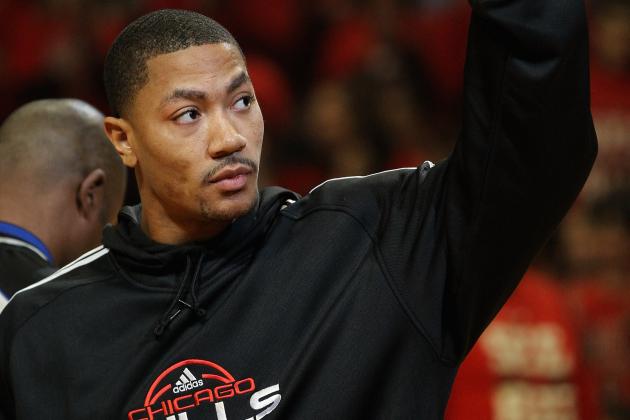 Jonathan Daniel/Getty Images

With reports from the Chicago Sun-Times of former league MVP Derrick Rose participating in running and shooting drills, Rose's return to the NBA is now one of the hottest topics for Bulls fans and NBA fans around the world.
But should the Bulls be so quick to bring back their star point guard?
There's no doubt that the team is better when Rose is on the court and that he makes them championship contenders.
However, several factors suggest that putting Rose back into action might not be the best idea. Chicago surely misses its leader, but a future without him would be even worse than one season without him.
I will list the three reasons why the Bulls should sit their star player for the entire season.
Begin Slideshow

»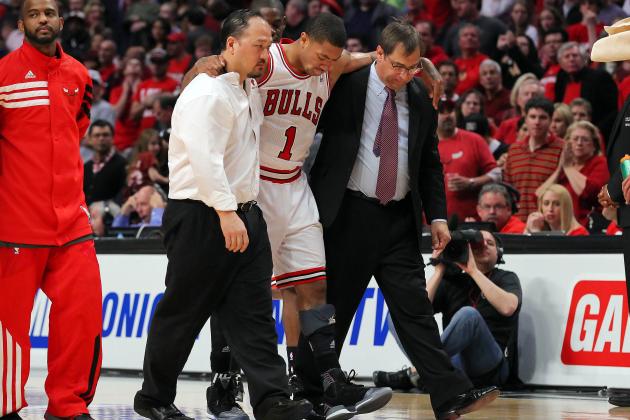 Dennis Wierzbicki-USA TODAY Sports

This image is engrained into the memory of every Bulls fan. The 2011-12 season will always be the "what-if" season for the Bulls. Avoiding such an event should be the main priority for the organization.
The most important thing about Rose's return is that he doesn't reinjure his knee. Sure, other players have recovered from ACL tears and gone on to have successful careers, but Chicago should approach Rose's return with caution.
The Bulls want to avoid any chance of Rose becoming the next Tracy McGrady, Michael Redd or, even worse, Greg Oden. Those three players were never the same after their knee injuries. All saw a dip in their production.
Oden never saw the court again.
The Bulls should be careful about bringing Rose back even when he is 100 percent. Another ligament tear and Rose will be just another point guard on the roster.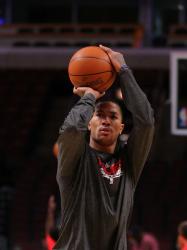 Dennis Wierzbicki-USA TODAY Sports

If Rose does return this season, adapting to the game speed is going to take some time. For an athlete of his caliber, it might not take too long, but it will still take a number of games to get him back to full form.
Acclimating Rose back into the offense could lead to some communication and chemistry issues. After all, everyone else on the team will also have to adjust their game to his return.
New plays and sets could be implemented since the Bulls would now have the option of going to their point guard if they need to score.
But a new-look offense could hinder what the Bulls have already worked on for an entire season.
The biggest benefit is giving Rose an entire summer to get back to his former self. With a full offseason, Rose will have the chance to undergo his regular workout routine, full team practices and then a preseason.
This will lead to a full-strength Rose at the start of the 2012-13 campaign.
USA TODAY Sports

The benefits of having Rose back are obvious, and they are why the Bulls want him back as soon as possible. His combination of scoring, leadership and hard work is second to none.
However, the Bulls haven't exactly disappointed this season.
Chicago currently holds the fourth spot in the Eastern Conference and is leading the Central Division with a 12-9 record.
Joakim Noah is playing at an All-Star level, averaging 14 points and 10 rebounds a game. Luol Deng is also seeing one of his better years with 18 points and seven rebounds per game.
The Bulls are currently on pace to finish with a 47-35 record, something many would not have anticipated with their star player missing in action.
Does Rose give the Bulls a chance at the title?
Yes, but the Bulls won't call it quits just because he's out.
The Bulls can still make a good playoff run without Rose behind their strong defense, their presence on the boards and the play of Deng and Noah.