Giants vs. Falcons: 10 Keys to an Atlanta Win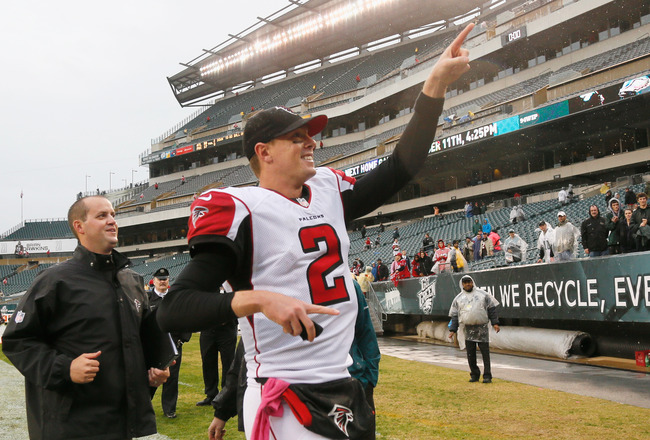 Rob Carr/Getty Images
The Atlanta Falcons face the New York Giants on Sunday in their first regular season match since 2009. It will be their 21st meeting of the series. The series record is split with both teams having won ten games and New York winning the last three. Giants head coach Tom Coughlin has an all time record of 6-1 versus the Falcons. Atlanta's Mike Smith will be looking for his first win against the Giants.
In 2009 the Giants won an overtime thriller 34-31 at Giants Stadium. This time they'll play in the climate controlled environment of the Georgia Dome. A place where Falcons quarterback Matt Ryan has led them to 32 wins in his last 36 starts.
Atlanta enters with an overall record of 11-2, having already secured the NFC South Title. They lost their last outing 30-20 to Carolina.
New York enters with an overall record of 8-5. They hold a one game lead over Washington and Dallas in the NFC East.
The Falcons will be looking to avenge a 24-2 to the Giants in last year's NFC Wild Card.
Here's ten keys for an Atlanta win.
Start Fast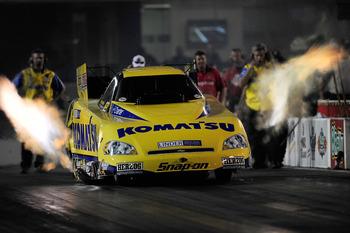 Rusty Jarrett/Getty Images
It's no secret, establishing early momentum can be crucial to eventual victory. It's the "Ol' Hit 'Em in the Mouth before They Know what Hit Them" analogy. Set the tone of the game. Make your opponent play your style. Make them play catch-up.
Since 2008, Atlanta is 40-10 when they score on their first possession. They lead the league in 2012 with 44 points scored on opening drives. Last week, it took the Falcons offense 30 minutes to get started. Facing a 16-point deficit, the Falcons never recovered.
This week, starting fast is more mental than metal. Start fast and regain the confidence in an explosive offense. Start slow and it becomes harder than metal to overcome.
Stop the Run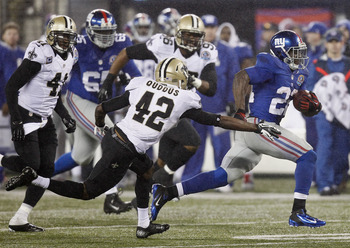 Jeff Zelevansky/Getty Images
Last week, the Falcons allowed Carolina to rush for 195 yards. Over half of those yards went to Panthers quarterback Cam Newton. This week, they're not facing one of the league's most mobile quarterbacks.
They do face a team with new-found momentum in the running game. Last week, Giants rookie David Wilson rushed for 100 yards and two touchdowns against the Saints. Ahmad Bradshaw is out for the game due to injury. So Wilson will carry the load.
To give Eli Manning a running game is to give him a quiver full of options. Wilson proved against New Orleans that he's more than capable of leading the run attack. Atlanta must insure he never gets the chance.
NASCAR-Up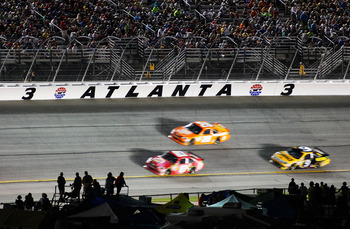 Wesley Hitt/Getty Images
Establishing mismatches is key to getting a passing game off the ground—shifts, motions, unbalanced offensive sets, substitutions. Substitution patterns is what Atlanta does best.
However, as the season has progressed, defensive coordinators have substituted their own counter measures. The Falcons need to NASCAR-up. Put the offense in overdrive. The no-huddle, no-substitutions kind of drives—much like they did in the third quarter last week.
Doing so will keep the league's best front four defenders on the field. Not a bad idea when you consider the alternatives of allowing them to rest on the sidelines.
Ignite the Burner
Kevin C. Cox/Getty Images
There's been lots of talk in Atlanta this week about the diminished role Michael "The Burner" Turner has had in the Atlanta offense. Turner knew his production would be down this season, but not as much as the numbers detail.
Against the Panthers he carried the ball just seven times. So far this season, he's logged 187 attempts—down from 301 a year ago.
The Falcons' pursuit of getting the ball in the hands of explosive play-makers have made Turner an afterthought. In the latter part of a season, you depend on the reliable. Patience in the run will be the key for the Falcons against a sometimes over-pursuing Giants defense.
Ignite The Burner early and keep the lights on late.
Move the Chains
Doug Pensinger/Getty Images
Lost or Stolen?
Whichever the case, the Falcons may want to offer a reward for the safe return of the 'key to sustaining drives.'
Last week against Carolina, they converted only two of eight third-downs. In their past two games they are a dismal 3/19 on third down. Much of that has to do with predictable third-and-long situations.
While the key may have been lost on third down, it can most likely be found between first and second. Being creative early in the series will be key to moving the chains.
Protect the Pig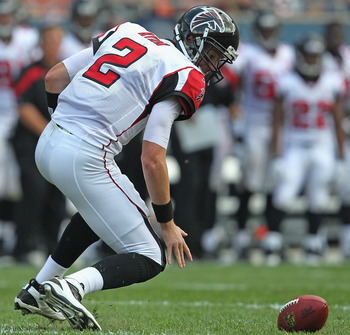 Jonathan Daniel/Getty Images
Back in the good old days, football was more pigskin than rawhide. While the components have changed, the old adage remains. Protect the pig.
Atlanta only had one turnover last week—an interception thrown by quarterback Matt Ryan. But I don't think anyone would mistake an opportunistic Panthers defense with the ball-hawks roaming the Giants secondary.
New York has the league's second best takeaway/giveaway ratio at +16. A number due in large part to their 20 interceptions on the year. Leading the way for the Giants is safety Stevie Brown with seven.
Not only does Brown have an eye for the pick, he has the legs to turn it up-field. Last week, he returned two interceptions for 91 yards. He leads the league with 251 interception return yards—an average of 37 yards per pick.
To protect the pig, the Falcons must know where Brown is roaming during each play. And more importantly, don't give him the opportunity to make a play.
Cruz Control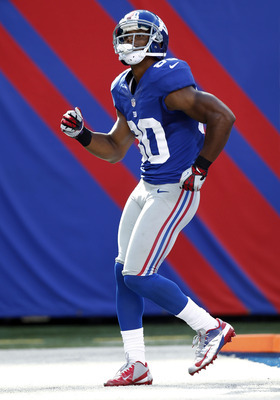 Jeff Zelevansky/Getty Images
Heads up to the Georgia Dome's DJ: scrap any salsa music on the playlist.
Don't give Giants receiver Victor Cruz an ounce of encouragement on Sunday. He doesn't need it. After establishing himself as a legitimate threat last season, he became the focus of opposing defenses this season.
Yet the focus has done little to prevent Cruz's dancing.
He's already eclipsed a thousand yards receiving and recorded his third straight 100-plus-yard game last week. He's racked up 225 yards in his last two games. Those are both signs that Cruz may save his best moves for last.
Atlanta must set the Cruz Control early before Cruz controls their ride.
Slow Their Roll
Al Bello/Getty Images
It is impossible to steamroll a steamroller. That's the challenge the Atlanta Falcons offensive line faces this week.When you can't steam roll them, you can at least slow their roll.
Atlanta's approach to keeping the likes of Jason Pierre-Paul, Justin Tuck, and Osi Umenyiora out of their backfield must be creative.
Short passes, screens, counters, misdirections—all have to be at the top of the Falcons' offensive tool list. The Giants' pass rush has sacked opposing quarterbacks 31 times this season, with Pierre-Paul leading the Giants with 6.5 sacks.
The line will need some help and throwing all your tools at a steamroller will not stop it. But it can slow its roll.
Route Detour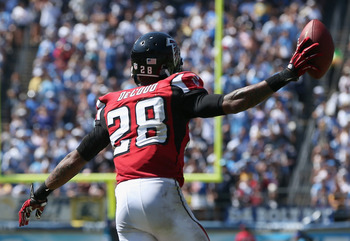 Jeff Gross/Getty Images
Simply stated, Atlanta's secondary has seemed softer than a feather-filled mattress in the last two games.
Whether due to injury or a lack of help from a pass rush, something is amiss. Opponents have made hay down the middle of the field.
On film, it appears as though these problems can be corrected by re-routing receiver's routes. A good pass defender recognizes a route and takes it away. A better pass defender takes control and re-routes the pattern.
Good or better, the Falcons defense must direct the traffic and not let the traffic direct them.
Master of Disguise
Doug Benc/Getty Images
Mike Nolan has forgotten more about defensive schemes than I'll ever know. For the little I do know, Nolan's unit has been more bend-and-break than bend-but-don't-break.
Blitz packages, coverages in the secondary, stunts along the line—all have become rather easy to identify before the snap. Nolan made a name for himself as being a master of disguising defensive plans.
He needs a new costume: a little face paint here, a little crazy clown hair there. Someway and somehow, Nolan needs to get back to his mastery. He needs to get back to October, where there was more trick and more treat; more take and less give.
Keep Reading

Atlanta Falcons: Like this team?