TUF 16 Finale: Will Roy Nelson Ever Be More Than a Gatekeeper?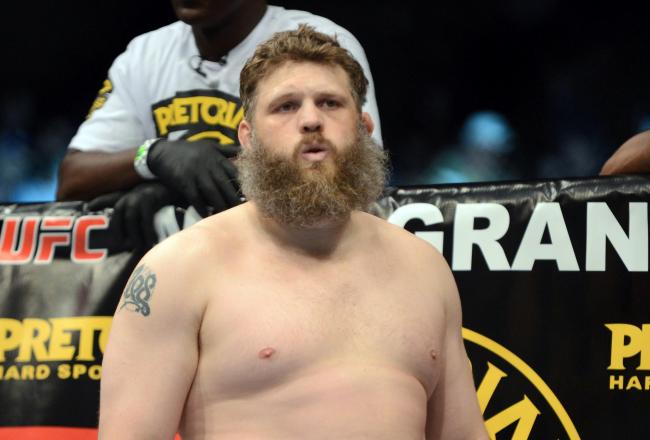 Ron Chenoy-USA TODAY Sports
Roy Nelson has faced some searing criticisms throughout his career. Most of those have been directed at his weight.
With that grotesquely protruding belly, he is perhaps the most out-of-shape "looking" fighter in the whole of the UFC.
I say "looking," because he has proven his detractors wrong time and time again enduring some punishing contests and taking some of the best heavyweights in MMA to the distance—including former champion Frank Mir and current champion Junior Dos Santos.
To consider him merely a "gatekeeper" with that record is perhaps unfair. However, he has yet to prove himself a true contender.
Since entering the UFC, with a win over Brendan Schaub during The Ultimate Fighter finale in 2009, he's gone on to a 4-3 record. That's hardly the making of a champion in the UFC's fiercely competitive heavyweight division.
But a closer look at his record tells a different story.
For one, he was the most complete fighter during the TUF series in which he took part. A BJJ black belt with perfectly honed MMA boxing and knockout power, he stormed through the series—and won.
That already sets him apart from the second tier of heavyweights.
Inside the UFC, every fight he has won, he has knocked out or TKO's his opponents. There are not many men that can boast that kind of record, nor have that sort of power in their hands—especially a man that many think should be fighting at 205 pounds.
What's more, the three fights he has lost, were all against men many would argue are top-five heavyweights, all of who went the distance with him, including Fabricio Werdum.
No one's been able to finish "Big Country" inside the Octagon, and that says a lot about Nelson's heart, his chin and his potential.
But in all his fights, it seems that there is, in fact, something missing. UFC president Dana White has often lamented that Nelson refuses to take his career seriously, and it's a lament that Nelson must be getting tired of hearing.
Will Roy Nelson ever become UFC champion... seriously?
There is something to be said for White's opinion, though. Despite Nelson's often commanding performances, he's hardly set the division alight.
On the big nights, when he's had the opportunity to truly step up to title contention, he's been found wanting. Even if his chin has taken him the distance with the likes of Mir, Dos Santos and Werdum—he's been completely dominated by all three men. And that, in fact, is the hallmark of a gatekeeper.
He's never seemed a title threat in his entire career and there's nothing we've seen of him to indicate that he could pose any challenge to the Cain Velasquez's, Daniel Cormier's or Alistair Overeem's of this world.
At 36, that opportunity might already have passed him by. Even if he does beat Matt Mitrione, who he's slated to face at The Ultimate Fighter 16 Finale on Saturday night, it'll be a Christmas miracle if the win puts him any closer to a title shot, leaving him consigned to the perennial state of "gatekeeper."
Nelson's fight against Mitrione will be aired live on FX from the Hard Rock Hotel and Casino in Las Vegas.
For more MMA opinion from me, follow me on Twitter: @khurramaziz1981
This article is
What is the duplicate article?
Why is this article offensive?
Where is this article plagiarized from?
Why is this article poorly edited?