Indianapolis Colts vs. Houston Texans: Live Score, Highlights and Analysis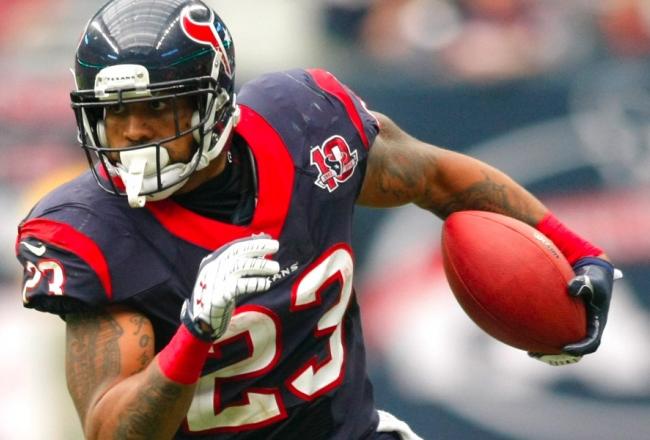 The Houston Texans have taken care of the Indianapolis Colts 29-17 and captured their second consecutive AFC South title. The win was anything but a work of art. It may have fallen short of the resounding triumph required to erase the memory of the Patriots debacle, but it will do fine for today.
The difference in the game came down to Arian Foster and the 134 yards he gained in the second half. His performance included the kind of breakaway runs that made him such a feared back the last two seasons. The Texans defense dialed up the pass rush over the final thirty minutes and kept Andrew Luck from working his fourth-quarter magic.
The Colts kept the game close enough to make the home team nervous. Their final scoring drive shredded the Texans' run defense with 61 yards gained by Vick Ballard. But Houston limited Reggie Wayne to just three catches for 14 yards as Andrew Luck completed just 13 passes overall.
Indianapolis should have an easier time next week when they face the Kansas City Chiefs. Houston can only continue their run to home-field advantage by defeating the Minnesota Vikings and the incomparable Adrian Peterson.
Final score
Texans 29
Colts 17

Texans note: Adrian Peterson gained 212 yards on 24 carries for one TD versus the Bears. Can you let him get his yards and let Christian Ponder try to beat you?
Noteworthy Stats
Indianapolis Colts
RB Vick Ballard: 18 rushes for 105 yards
ILB Jerrell Freeman: 10 tackles, 8 solo
Andrew Luck: 95.6 rating, but only 13 completions on 27 attempts
Eight penalties for 69 yards
Houston Texans
Arian Foster: 27 rushes for 165 yards
J.J. Watt:10 solo tackles, three sacks, four tackles for loss.
Andre Johnson: 11 catches of 13 targets for 151 yards, 1 TD
Nine penalties for 69 yards, two on special teams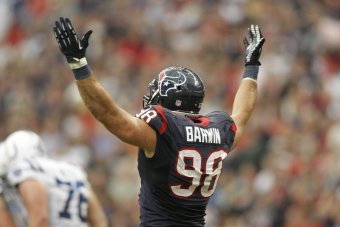 USA TODAY Sports
Connor Barwin gets a meaningless sack that will not improve his bargaining position come contract time.Time runs out on the Colts and the game as Houston wins the AFC South title.
Texans running the ball and clock as Indy is out of timeouts. With the ball at their 28, Houston's Shayne Graham puts it through form the 33-yard line. A rather bland way to wrap up an unexceptional win.
Twenty-six yard run by Foster over the right side means the Colts must be getting tired. Foster is having an exceptional day with 24 carries for 153 yards. It is still a two-score game, but another TD would be a big boost to the Texans confidence. The Colts may be thinking,"Wait till we get them at home, where these guys have never won."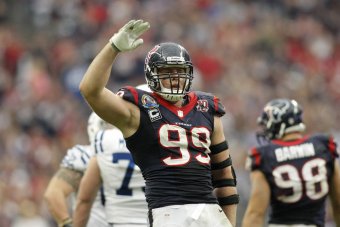 USA TODAY Sports
J.J. Watt has sacked Andrew Luck 3 times today, tying him for NFL lead w/Aldon Smith (19.5).

— SportsCenter (@SportsCenter) December 16, 2012
Bradie James brings the heat and Watt plus Earl Mitchell clean it up. But Indy still gets a first down near midfield, but more pressure from the front seven gets grounding call on Luck. Brandon Harris keeps Reggie Wayne from making catch. Texans' special teams gets another penalty on the punt, which is at least three for the game.
Penalty call on punt gives good field position to Texans. DeVier Posey grabs his third pass of the game, his best game of the year to date. Cheap jersey-grabbing hold by Wade Smith reverses Arian Foster TD. That is seven penalties for the day by Houston, same number called as the entire Patriots game.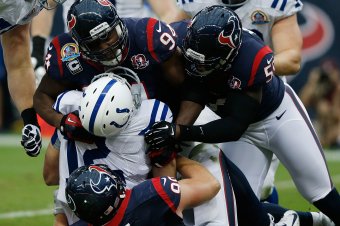 Scott Halleran/Getty Images
Another Watt TFL puts Colts in deep hole in their own territory. Good pass rush by Darryl Sharpton turns into third down incompletion.
Schaub puts 3rd-and-15 pass where only Andre Johnson can grab it. Then the Texans give up a seven-yard sack on a safety blitz from the right side. No one saw Antoine Bethea coming. Time to punt again to a Colts team that is accustomed to games with this sort of flow. Stay close and Luck will find a way in the fourth.
Vick Ballard as he gashes the Houston defense for 60 out of the 80 yards in the scoring drive. All but one of his runs were up the middle as he left Bradie James and Tim Dobbins grabbing for air. Ballard did this behind a patchwork OL missing their starting center and right tackle. When your free safety Danieal Manning leads the team with seven tackles, you are in trouble.
Thirty-one yard scamper by Foster is what has been lacking for him this year: the long run. After first-down completion to keep Colts guessing, Foster goes left for 10 yards. Tate even gets into the flow with eight yards over the right side. First-and-goal at the nine, but sack by Freeney on 2nd down throws a wrench into any touchdown possibilities. Texans had 71 yards on eight carries, but only made three points out of it. Which side can claim victory on this drive?
Colts go three-and-out on their first possession of the half. Will the Texans go conservative right from the git-go and run, run, run? Or will they acknowledge their only hope lies on Schaub's shoulders?
No matter which team you are pulling for, this stat matters almost as much as the score: Houston has 35 rushing yards on 14 carries. Colts have allowed 120 yards per game going into today's contest. They are winning this battle and forcing the Texans to win through the air, which is not their desired M.O.
Texans fail to take advantage of nice hurry-up drive to get Graham within his range from 46 yards. But he misses left as the Colts go into halftime with a momentum boost on the Hilton TD. Houston's pass coverage issues continue and Luck is just the kind of QB to make them pay.
The Colts have 57 pass plays of 20 yards or more and leads the NFL. They add to that totals with a 62-yard TD to T.Y. Hilton as no Texans DB is within 10 yards of him. Demps was responsible for picking him up and let him go right on by. Luck lofted the pass as if he was fooling around in practice.
Watt and friends turn the next Colts' series into a backwards march as they gain nine yards in five plays. Then Texans' special teams coach Joe Marciano takes updating his resume off his to-do list as Bryan Braman takes a blocked punt into the end zone.
DeVier Posey catches his first pass in Reliant Stadium for 36 yards. But all that comes of it is a 35-yard FG from Graham. The Colts' ILB Jerrell Freeman makes two stops on this series and is one of the main reasons Houston has just 35 yards on the ground.
Another special teams penalty on Quintin Demps gives the Colts the ball on Houston's 34 yard-line.
Mewelde Moore has back-to-back carries over the left side to get inside the 20. The Colts know Mercilus cannot seal the edge and Jackson is losing confidence and giving big cushions to receivers. Watt does his best to harass Luck once the Colts get into goal-to-go situation.
Offsetting penalties deny 3rd down TD pass to Reggie Wayne, which turns into Vinatieri FG from 26.
Texans start at their own two, and on third down try screen pass in the end zone! Is that not the time to throw it away? Any more brain cramps like that and Luck will have the perfect setup for another late-game comeback.
Screen pass to T.Y. Hilton is too quick for Jackson and Mercilus to react. Big-time TFL by Watt is negated by ticky-tack PI penalty by Brandon Harris. That feels like an NBA call because a nobody like Harris will not get any consideration by the referees. Watt makes initial contact on fumble recovery by Dobbins. The Texans' defense cannot depend on Watt for every big play, but it does.
Donnie Jones shanks punt as it goes for 29 yards and gives Colts just the field position they need at the Houston 39-yard line. Apparently, the mistakes that put the Patriots game in jeopardy have followed the Texans back home.
Houston allows Colts to get into their territory on defenseless receiver penalty on Kareem Jackson, who keeps regressing to his 2010 form. First-and-10 sack by Watt helps halt drive just inside the 50-yard line.
Another red zone situation and Foster goes right again for no gain!!! Arian does hammer up the middle inside the 10 for five yards. Third-and-goal from the three has Schaub hitting Andre in the at the one and he walks it in. That could the the first red zone TD to a wide receiver in weeks.
Schaub find Owen Daniels for 1st down on their favorite route: an inside cut about 8-9 yards from line of scrimmage. Texans keeps sending Foster right as if the return of RT Derek Newton really changes anything about the run blocking over that side of the line.
This article is
What is the duplicate article?
Why is this article offensive?
Where is this article plagiarized from?
Why is this article poorly edited?